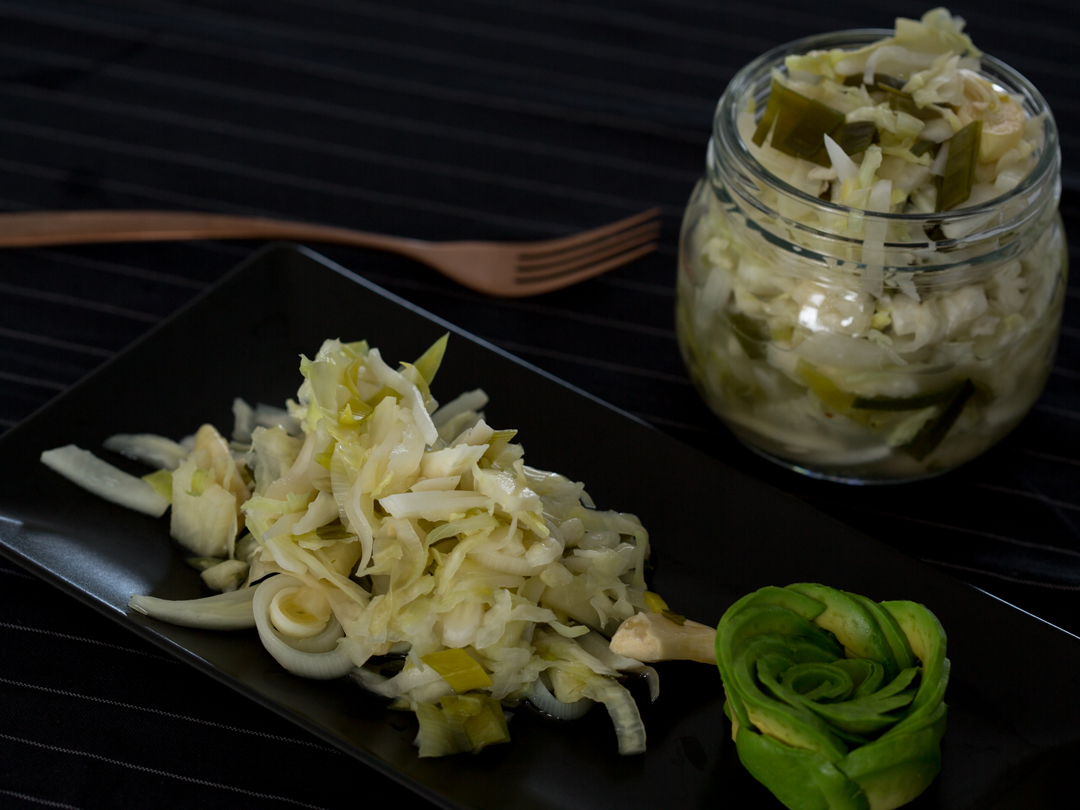 Was ist Kimchi
Kimchi ist ein traditionelles Koreanisches Gericht.  Er wird aus Chinakohl mit Lauch, Knoblauch, Ingwer und vielen anderen Gewürzen zubereitet.
Weißer Kimchi
Kimchi ist fast immer dunkelorange bis rot durch den Gochutgaru (Chilipulver). Ich mag den Kimchi auch gern ohne dieses spezielle Chilipulver, es ist auch unmöglich in Deutschland in Bioqualität zu bekommen. Wenn ihr eine Quelle habt, schreibt die mir gern unten in die Kommentare.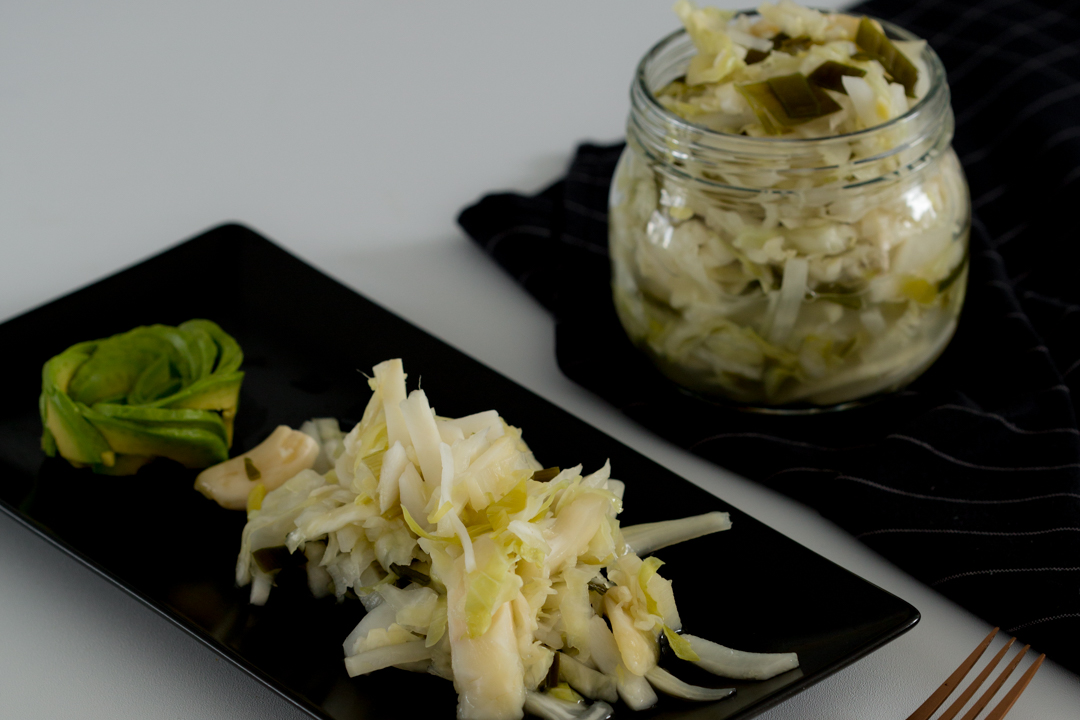 Teile diesen Post mit Freunden! Was dir gefällt, wird allen gefallen!
Sauerkraut kimchiart
Sauerkraut
, grob geschnitten
Daikon Rettich
, in längliche Stückchen geschnitten
Alle Zutaten gut kneten und dabei vermischen. In das Glas stopfen. Mit Wasser aufgießen, sodass das Kraut komplett bedeckt ist. Mit einem nicht ganz dichten Schraubdeckel bei Zimmertemperatur aufbewahren. Nach 3 bis 5 Tagen ist das Sauerkraut in der Regel fertig. Danach im Kühlschrank aufbewahren.
Es ist sehr wichtig sauber zu arbeiten. Das Wasser das ich nehme ist immer Trinkwasserqualität. Es sollte keinen Chlor haben.
Andere Sauerkraut-Rezepte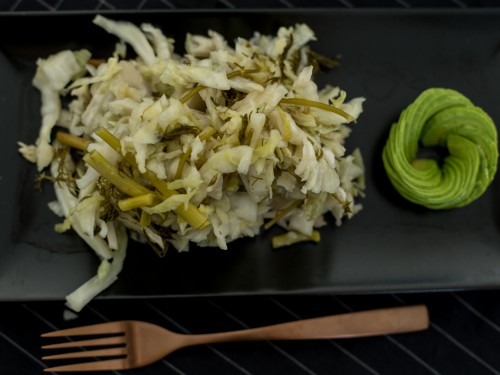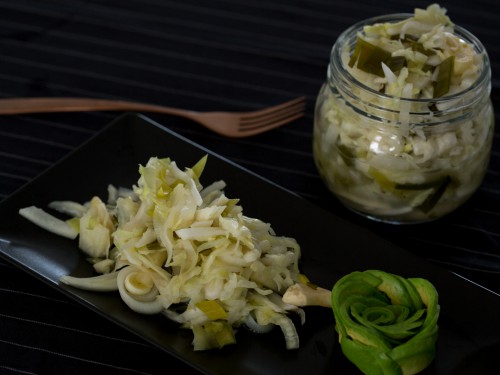 Sauerkraut with the asian twist.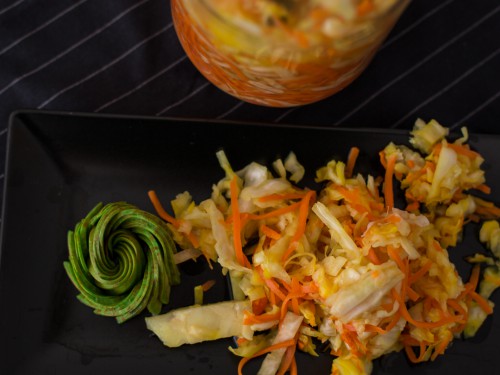 Für alle, die Karotten einlegen wollen.
Hol dir meine neuesten Bücher
---
---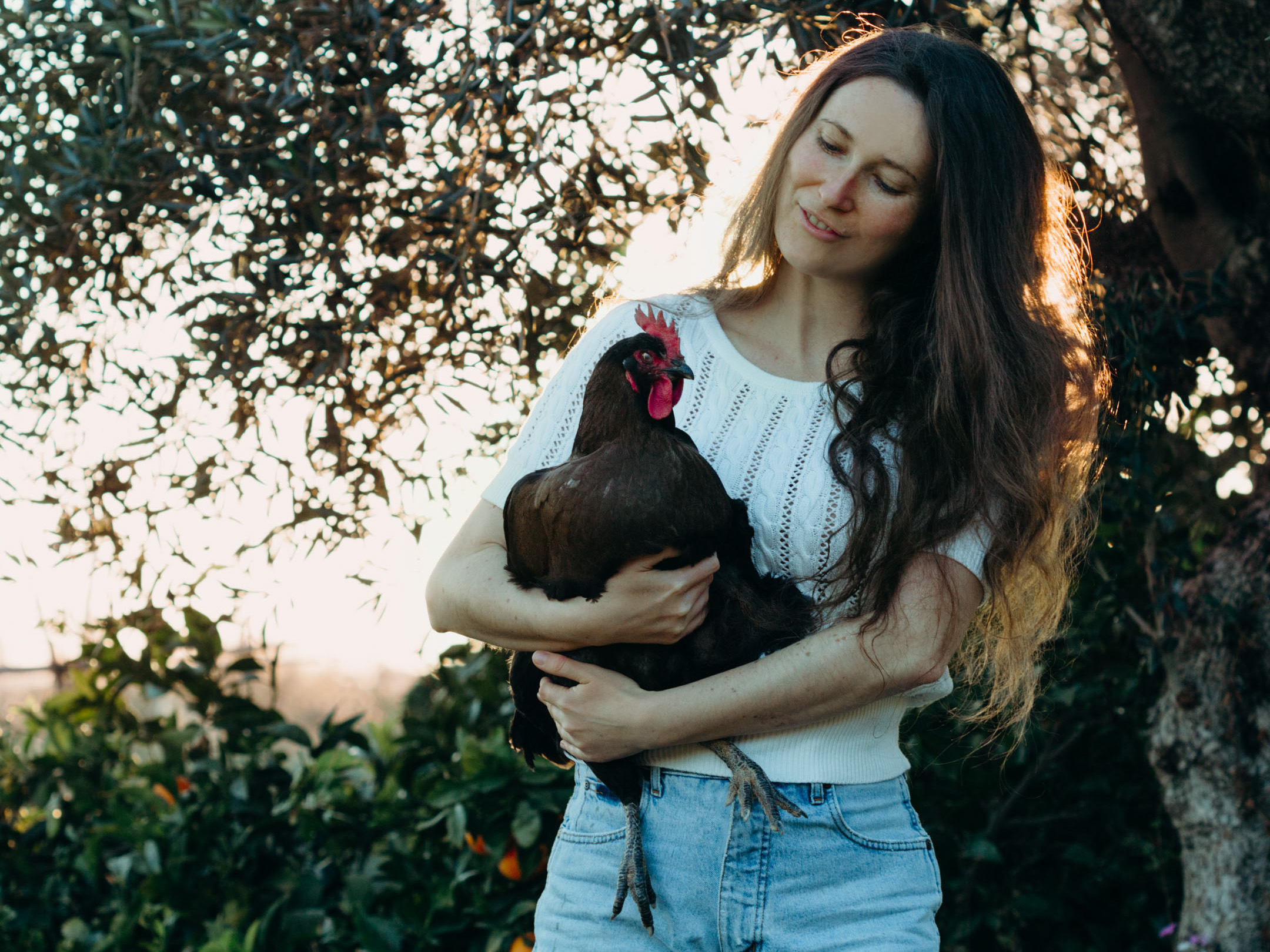 Einfach gut Essen
Beim Essen sind mir ethische und gesundheitliche Aspekte sehr wichtig. Es gibt sehr viel Forschung auf dem Gebiet der Ernährung, ich versuche immer auf dem Laufenden zu bleiben und meine Ernährung optimal zu gestalten.