Suncafe Studio City
Suncafe is the last on our list this time, just as the last time. No idea why. We haven't been to their new location yet and the new raw menu grew a little. We are looking forward to a easy going Sunday brunch. There is plenty to try, let's see what raw deliciousness we can eat.
What we had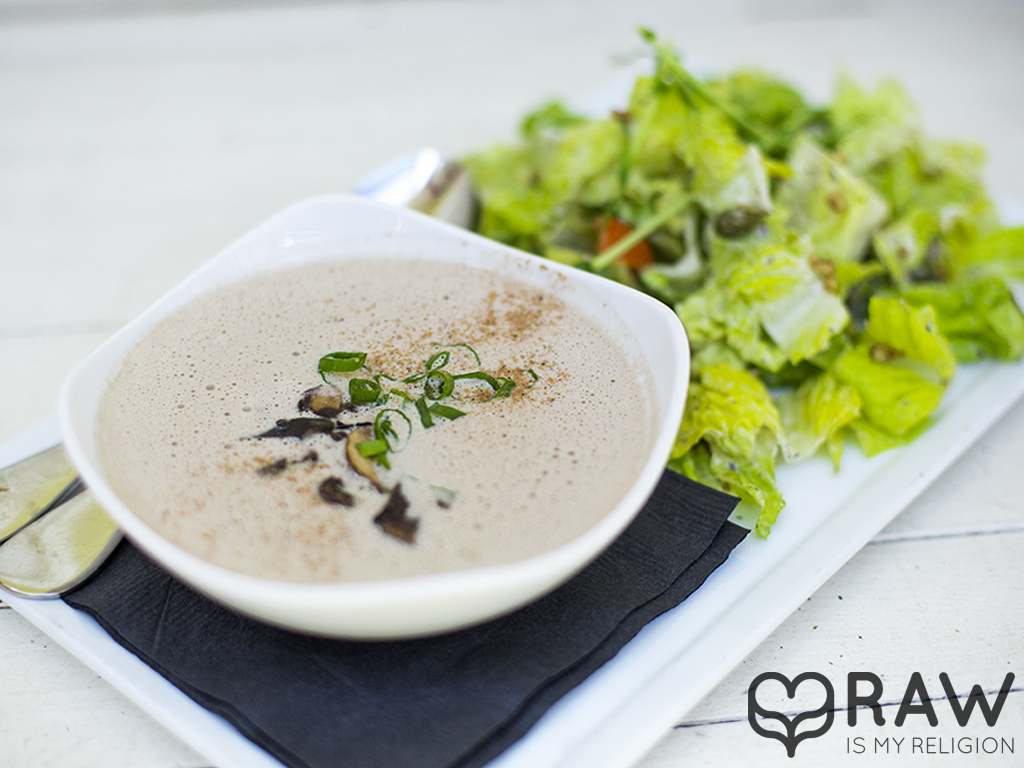 Soup and Salad Combo
Raw mushroom soup & romaine lettuce, cherry tomatoes, pecan crumble, pumpkin seeds, Adam's Ranch capers, tossed in caesar dressing.
The soup and salad combo ($12) was a great choice as we got to try the soup. The soup was just devine. Creamy, infused with mushroom flavor. This flavor you get when you dehydrate the mushrooms and the flavor intensifies. Very delicious. After finishing the bowl we are already thinking about ordering the full size of this soup. And so we do, we are getting 2 more full size servings ($7 each).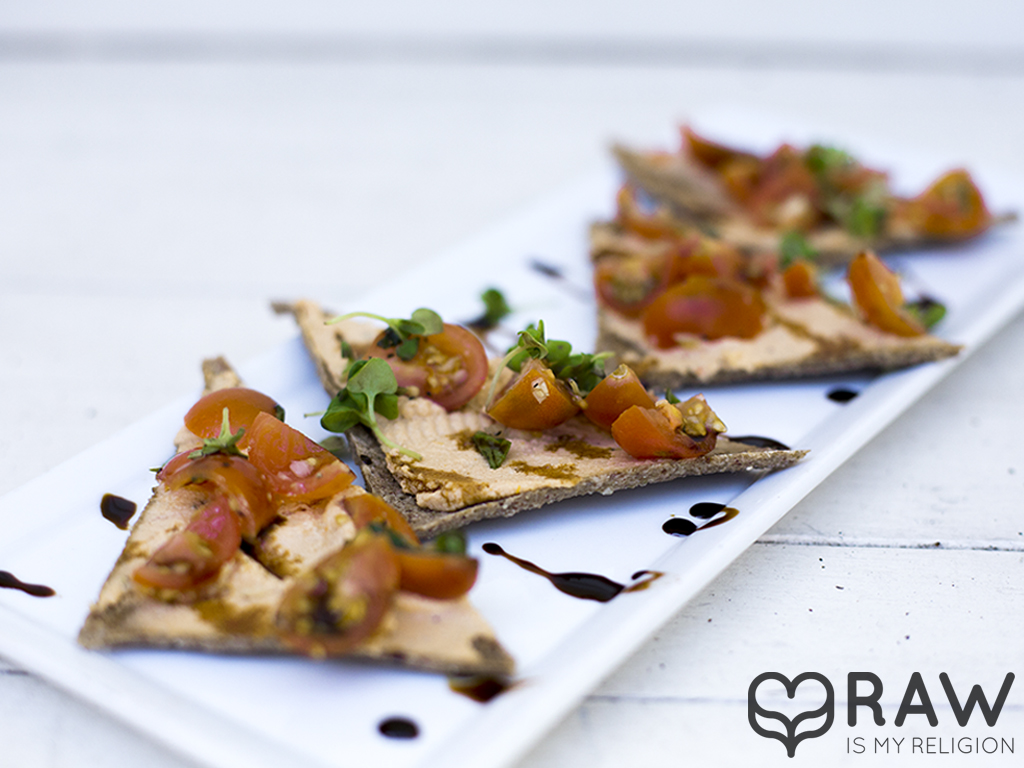 Sun Bruschetta
Cherry tomatoes, basil, garlic, cashew ricotta on raw sunflower & buckwheat bread, balsamic reduction.
The bruschetta plate looked ($8) very appetizing even it had almost no resemblance to a bruschetta. The buckwheat bread was delicious and dense, not too hard, not too crunchy, slightly sweet, which worked very well with the balsamic reduction. Cashew ricotta was very well seasoned and delicious.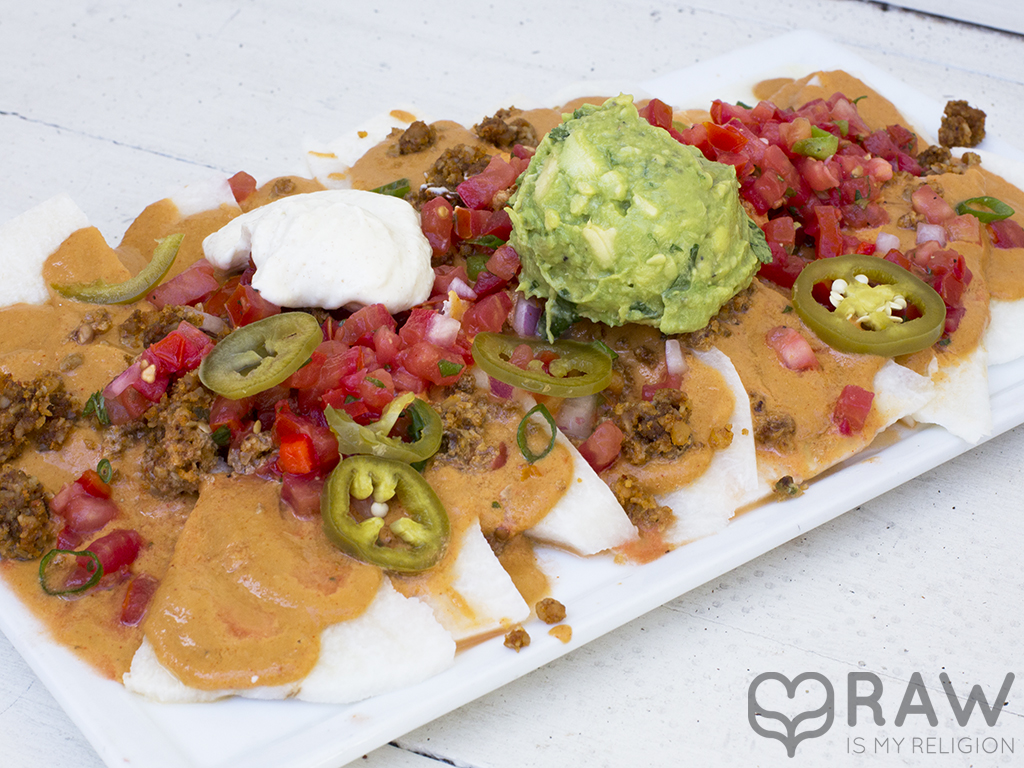 Sun Nachos
SunChorizo, nacho cheese, guacamole, pico de gallo, jalapeño, green onion, & cashew sour cream, raw thin-sliced jicama chips.
The sun nachos ($12) are great. The serving is large for a starter. The jicama chips work good with the nacho meat, guc and the deliciously pickled jalapeño are not hot at all. The dressings were good too, spicy, seasoned in the way that the whole dish tasted pretty meaty. I didn't particularly like the cashew sour cream, it contained coconut which I don't enjoy. The presentation reminded me on an unmade bed. Otherwise, I really loved these nachos.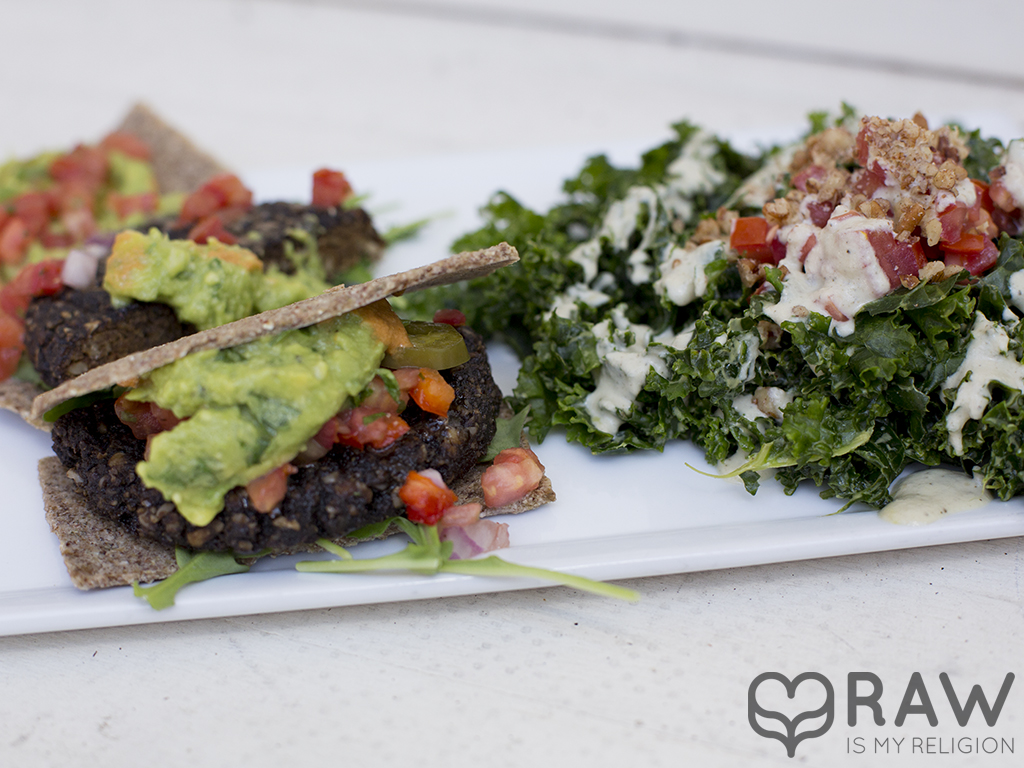 Fiesta Burger
Seasoned patty topped with guacamole, pico de gallo, nacho cheese, cashew mayo & jalapeno, raw bun.
The burger ($14) was good. The burger patty was warm, meaty, soft, & juicy. it looked exactly like a burger patty is supposed to look. I forgot to taste it separately. The combination of the bread, bun and the toppings tasted very good. The bun was more the dry raw style bread than a bun. I've heard that many order the baked bun and a raw patty.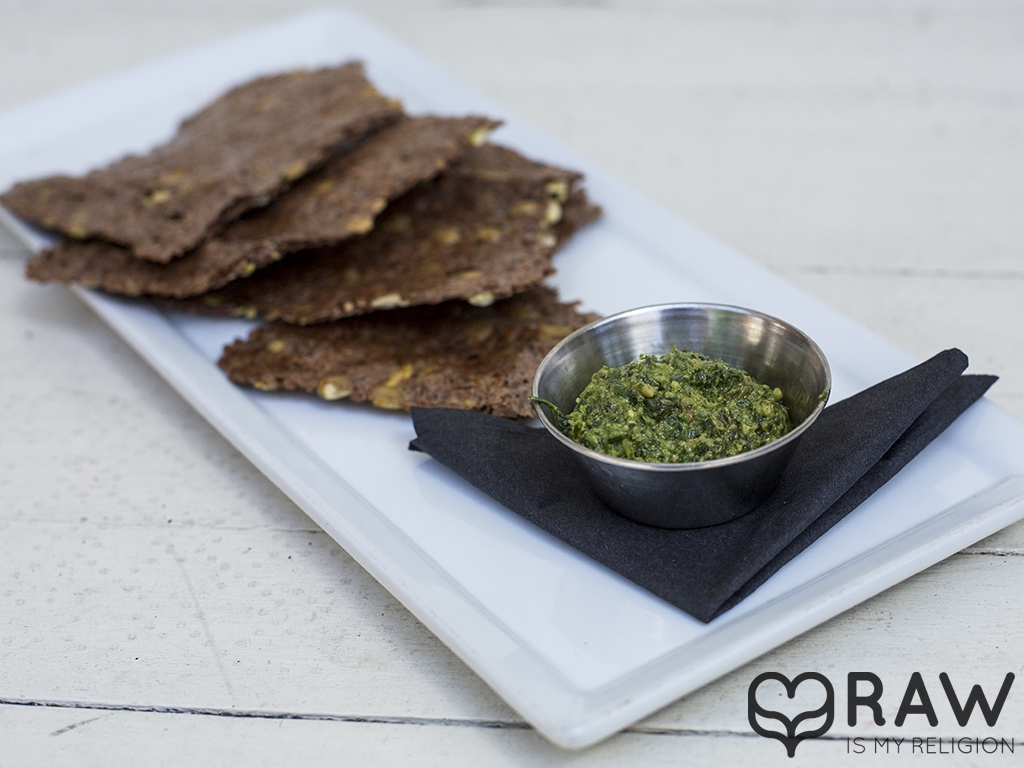 Pesto
Pesto and flax crackers.
We wanted to try the pesto pizza, but they were out of the crust, so we ordered pesto with crackers ($2,50). The pesto was very delicious. You can't go wrong with the flax crackers.
The Sun Cafe Experience
A beautiful spot, delicious food, service is ok, couple of moody servers, we were lucky to be served by motivated and nice ones primarily. Ron Russell, Co-owner and Chef, was very sweet and welcoming. We enjoyed the warmest Sunday we had here in L.A. so far for couple of hours on the patio. It got a little too sunny outside and we moved insides. The atmosphere there was less welcoming and unnecessary busy. From the moment we went in, I felt like we should leave. But we stayed for a while as I was intrigued to try the raw pizza, but then, they were out of the crust. Despite all that, it was a very productive day so far. Stefan helped me with the layout of my book publishing tool while we were here, so excited to share my raw food recipes with you guys soon.

Tips
No honey, all vegan, a huge plus! Good for brunch, lunch, dinner, friends, family, non-vegans. They have weekly specials, ask for them! Some special are available starting at 4pm, make sure you can stay. I found the menu a little confusing, but once explained how to order the raw dishes, it was a little easier, don't hesitate to ask. My absolute favorite was the raw mushroom soup. I absolutely recommend getting the full size serving of the soup of the day. Much better value than getting the soup & salad combo. Parking was easy on a Sunday around 11am. Best raw vegan food in the city? Let's say they might have couple of dishes other restaurants don't serve, like the raw mushroom soup.