The Live Organic Food Bar in Toronto is an awesome place with many great raw vegan options and also cooked vegan food.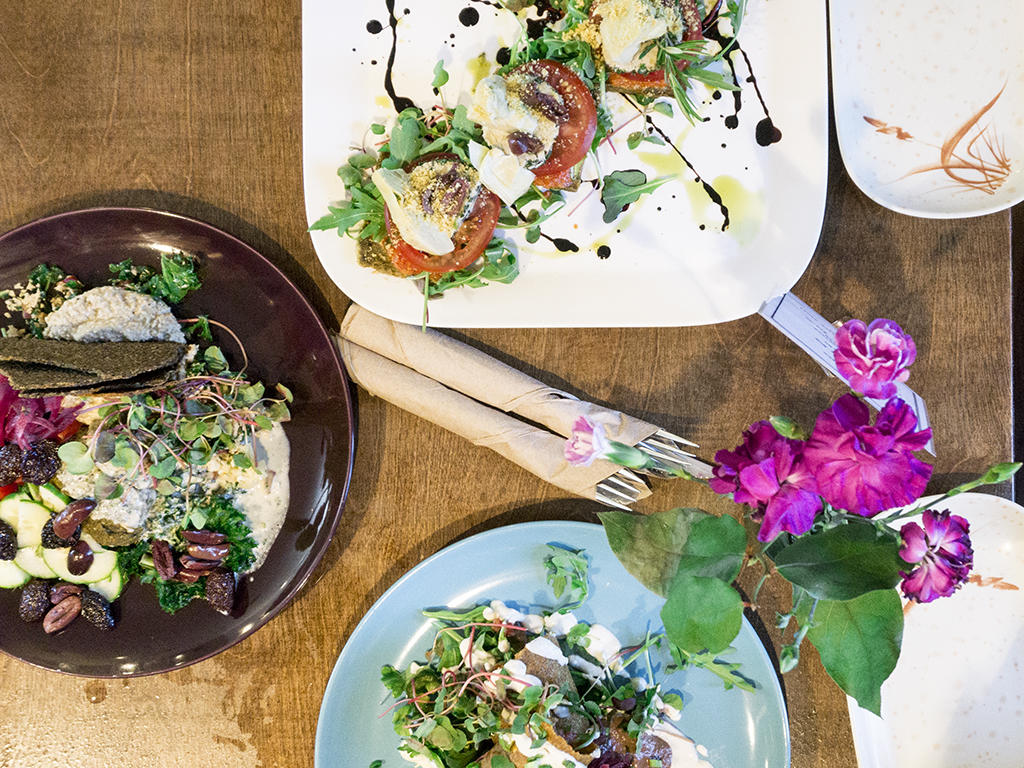 What we had at Live Organic Food Bar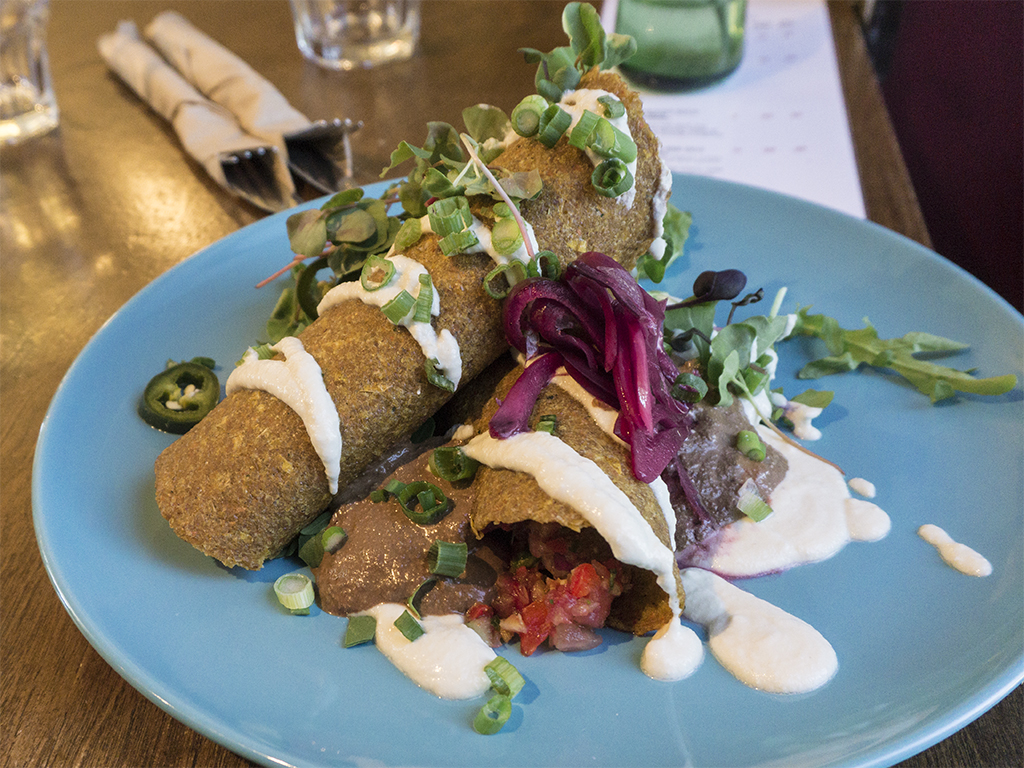 Enchiladas
chipotle corn wrap, sunflower refried beans, tomato salsa, chocolate almond mole, arugula, pickled red onion, jalapeños cilantro, cashew sour cream
I had the enchiladas ($16) first. It was ok, not much flavor, pudding like texture. So good there were fresh tomatoes and arugula, they gave this dish at least some texture. The taste was not bad though.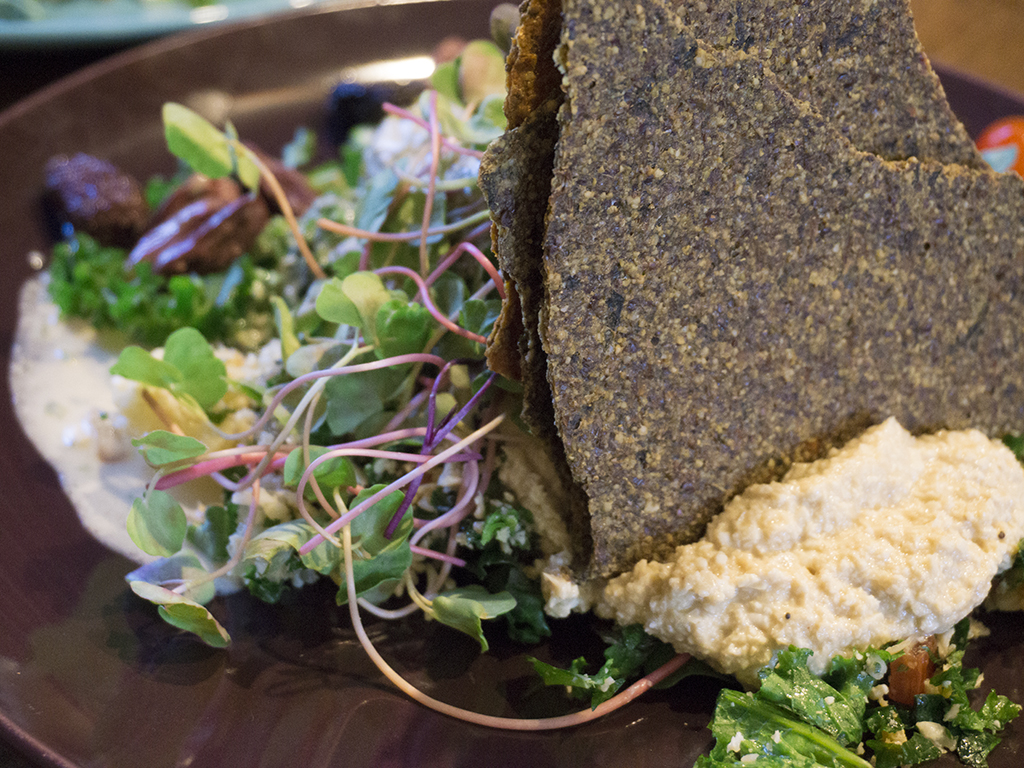 Mezze pLate
sunflower falafels, sunflower hummus, mixed olives, cauliflower/kale tabouli, cherry tomatoes, cucumber, pickled red onion, flatbreads, tahini sauce, za' atar oil
Mezze pLate ($16) was my favorite dish. I love falafel, tabbuoleh, hummus, olives and greens. The sun-dried olives were wonderful. Beyond wonderful. The regular olives were way too salty for me after not eating salt for month, I would ask for more sun-dried instead the next time. They are the best.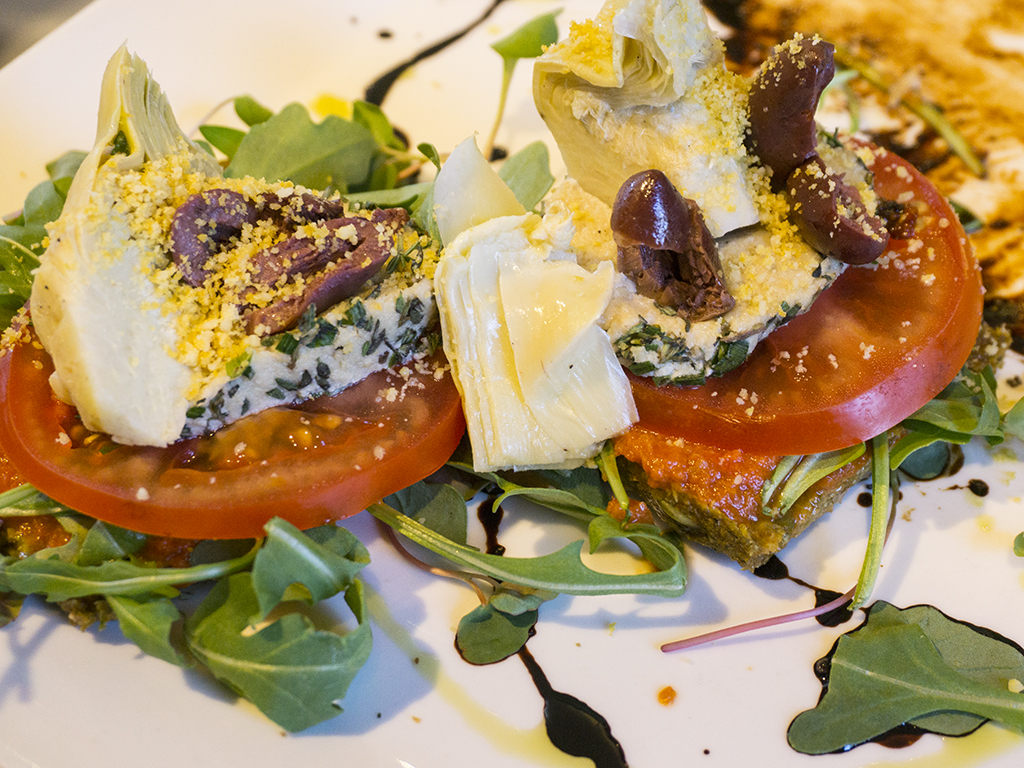 Pizza
almond crust, red pepper marinara, arugula, tomato, black olives, artichokes, cashew feta, almond parmesan
This Pizza ($16) was my hubbies' favorite dish. The crust was wonderful, the sauce and the topping too, especially the nut cheese. First I thought the big fresh tomato slices on the pizza were a little to salady on the pizza, but actually it balanced the dish perfectly. The artichokes were so great on it.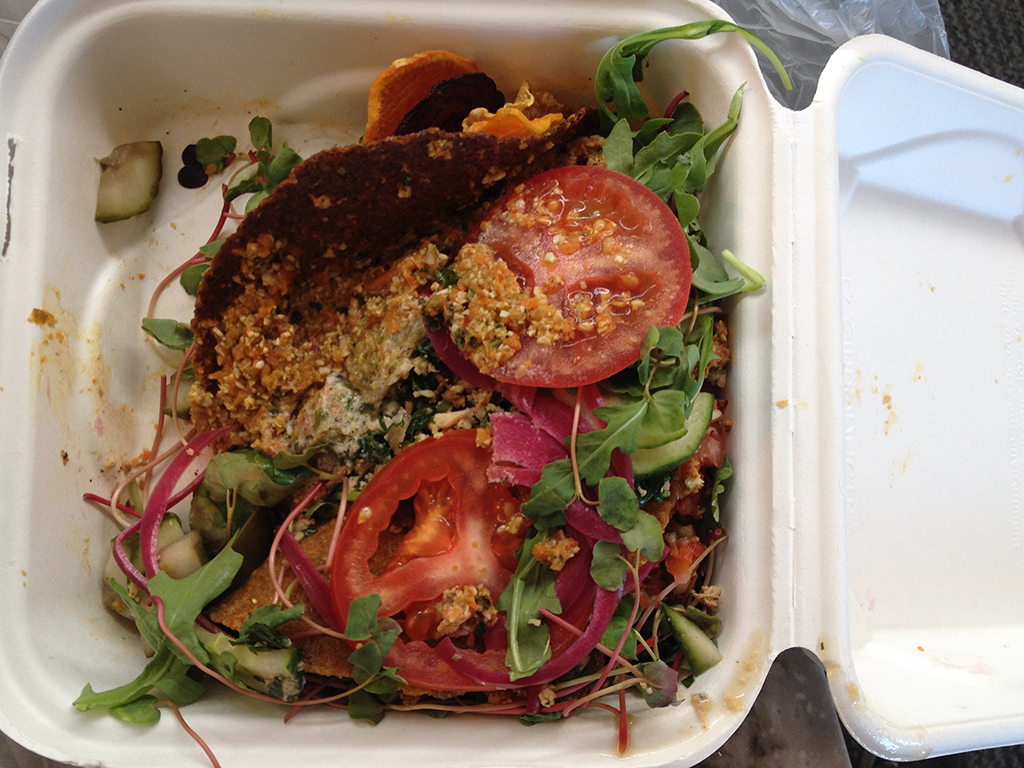 Falafel and Taco Wrap
red wrap, sunflower falafels, smoked carrot hummus, cauliflower/kale tabouli, cucumber, tomato, pickled red onion, micro greens, tahini sauce, za'atar oil & flax corn wrap, sunflower refried beans, guacamole, tomato salsa, walnut taco meat, micro greens, cilantro, green onion
We took the 2 wraps ($15) to go to eat on the plane later that day. The falafel wrap was basically the mezzo plate wraped into a red wrap. The taco wrap was hearty and smokey, really delicious. The wrapping veggie paper itself wasn't so great after caring it around for 3 hours, the next time I'll make sure to eat the wraps right away.
Our experience at Live Organic Food Bar
We liked it here a lot. I would totally bring family and friends there.
What to order
They have a sample platter with 4 awesome raw vegan dishes to try. Perfect for first timers. The atmosphere is relaxed and alternative. They also manufacture crackers, wraps, superfoods, I saw some of them at Whole foods earlier that day.
Desserts
They also have a big selection of desserts, some of them contained honey. So be careful if you are vegan.
Quality of the food at Live Organic Food Bar
The food is supposed to be all organic and vegan, so we were told. On the way to the bathroom I passed by the kitchen and saw some boxes of non-organic avocados and greens. I asked about the corn, they guarantied me it was non-GMO. The thing about eating out is, you have to trust the restaurant, even knowing they might not try as hard as yourselves to serve you the best food possible for the money spent.
Menu
Raw and cooked mixed. A decent variety of raw dishes for a mixed restaurant.
We ate here April 2015.
Raw food recipe books you need in your life
Rating Live Organic Food Bar
Overall

Quality

Taste

Creativity

Variety

Vegan friendly

Communication

Atmosphere

Value

Waiting time