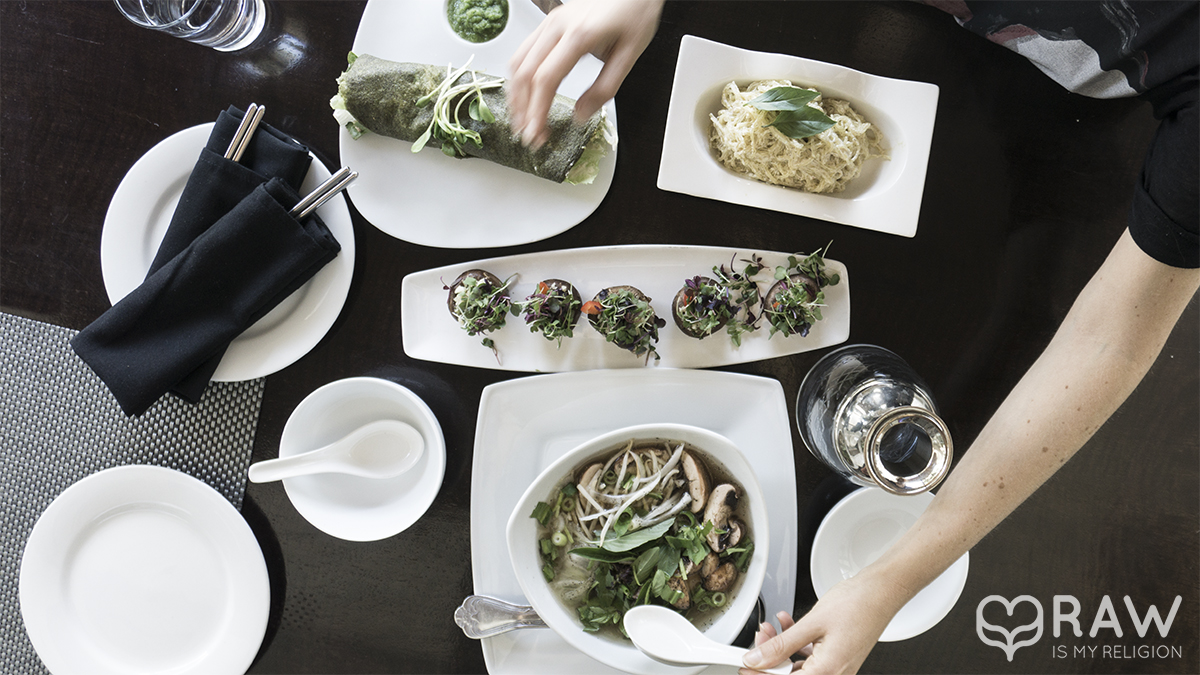 Down Town Au Lac
Just couple of days ago we ate at the Au lac in Fontaine Valley, it was so amazing. And we even have an Au Lac so much closer to where we live. We were thinking of eating here since we got to L.A., studying the menu, the raw options didn't seem like much, but so many of you recommended us going anyway saying that some delicious things are not even on the menu, so we are having lunch at Au Lac today.
What we had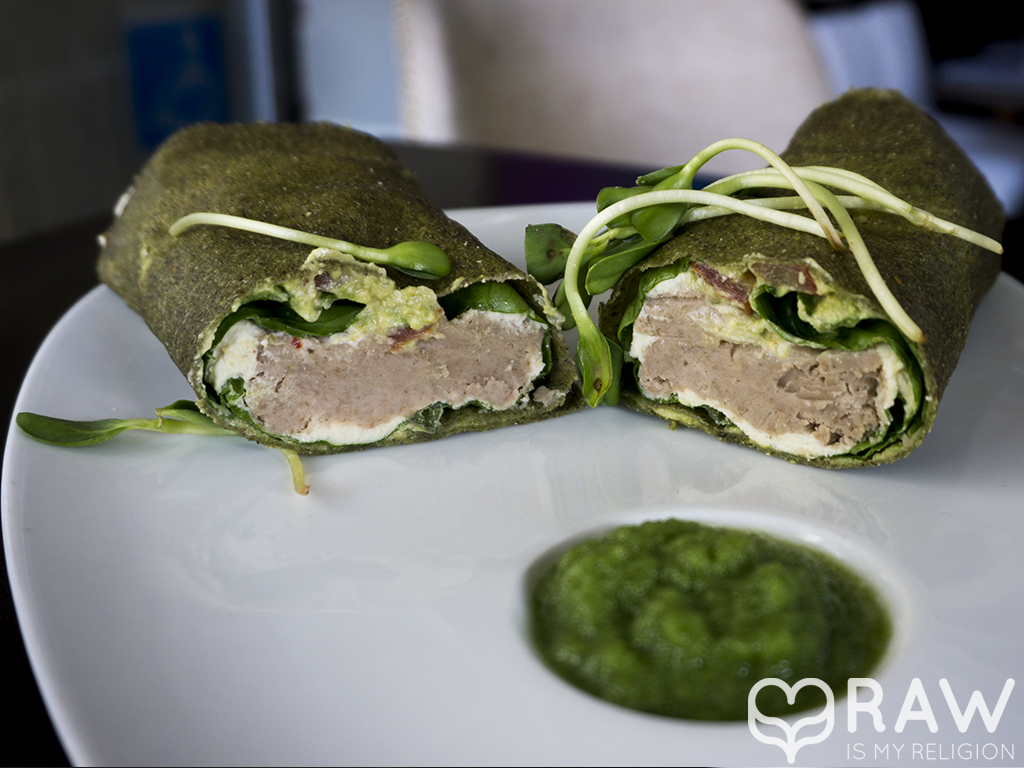 Ito Burrito
Cultured beans, macadamia cheese, guacamole, heirloom tomatoes, lettuce, onion, sprouts with jalapeño puree
Ito Burrito ($7) is a speciality of the Au Lac DTLA, at least I haven't seen it on the Fountain Valley menu. It is a delicious wrap filled with beans, guac, & macadamia sauce. The bean paste was made I would say of cooked and cultured beans, miso style. Some raw foodies consider would miso raw, some not. It tasted like a Teewurst, thick, creamy, salty, flavourful reddish paste. My husband simply loved it, I don't enjoy the starchy texture of cooked and mashed food at all any more, but in the wrap it was ok and a definitely different from everything I've tried recently.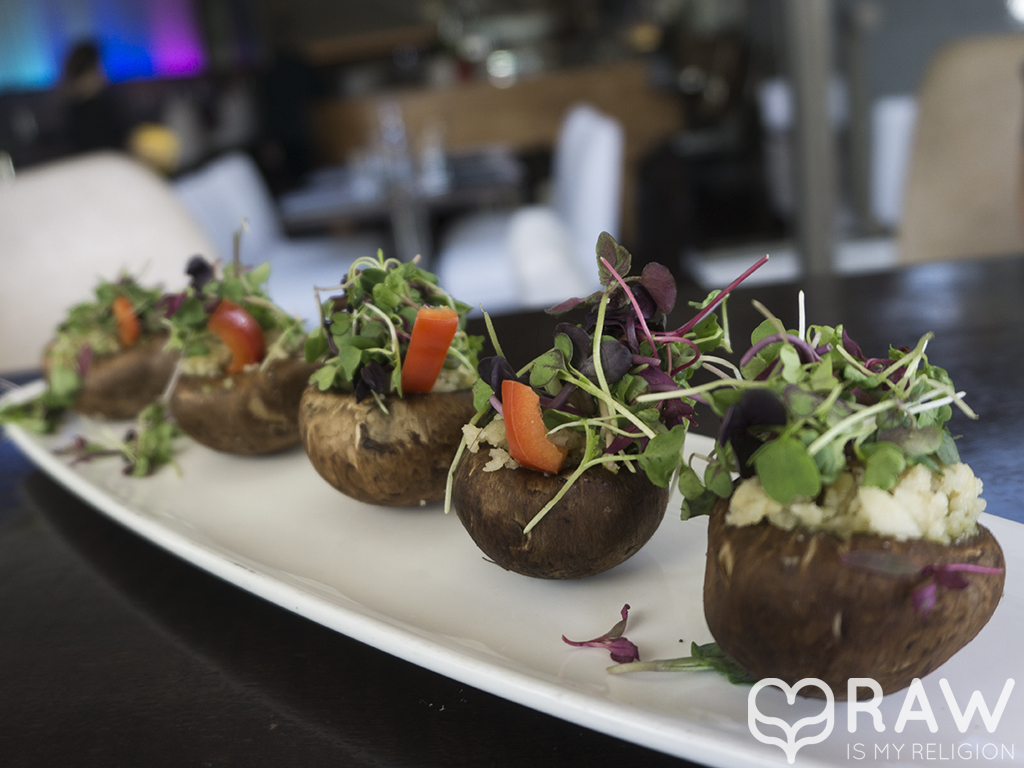 Crimini Pesto
Stuffed mushrooms with Thai basil, pine nuts, bell peppers, sprouts.
The macadamia cheese filling and the pesto these mushrooms ($8) were stuffed with were delicious. These larger than site size mushrooms are a great starter and a very good value.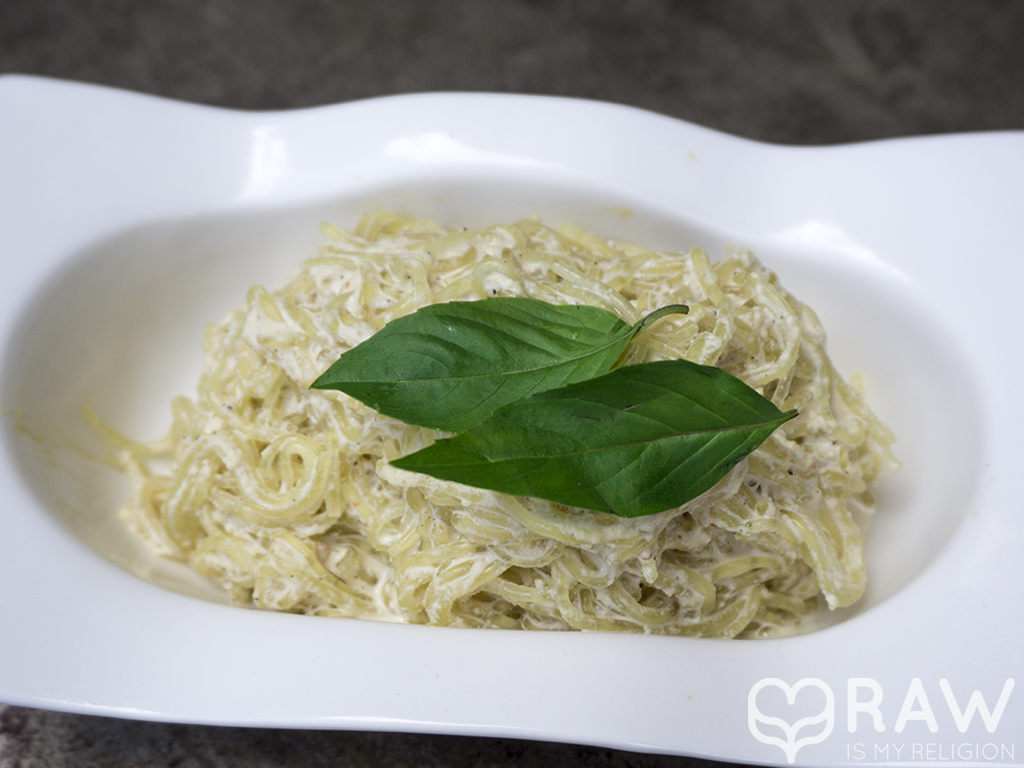 Cheesy Kelp
Kelp noodles, macadamia cheese sauce.
I would say the best and the most surprising dish today were these kelp noodles ($11). I really would not have ordered them as kelp is not raw (more on raw and non-raw ingredients in the tips section below). But today, I'm taking recommendations from Chef Ito and this is one of them. The macadamia cheese sauce is divine. Cheesy, creamy, like a great tasting egg salad dressing, not too salty, not too savory, perfectly delicious and comforting. The noodles were soft and without the kelp crunch, which was amazing. Next time, I'll ask for a big bowl of zucchini zoodles with this same macadamia cheese sauce.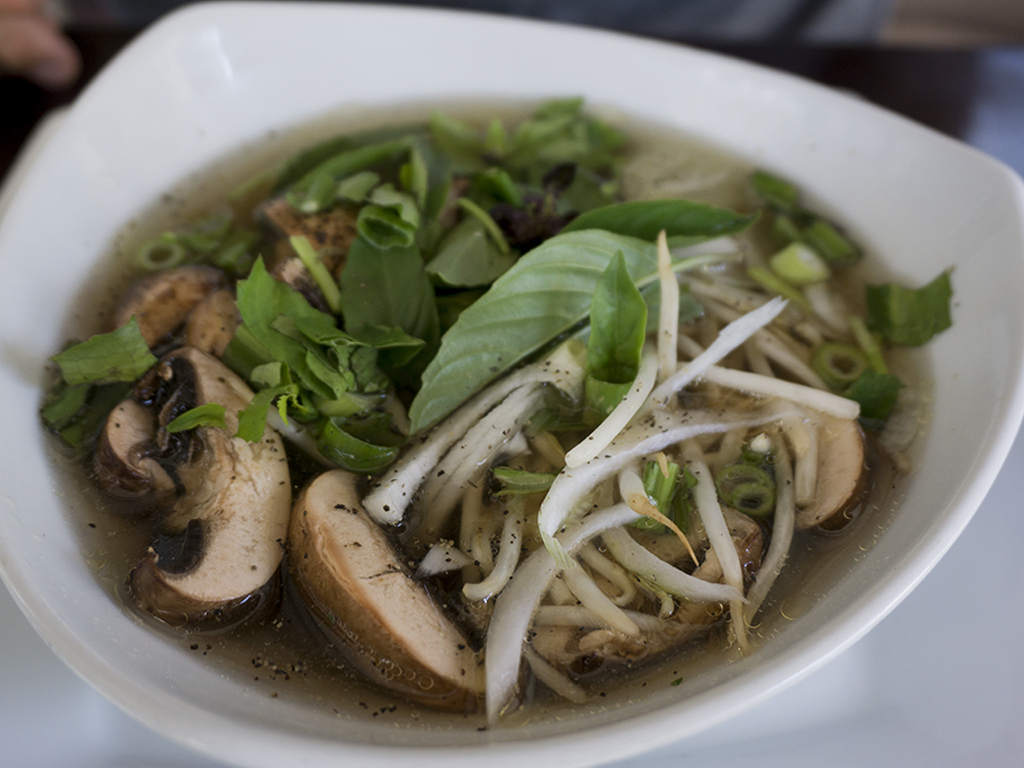 Pho
Anise and clove broth, sawtooth herb, mushrooms, bean curd, side of bean sprouts and Thai basil.
I'm not a big soup fan and would not have ordered it if Chef Ito didn't suggest it so persistently. The pho ($12) was a warm, very flavorful salty broth with mushrooms and veggies that tasted slightly marinated, topped with crispy sprouts. I loved the fact that it was warm and not too oily. This soup really inspired me to make more liquid fat free soups for us at home.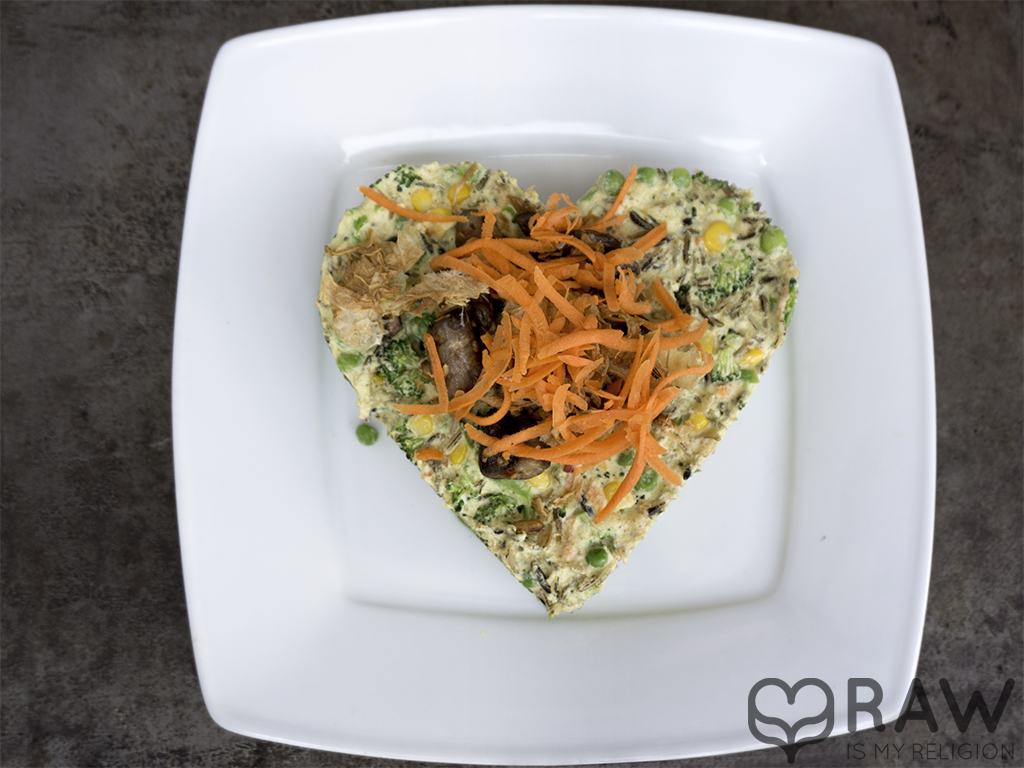 Curried Rice
Wild rice, spiced macadamia sauce, broccoli, cauliflower, peas, corn, avocado, cucumber, olives, onion, marinated mushroom, carrots, cilantro.
We just had this rise couple of days ago ($16). This time, we asked for no cauliflower, so my husband could eat it too, and it was no problem. This curried rice tasted even better here than it tasted at the other Au Lac, something about the sauce and the flavor. The curry was more prominent and the sauce creamier. You can't go wrong with this curried rice. That's for sure.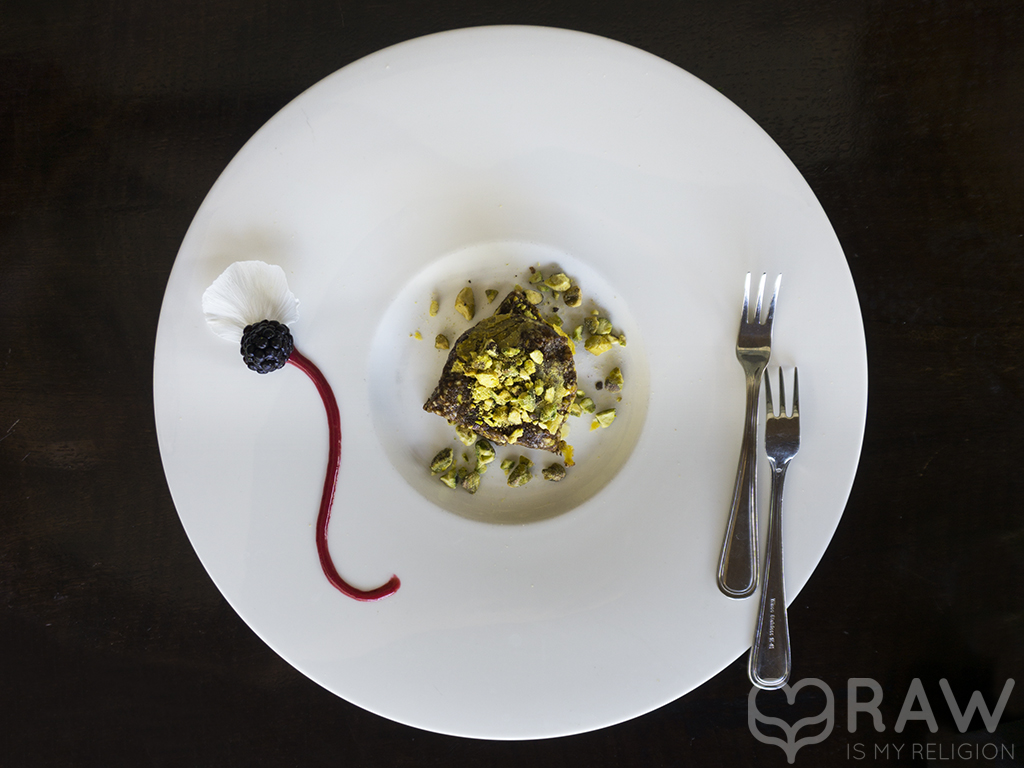 Baklava
Not that we were still hungry, but we decided to try baklava ($9). We asked for no maple syrup on the side. My husband loved it, the many pistachios alone make his heart beat faster. He loved the flowery taste of it. To me, it tasted a little like soap at first, but it got better with every bite, I got used to it. Seems to be one of the dishes some of us like, and some not so much.
The Au Lac Experience
This Au Lac is beautiful. The location is modern, up scale, clean, but still very inviting and not intimidating even wearing everyday clothes. Chef Ito is just the best human being. Meeting him made this experience unforgettable. The service was very nice and attentive. I felt very good after eating the food here.
Tips
The perfect place for brunch, lunch or dinner, parking is free for the first hour and just $1 for the second hour. Fully vegan menu, many raw options, some cooked options can be made raw, just ask. Substitutions are possible as well. Now the raw police in me wants to talk about raw a little more in depth, I feel like in Au Lac, the limits of raw are pushed very hard. What exactly is raw. Technically, raw means unheated food, at least not over a certain temperature. I don't know for sure, but from my experience I would say that at the most restaurants every raw dish contained something heat treated, sweeteners, frozen veggies, miso, soy sauce, broth. How do I feel about it? I love this kind of food for a special occasion, but I couldn't eat it regularly. For most vegans and non-vegans Au Lac serves a wa healthier options than they used to eat otherwise.