More Than 100 Raw, Vegan and Gluten-free Recipes to Make You Feel Great by Angus Crawford and Chelsea Clark
I got this book Rawlicious at Home after eating at the Rawlicoius restaurant in Toronto, or more like grabbing takeout there.
Recipes
The books holds many amazing basic recipes. Smoothie, starters, pizzas, wraps, soups, desserts.
Favorite must try recipes from Rawlicious at Home
Caramelized Onion, Cheese and Cherry Tomato Flatbreads
Taco Salad
Rawitch
Taco Wrap
Mexican Pizza
Pecan Pie
What to expect from Rawlicious at Home
You will learn to make lots of dishes served at the restaurant. The food is basic simple gourmet raw food. You will need a high speed blender and a dehydrator.
Not so good
oil used as an ingredient in over 50 recipes
photos are pretty bad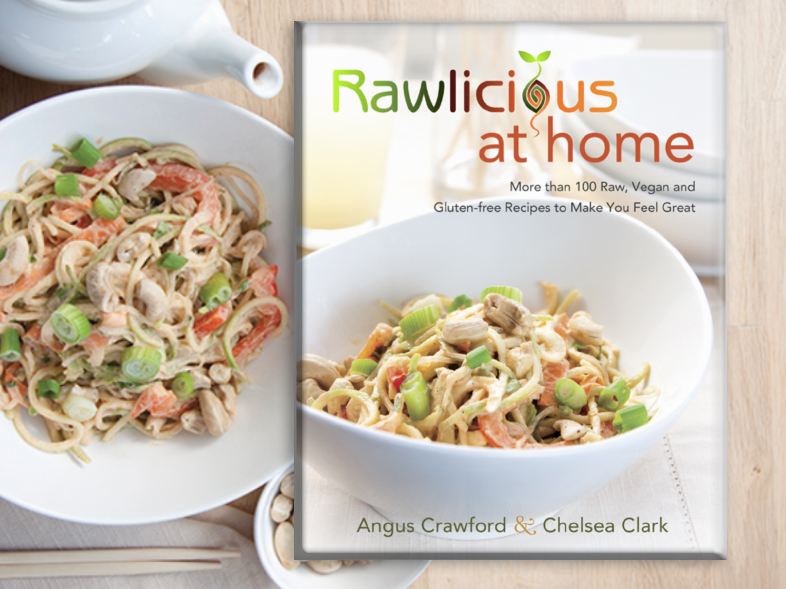 My rating of Rawlicious at Home

Contents Rawlicious at Home
A Practical Guide to Eating Raw and Eating Well
Equipment to Get You Started
Stocking Your Raw-Food Pantry and Fridge
The Five-Day Challenge
Drinks and Smoothies
Lean Green Juice
Veggie Juice
Vitamin See
Ginger Love Juice
Almond Milk
Chocolate Protein Shake
Choco-Minty Smoothie
Chocolate Nut Milk
Strawberry Nut Milk
Strawberry Milkshake
Tropical Green
Creamsicle Smoothie
Coconut Cooler
Lea's Lemonade
Hot Chocolate
Breakfasts
Overnight Oatmeal
Granola
Hemp Seed Yogurt
Granola and Hemp Seed Yogurt Parfait
Sweet Crêpes
Appetizers and Snacks
Nacho Platter
Caramelized Onion, Cheese and Cherry Tomato Flatbreads
Nori Rolls
Spring Rolls
Pad Thai Sauce
Cranberry Sauce
Mango Chutney
Salsa
Guacamole
Avocado Scoop
Nacho Chips
Kale Chips
Sweet Potato Chips
Spiced Almonds
Soups
Velvety Vegetable Soup
Rosemary Red Pepper Soup
Confetti Soup
Creamy Tomato Soup
Creamy Celery Soup
Corn Chowder
Miso Noodle Soup
Salads
Rawlicious House Salad
Strawberry Pecan Salad
All Green Goodness Salad
Caesar Salad
Arugula Salad
Olive, Currant, Nut and Seed Salad
Taco Salad
Summertime Broccoli Salad
Sandwiches
Rawitch
Don't Be Chicken Salad Sandwich
Caesar Wrap
Taco Wrap
Stuffing Wrap
Entrées
Thai Burgers
Savory Crêpes
Soft Corn Tacos
Teriyaki Stir-fry with Parsnip Rice
Pad Thai
Chili
Bolognese
Lasagna
Turnip Ravioli
Beet Ravioli
Zuchetti Rosé
Zuchetti Pesto
Sprouted Buckwheat Pizza
Mexican Pizza
Tropical Pizza
Desserts and Treats
Vanilla Hemp Bars
Superfood Cookies
Coconut Cinnamon Snowballs
Carrot Cake Bites
Blonde Macaroons
Chocolate Macaroons
Chocolate
Chocolate Crème Cookies
Brownies with Vanilla Icing
Chocolate Banana Cheesecake
Chocolate Sauce
Coffee Cheesecake
Lemon Cheesecake
Fruit Sauce
Key Lime Tarts
Chocolate Raspberry Tart
Pecan Pie
Pumpkin Pie
Maple Walnut Ice Cream
Mint Chocolate Chip Ice Cream
Vanilla Cardamom Ice Cream
Staples
Nut Loaf Patties
Refried "Beans"
Rawitch Spice Mix
Almond Cheese
Cashew Cheese
Pine Nut Parmesan
Sour Cream
Pizza Crust
Burger Buns
Tortillas
Herb and Onion Flatbread
Onion Bread