<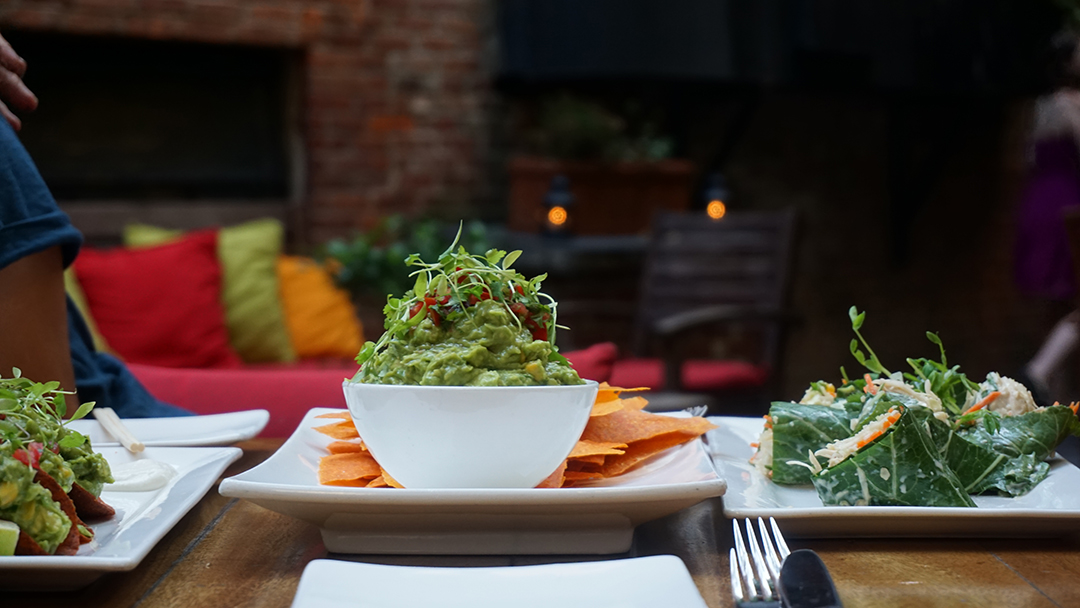 Birthday lunch, dinner with friends.
<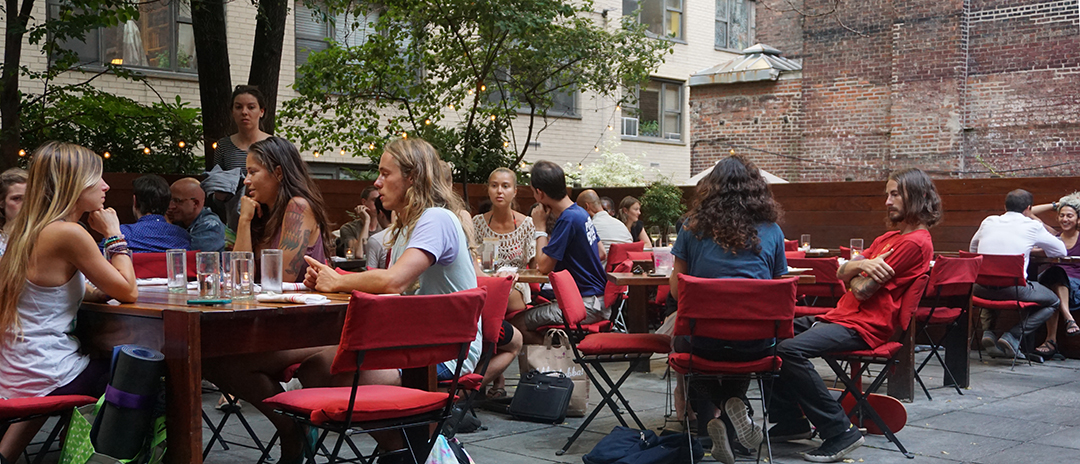 What we had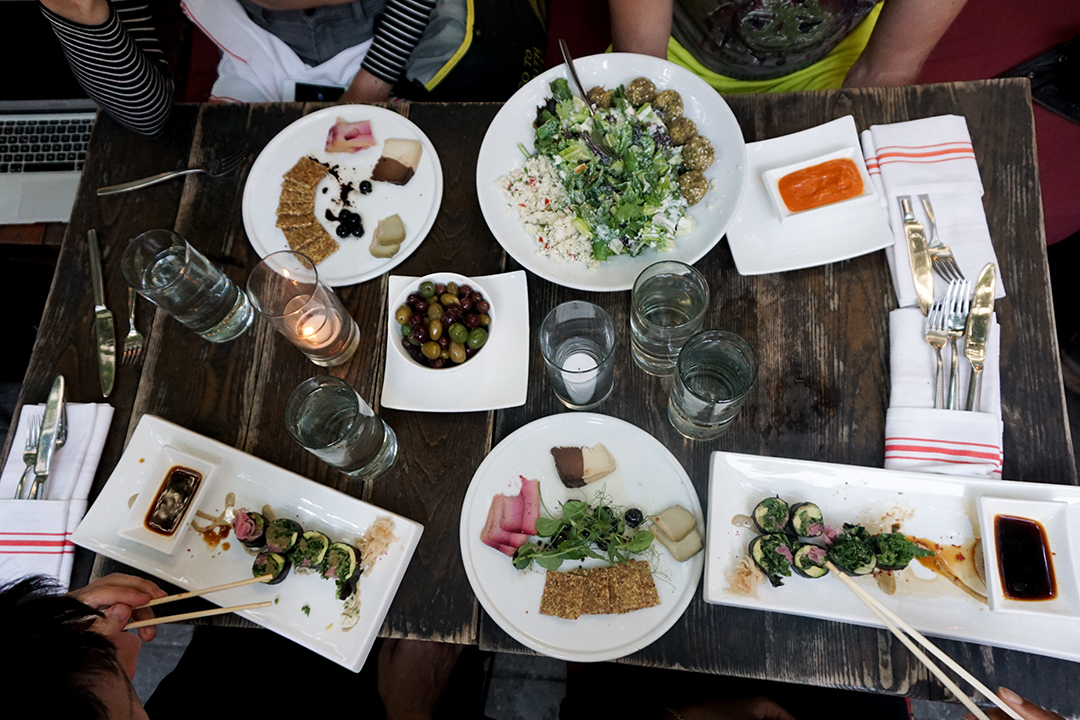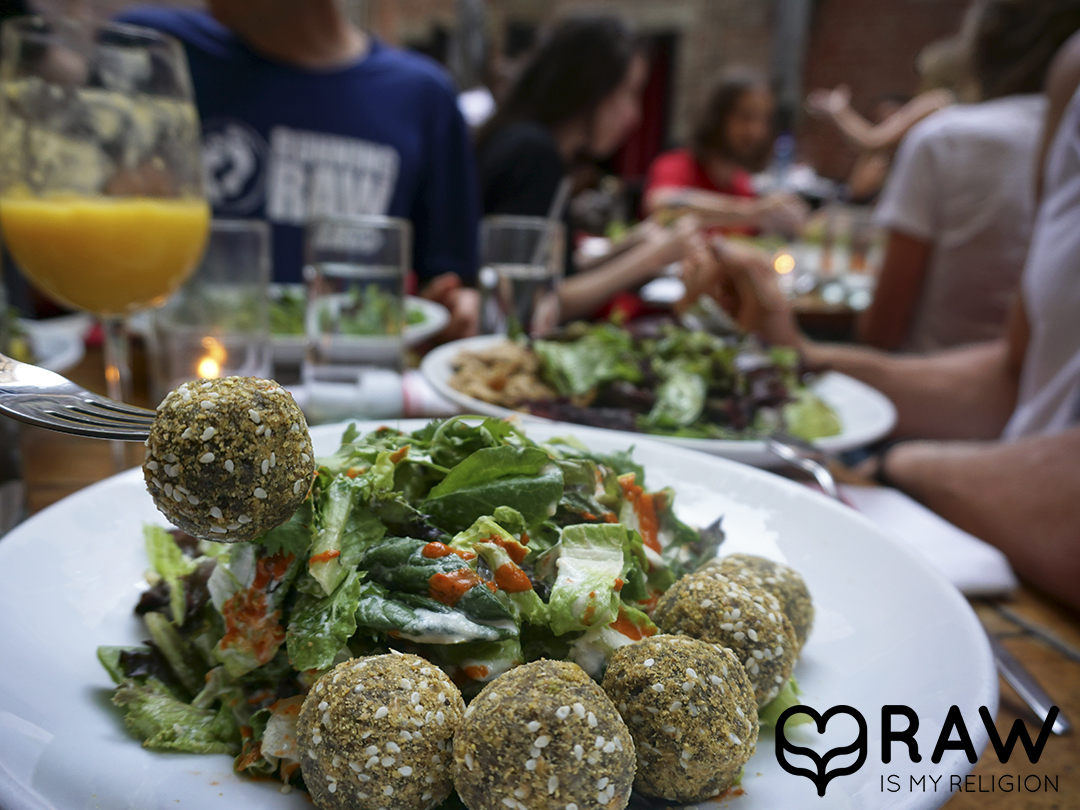 Falafel Salad
Falafel with tabhouli. Tossed with greens, lemon tahini, and red pepper hot sauce.
This falafel salad ($16) is one of the kind and a true speciality of this raw vegan restaurant. It doesn't happen all too often that I get the maximum satisfaction from just one dish. This salad is so delicious that I had it t least 10 times during our time in NYC. The tabbouleh is light and well seasoned. The falafel are the best ever. Hearty, nutty, meaty, with the Mediterranean flavor you would expect, plus a touch of sweetness. On the outside dense, on the inside moist. So delicious. I wish I could eat a plate full of falafel balls, but honestly, after eating 3-4 of them, I'm full. This salad goes straight onto my fav food list! Check it out if you want to know what else I loved eating.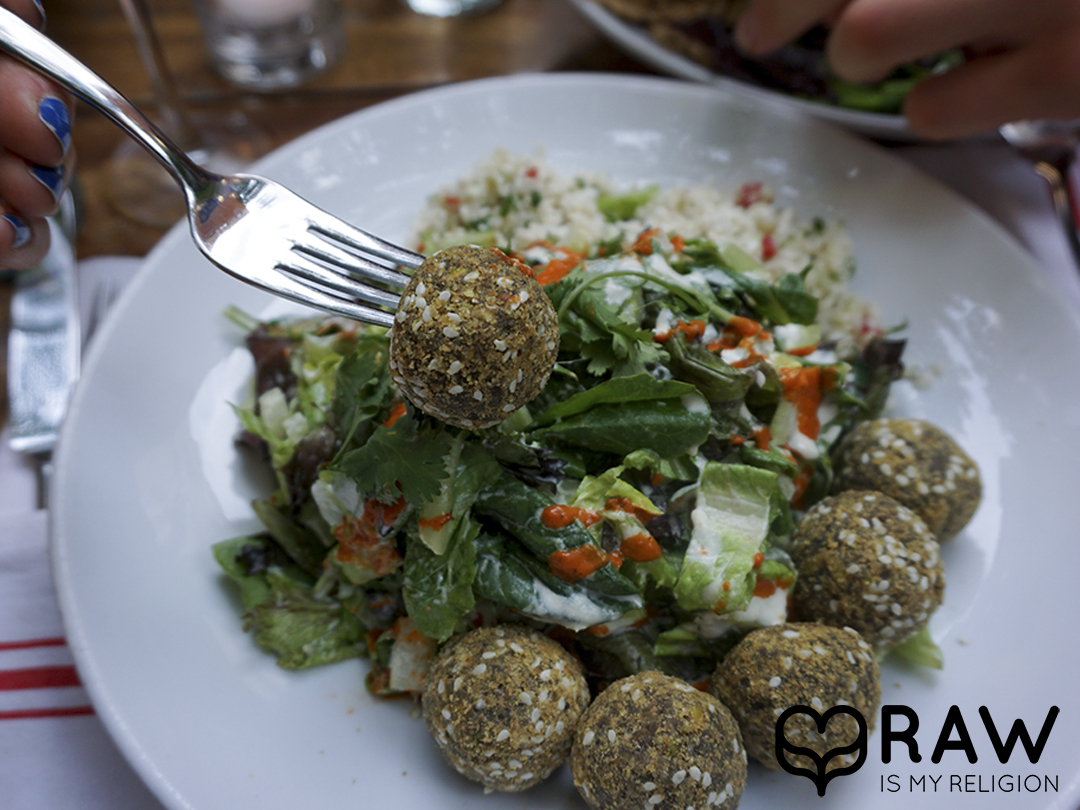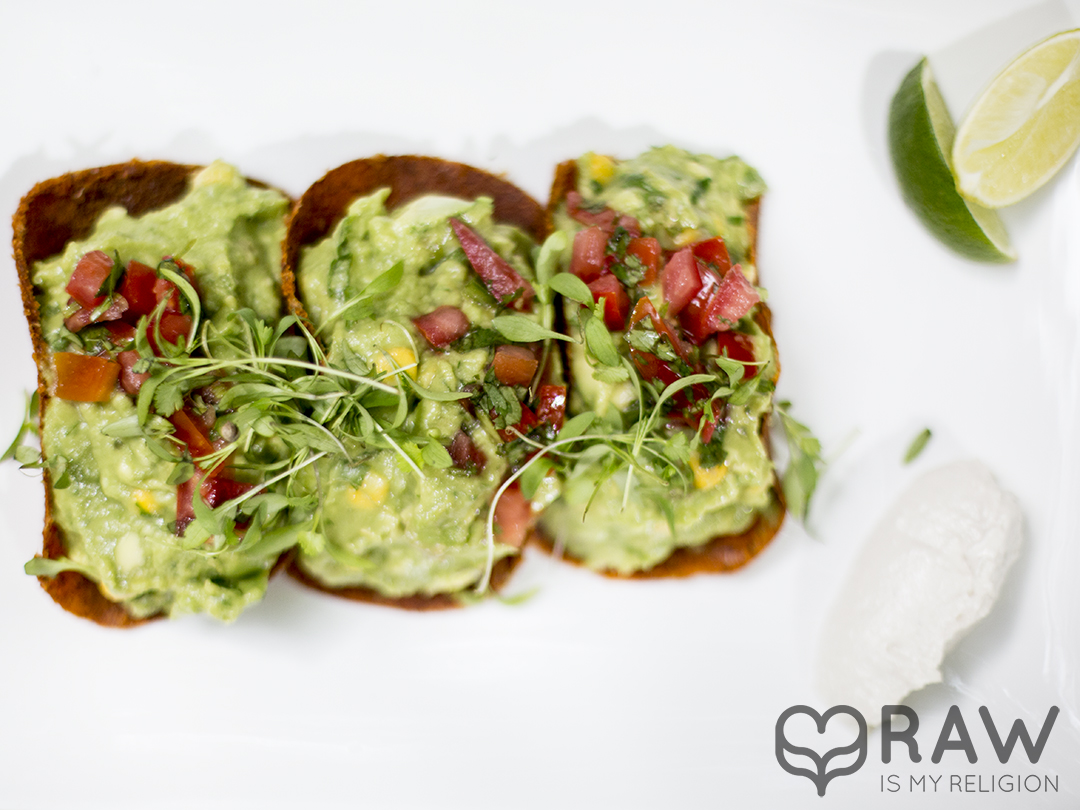 Tortilla wraps
Spicy sun-dried tomato filling, corn cilantro guacamole, tomato-lime salsa, cashew sour cream.
For those who love guacamole, these tortillas ($19) are a real treat. The shells are awesome. If you've ever tried to make them in a dehydrator, you can tell how hard, if not impossible, it is to make such perfect ones. Beautiful and delicious. The only thing I didn't like, was the cashew sour cream. It tasted like yeast to me.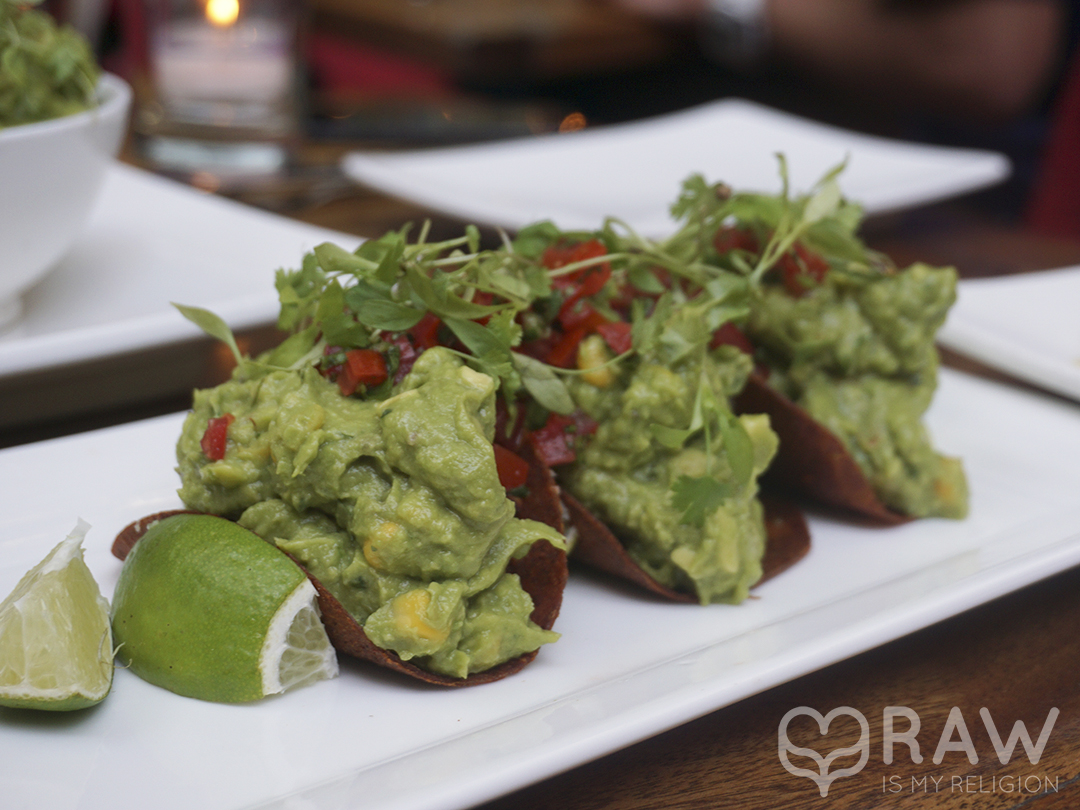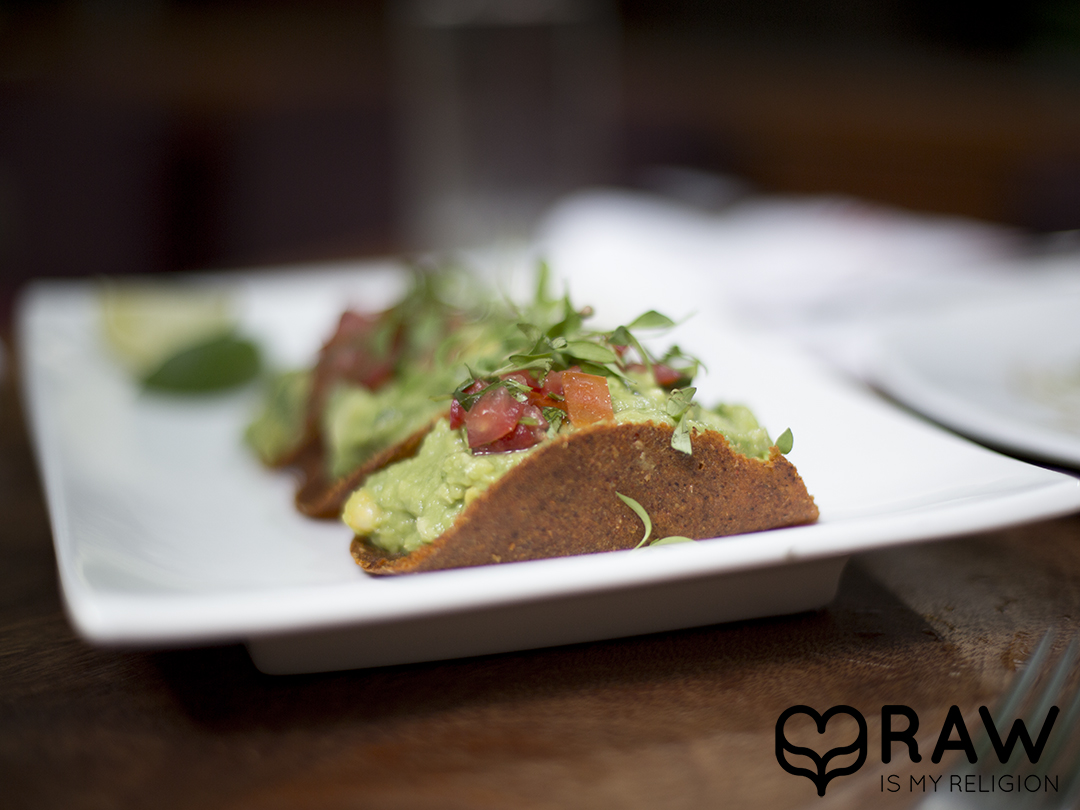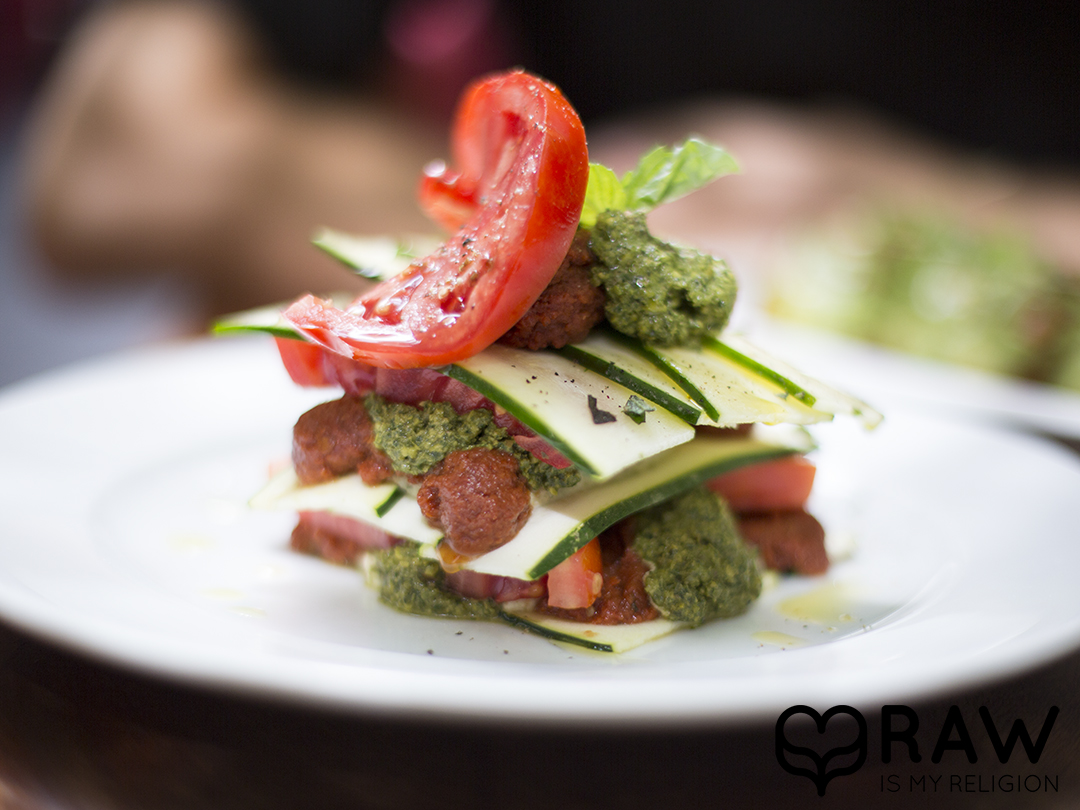 Zucchini and heirloom tomato lasagna
Sun-dried tomato sauce, pistachio basil pesto, pumpkin seed macadamia ricotta.
I wasn't expecting to like this lasagne ($21). I'm not a zucchini fan. And here, such this zucchini slices. But, everything I though by looking at it was wrong. Just wrong. This lasagne is so perfect, so delicious, the zucchini slices just like they are supposed to be. The 3 sauces delicious. Delicious in combination. Delicious on their own. I was a huge lasagne fan back in my cooking days. As I started to eat raw, I was ready to give up lasagne suspecting that there is no way to make lasagne from veggies and nuts. Pure Food and Wine prooved me wrong, there is a way to make a raw lasagne that tastes better than a backed one.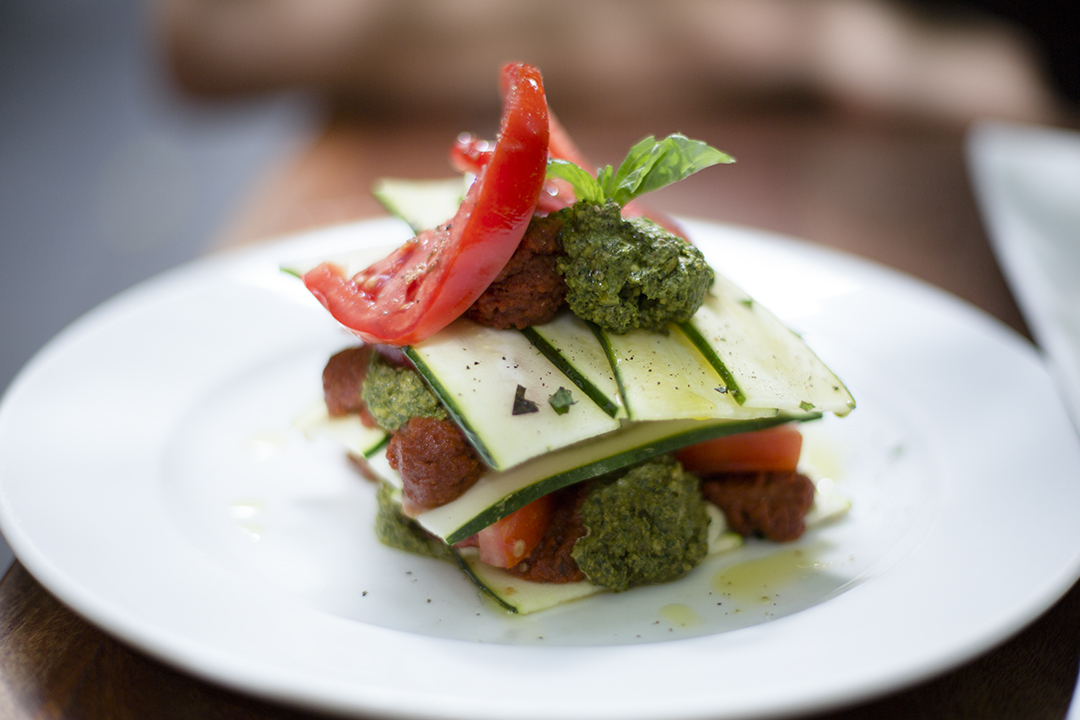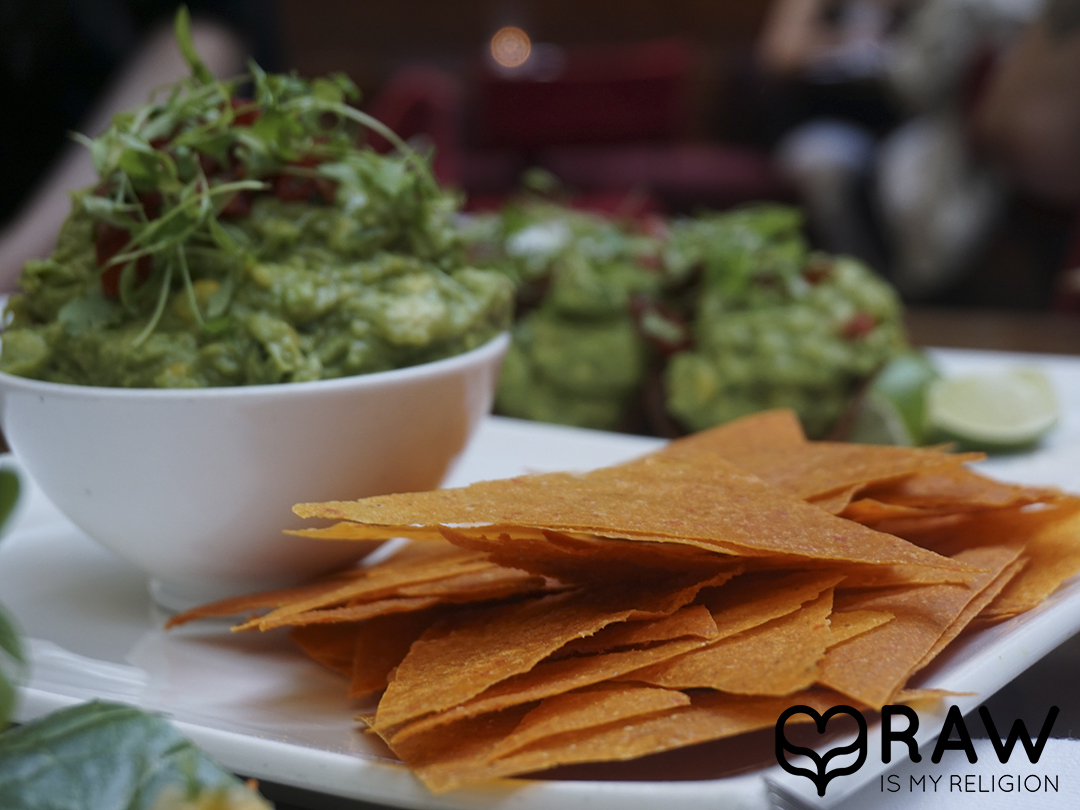 House-made chips and guacamole.
Corn cilantro guacamole, chili-lime chips
You can't go wrong with chips and guacamole ($15). Creamy rich guacamole with thin crispy chips. The perfect appetiser or a main. Depending on how much you eat.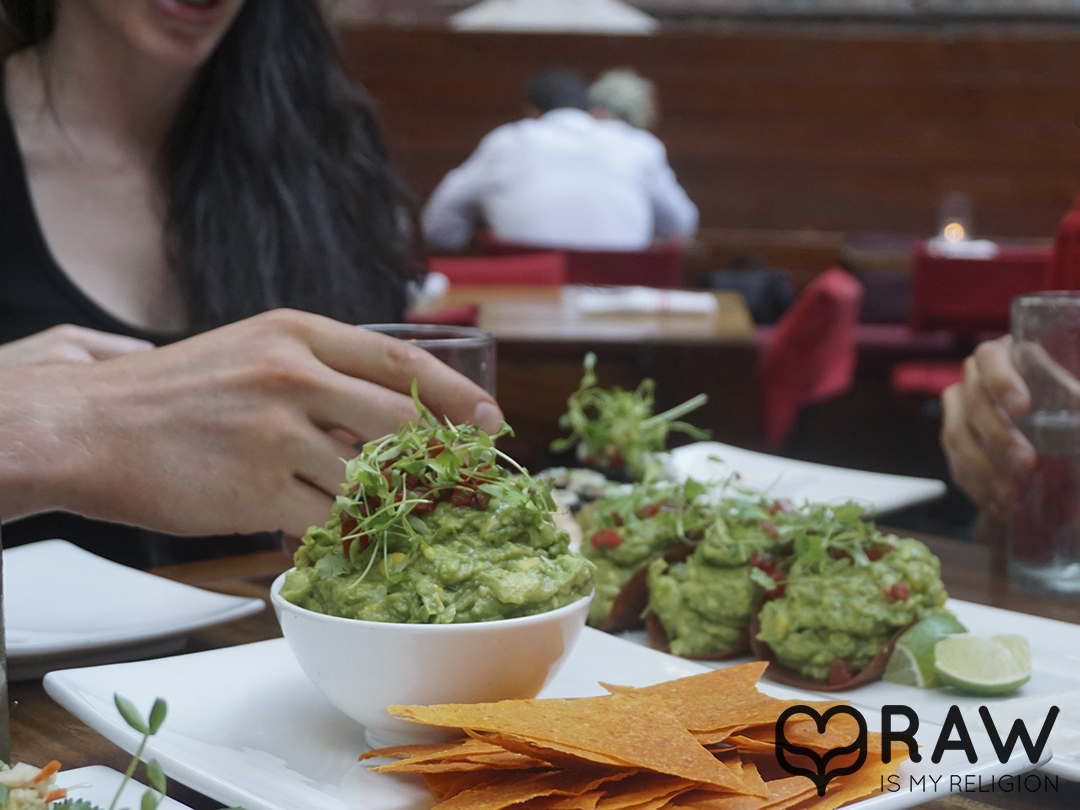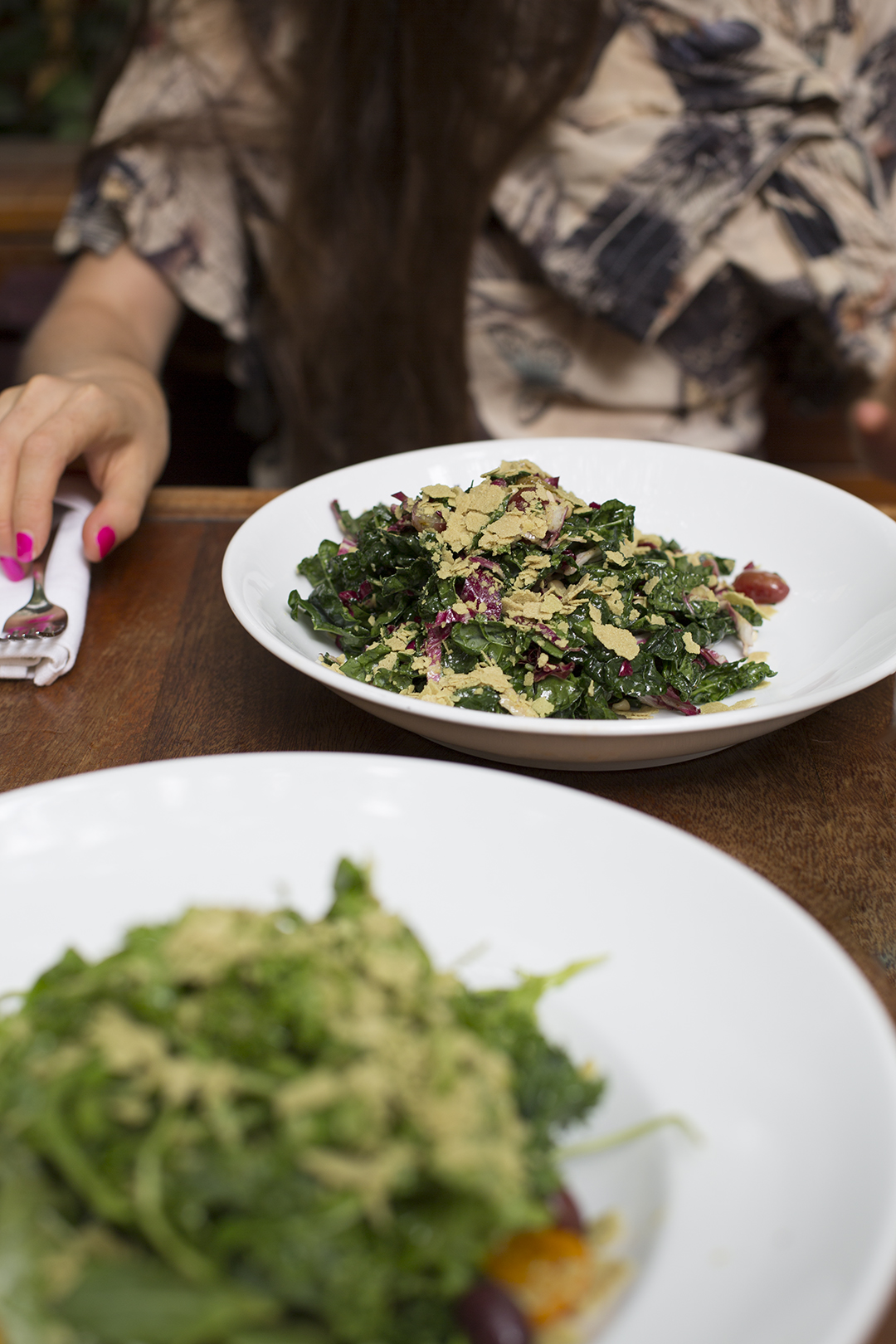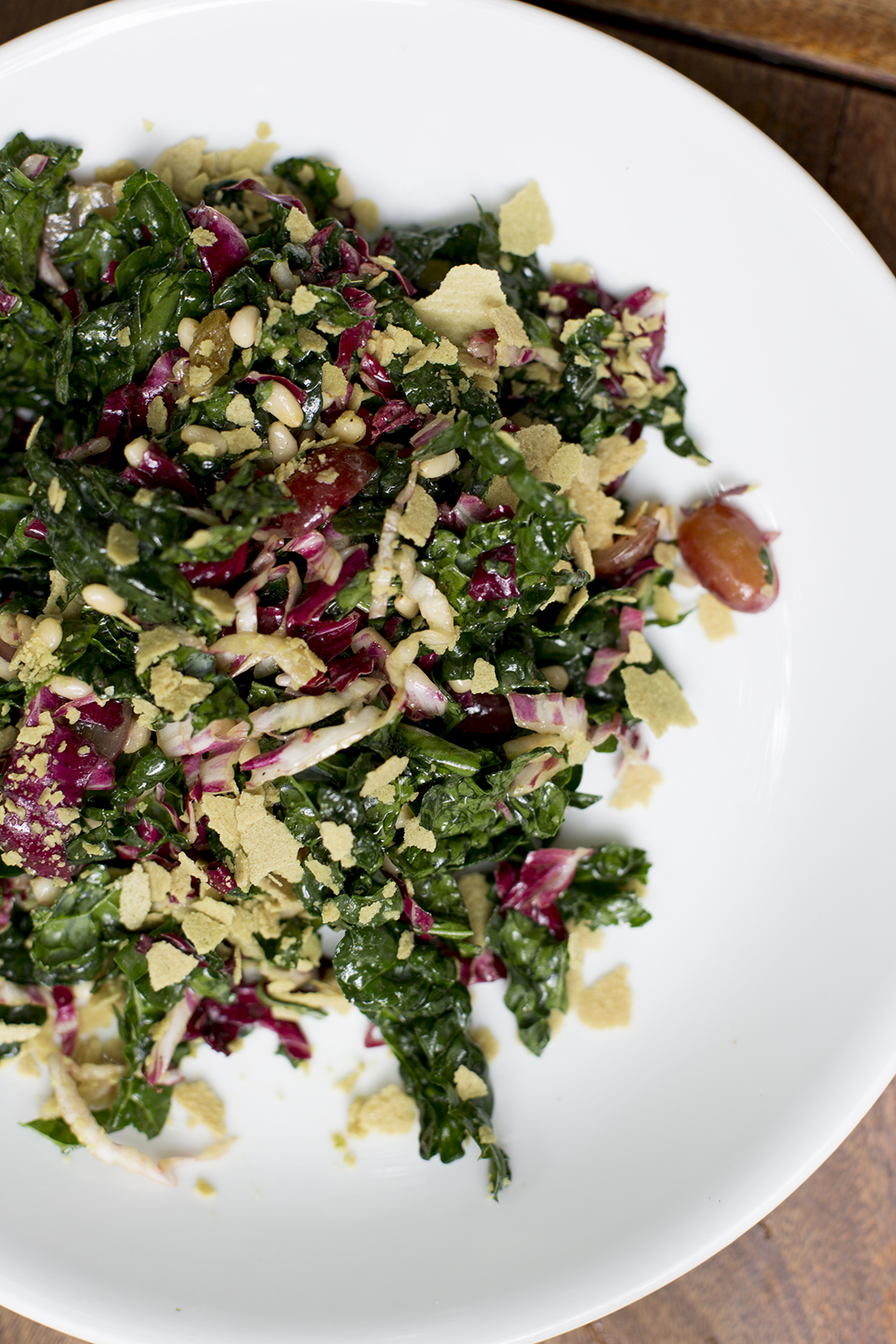 Mediterranean Salad
Arugula, kale, kalamata olives, tomatoes, pumpkin seed macadamia parmesan, balsamic vinaigrette.
This salad ($15) was an accident. If you have been reading my other reviews, you might know that I don't order salads so much. Why? Because they are easy to make and because I make the best salads. So what happened here? We took the prix fixe lunch and I had to choose a salad. This one sounded the best and I'm glad I got to try it. Besides the salty olives and the oily dressing, the macadamia cheese came to the rescue and promoted this simple salad to a worth-trying one.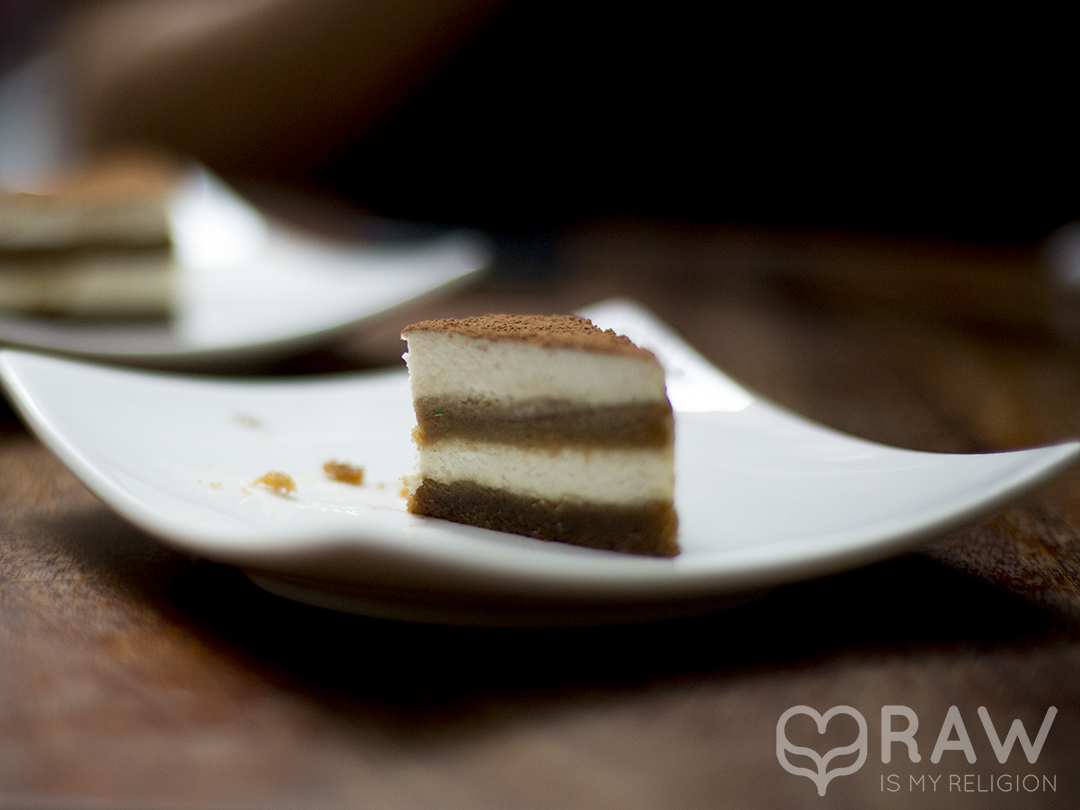 Tiramisu
Flax-based garlic bread. Served with herbed olive oil dip.
We tried couple of dessert here, tiramisu ($7 for half the serving) is our second favorite. Our favorite dessert, mallomar, is getting its own page here. Back to the amazing tiramisu. It totally resables the tiramisu. The flavors, the textures. Amazing what chefs are creating here at Purer Food and Wine.
The Pure Food and Wine Experience
We dined here several times. Always on the patio. In great company, with 20 friends, or just us. Every time was amazing. I couldn't think of anythink that wasn't perfect. The service, the atmosphere, the food.
Tips
Definitely try different dishes. Go with 2-3 friends and share everything.