Why I make my own sauerkraut
I can't live without sauerkraut. It adds the flavour and textures that lacks in our raw food diet otherwise. Some people eat sauerkraut for its probiotics, I eat it for the taste. The taste only.

Homemade sauerkraut better than store-bought
Store bought contains lots of salt and we all know that we probably eat too much salt with all the other foods we consume daily. A sauerkraut lovers like me can't restrict her sauerkraut consumption. For me, the only around it, is to make my own no or low salt sauerkraut. There is also no vinegar in my sauerkraut recipe.
How time-consuming is it to make sauerkraut
I used to believe that making sauerkraut is really time consuming, it felt like a 2-days-event back when I was a child and all the family members had to participate. Stefan kind of told me that he did not want to help me with it and I had to reconsider the familiar method. I simplified all the steps to the extent that I make a 1 gallon jar once a week and it only takes me 10-15 minutes.
Secrets of how to make great sauerkraut
N°1 Fresh organic cabbage!
N°2 Never add spices and herb you don't like!
N°3 Clean everything. Clean the veggies and the utensils properly. Don't forget your hands.
N°4 Use drinking water for the sauerkraut, not the chlorinated!
Organic ingredients
Let's pick a recipe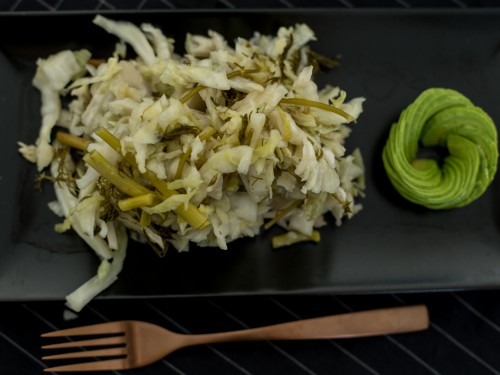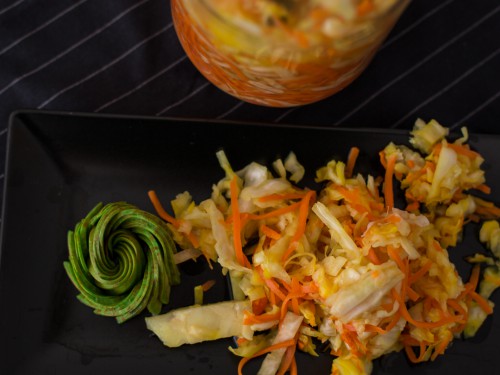 Pickled carrots for carrot lovers.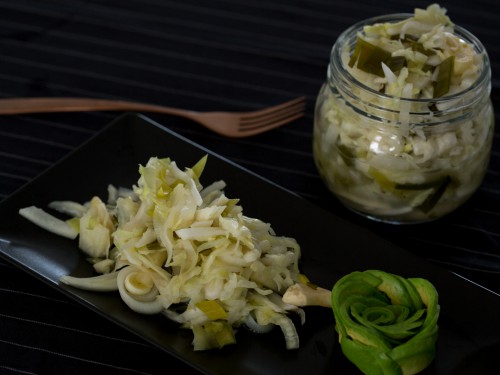 Sauerkraut with the asian twist.