At a raw food paradise!
What can you do on your birthday if you love to work all day long? I could not imagine a better place to spend half of the day with my husband, computer, and the camera than at Rawvolution. It's really close to your place, right on the way to the beach. We love Rawvolution. We had almost everything on the menu today. Ok, everything we could eat and a little more. The food was beyond amazing. We made the right choice coming here.
What we had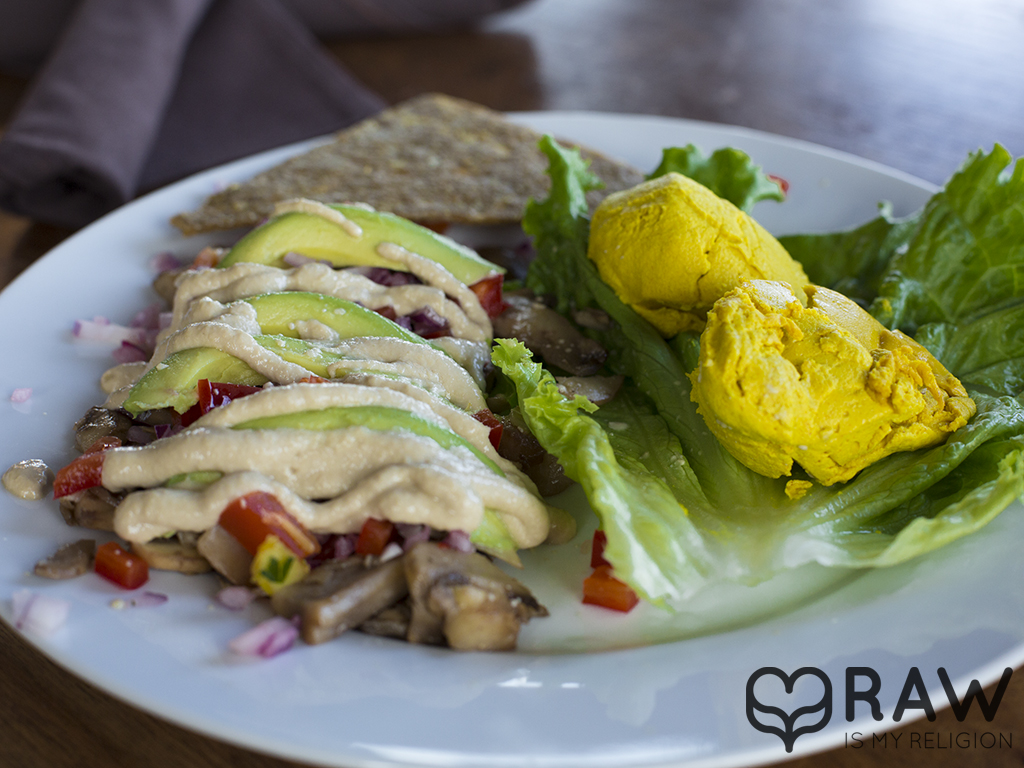 Avocado Cheese Scramble
Cashew scramble, avocado, red bell pepper, red onions, mushrooms, seed cheese, onion bread.
It's around 9am, breakfast time. We didn't eat anything today and are super hungry and excited. This Egg-less scramble ($10) is not just beautiful, it's a very special treat for everyone who enjoyed eggs in hers/his past life. The scramble is made with cashew, turmeric, and irish moos, absolutely cruelty-free and delicious. My husband is totally into marinated mushrooms, so this dish might become his favorite for breakfast.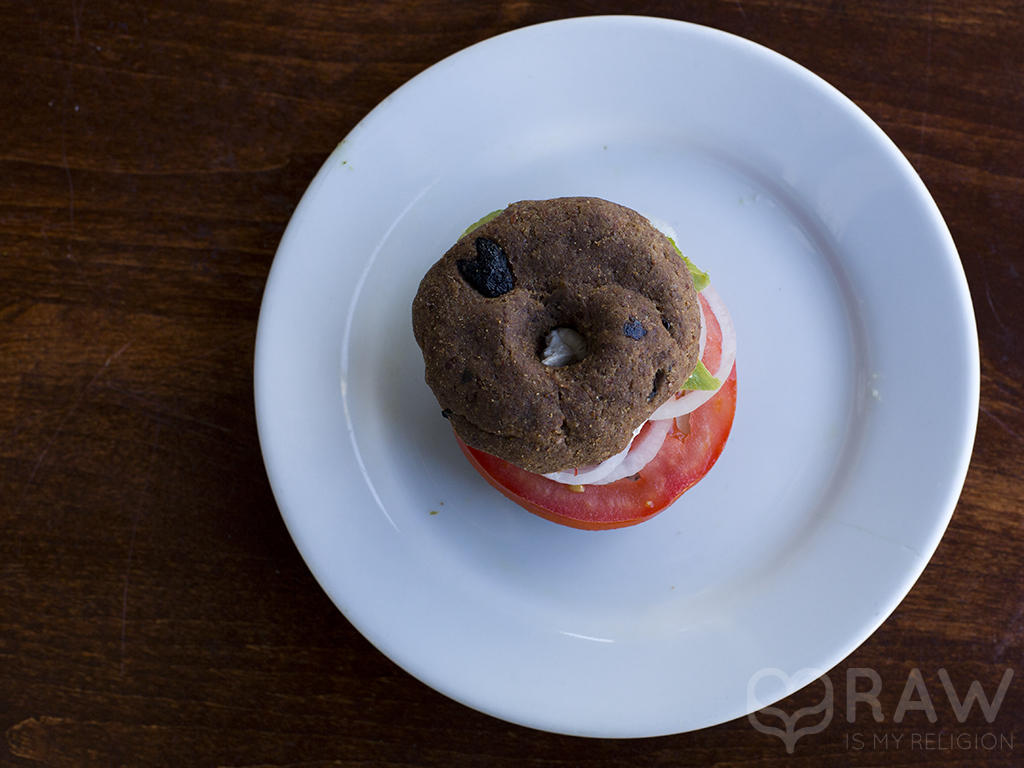 Tomato & Cheese Bagel
Tomato, cashew cheese, almonds, flax seeds, lemon juice, cashews, zucchini, olive oil, rosemary, sea salt.
Doesn't it sound just perfect. A bagel ($9) for breakfast. We thought so, and decided to eat it along with the avocado cheese scramble. This bagel was so soft and delicious. Very bread-like. I loved cheese and tomatoes on white bread as a teenager. But this bagel makes me forget that regular bread ever existed. It's so much better. The cheese and tomatoes: fresh, creamy, delicious. This bagel is pretty small, but it's also much cheaper than other dishes. Just saying, I almost didn't want to share it. We usually share everything to try more different dishes. But this one was very hard to share, too good, just the right size for me alone.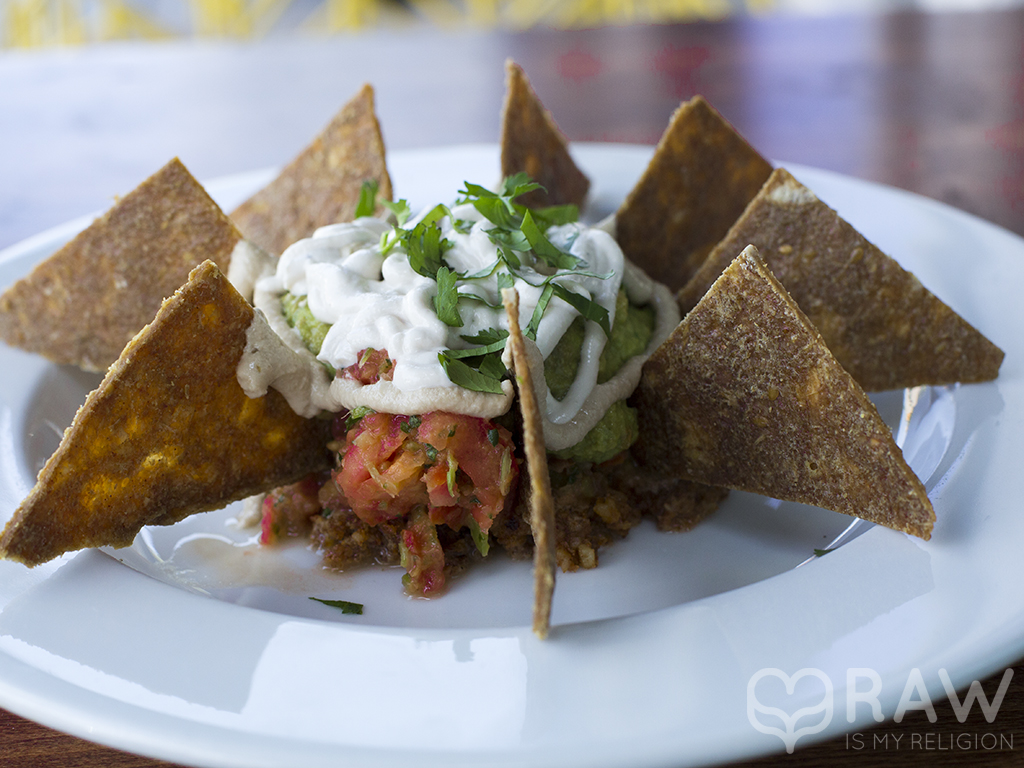 Nachos Grande
Walnut taco meat, guacamole, salsa, seed cheese, cashew mayo and blue corn chips.
Our brunch continues with nachos ($12). I know that I like onion bread better than blue corn chips. So I order onion bread chips instead of the blue corn chips. And some extra onion bread, because it's the best bread ever. What can I say. This dish is extremely delicious! The taco meat is great. The texture unbelievably real. There seem to be two layers of meat. One, a little more dense and flavourful on the bottom, we assume it's slightly dehydrated, and a fluffier one on top. I love the cashew cheese and the guacamole that overfloats the taco meat. This dish tastes a lot like the topping of the Mexican pizza that we had couple of days ago, but here, the taco meat is less salty or less acidic but a little spicier. All in one, definitely my favorite dish today.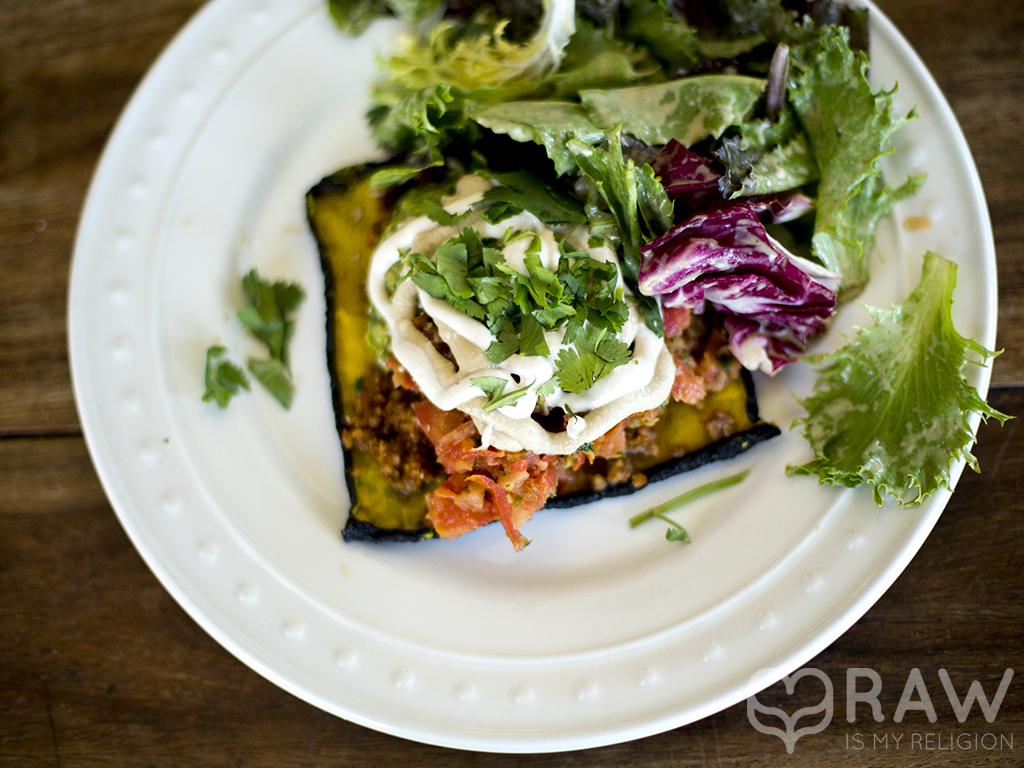 Mexican Pizza
Walnut taco meat, guacamole, salsa, seed cheese and cashew mayo on crispy cheese nori.
This pizza is unbelievable ($12). The nori crust is covered in a delicious cheesy sauce has been dehydrated and is unbelievably crunchy. Which is a phenomenon in the raw food cuisine. The topping is very similar to the amazing nachos grande dish I already told about. Having the pizza right after the taco meat made the pizza taste too salty for my liking. But the nori flavour adds so much to this dish so I'm willing to tolerate the salt. And the presentation is more than just appetizing. Definitely a pizza you should try.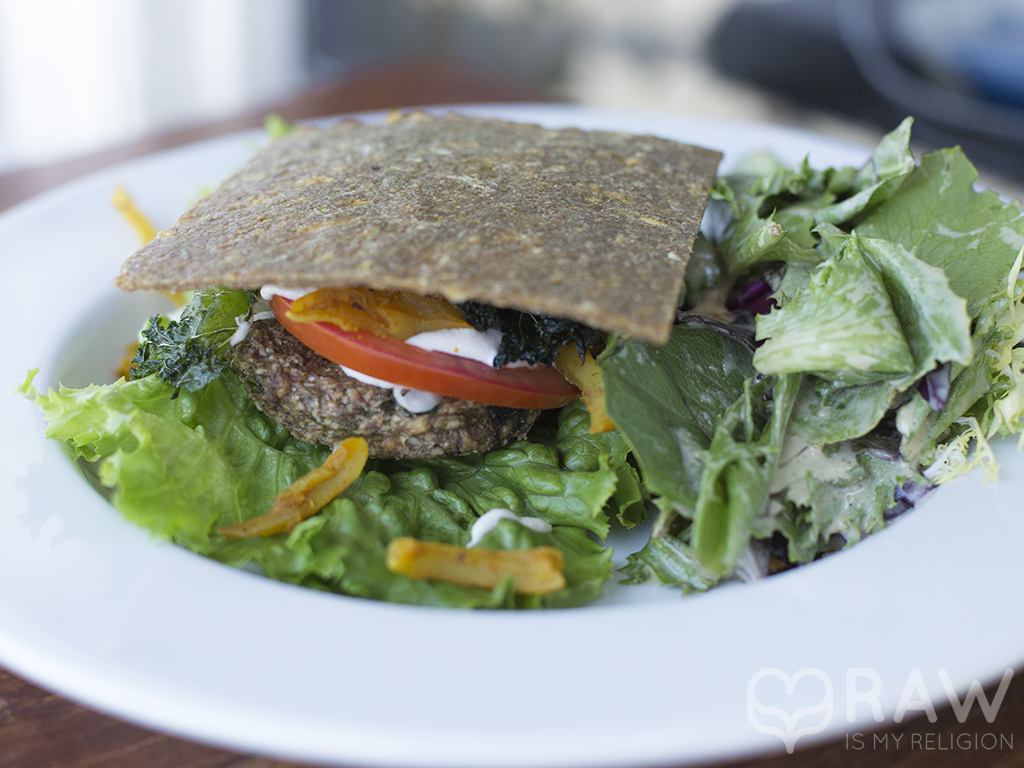 Chips and Bacon Burger
Onion bread, lettuce, coconut jerky, kale chips, tomatoes and cashew mayo.
It was around lunch time as we got our scrumptious burger ($14). The bun is the onion bread. Period. I can stop here. Anything served with on or under onion bread is the winner for me. The burger patty is very good. A great balance of meatiness, spices, sweetness, fat. It's soft, but dehydrated well enough to convince anyone that this is meat! This is real meat. The only meat. If I could deconstruct the burger, I would prefer the coconut jerky and the kale chips on the side. The coconut jerky is a little dryer and tenser than the rest. I would like to eat it separately to chew it properly and to enjoy its taste. The side salad is savoury, eating it with the burger makes me forget pickles that I love in a burger. My husband was talking about this burger hours we ate it. It doesn't happen often.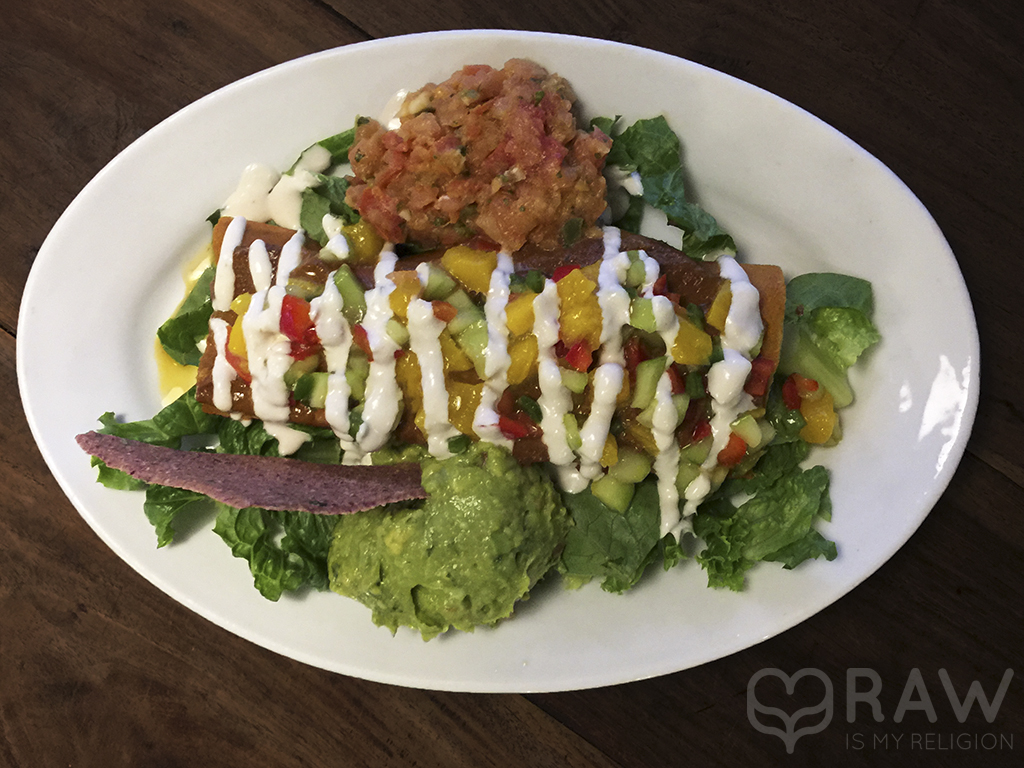 Red Enchilada
Ancho chili wrap, romaine, guacamole, salsa, mango salsa and oregano cashew mayo.
To be honest, I sneaked the enchilada ($13) in here. We had it last week, but how can I hide it from you. It was recommended by so many on instagram after I started sharing my food pics from Rawvolution. We loved this enchilada, If you read my other reviews you might know that I truly believed that I just don't like enchiladas, nut this one I liked a lot. Beside of the beautiful presentation and the vibrant colors, it presents with the vibrant but balanced combination of sour, hot, sweet, creamy, fruity, hearty. I new I will need some more bread on the side to eat all the delicious guacamole and salsa after finishing the enchilada and I'm glad I ordered onion bread on a side. Very wise decision.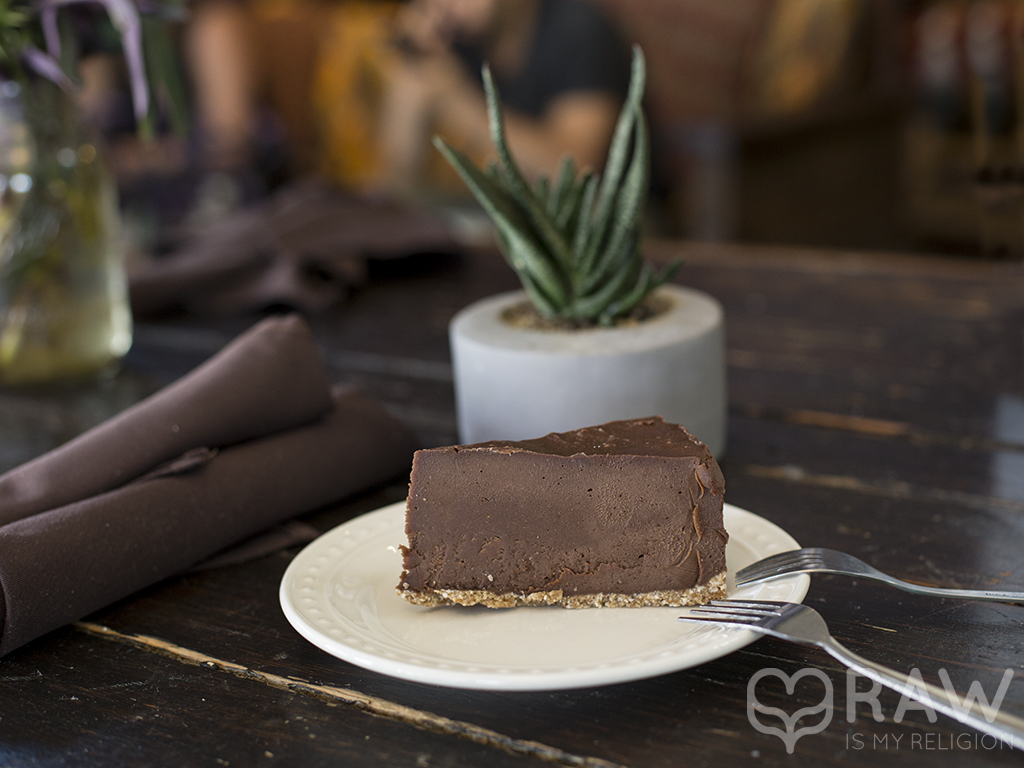 Chocolate Cake
Coconut based, cinnamon.
It's my birthday and people eat cake ($9) for birthdays. That day, the chocolate cake and a spirulina cake were on display. I know too well that I don't like coconut based cakes, but what can I do, my husband wouldn't let go of the cake. It was very beautiful and he loved it. It is sweet, creamy, with a hint of chocolaty bitterness. You see him in the video eating it. I loved the crust. It was sweet and cinnamony. It could have made a perfect cookie. Can I have this crust. Just the crust. Lots of it.
---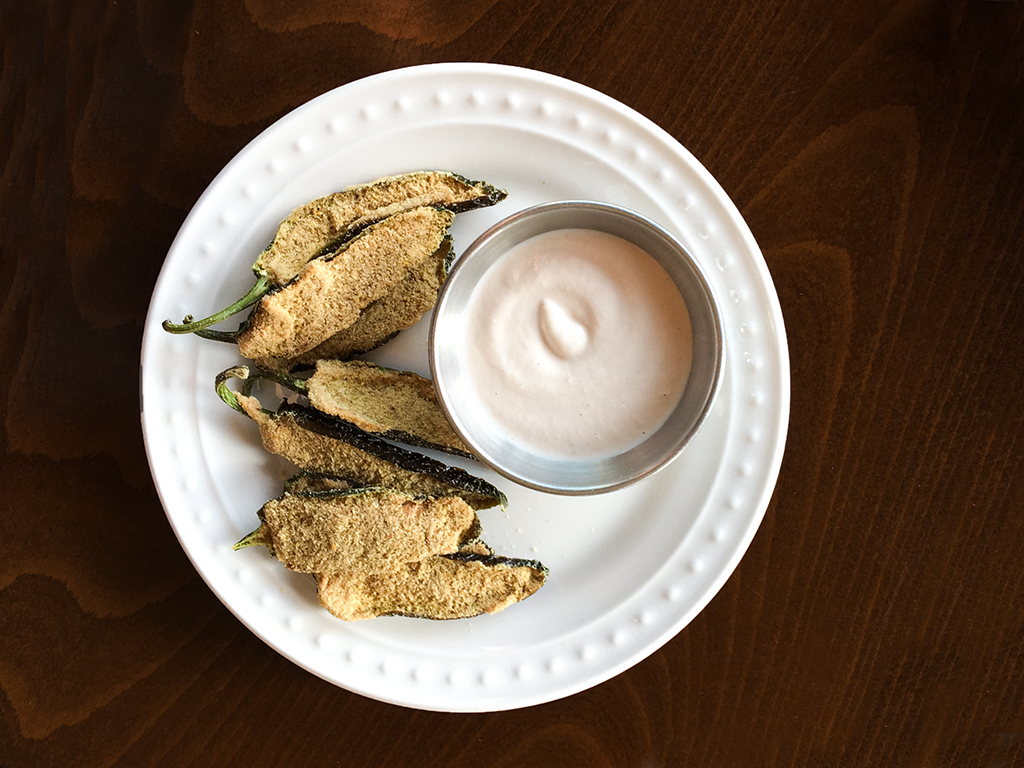 Cheese-Stuffed Jalapeños
Jalapeño peppers, cashews,coconut aminos, lemon juice, garlic, flax seeds.
The stuffed jalapeño were a nice treat. I was afraid they would be too spicy, but they were great. Slightly spicy, cheesy, crispy. Nice little appetizer.
---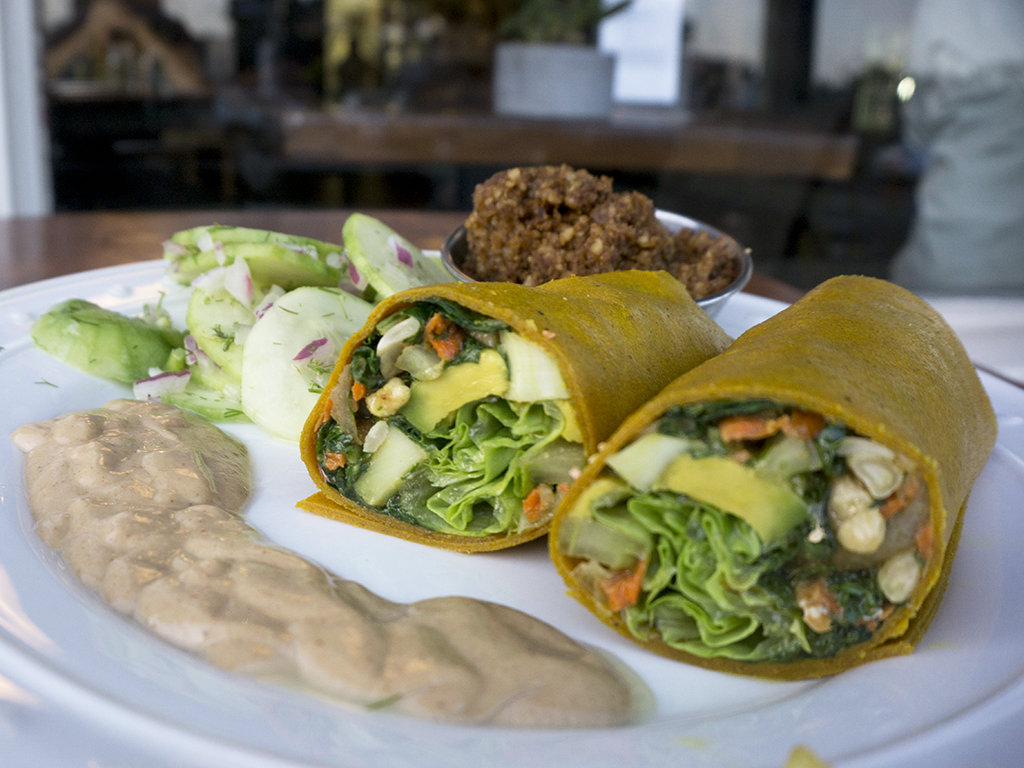 Tiger Roll
Coconut curry, Szechuan veggies, avocado, sweet chilli sauce.
We ordered some extra taco meat, as we just can't get enough of it. The wrap and the veggies were pretty mild in taste and filling.
---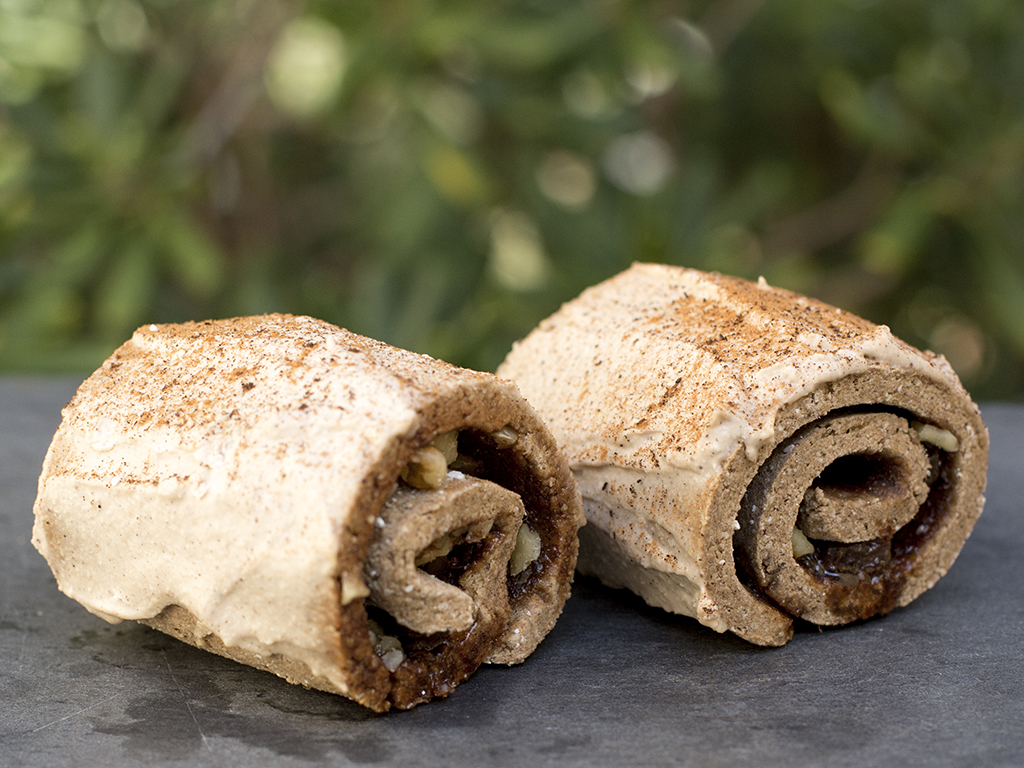 Cinnamon Roll
Buckwheat, coconut, maple sirup.
We have read about the cinnamon rolls all over yelp. This was a new recipe though and it was not good at all. Dry, no flavor, not sweet. Buckwheat is just not a great base for a dessert.
The Rawvolution experience
It's a perfect restaurant to have breakfast, lunch, and dinner. The ingredient used are (mostly) organic and fresh. The atmosphere is very relaxed and welcoming. We ate at the table working on the computer today, the other day we had dinner on the couch. You can make yourself comfortable here. It feels homey, clean, safe, and inviting. The service is unbelievably great. They are there for you when you need them, and give you space to enjoy your meal and to do what you have to do. They answered all my questions about the ingredients, I can be annoying making sure I'm not getting honey, soy lecitin or radioactive nori. They were very transparent and helpful on this matter. I feel good eating here.



Tips
I just found out you can get 10% off on your birthday.
They also have specials like juice happy hour, Mexican night and so on. Check them out if you want to safe some money.
I've heard so much about the cinnamon roll, I need to try it, hope in comes in soon.