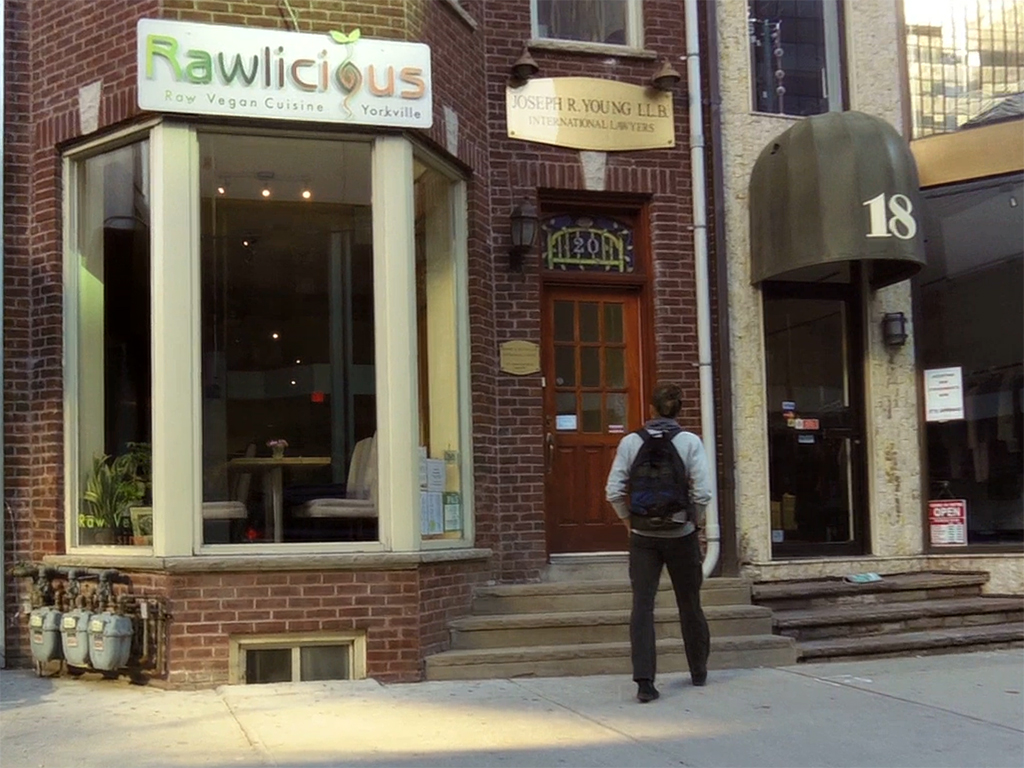 Rawlicious is a nice little all raw restaurant with a to-go service. We planed on eating there first thing in the morning, the door sign said they open at 9 am, but what the sign doesn't say, they don't serve food before 11 am …
I preordered, but ended up coming back several times and got my food by around 11:30. Rereading this, I don't have a bitter aftertaste, we liked the food.
What we had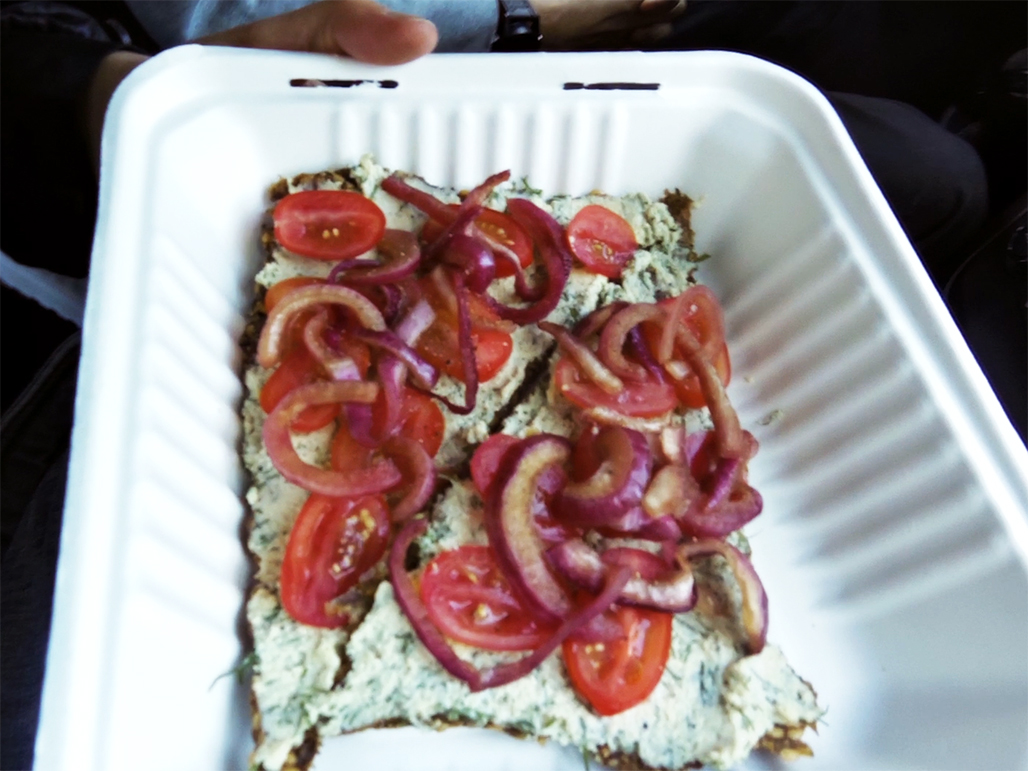 Herb & Onion Flatbreads
nut and seed flatbreads with dill cashew nut cheese topped with cherry tomatoes & caramelized onions
We ate these Herb & Onion Flatbreads ($10) right in the car. They smelled so good and tasted even better! I could swear they tasted like a very good Tarte flambée. The crust was great, the nut cheese creamy. The Onion, really juicy and spicy! Maybe the dill was too much. And I love dill, but not a whole bunch on a tiny piece of bread. The recipe is in the Rawlicous recipe book.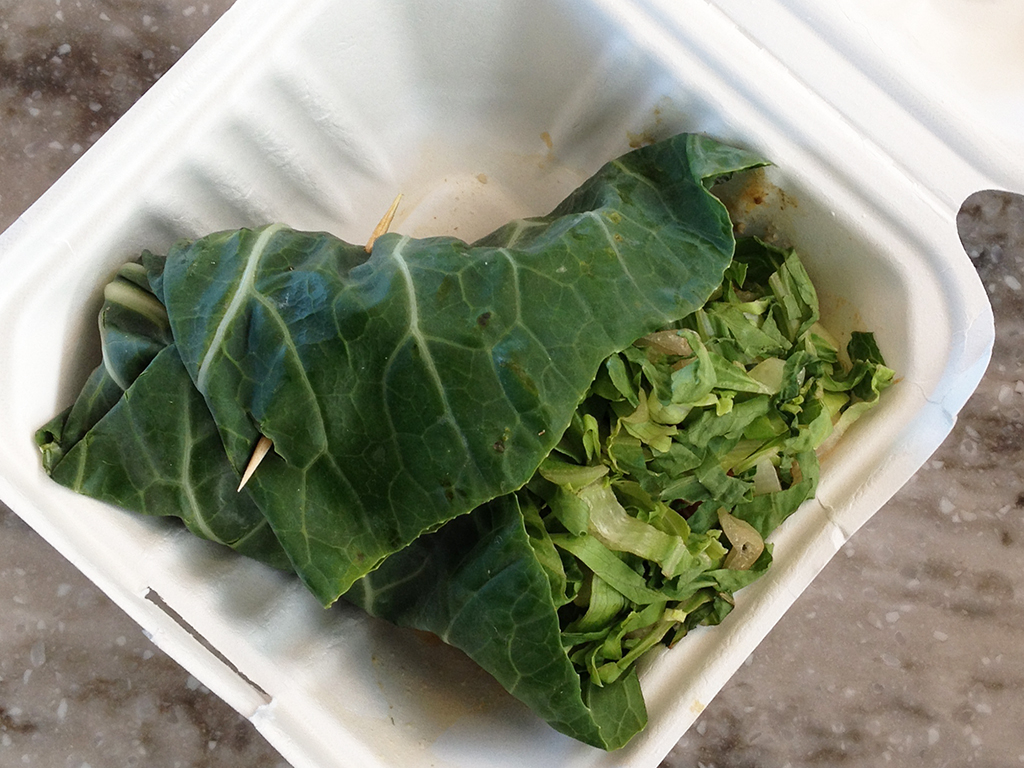 Taco Wrap
seasoned nut loaf, guacamole, romaine lettuce, salsa & almond nut cheese wrapped in a collard leaf
We had the really good Taco Wrap ($9.50). I never had such a delicious collard leave wrap before. Usually, once you have a leaf wrapped around and greens inside, it's hard to make it taste like something else than a salad. But here, the taco meat was so awesome, and the cheese rich and creamy, it was as far from a salad as it could possibly be! If I didn't know it was raw vegan, I could have believed it's real meat. This wrap was much better than the taco wrap I had later that day at another restaurant in Toronto.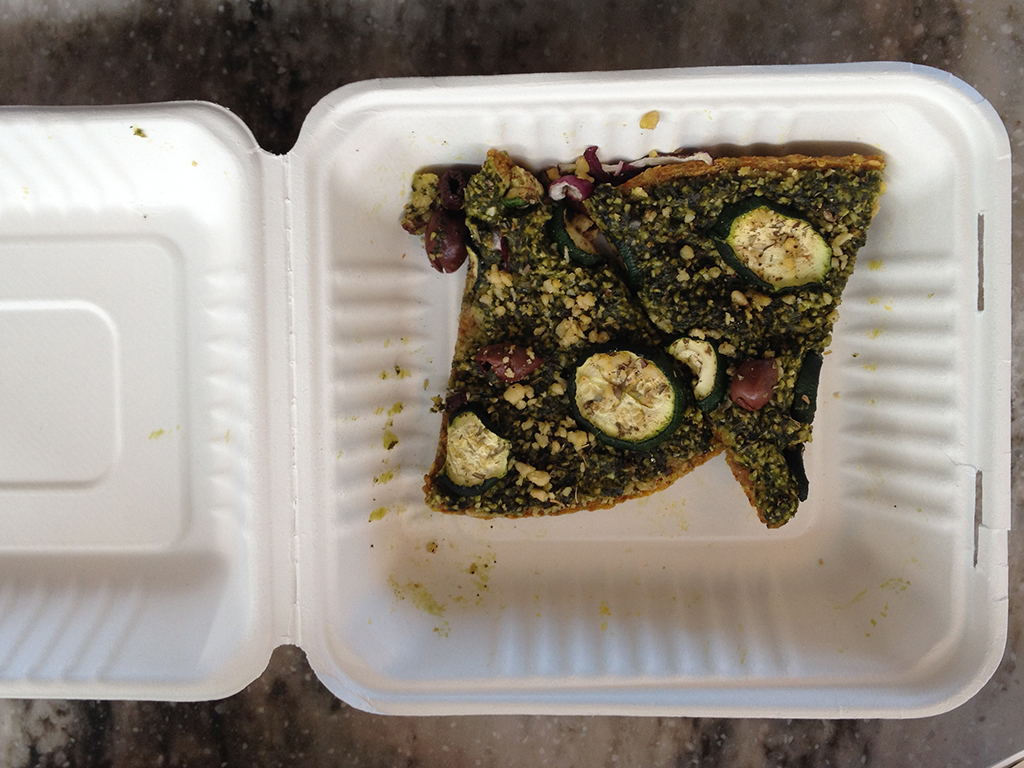 Pesto Buckwheat Pizza
sprouted buckwheat & flax crust, cashew cheese marinara or pesto, daily toppings & topped with cashew parmesan
This pizza ($10) was a special, so glad I saw it smiling at me from the dehydrator. We ate the pizza on the plane, I know, things taste better on the plane, and this pizza tasted really good, super salty, but very good. Definitely something I would get the next time and will try to recreate it at home from the Rawlicous recipe book. Such an amazing idea to use pesto as a pizza sauce.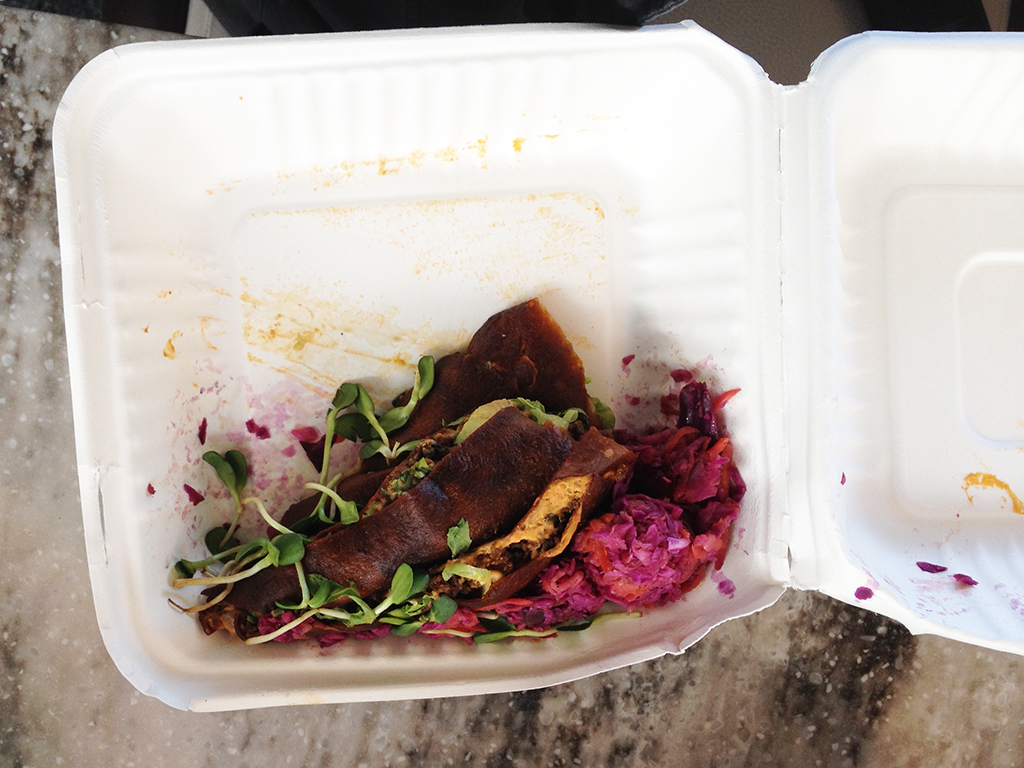 Quesadillas
cashew cheddar cheese, crumbled nut loaf, salsa, avocado, & romaine lettuce in a red pepper wrap. served with coleslaw
Quesadilla ($15), not a fan. It was pudding like, the wrap gave up on me completely 2h after it was prepared. The coleslaw was something in-between fresh and pickled, not how I like it at all.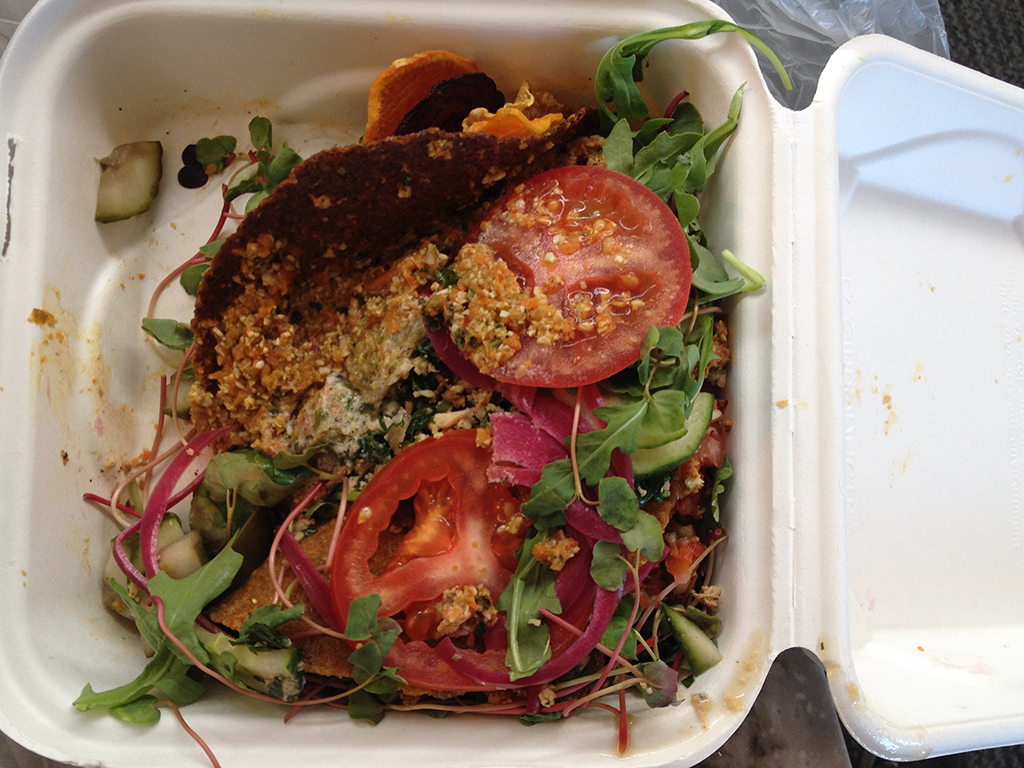 BBQ Burger
cashew cheddar cheese, crumbled nut loaf, salsa, avocado, & romaine lettuce in a red pepper wrap. served with coleslaw
I assume it was the burger ($15), hard to tell from the pic and I did't write a note for this one.
Our experience
So we were patient, we asked to pick up the chosen food at 11am saying that we have to go to the airport shortly after. The food wasn't ready by 11:30, which was pretty devastating, as we ordered in advance and were insured it will be ready by 11:00.
I almost requested my money back as I arrived there at 11 and no sign of my food, but in the end I'm glad I didn't. I liked the food at Rawlicious. Because of the horrible service, I still don't understand why it took 2 people 2,5h to place the pre-made raw food dishes into the containers, they did it then in front of me after letting me wait for half in hour within 2 minutes.
Because of all the waiting, there was no time to take proper pics of the food, so I took them after the security check at the airport. The food went though a lot already. I see it as the representation of in what state the food gets to the customer considering the service at that place. But enough about personnel that hopefully gets trained or replaced before we will eat at Rawlicious again, what we definitely planning on doing next time we are in Toronto.
Menu at Rawlicous
The menu is small, but sufficient for a lunch. On Rawlisious' website they claims to use as much organic as possible, the girls at the cafe assured us that everything is organic. Everything I saw in the open kitchen, like salad boxes, spices, veggies, was certified organic.
We ate here April 2015.
Raw food recipe books you need in your life
Overall

Quality

Taste

Creativity

Variety

Vegan friendly

Special requests

Communication

Atmosphere

Value

Waiting time