Rasayana update and why I don't recommend it to vegans
We love eating out but in the past 4 month we have been loosing trust in raw restaurants more and more. They are careless and don't take the no-honey requests seriously.
Honey yes or no? Every time we ate at Rasayana, I asked about honey in EVERY single dish. I always have been told that what I ordered was honey free. My first clue was the sauce on the sushi that looked like the bell pepper dressing that contains honey. After this one, I started to literally ask everyone till I found someone who admitted I got the honey sauce in question on my sushi. After that, it was just the domino effect and more and more dishes turned out not vegan.
To be fair, Rasayana isn't a vegan restaurant and doesn't use the word vegan to advertise it's menu. But if I order food and ask for no honey and am reinsured it can be done, then still get honey, it's a blame Rasayana has to take.
Dishes that contain honey without a mention on the menu (only the ones I found out about)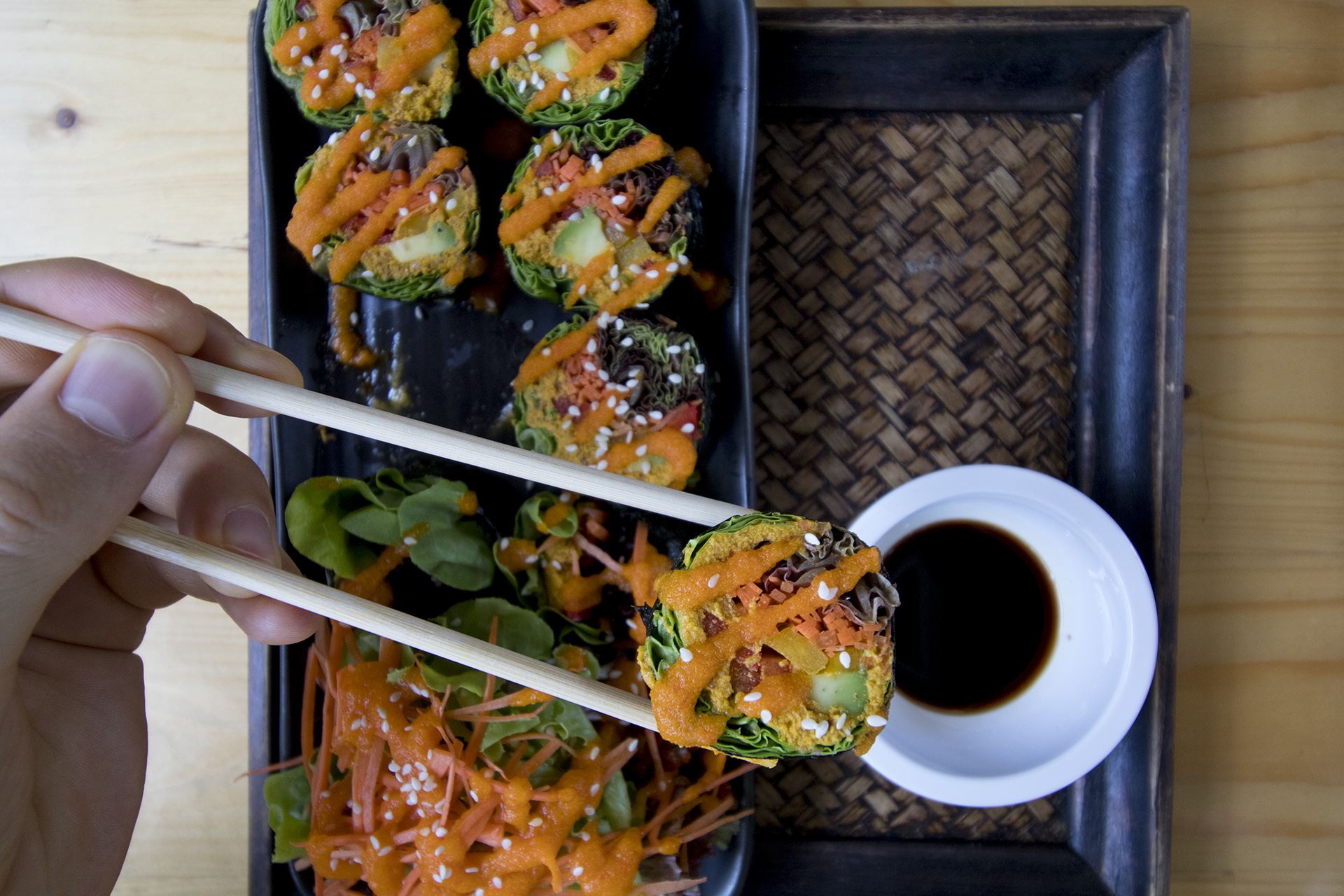 Monk Salmon Sushi
Almond, carrot, lime, shoyu, salt, celery, spring onion, nori.
And hidden honey!
This one is a minefield for vegans. They use one of the honey containing dressing on this sushi and it's not mentioned on the menu. It's a pain in the ass. I asked before ordering what of all dishes contains honey. The sushi was supposed to be honey free. After getting the sushi, I took a look at the dressing menu and the red bell pepper dressing sounded pretty similar to the dressing I saw in front of me on the sushi, so I asked again. 1 out of 4 waiters actually admitted that it's the bell pepper dressing on the sushi. And what a surprise, it contains honey. Very, very disappointing. I'm allergic to honey, as I'm allergic to animal cruelty.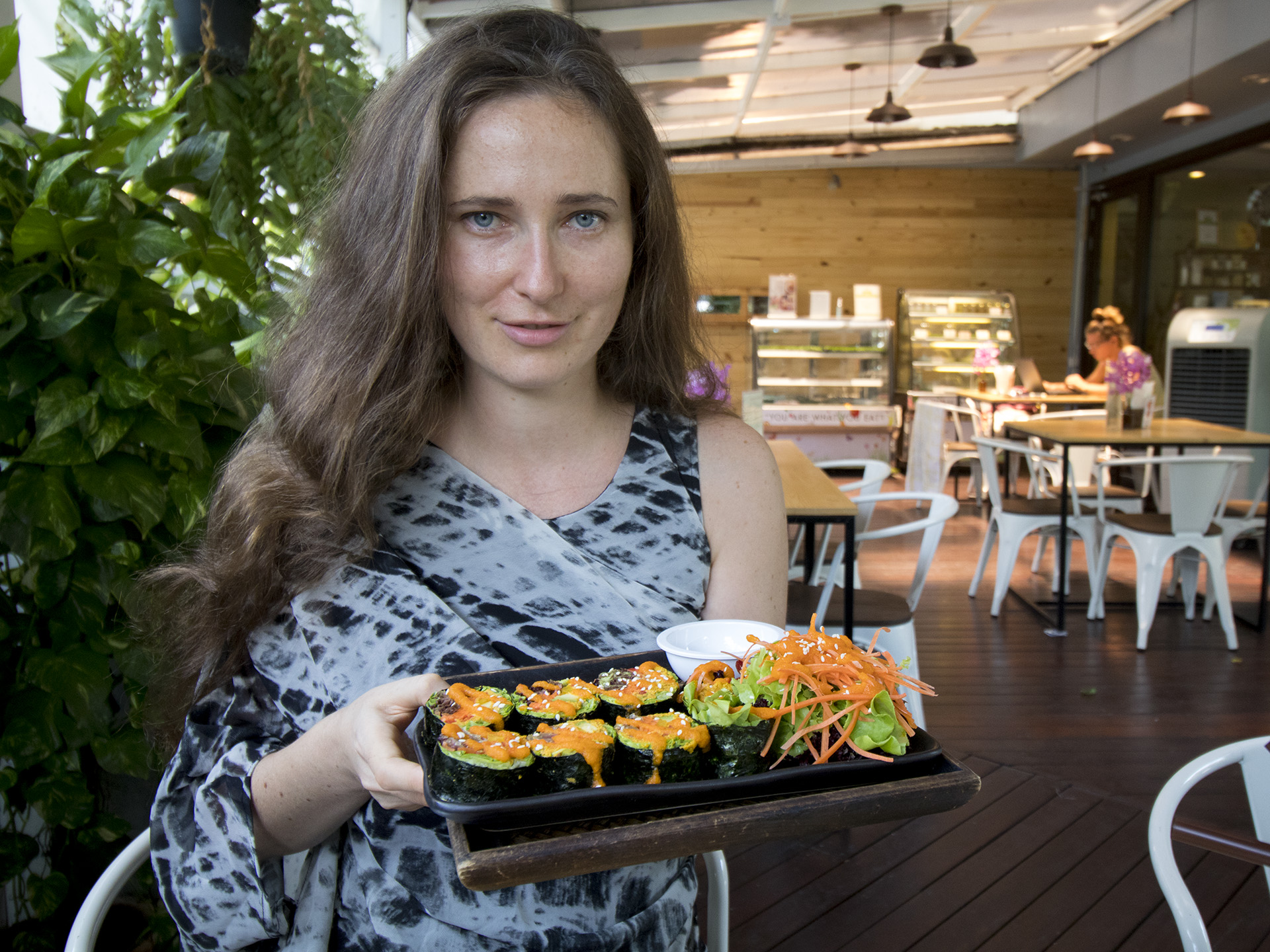 Honey is hiding everywhere at Rasayana. Dessers, dressings, drinks, salads. And as dressings make an excellent add on to any side salad, they might appear on any dish regardless the missing hint on the menu. I don't think it is possible to 100% avoid honey here, but one can try. Asking what all is made with honey is useless. The waiters just don't thing about every single dressing and additive while answering this question.
Investigating about every single component and letting them check back with the kitchen might be a safer strategy.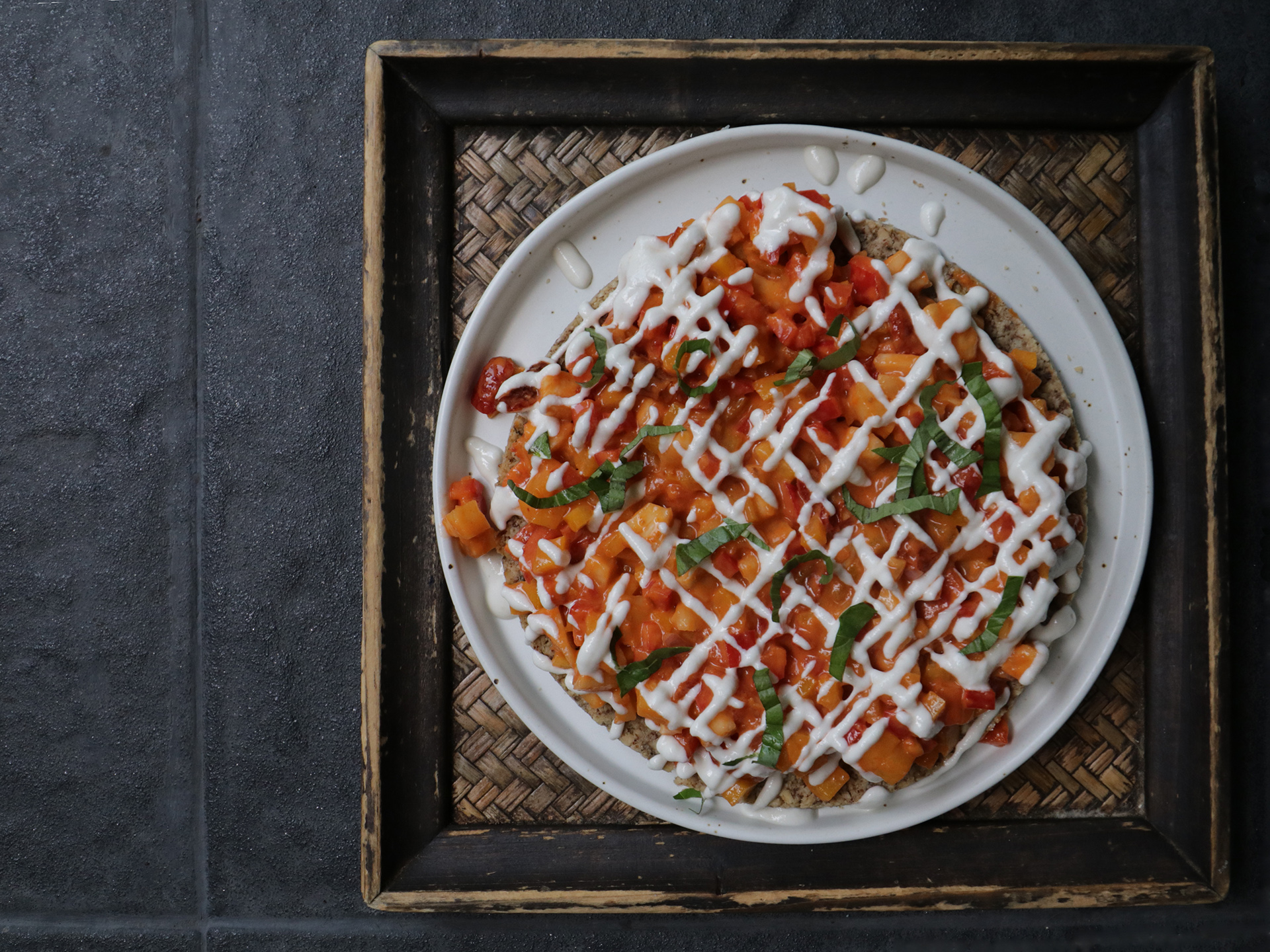 Hawaiian Pizza
Sunflower seeds, onion, olive oil, shoyu, flaxseeds, peppers, red onion, tomato, nut cheese, pineapple. And honey. About $4.70.
All raw cakes might contain honey.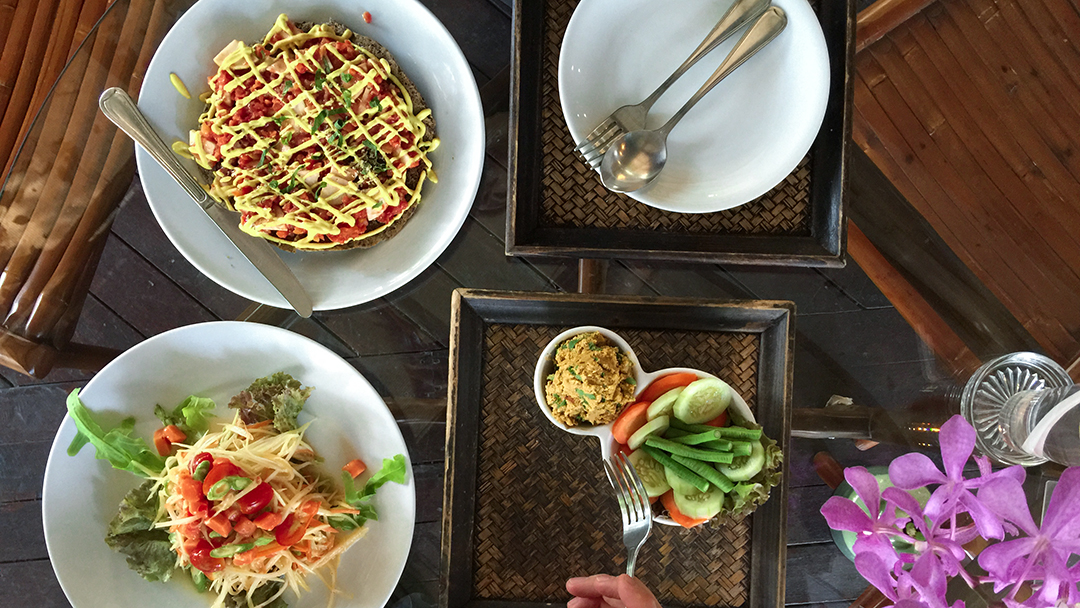 What else we had, hopefully it was honey free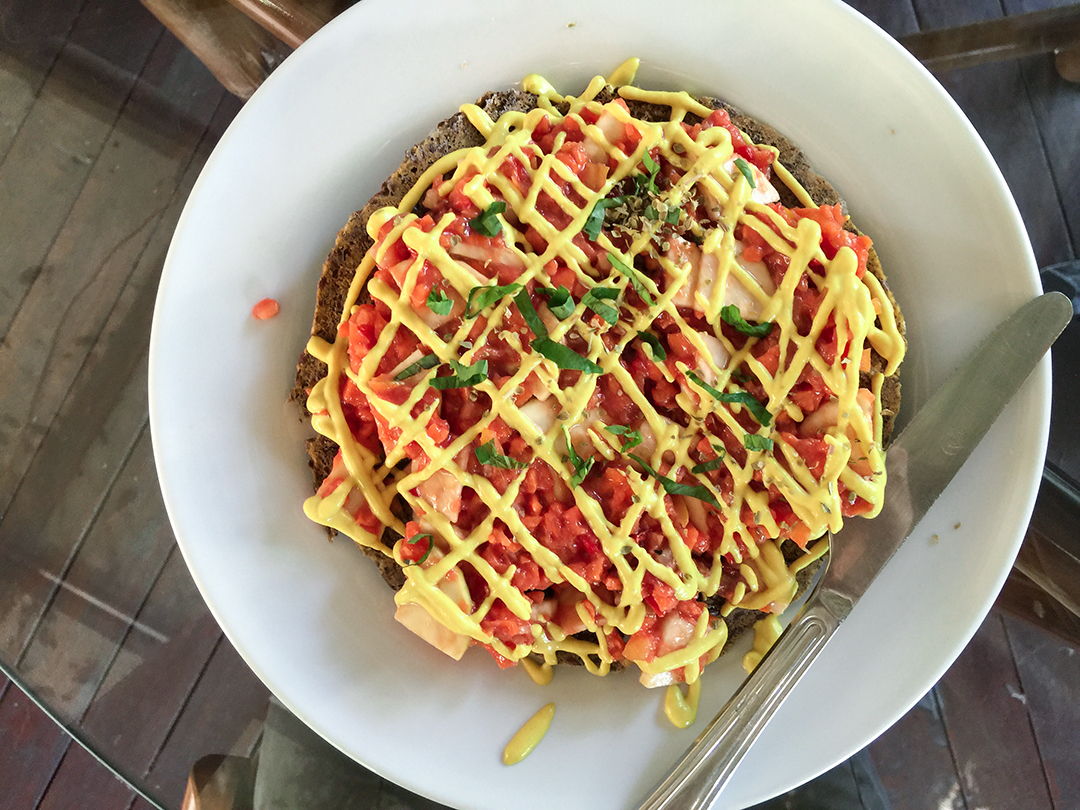 Live Pizza
Flaxseed, tomato, marinara sauce, vegetables. About $5,30
The first piece of food we had here. This pizza is very light, the crust very thin, the marinara topping consists mostly of carrots and tomatoes. The sauces make it zesty and delicious. Without the sauces, you have a great low fat pizza. But there is an even a much better pizza at Rasayana, keep reading.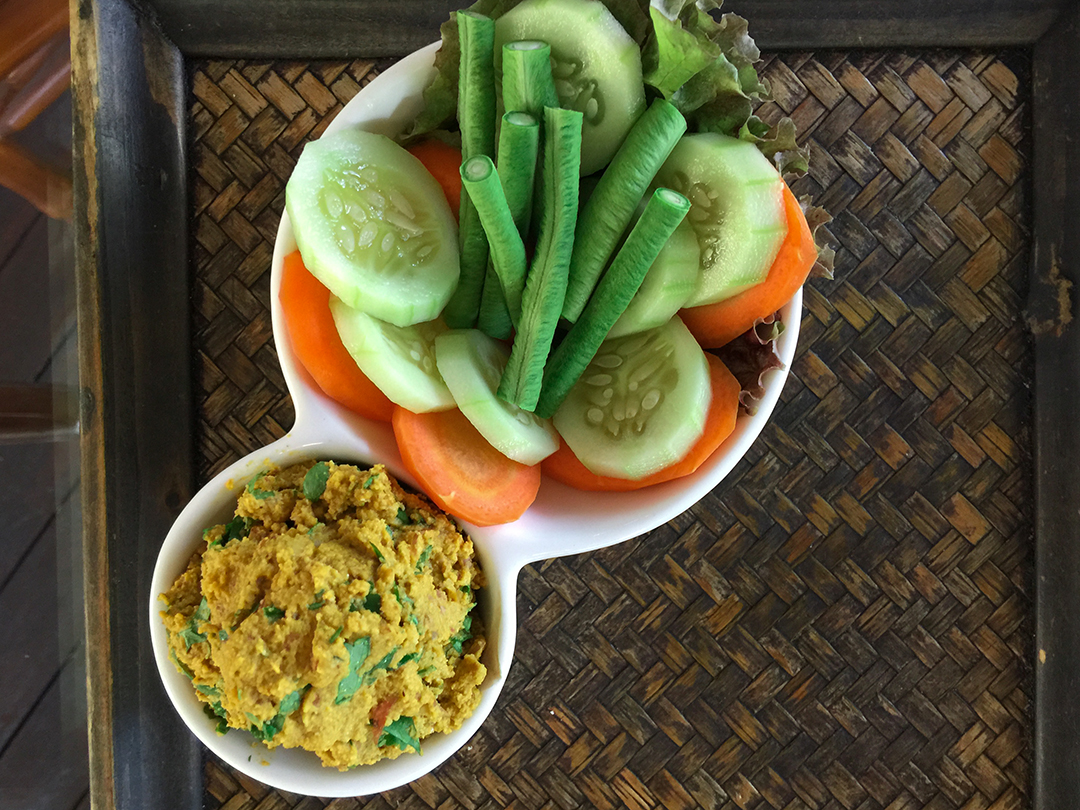 Larb
Almond, carrot, lime, kaffir lime leaves, mint, lemon grass, shallots, cucumber, string bean, carrots. About $4,50.
A raw vegan take on the traditional larb dish. It's a slightly spicy, flavorful spread. It's a nutbased but light appetiser. We took it cause it was new on the menu and I'm always very excited about new raw dishes. It was ok to try.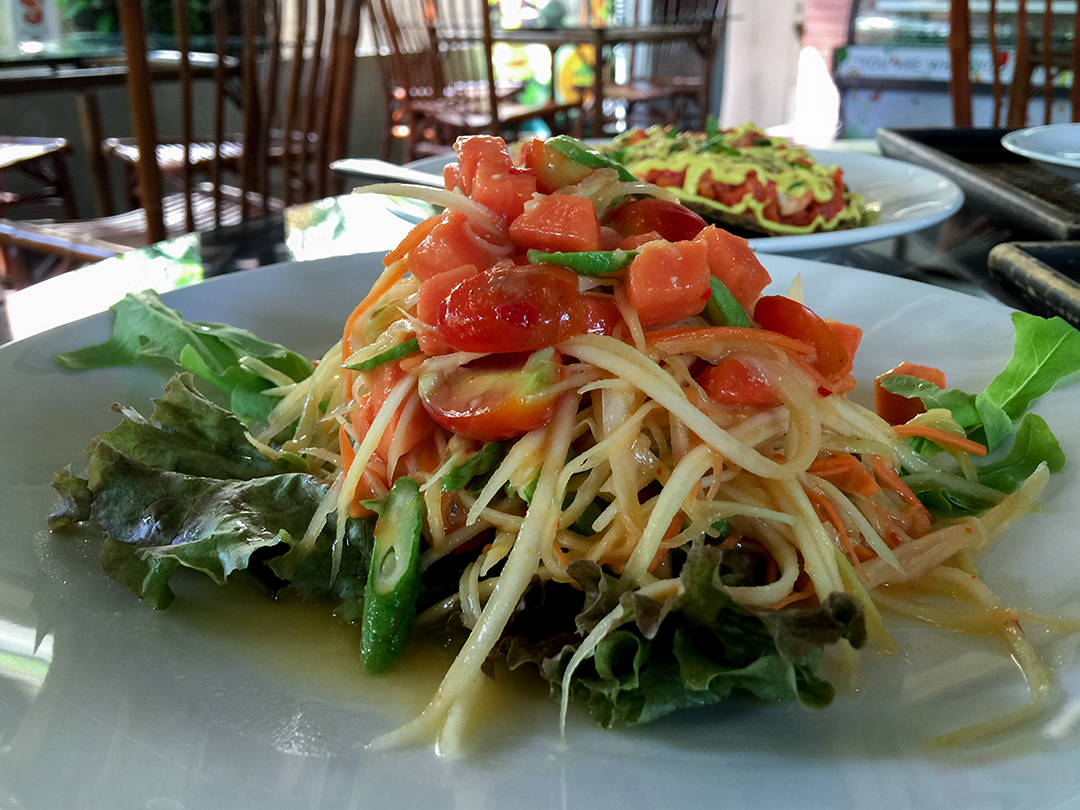 Spicy Papaya Salad
Green papaya, orange juice, garlic, chili and string beans. About $4,50.
Very spicy, deliciously seasoned pasta with a light fruity dressing. Even it was spicier than expected, I don't regret ordering it at all. Moreover, as it is low in fat, I would have liked a much larger amount of the papaya noodles. I'm going to order 2 or 3 of them the next time to have a good size serving of this amazing salad.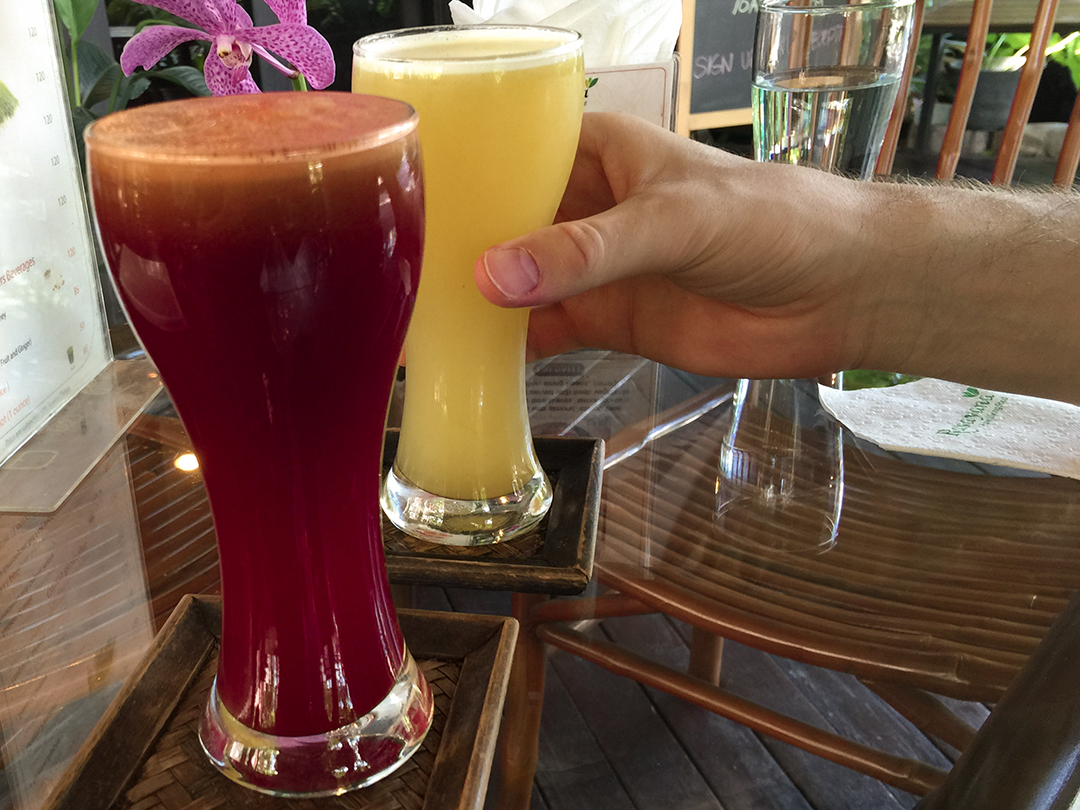 Juices: Rasayana Combo & Pineapple Zinger
Carrot, beet, celery, apple & pineapple and lime. About $2,50 each.
The juices are amazing. Fresh, delicious. We tried juices on the menu first, and these both were a hit. Later, we modified them a little, but the base stayed the same: I love beets and my husband loves pineapples.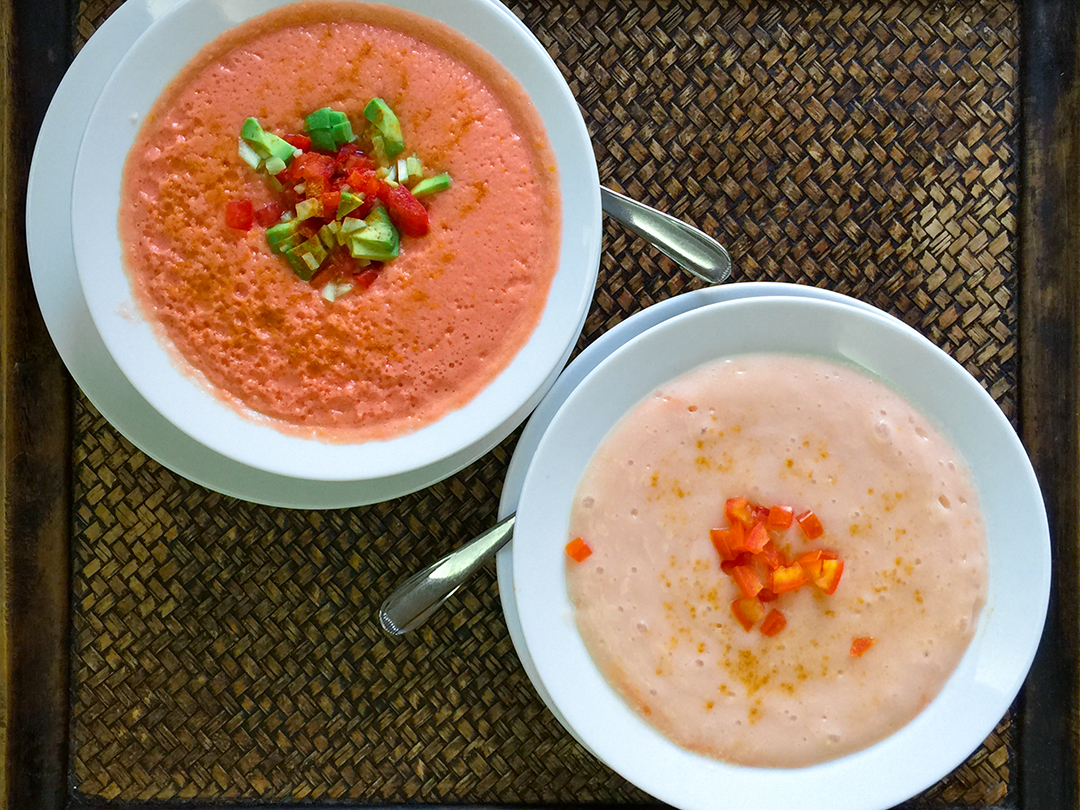 Soups: Gazpacho Soup & Thai Coconut Soup

Tomato, Celery, Cucumber, Radished, Onion, Lime, Garlic, Cayenne and Avocado & Coconut cream puree with celery and mint. Both around $4.20
These soups were good. The tomato soup very light and low in fat, the coconut soup very rich, flavorful, definitely our fav soup at Rasayana.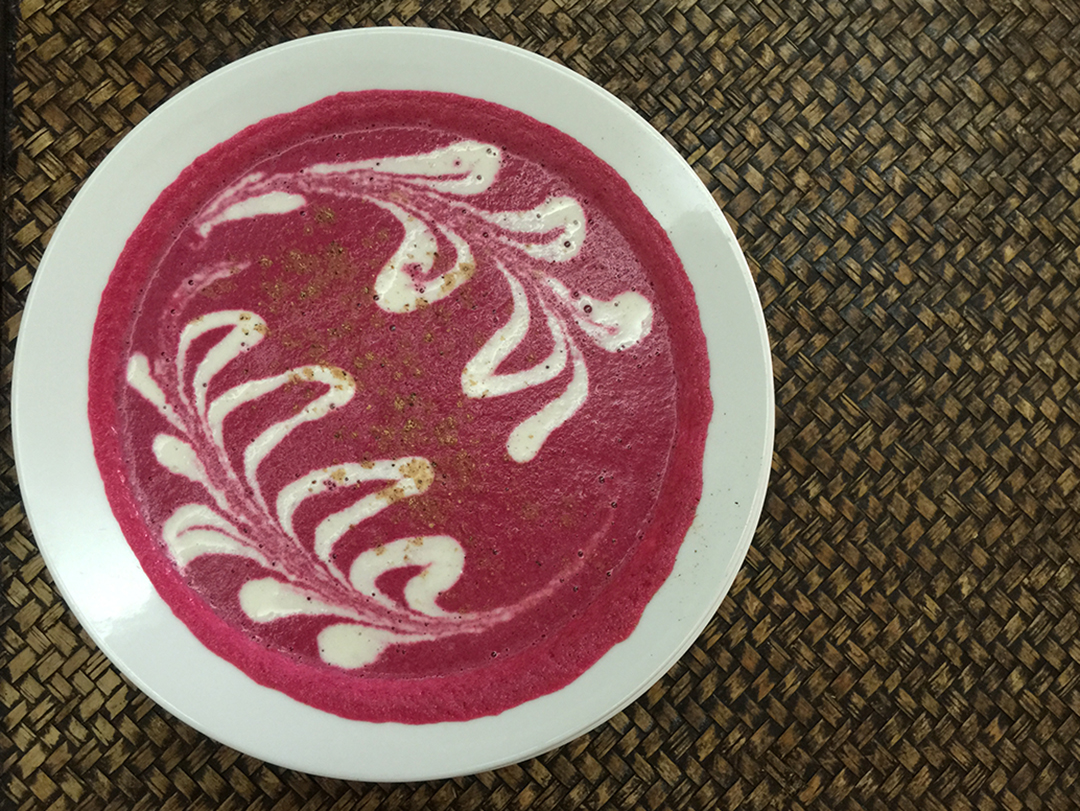 And one more Beetroot Soup
Almond milk, cabbage, olive oil, garlic. About $4.20.
Very tasty, rich but still light. With a splash of almond cream. I ordered the soup for it looks, but loved it especially for it's amazing taste. I'm a beet lover through and through. Even I liked the coconut soup a little better, I would always order this one and try to steal a spoon of my husbands' coconut soup.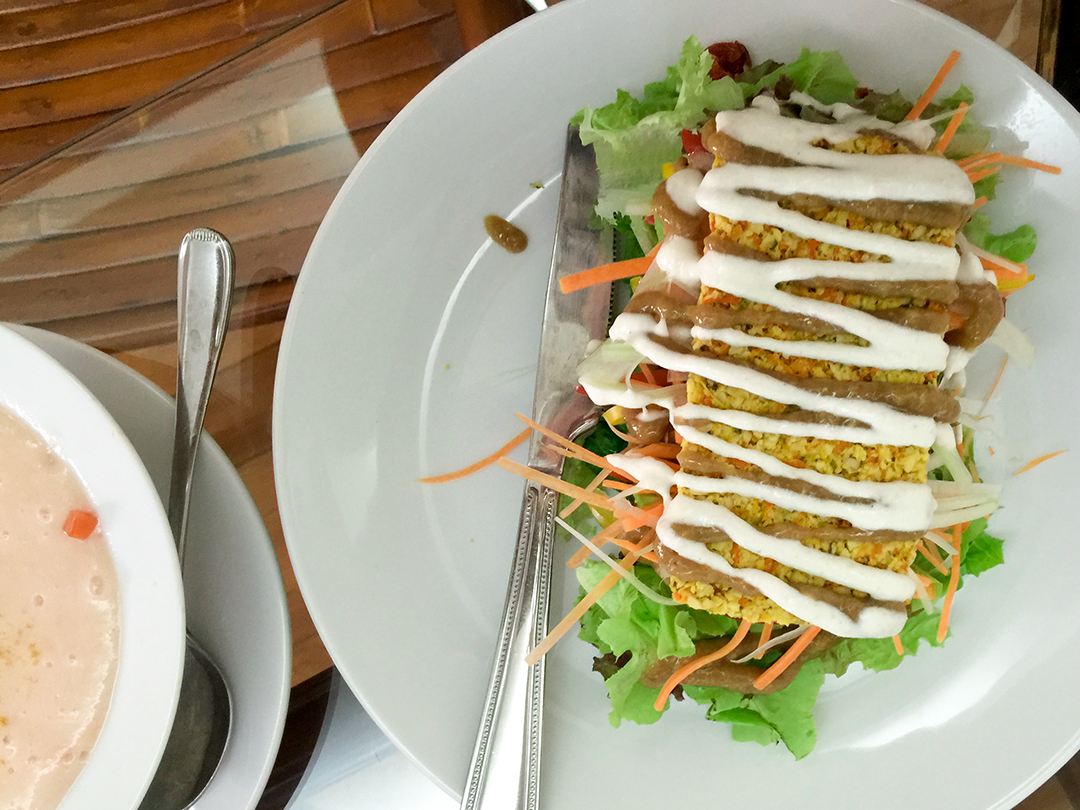 Veggie Sandwich
A light sandwich made with crispy carrots and celery bread and filled with fresh veggies. About $5.30.
This Sandwich bread is probably the best thing you can make out of just veggies. The bread is very light, airy and tasty. It's great appetizer, but more a salad than a sandwich.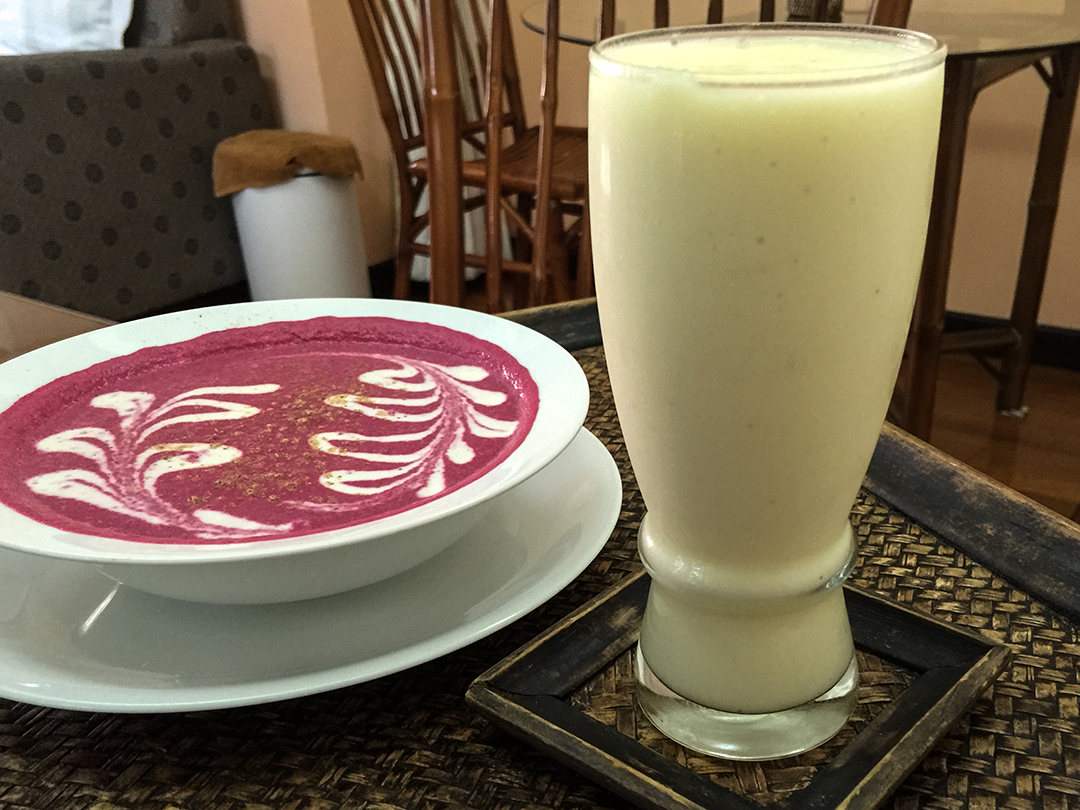 Coconut pineapple smoothie
Creamy yummy smoothie. You can't go wrong with pineapple and coconut.
Make your own raw food dishes, click and try.
---
Breakfast
The food does not look as nice as at the restaurant, cause I had to assemble the dishes. But it tastes amazing and everything is fresh, the crusts and crackers are crispy.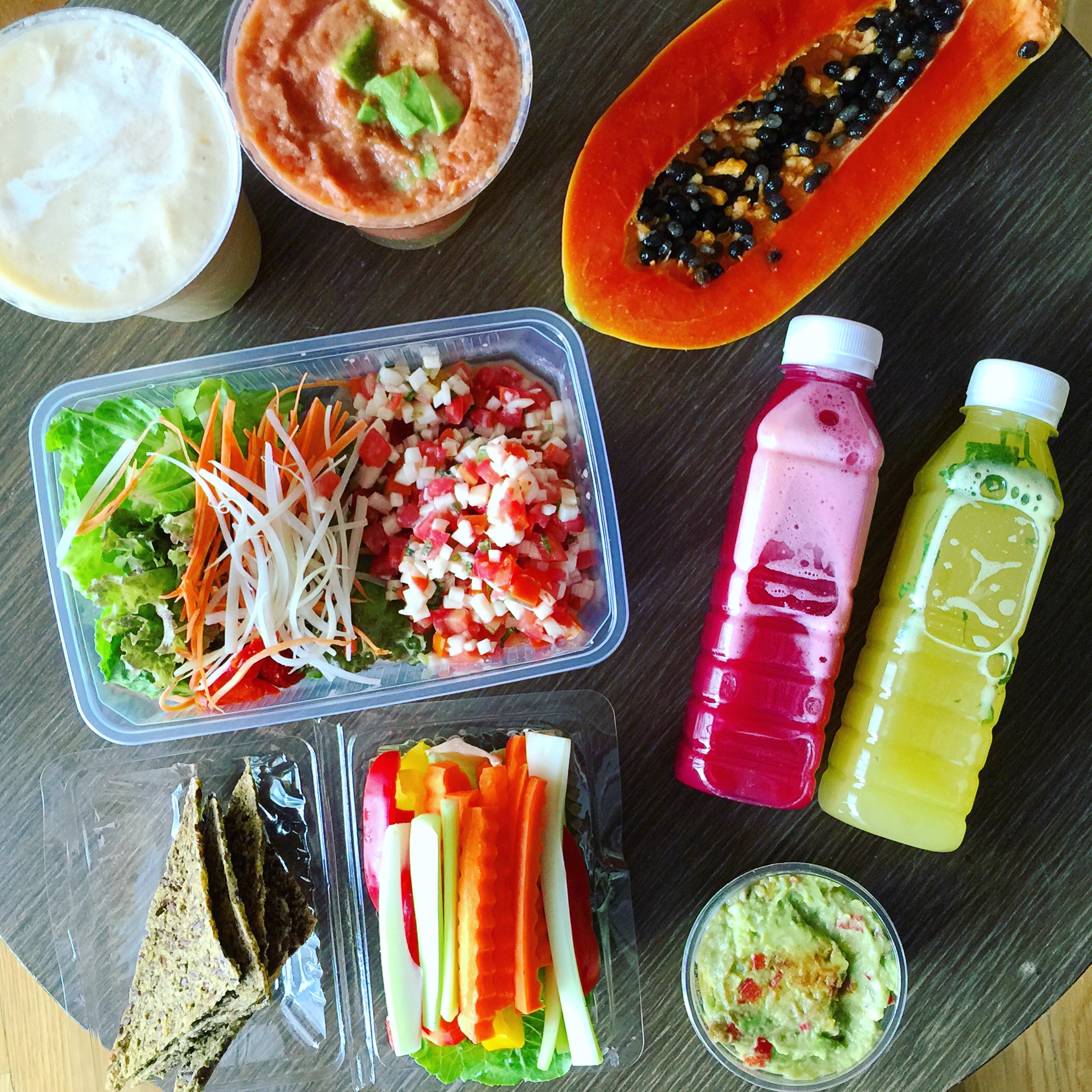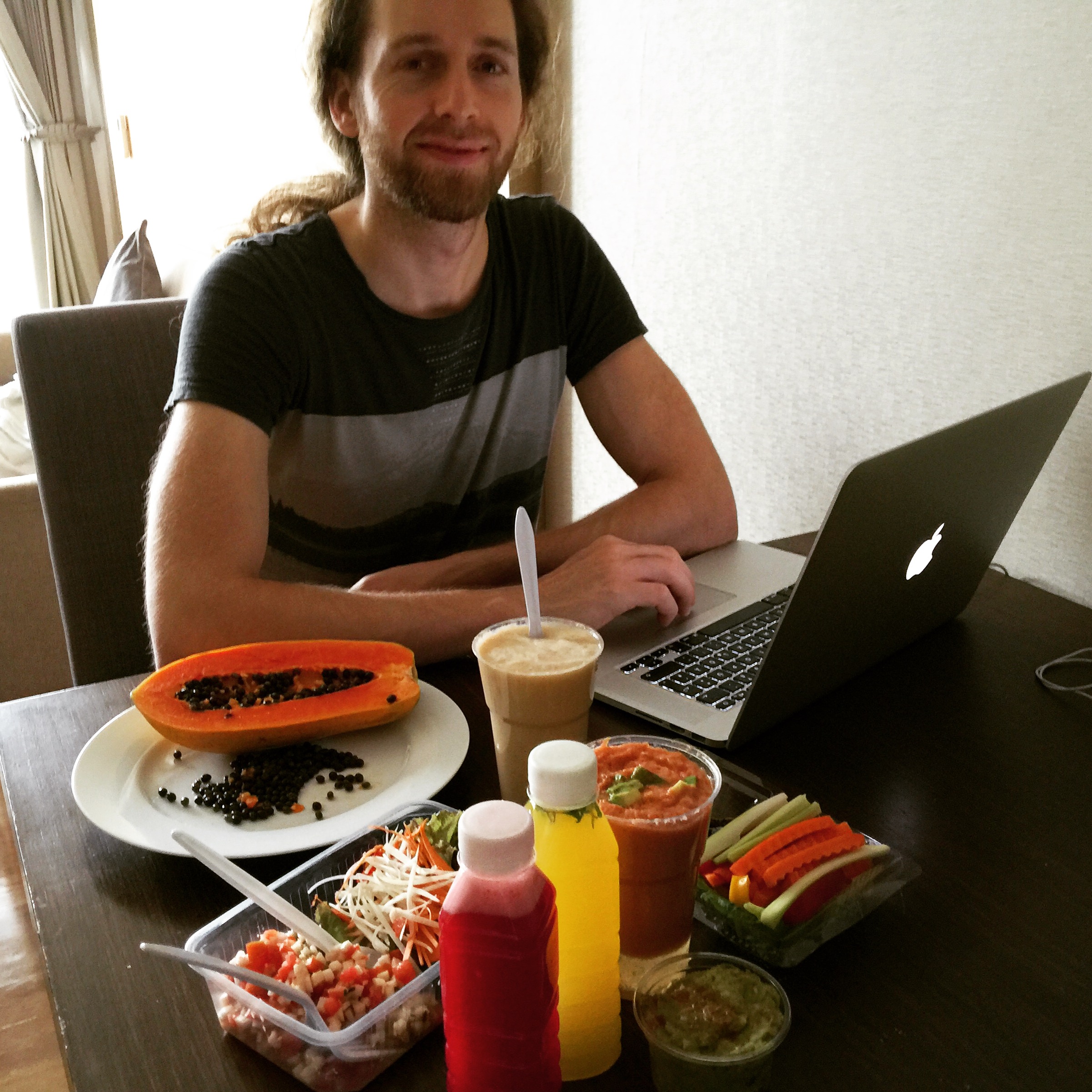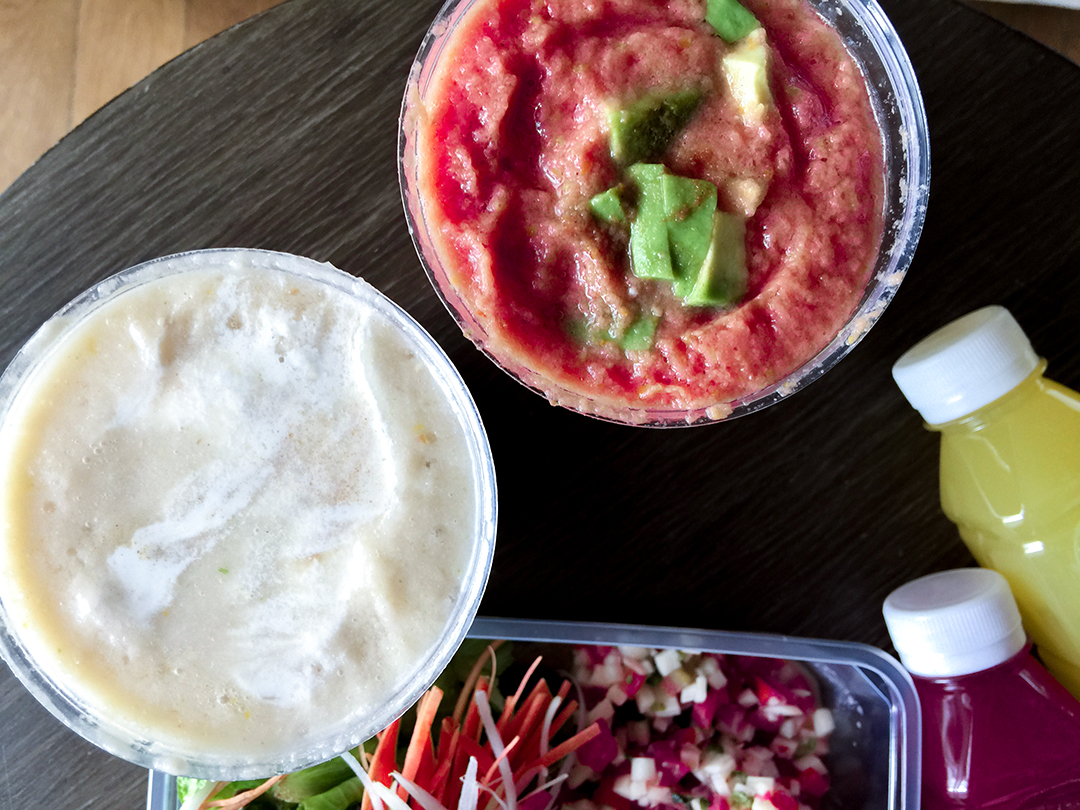 Soups: Thai Coconut Soup & Summer Tomato Soup
Tomato Soup: Tomato, avocado, lime, and parsley. About $4.20 each.
I described the thai coconut soup above, we liked it a lot, so we ordered it again, it it was very delicious. The tomato soup was a little bland, the avocado peaces were great in there, the gazpacho we the day before was creamier and more delicious, if I remember it correctly.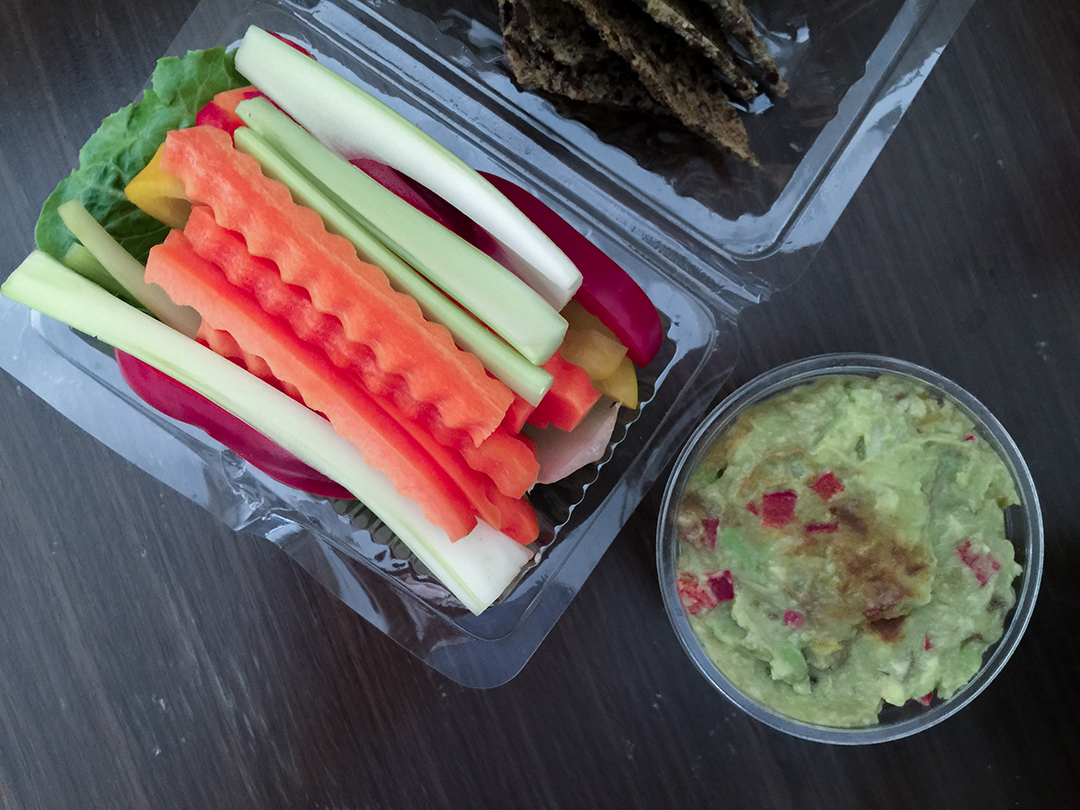 Guacamole Platter
Carrot, celery, and bell pepper sticks with fresh thai avocado guacamole. About $4,50.
It tastes like a smashed avocado with tomato peaces, not more, not less. Compared to the other dishes, like pizza, pretty simple and just too small. The veggie sticks are nicely cut though.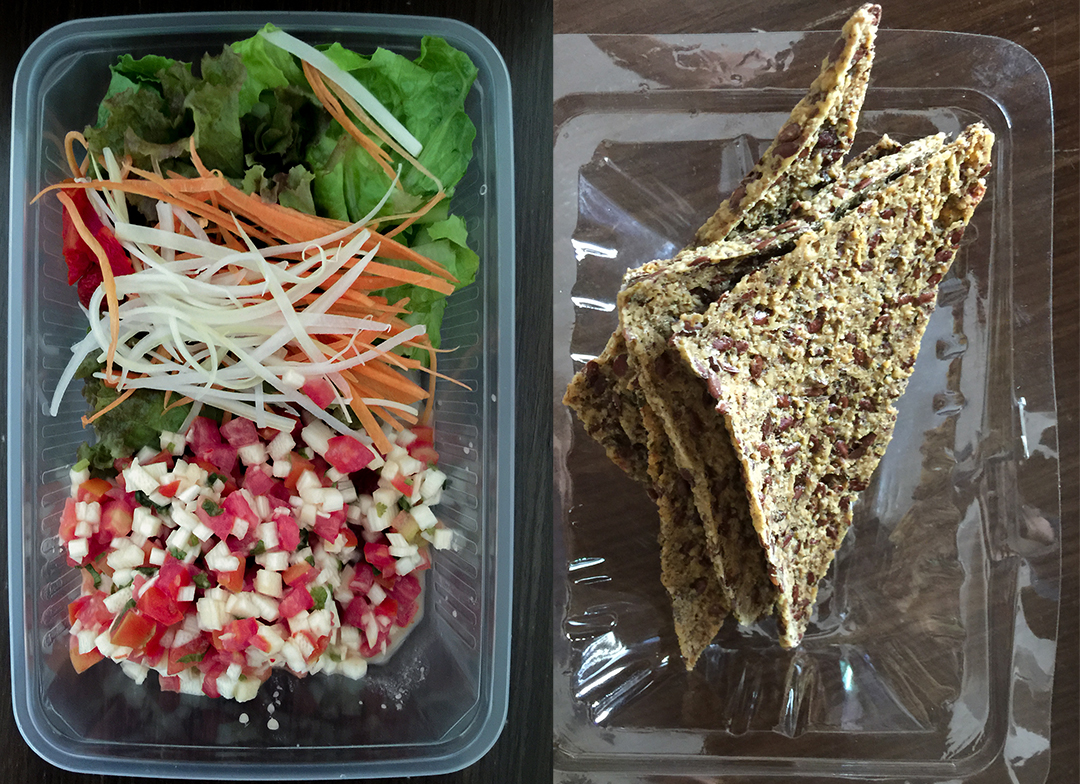 Flaxseed Tacitos
Flax chips topped with mexican taco salsa. About $4,50.
Flaxseed crackers with a spicy salsa we had yesterday. The spicy salsa is pretty delicious. I put some of the sauces on it, something was missing without.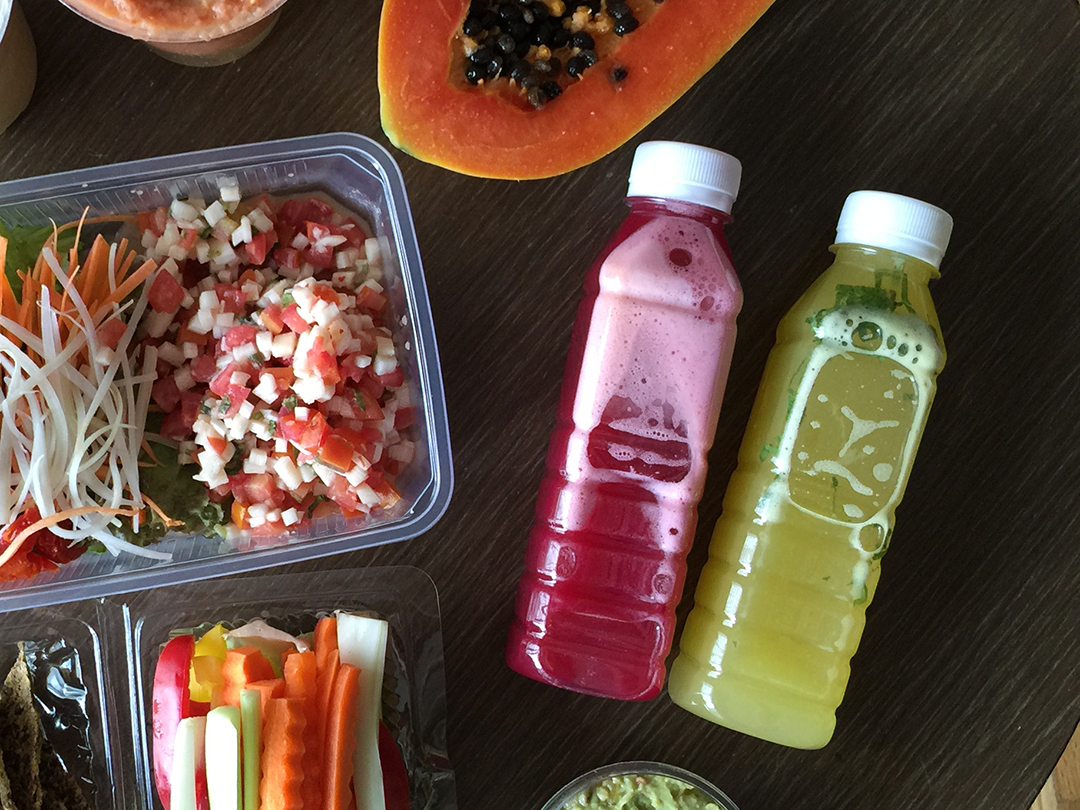 Breakfast juices
Beetroot, apple & Mojito: pineapple, lime, mint. About $2,50 each.
These both our favs. Apple juice & beet juice. Pineapple juice, lime juice, & mint.
Another Breakfast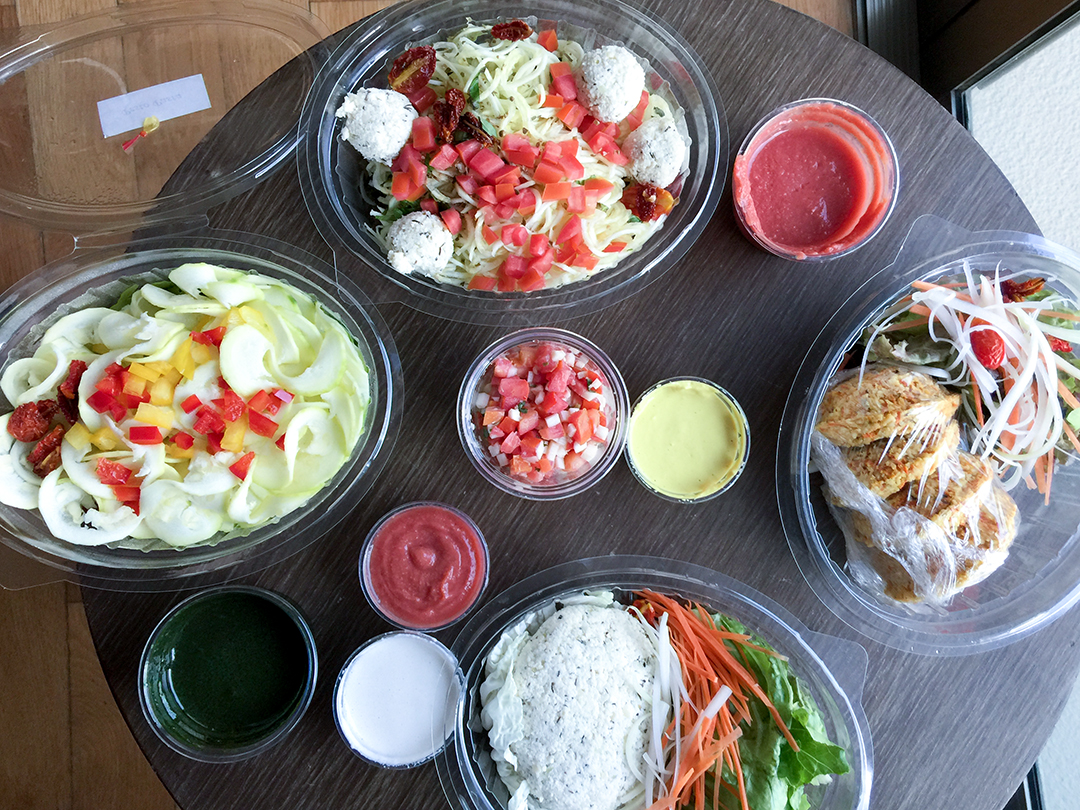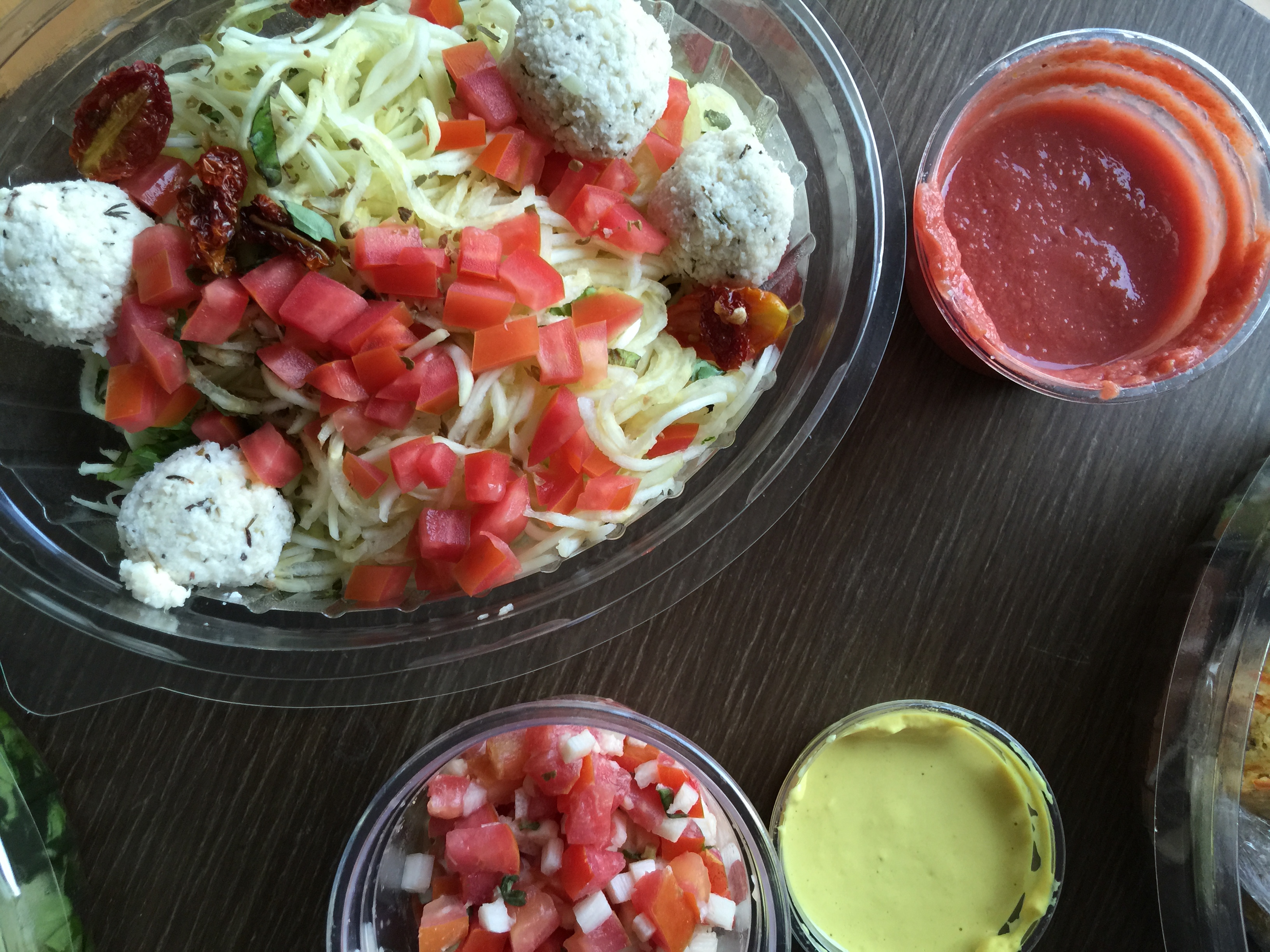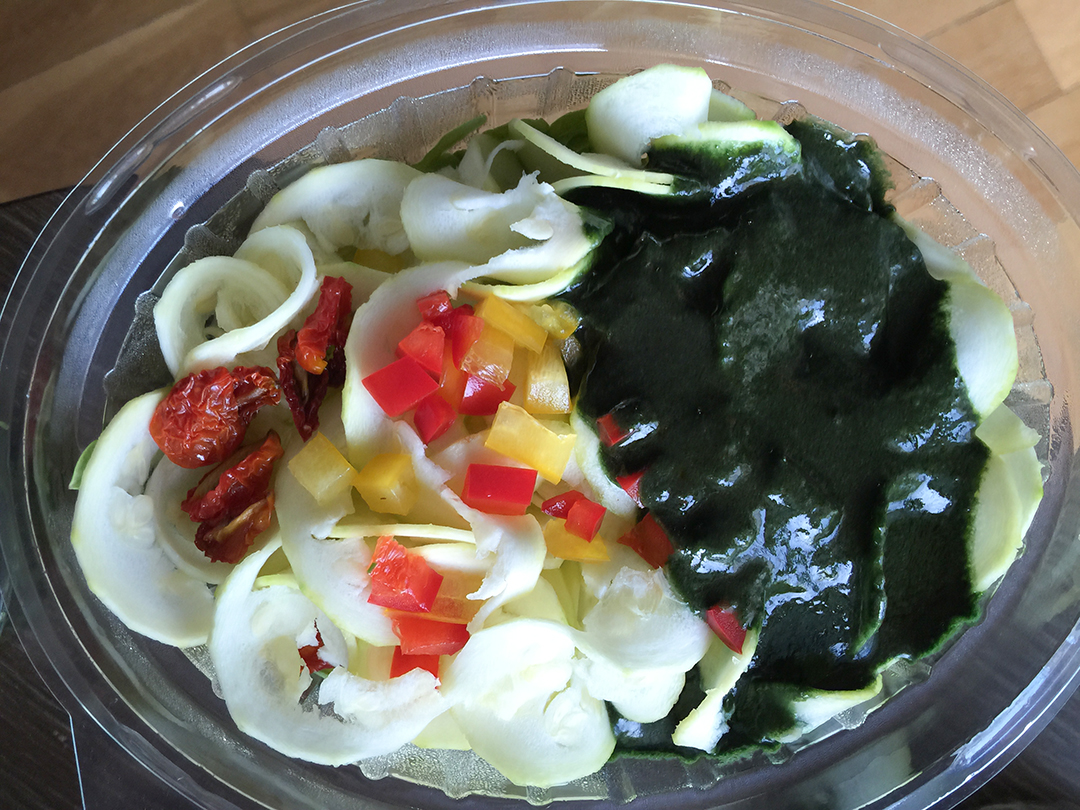 Pesto Pasta
Marinated zucchini noodle, homemade pesto sauce made from fresh basil. About $4,70.
The noodles didn't taste marinated and the sauce was a flavored oil and was on the tart side. Not impressed.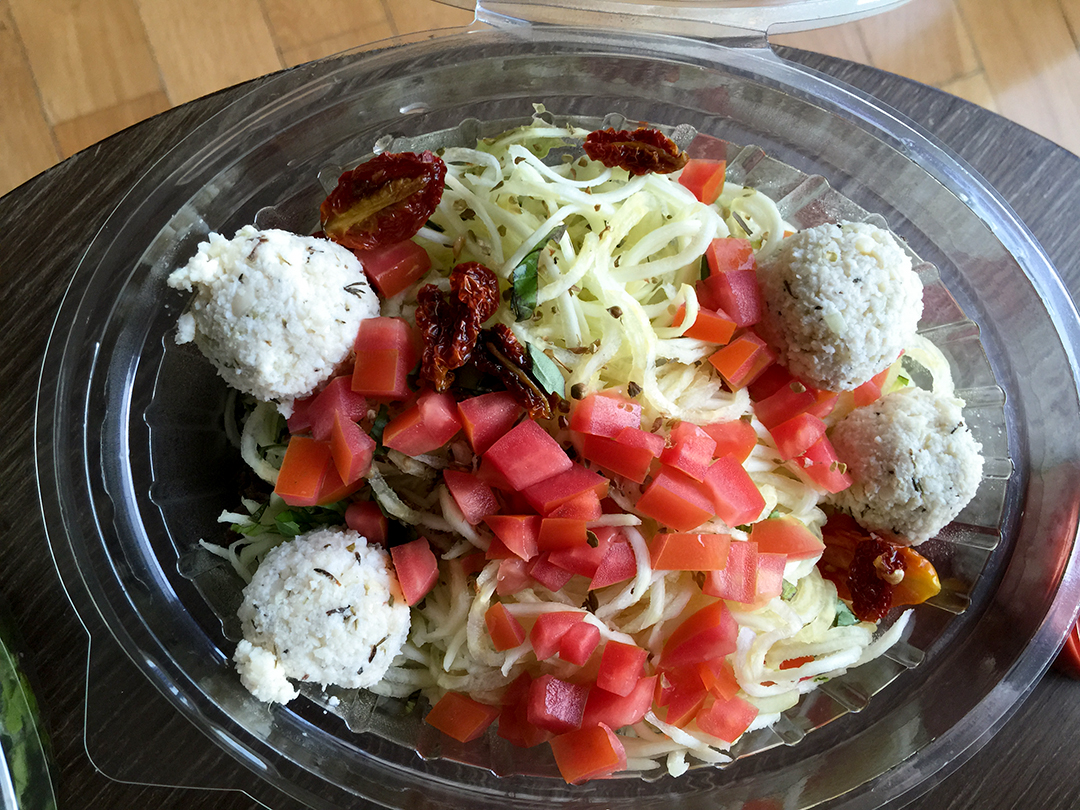 Spaghetti & Meatballs
Marinated zucchini noodles, savory almond nutmeat balls, zesty marinara sauce. About $5,20.
The noodles were fresh zucchini, didn't have any taste to them other than fresh zucchini, the meat balls were not savory nor meaty, I got to taste them extensively as they were also the patty in the sun burger.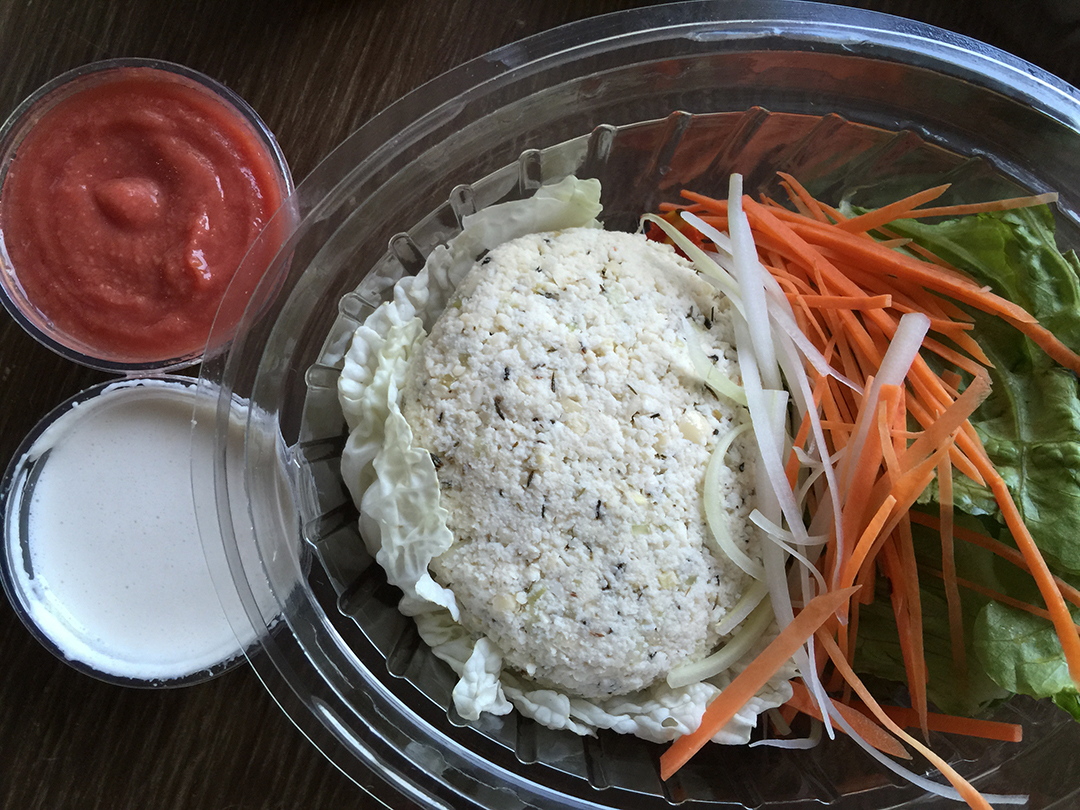 Sun Burger
Almond-celery-sage patty, cabbage leaf, live ketchup. About $5,20.
I found the patty bland and fatty. The ketchup is very delicious and saves the dish.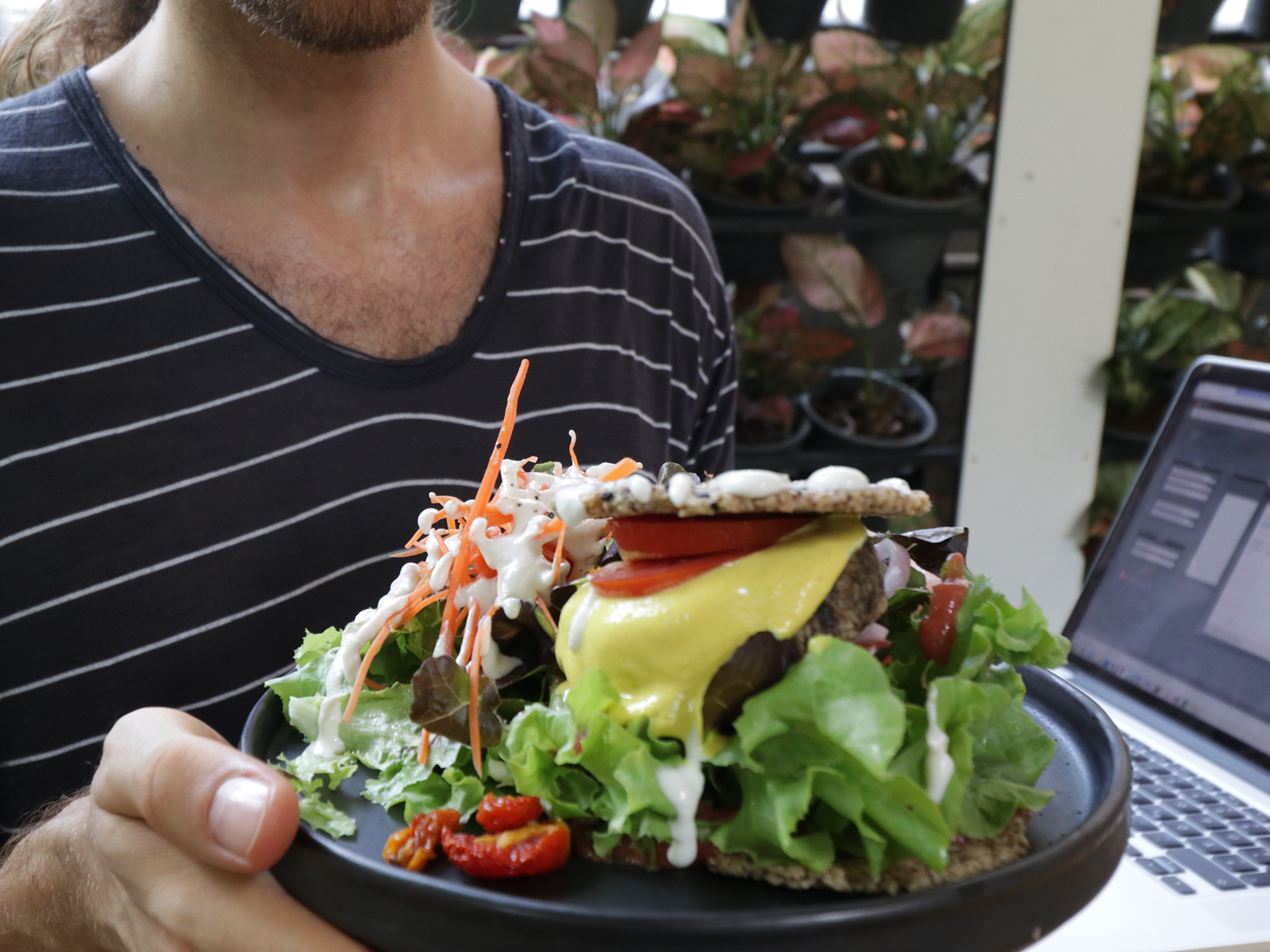 Mushroom Burger
Sunflower seeds, olive oil, shoyu, flaxseeds, mushroom, onion, garlic, celery, mixed vegetable, tomato sauce, macadamia cheese.
about $4,80.
The burger is simply amazing! Have to try it.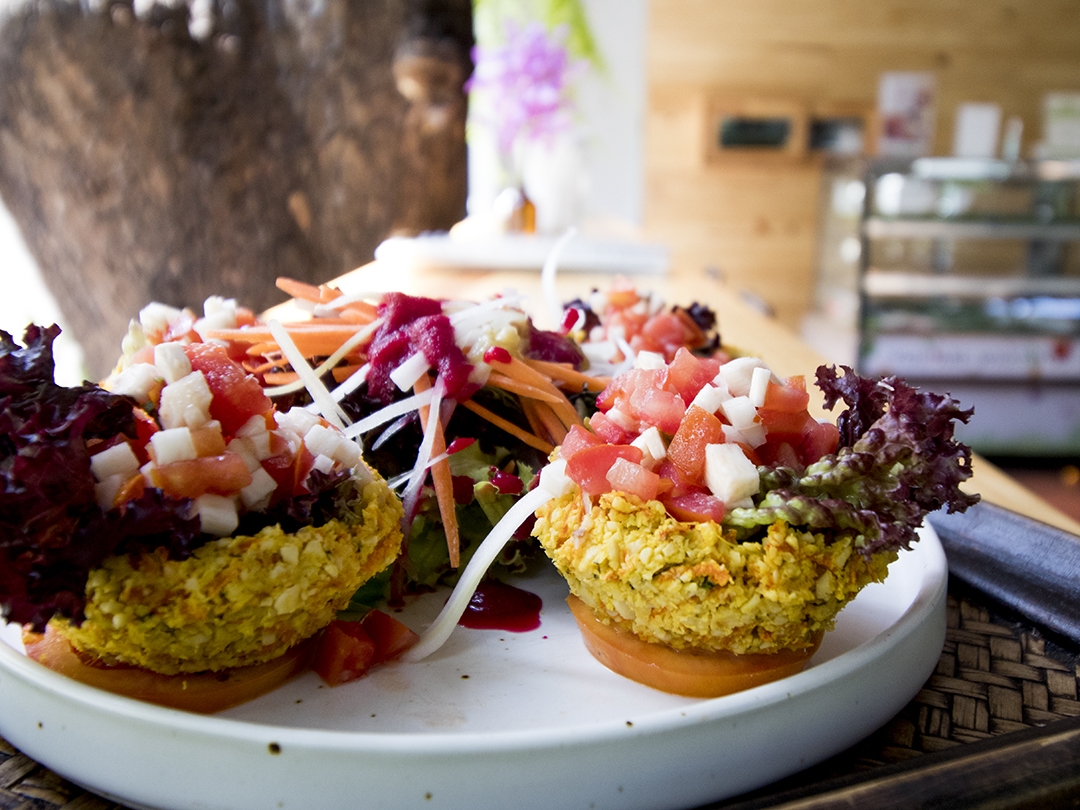 Mexican Taco Cups
Mixed vegetable, crunchy taco cup filled with Rasayana's
famous spicy salsa. About $5,00.
These cups are incredible. The crust is similar to the on in the sandwich, but with the salsa, the sweet cups develop a great flavor as soon as they get soaked in it a little.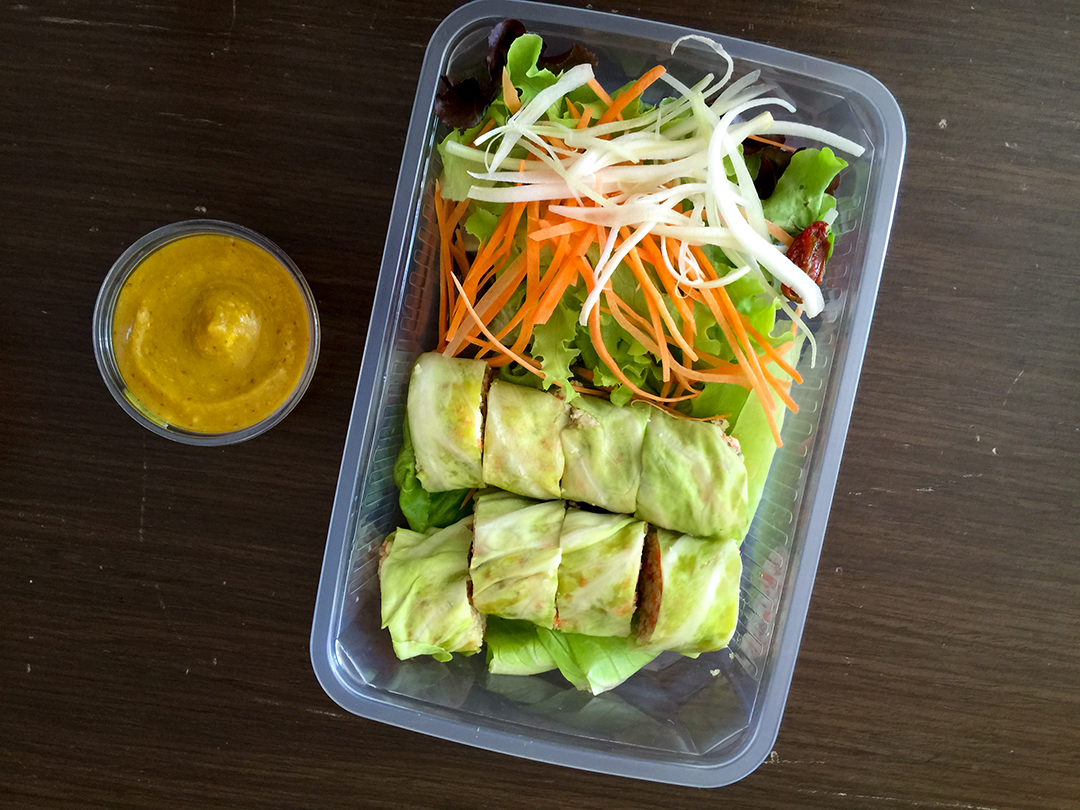 Spring roll
Cabbage leaves, nut pate, sweet sour sauce. About $4,50
The nut pate tasted familiar, we had in with the sun burger and the spaghetti & meat balls. The dish was basically something I didn't like, wrapped in cabbage. With the dressings, the dish tasted much better though. The only downside was the dirt on the cabbage leaves.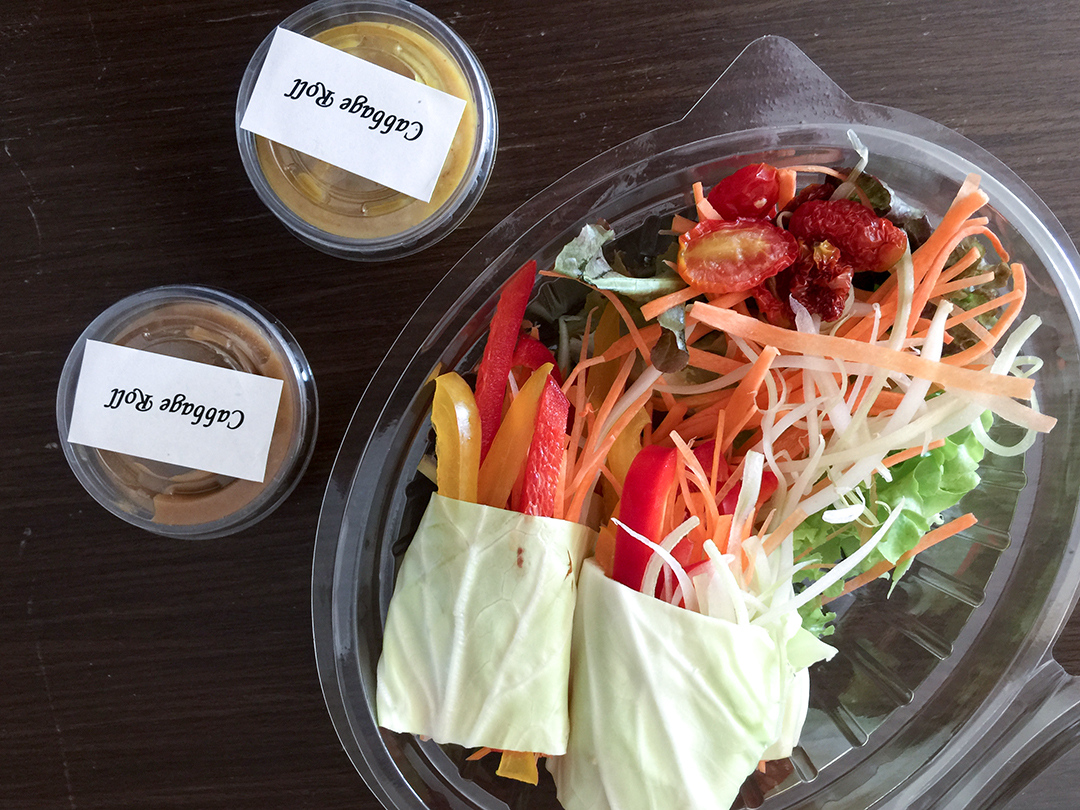 Cabbage Rolls
Cabbage leaves,carrots, celery, avocado, bell peppers, cashew sour cream.
Salad wrapped in salad. I don't mind eating a salad, but then, I need a decent portion of it.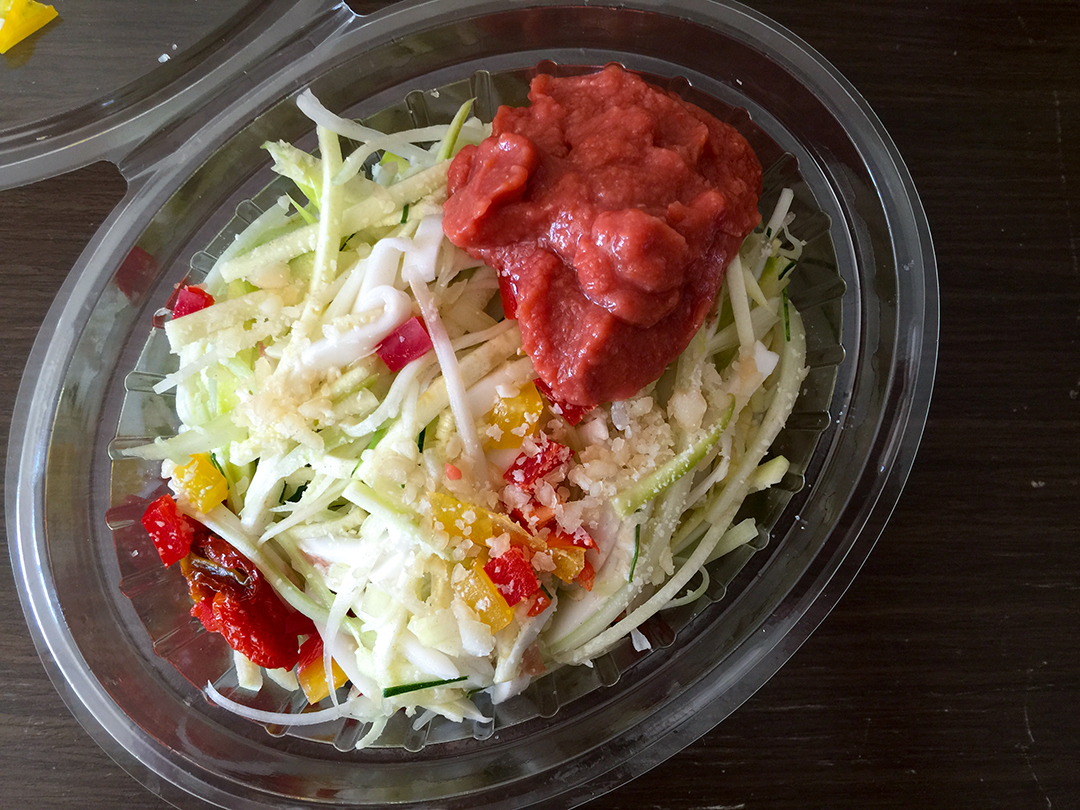 Thai Pasta
Veggies, coconut noodles, onion, chili, garlic, ginger, tamarind, spicy marinara sauce. About $4,50.
We loved the thai pasta. The coconut noodles made is filling. Our order came with the tomato sauce, which we loved. I suppose, they were out of the tamarind sauce, or it contains honey, will have to ask about that the next time.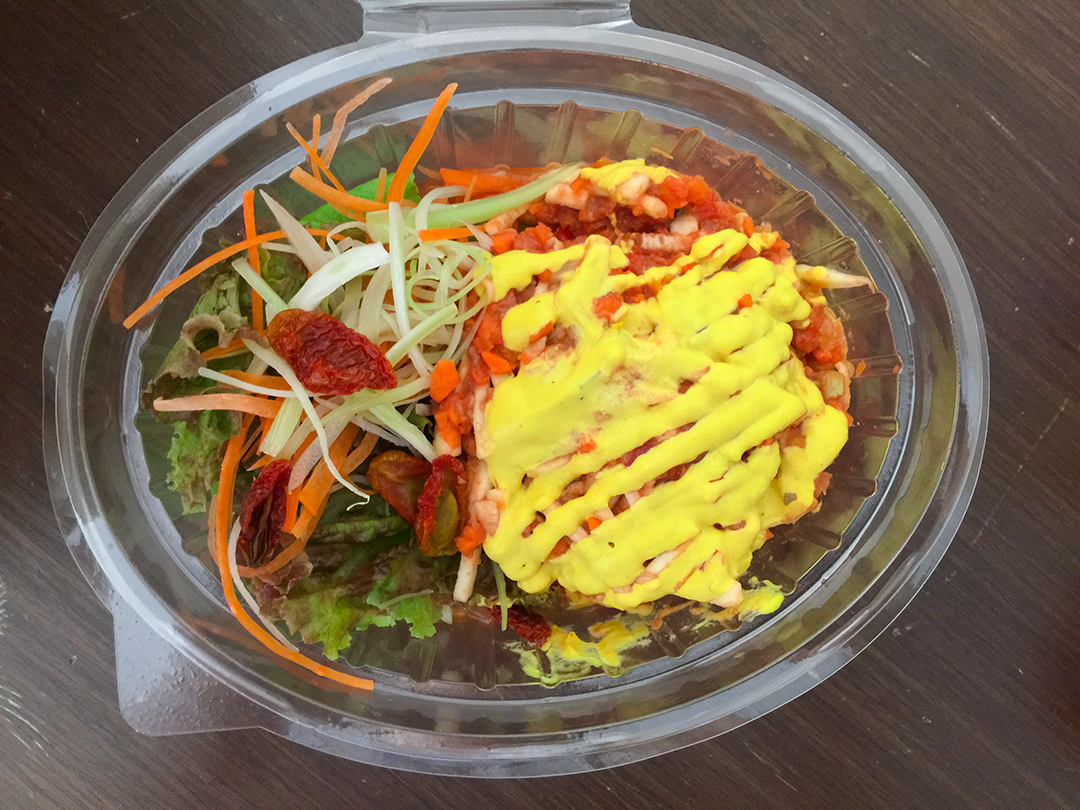 Eggplant Lasagna
Marinated eggplant, zucchini, marinara, avocado sauce. About $5,30
Here the marinara sauce again. I don't like it, it makes every dish into a salad. I've never seen a restaurant using that many carrots and now I know why. They don't taste good.