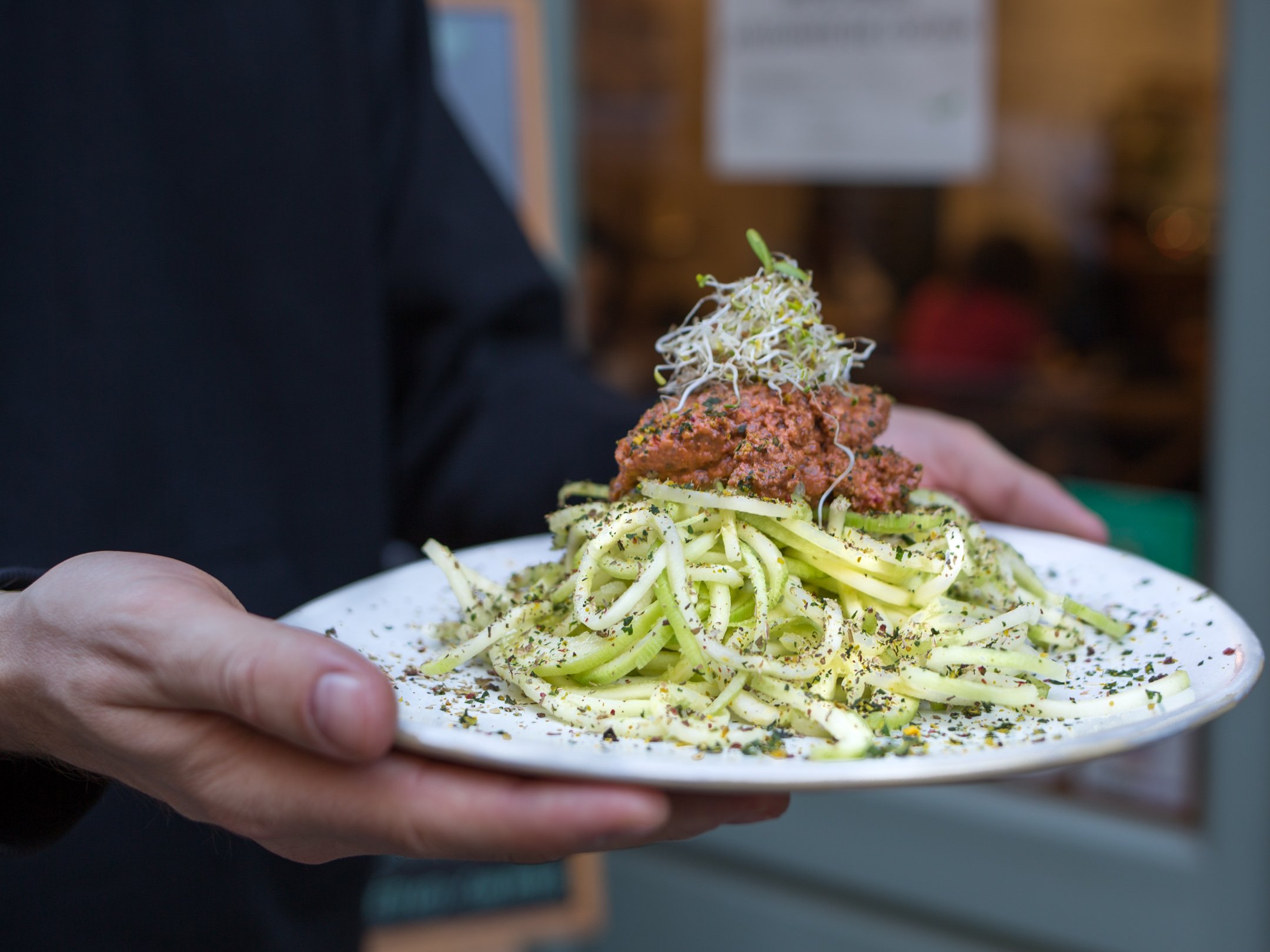 In the heart of Barcelona's old town you will find an amazing raw vegan restaurant we have been going all the time back to during the month we spent in Barcelona. For us, Petit Brot is a must for 3 reasons: The food is simply delicious, the quality is amazing: both organic and always fresh, and the restaurant itself is a modern airy space you will want to stay in even after your delicious raw vegan meal is finished. A plus are the great owners Laura und Ales, super dedicated to serving great food, welcoming and just super nice to be around.
Let's see what we had! As usual, I'll start with the favs!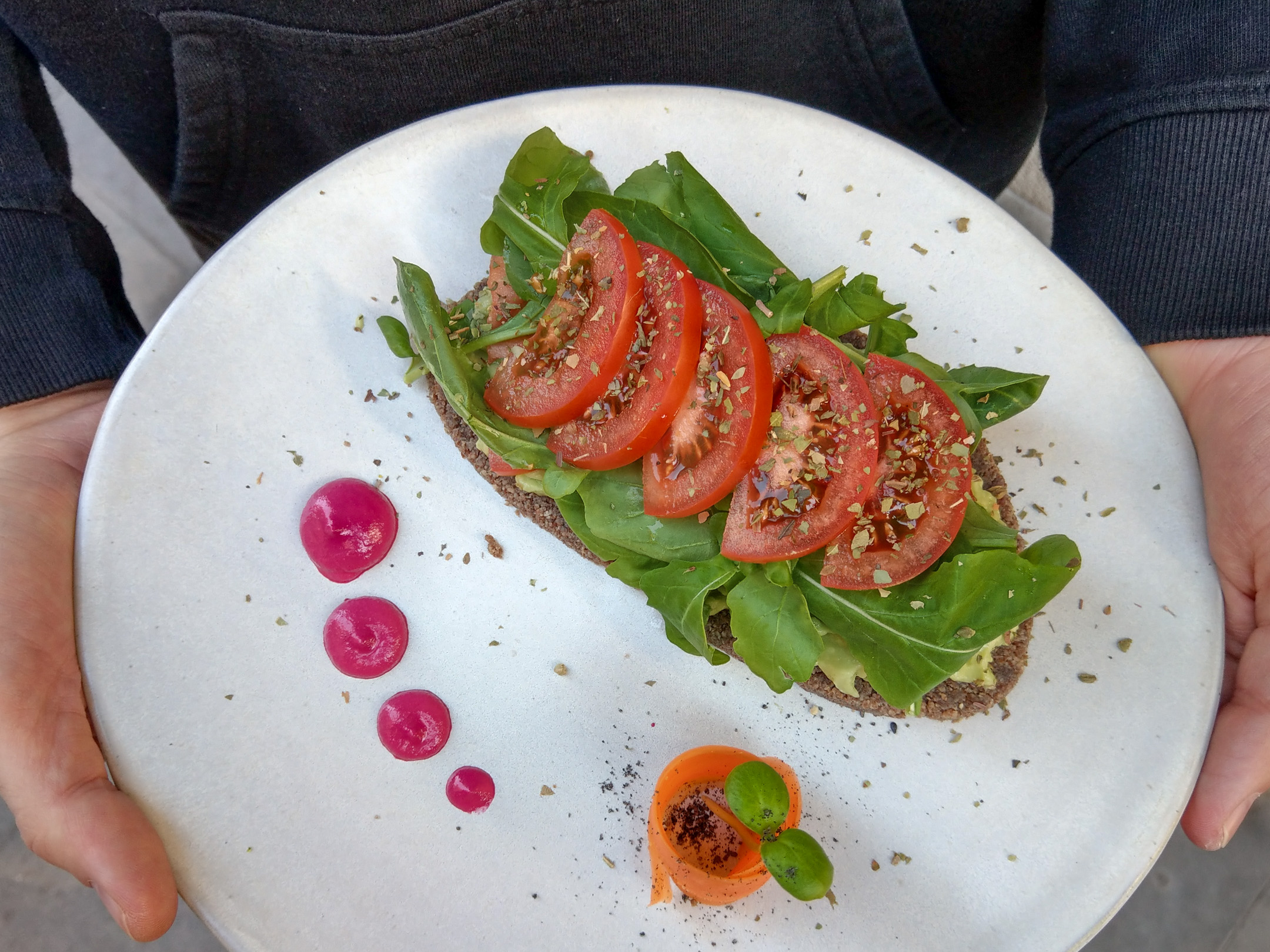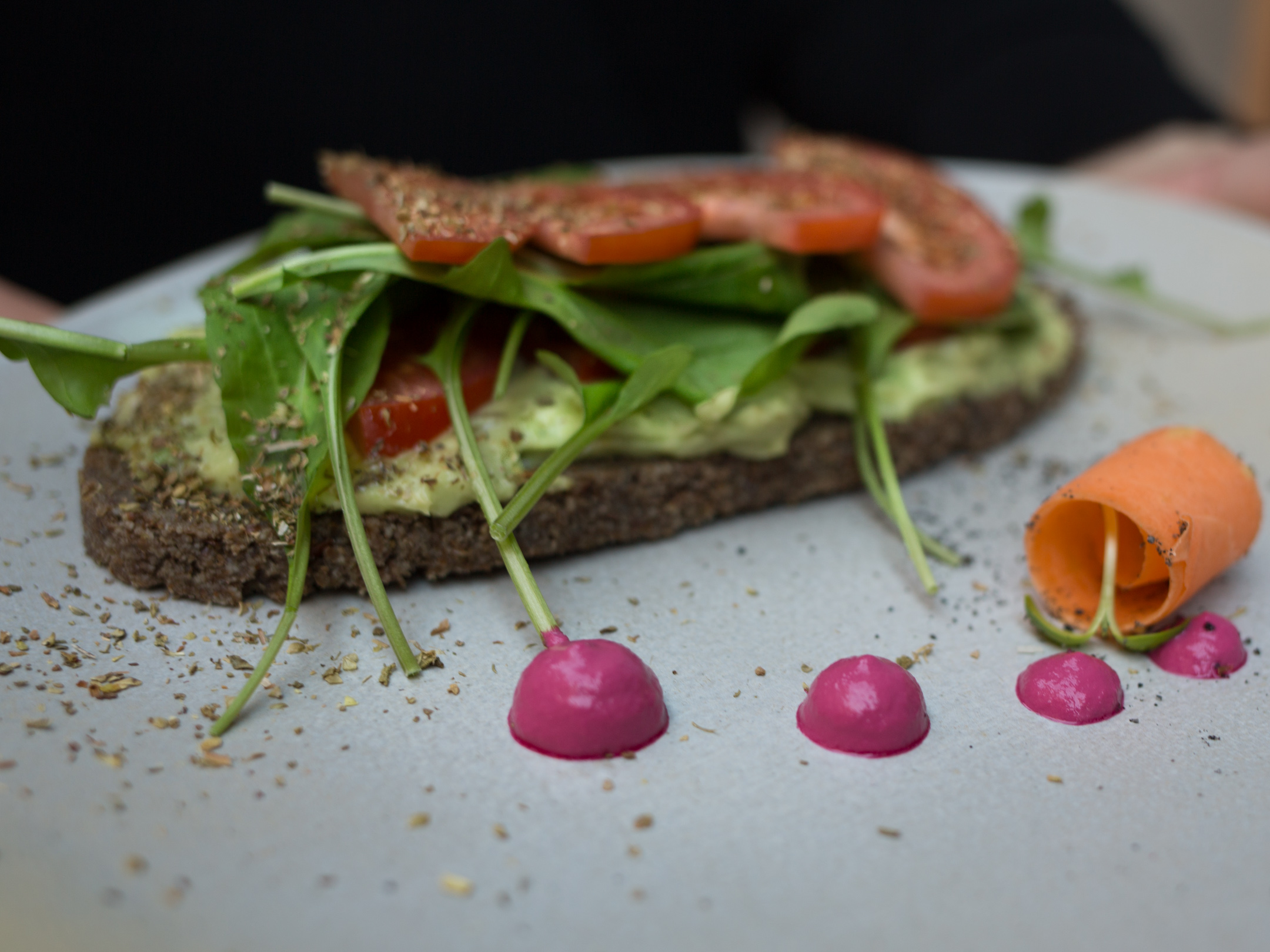 Petit Pa with tomatoes and extra avocado
Sprouted sunflower seeds, flax, psyllium, …
The Bread (8,90 + 2€) is dense, rich and delicious, like a good German dark bread. It was even shaped exactly like a slice of bread. It even tasted a little toasted from dehydrating I suppose. We asked for no oil on top but avocado. A perfect healthy avocado toast.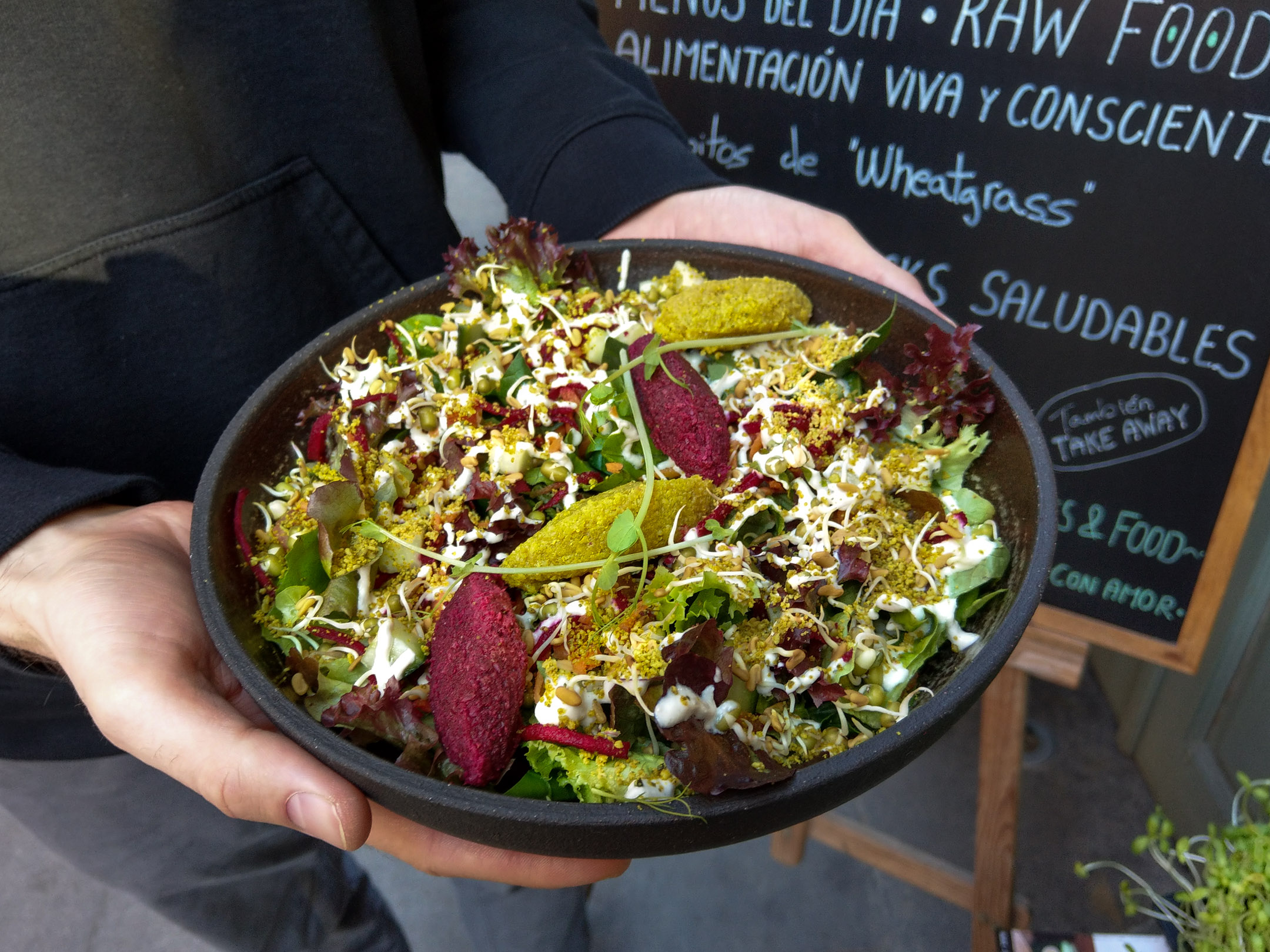 Raw Falafel duo + Salad
Sprouted chickpea falafel and sprouted sunflower seed & beetroot falafel with fresh greens, veggies, sprouts with creamy raw tahini dressing.
The falafel salad (13,90 €) was amazing. The falafel very authentic in taste and beautifully shaped.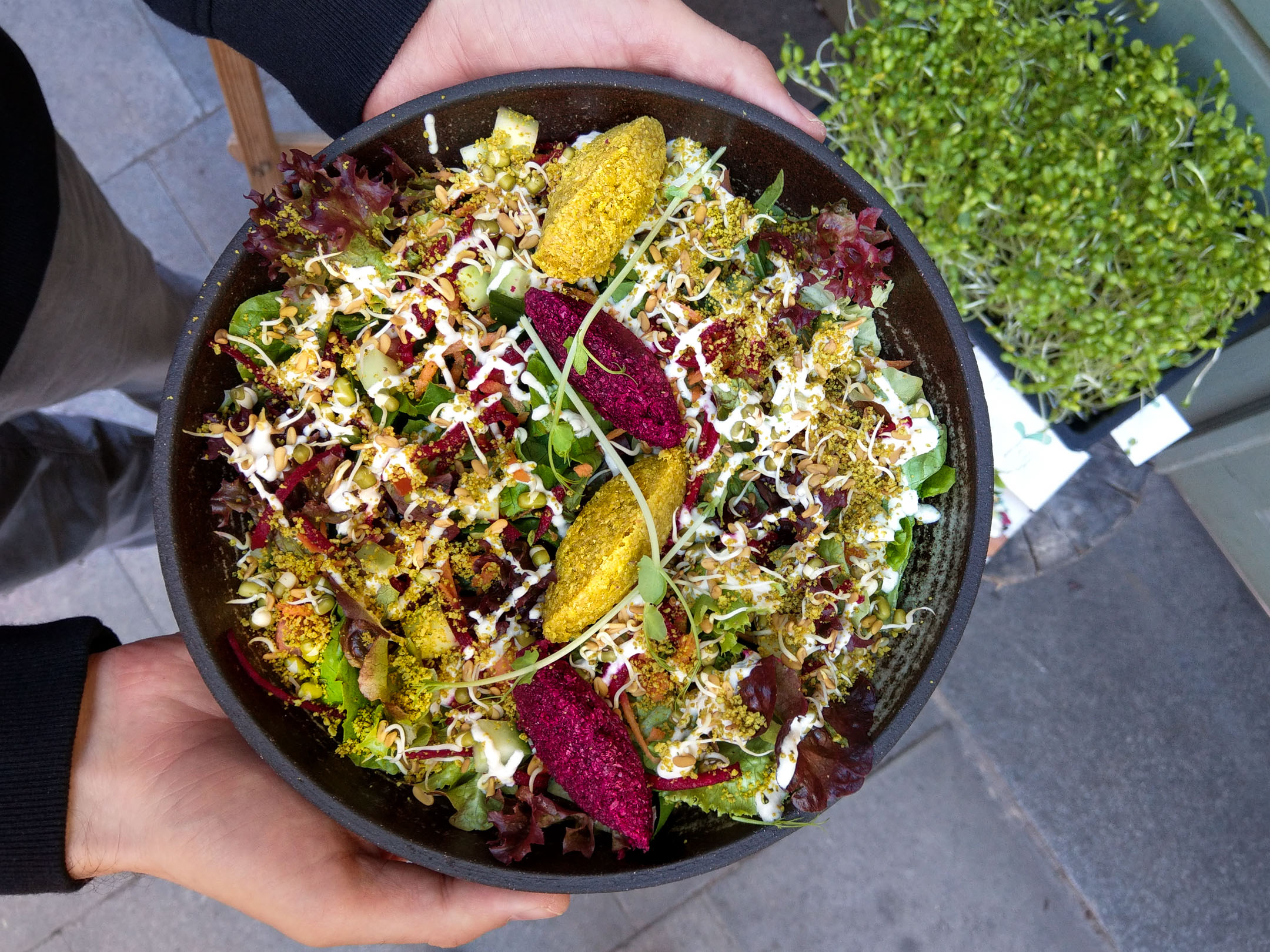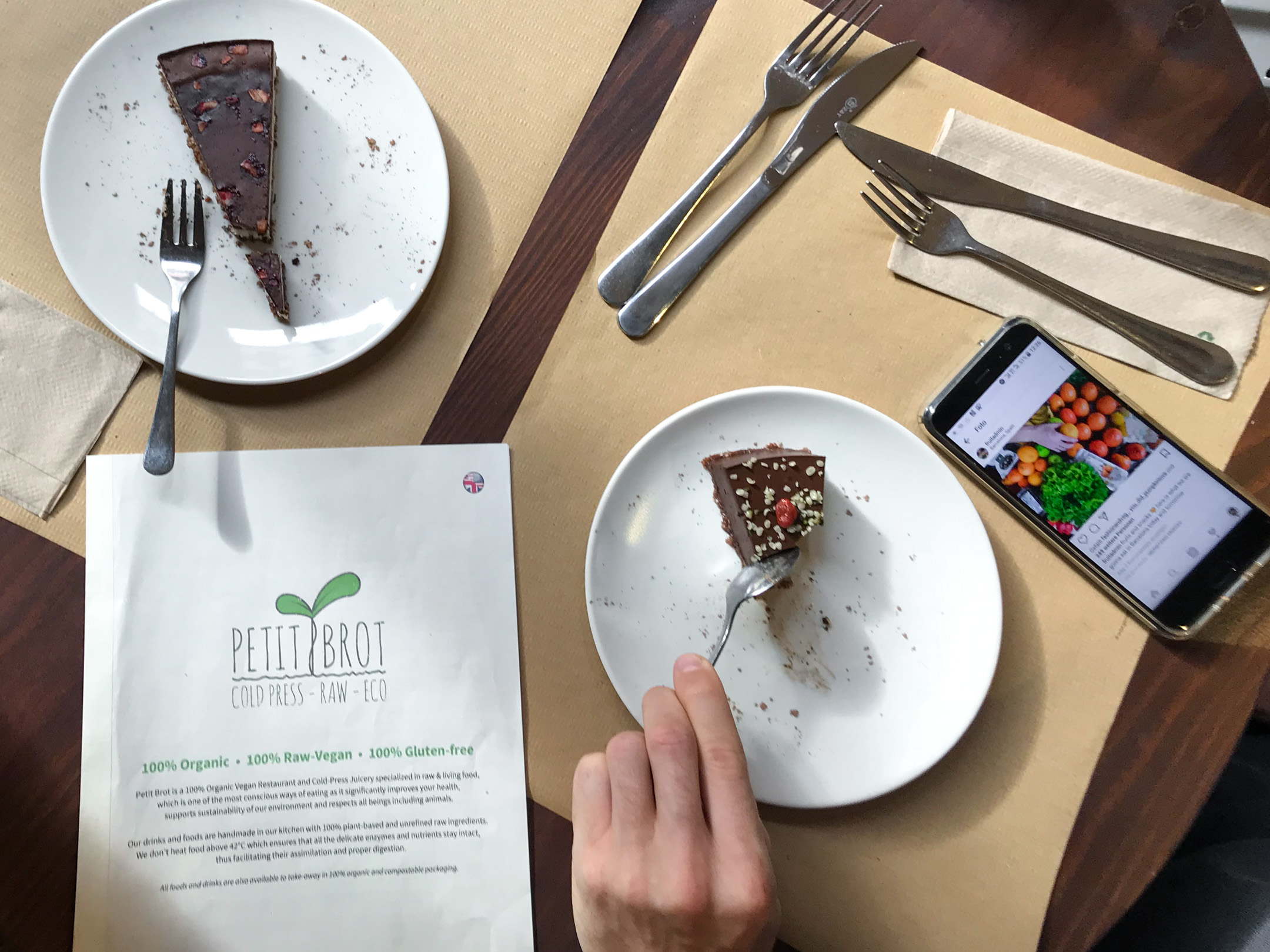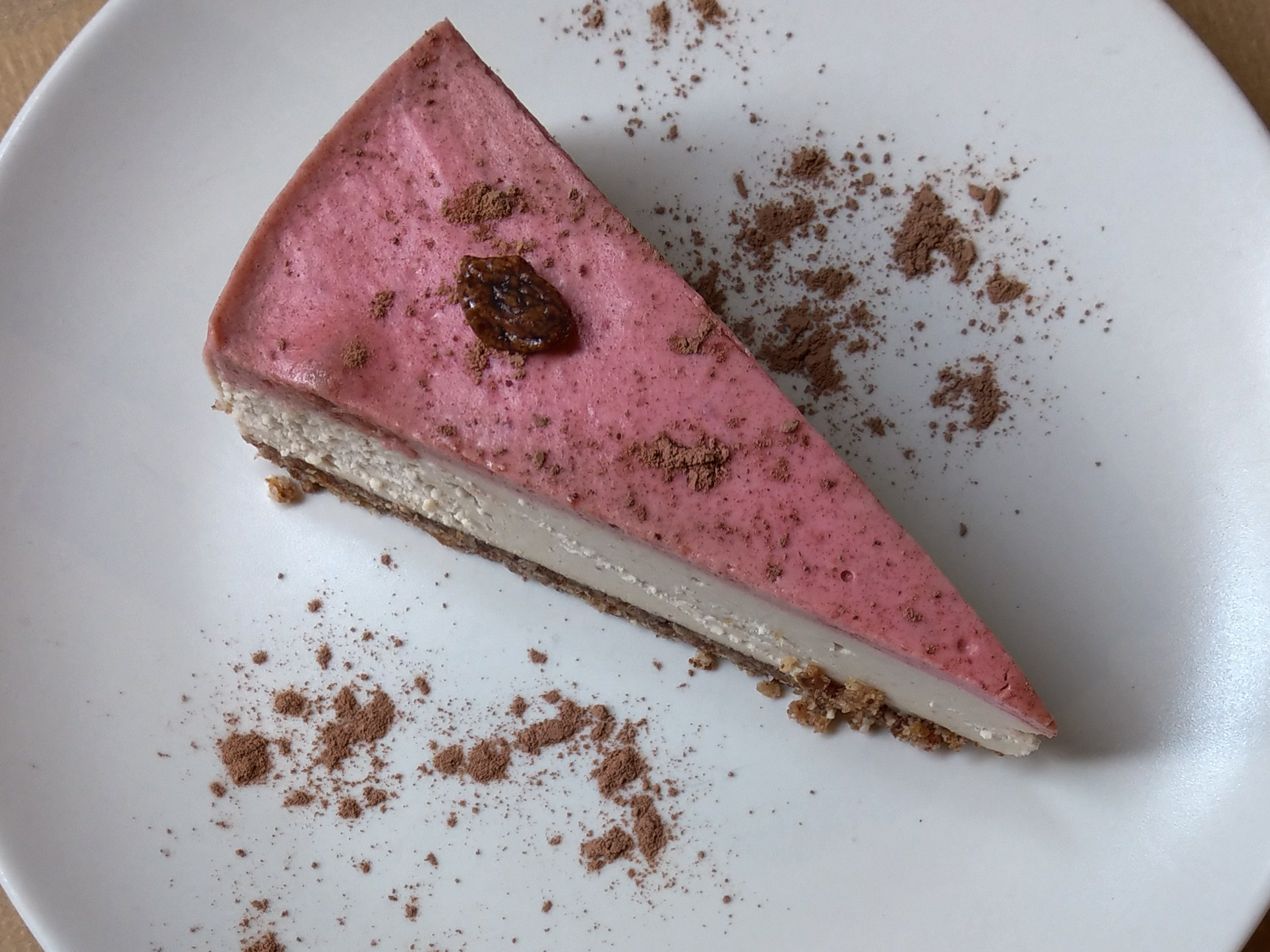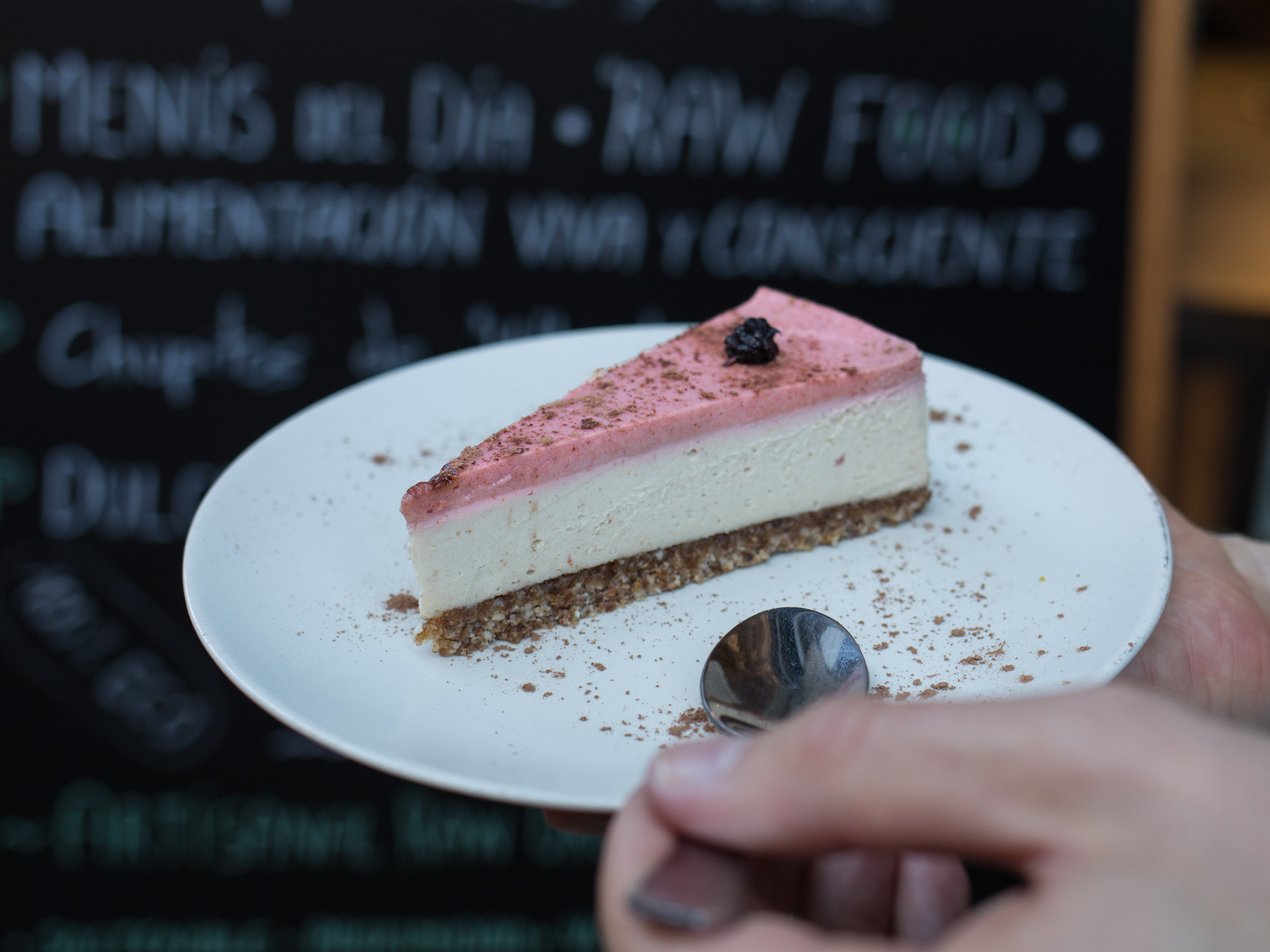 Raw cheesecake
With cashews and almonds.
This is our favorite cake (7,50€) at Petit Brot, we had it almost every time we were here.
The cream cream layer is smooth, rich and sweet, the pinc layer fruity and flavorful.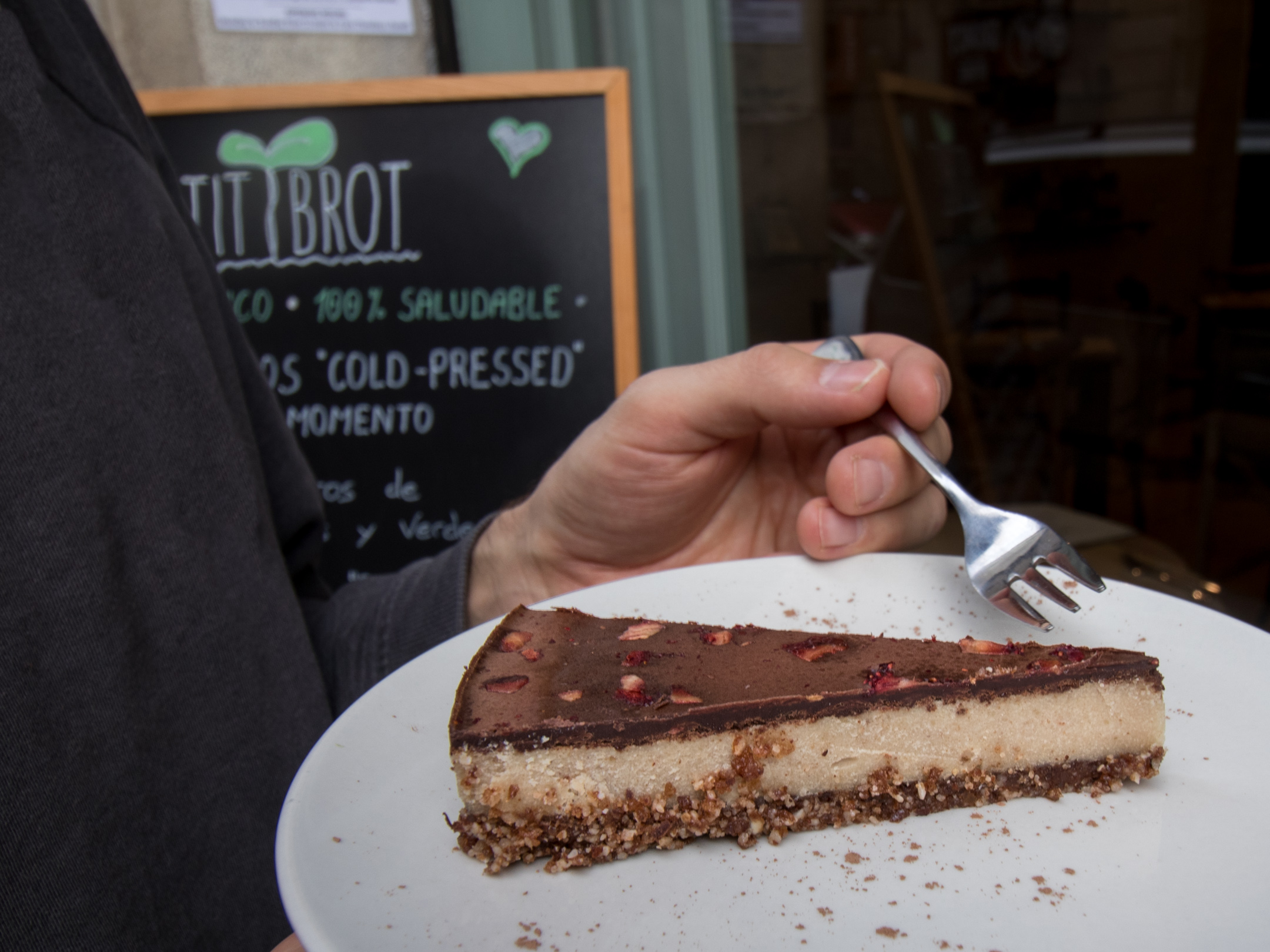 Raw Bonbon Cake
Almond and buckwheat base. Cashew creme. Chocolate topping.
This cake (7,50€) is sweet and with the thick chocolate taste just like a chocolate praline.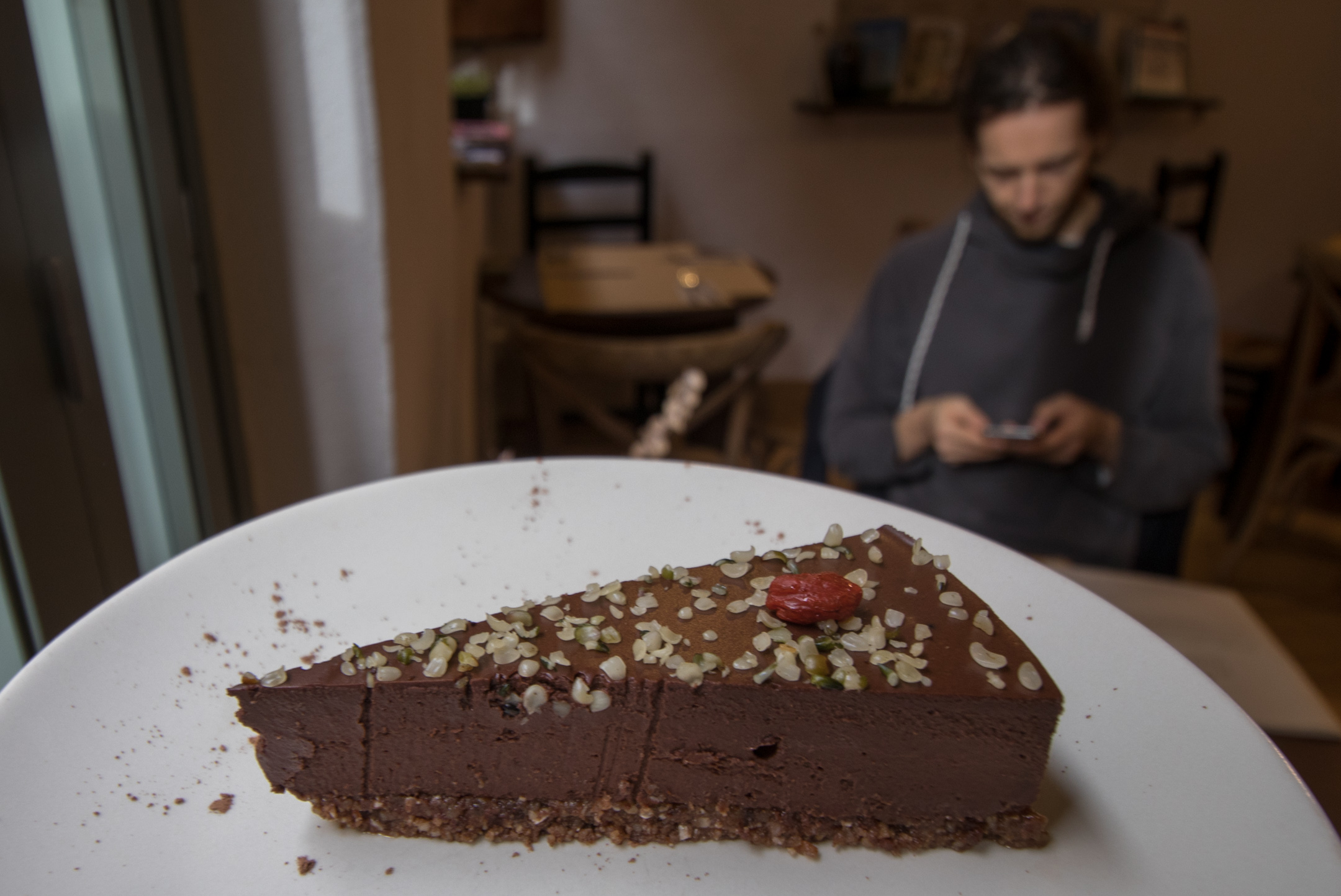 Raw Organsmic Cake
Buckwheat and almond base. Chocolate mouse.
This cake (6,50 €) is very chocolaty. A nice treat for dark chocolate lovers.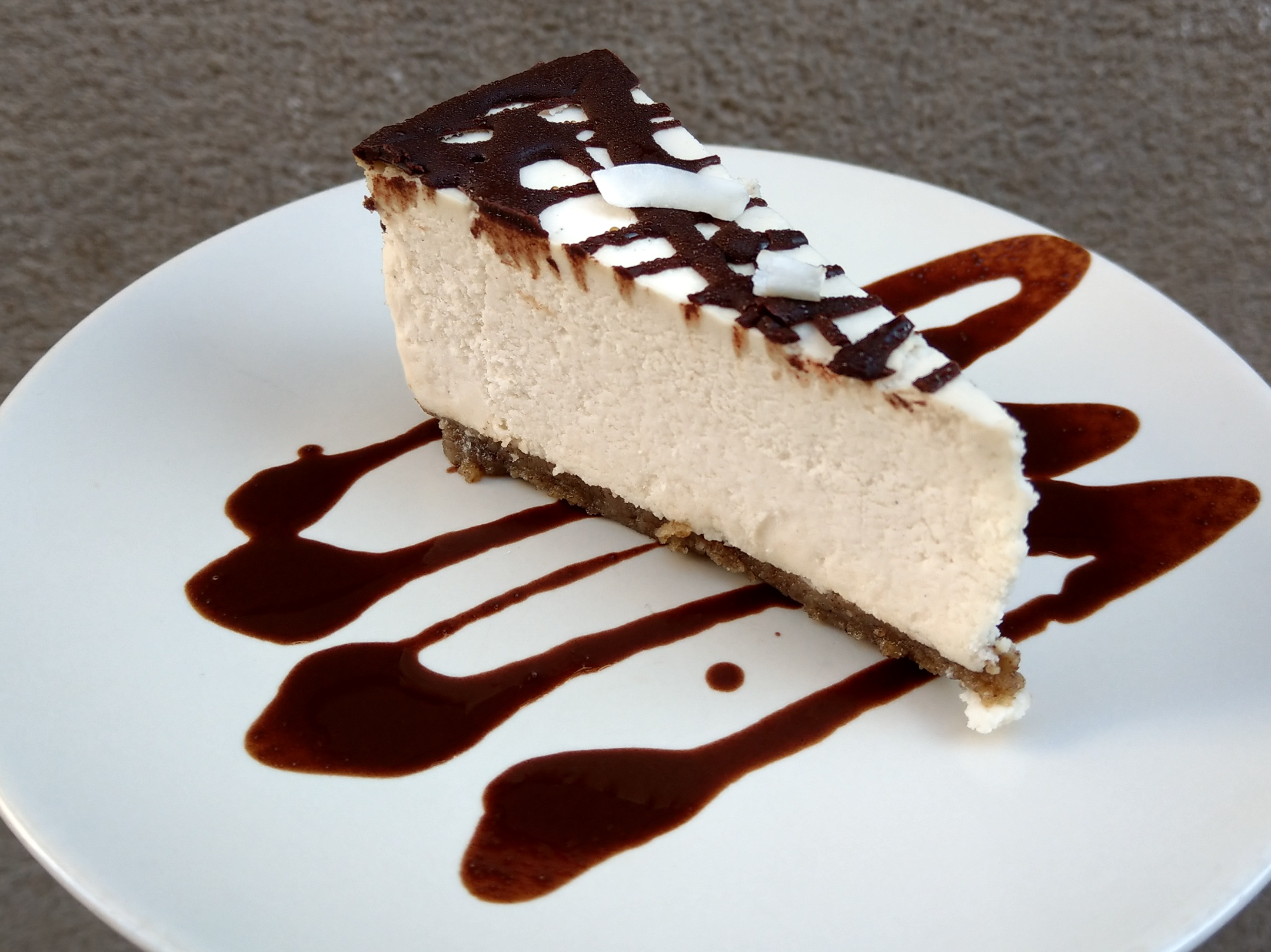 Macadamia Cake
Macadamia and coconut.
This raw vegan cake (7,50€) is made without any sweeteners except for stevia and has a mild flavor and snow like texture.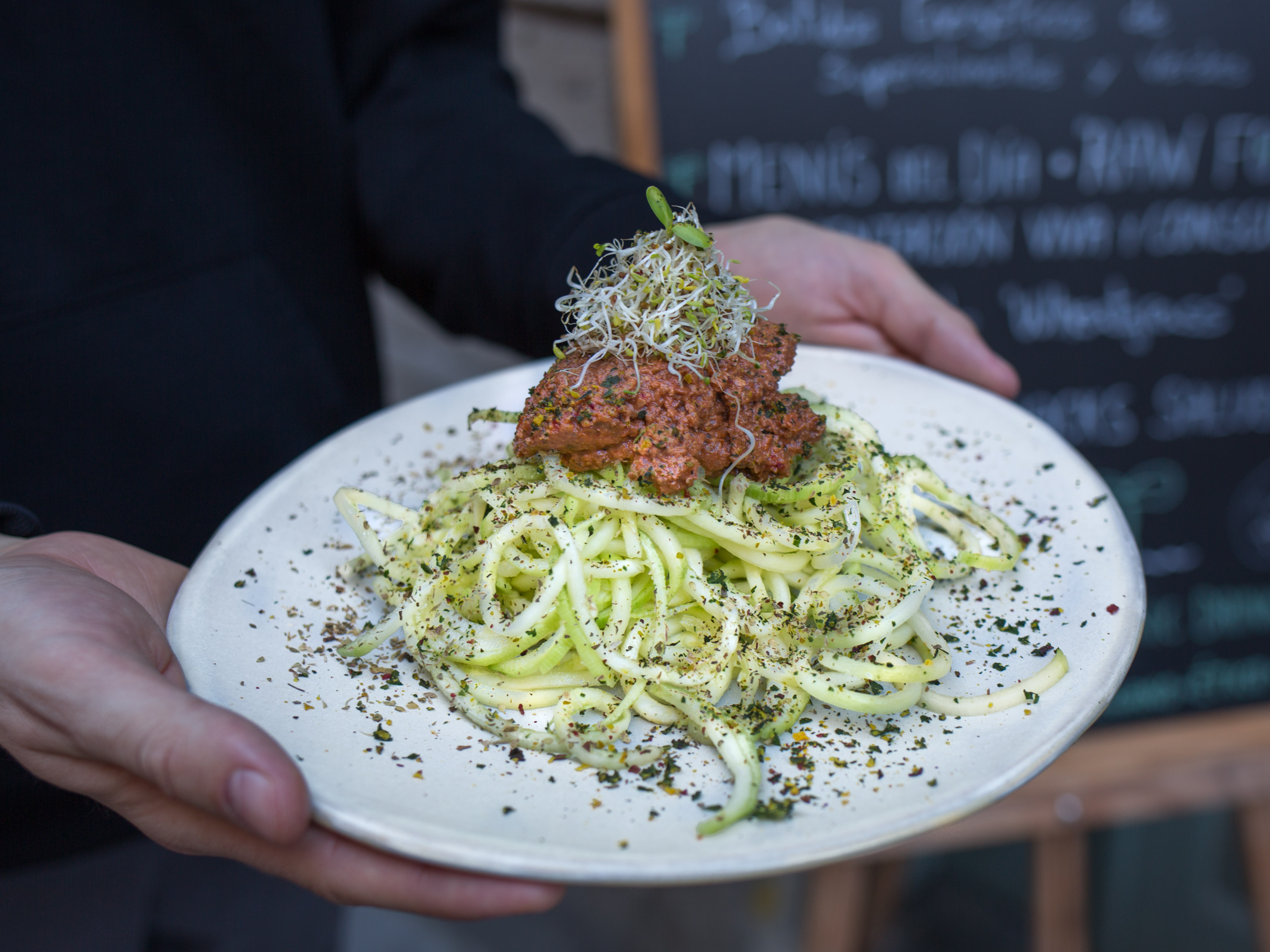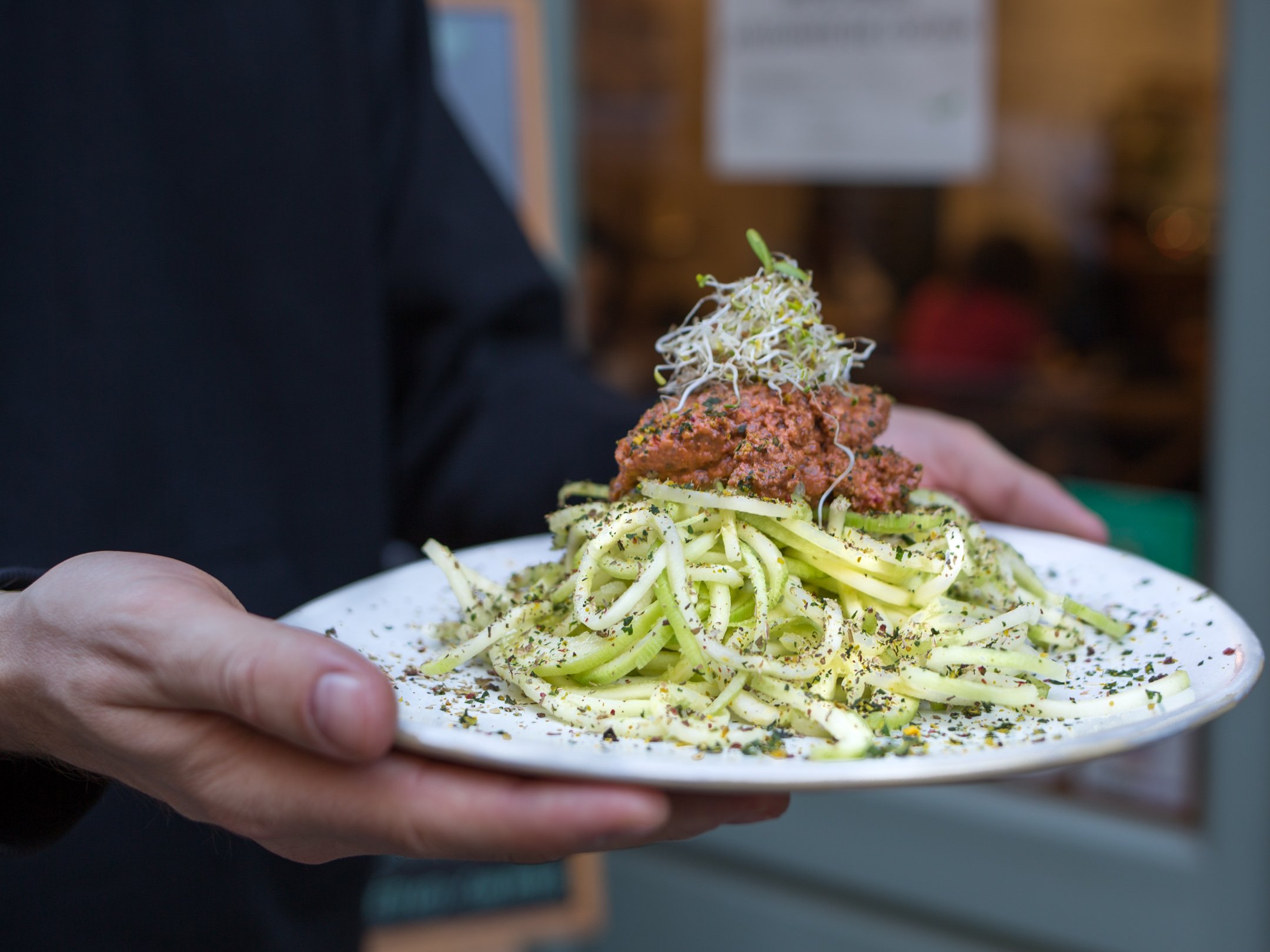 Raw Spaghetti Bolognese
With zucchini noodles, raw marinara of sun-dried and fresh tomatoes and italian herbs.
The raw noodles (14,50€) were delicious, must be a special kind of organic zucchini that was used, very smooth and neutral. The marinara is rich and aromatic.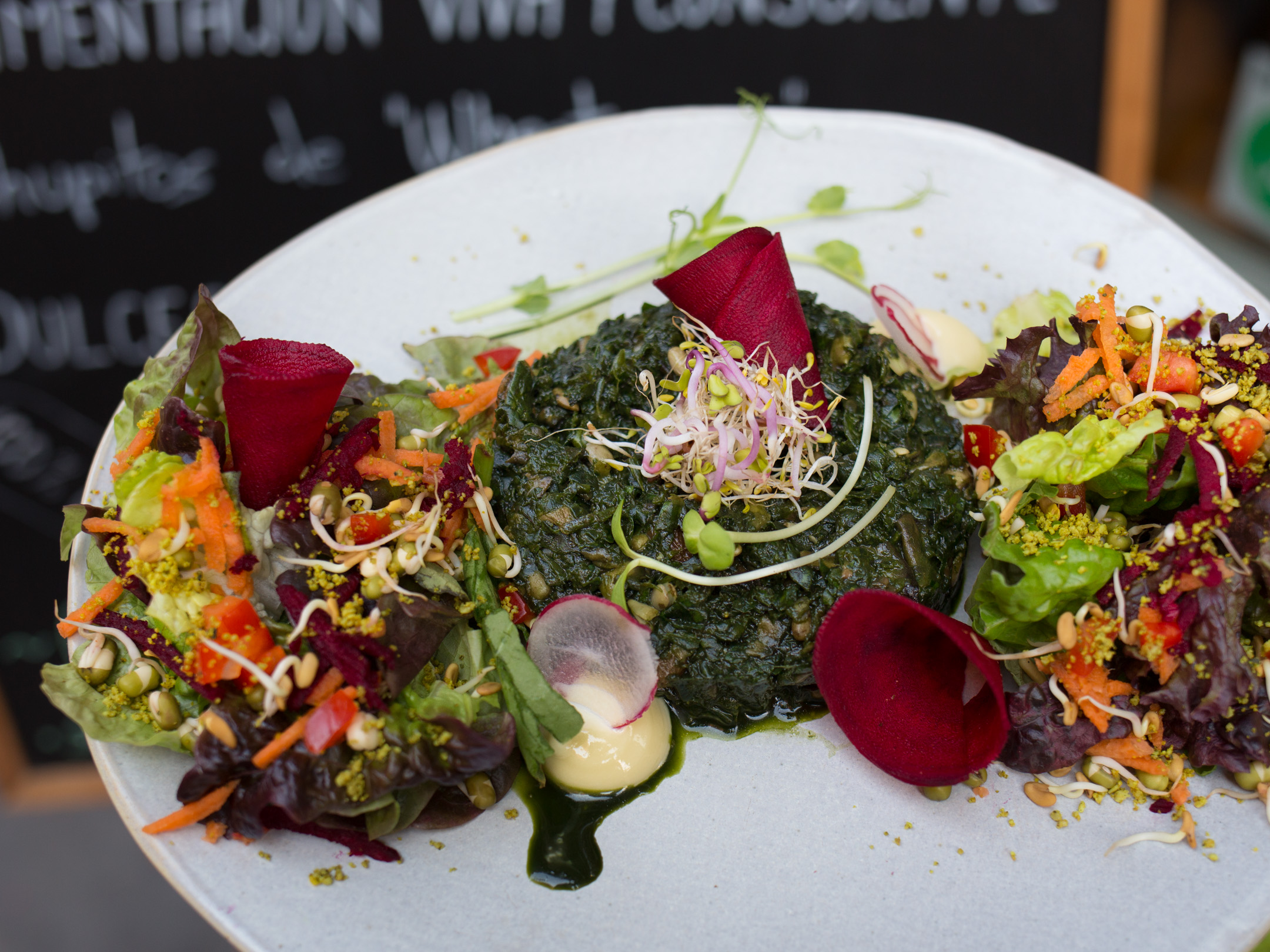 Lunch Menu
Living soup, Espinacas a la Catalana, Energy balls.
The weeks menu (16,95) was incredible. The raw "sautéed" spinach dish tastes as rich and creamy as a cooked spinach while being just quickly dehydrated. The were marinated mushrooms and onions inside which added flavor and made the texture even more interesting. The alioli on the side was exquisite. We asked for no oil on the salad. The soup was also very good.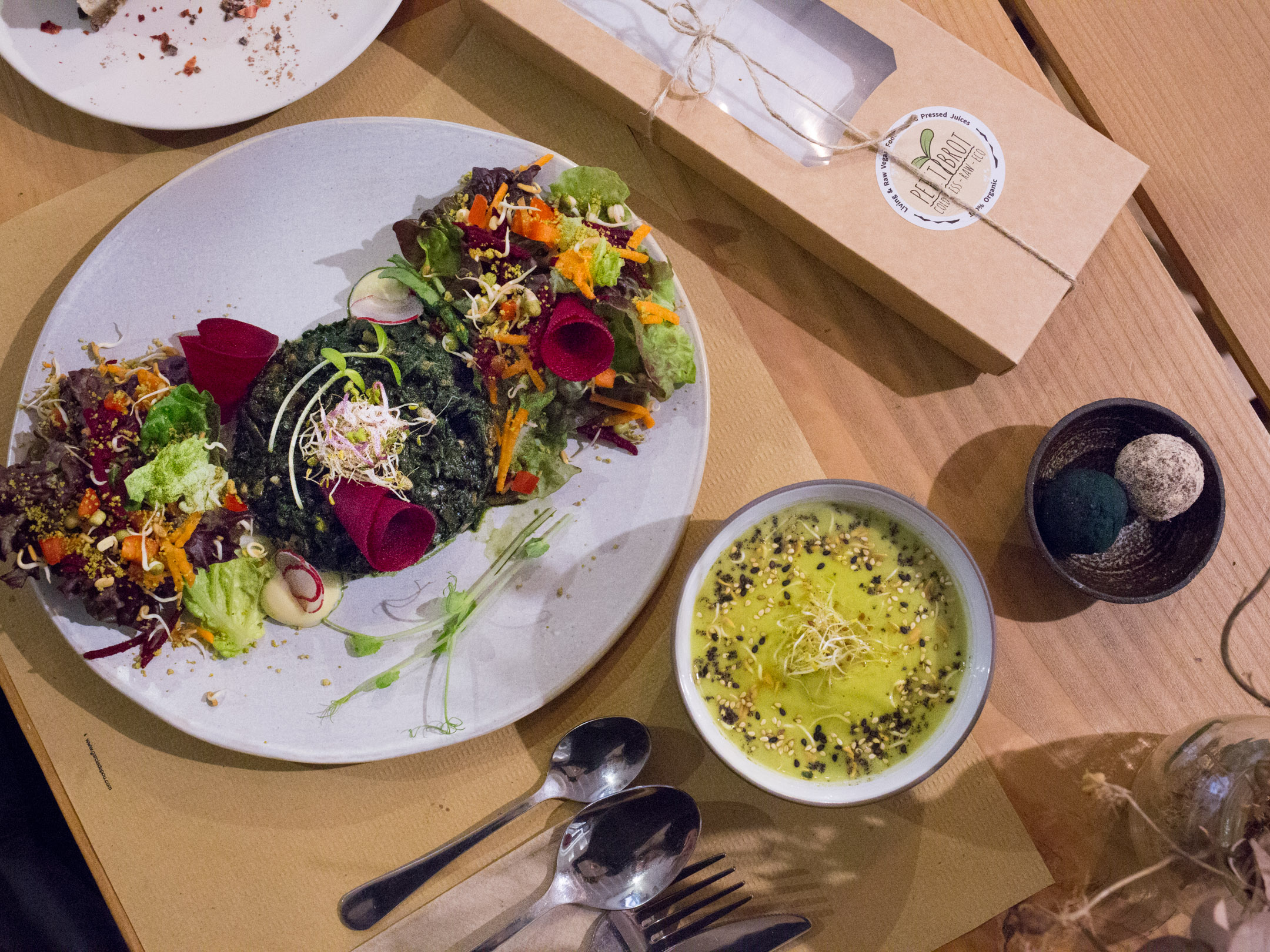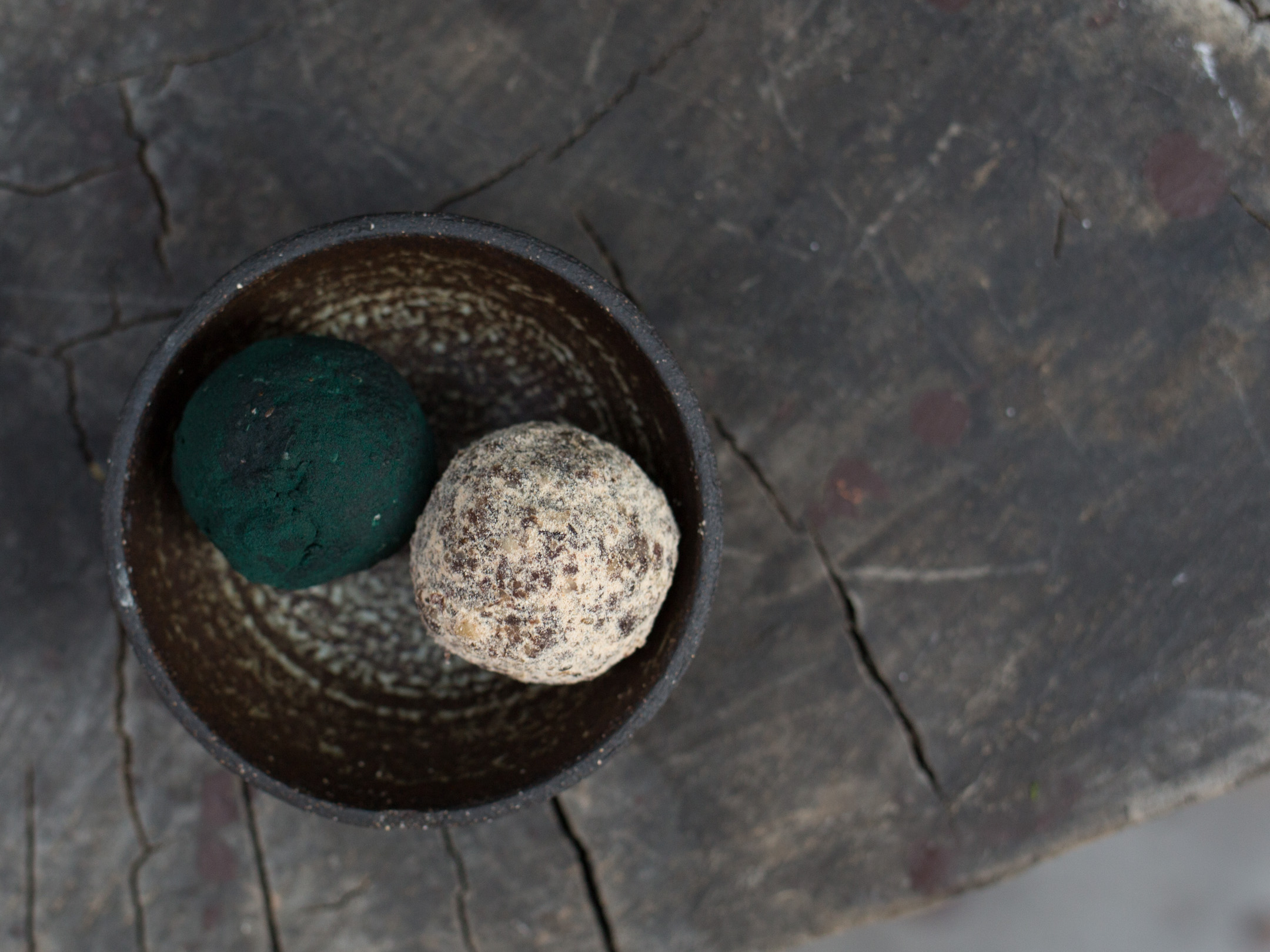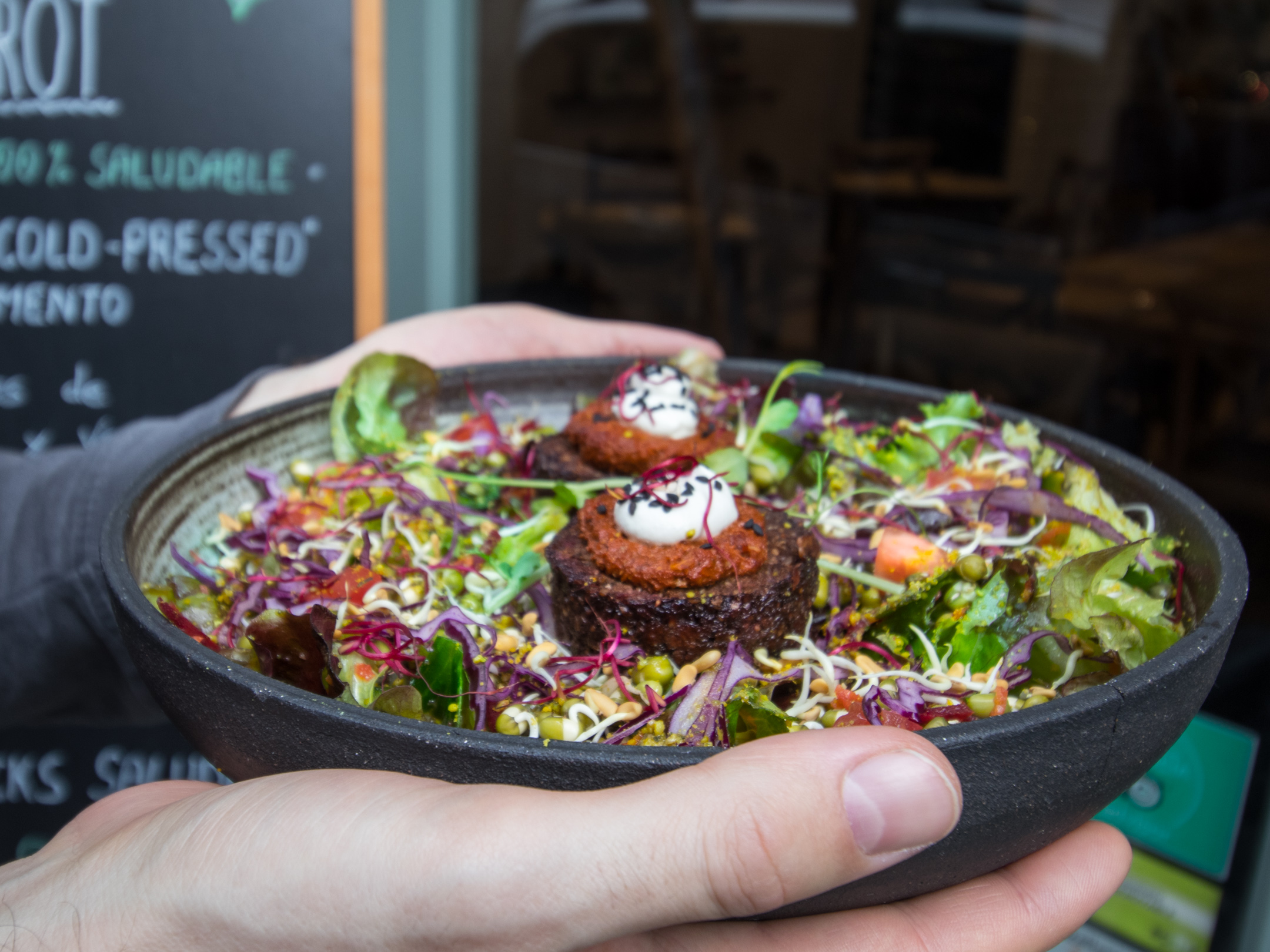 Raw mini burgers + salad
Raw patties made with sprouted buckwheat, lentils and sunflower seeds, mushrooms, sun dried tomatoes, 2 patés, with fresh greens and dressing.
This burger salad (13,90) was stunning. The greens super fresh, colorful and tasty. The patés the patties were topped with were super delicious. The burger patties were not exactly my taste, the lentils gave them in my opinion a weird aftertaste. The salad dressing felt like just oil, but with a tahini dressing, I would definitely give this dish another try the next time.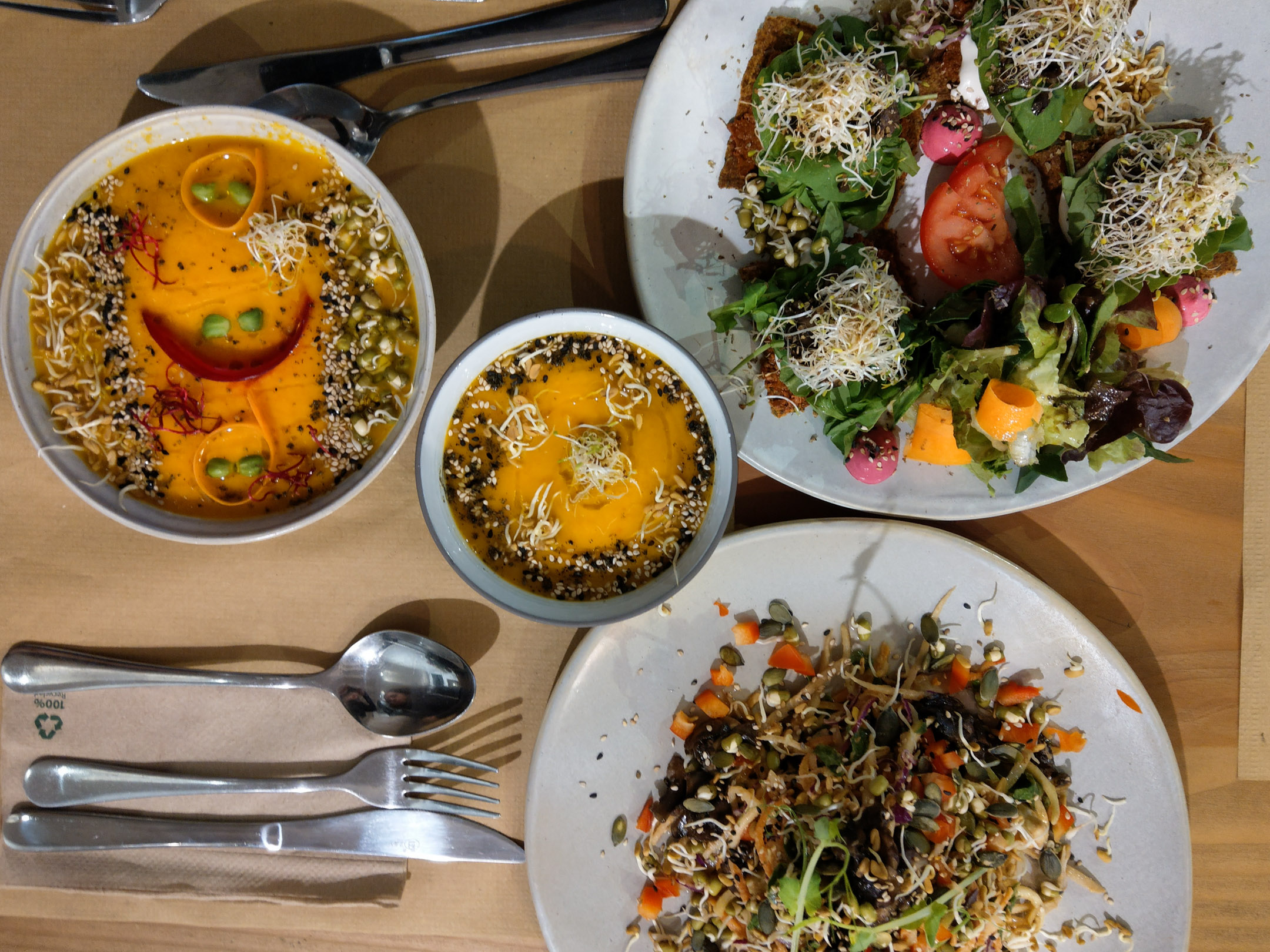 Festive Lunch Menu
Pumpkin soup, raw cauliflower stir fry, pumpkin pudding.
The menu (18,50 €) consisted of 3 dishes. This meal was our least favorite at Petit Brot. It was also the first one we tried. It showed us again, we shouldn't even start to junge a restaurant before trying everything on the menu!!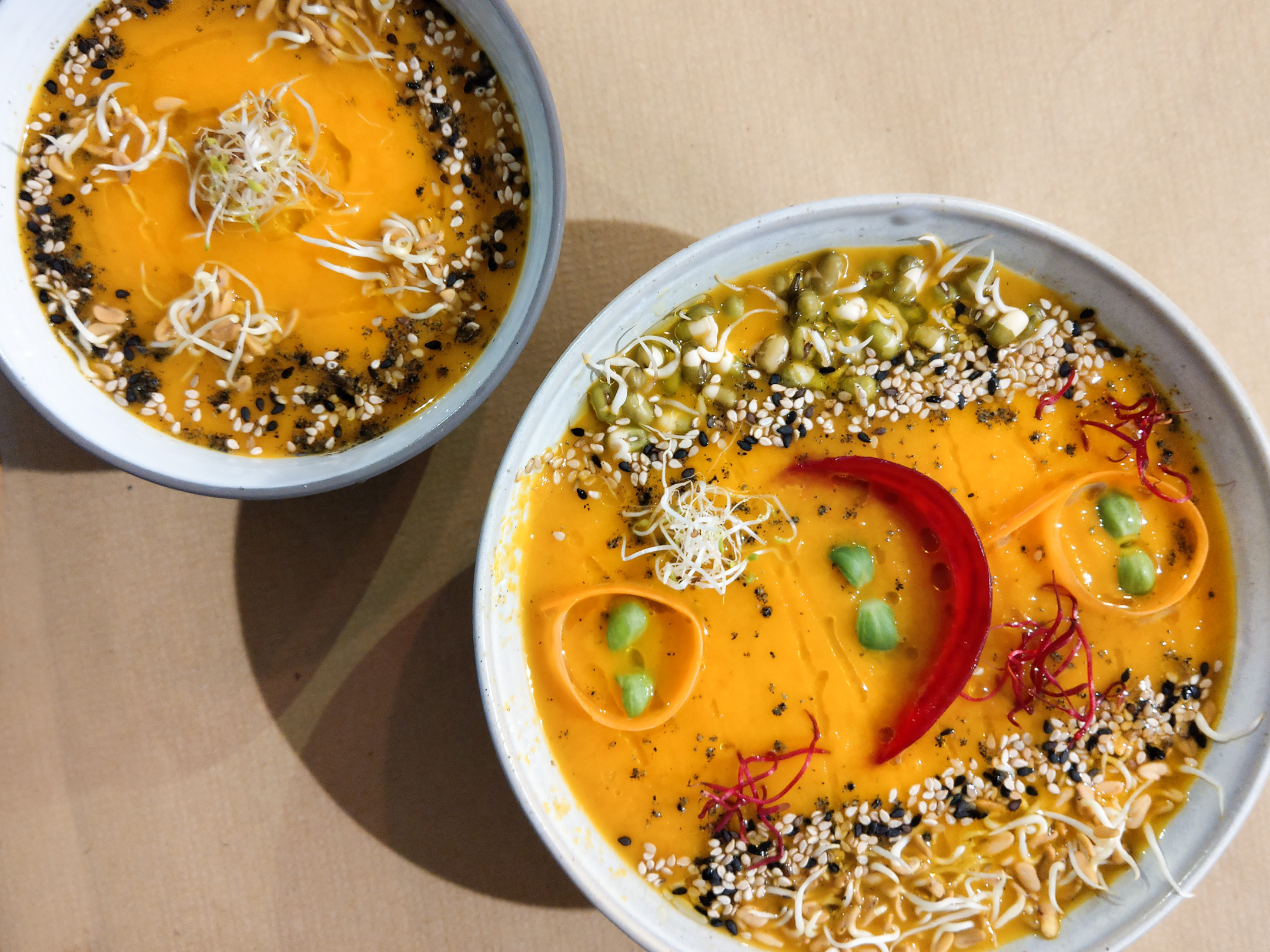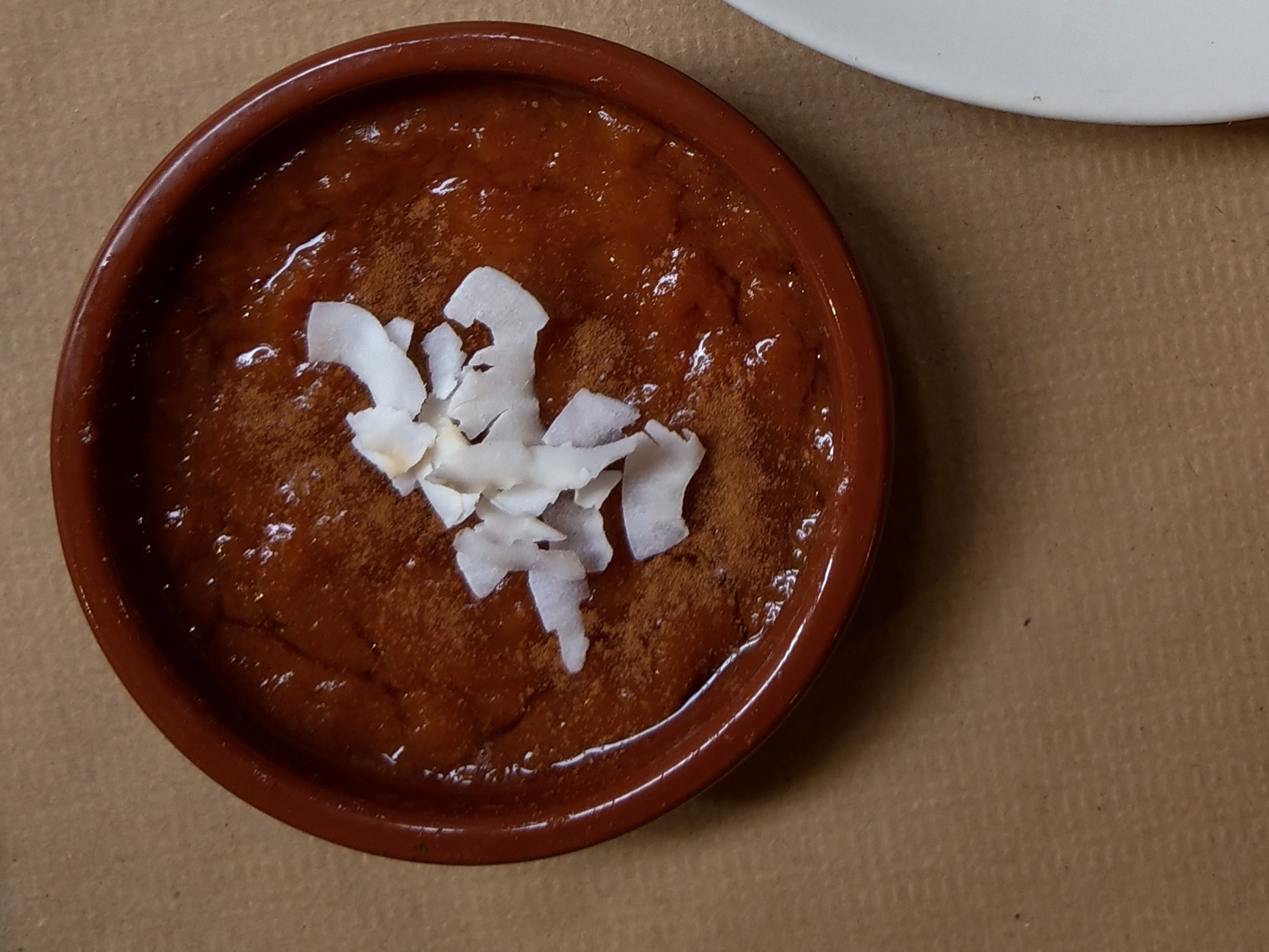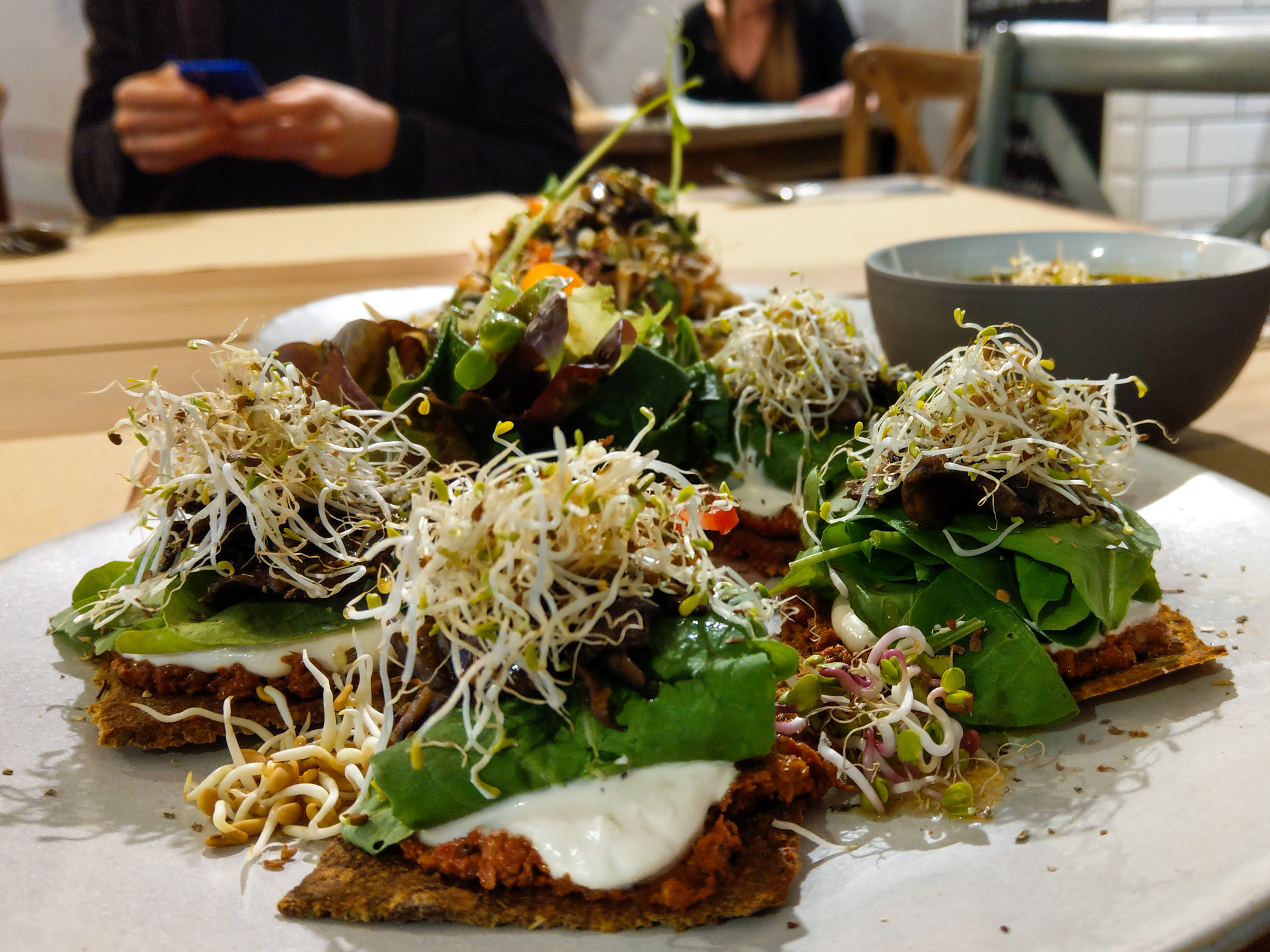 Raw mini Pizzas
Crackers, sun-dried tomato paté, cashew cheese, arugula salad, marinated mushrooms, olive oil, herbs, a side salad and sprouts.
The pizzas (14,50€) are really good. Every layer was amazing. The crackers, the paté and the cashew cheese. We like it so much, we got all the 3 ingredient separately to go and assembled the pizzas at home for dinner later that day. The side salad was super fresh and delicious, we asked for no oil on the salad.
Make similar raw recipes at home
Amazing Falafel Salad
Rawesome Cheesecakes
Great Raw Burgers
Delicious Bolognese with raw Parmesan
Overall impression
Petit brot is an amazing raw vegan restaurant. The quality of the ingredients is amazing, everything is organic and always fresh. We found so many favorite dishes here and with the weekly changing menu, there is always something new to try.
What to order for breakfast
There is nothing wrong with cheesecake for breakfast, right? I would always go for the raw vegan cheesecake in the morning. A slice of raw bread with avocado is also perfect for breakfast. A lighter option would be a smoothie or a slow pressed organic juice. Also the cheesepate is perfect to start the day. We didn't had the cheese plate at the restaurant, but we had the cheeses and the crakers separatelly, both are amazing.
What to order for lunch
During the week, I would definitely order the weekly special, alternatively a falafel salad or the pizzas would be a great start.
Tips for your visit
Check the opening hours, you will find all the updates on their facebook page. Morning are usually less busy than the lunch time. Around the holidays, a reservation might be a good idea.
A good blender is simply irreplaceable.
Dehydrator turns fruit into delicious healthy treats.
If you like veggie noodles, you should get a spiralizer.