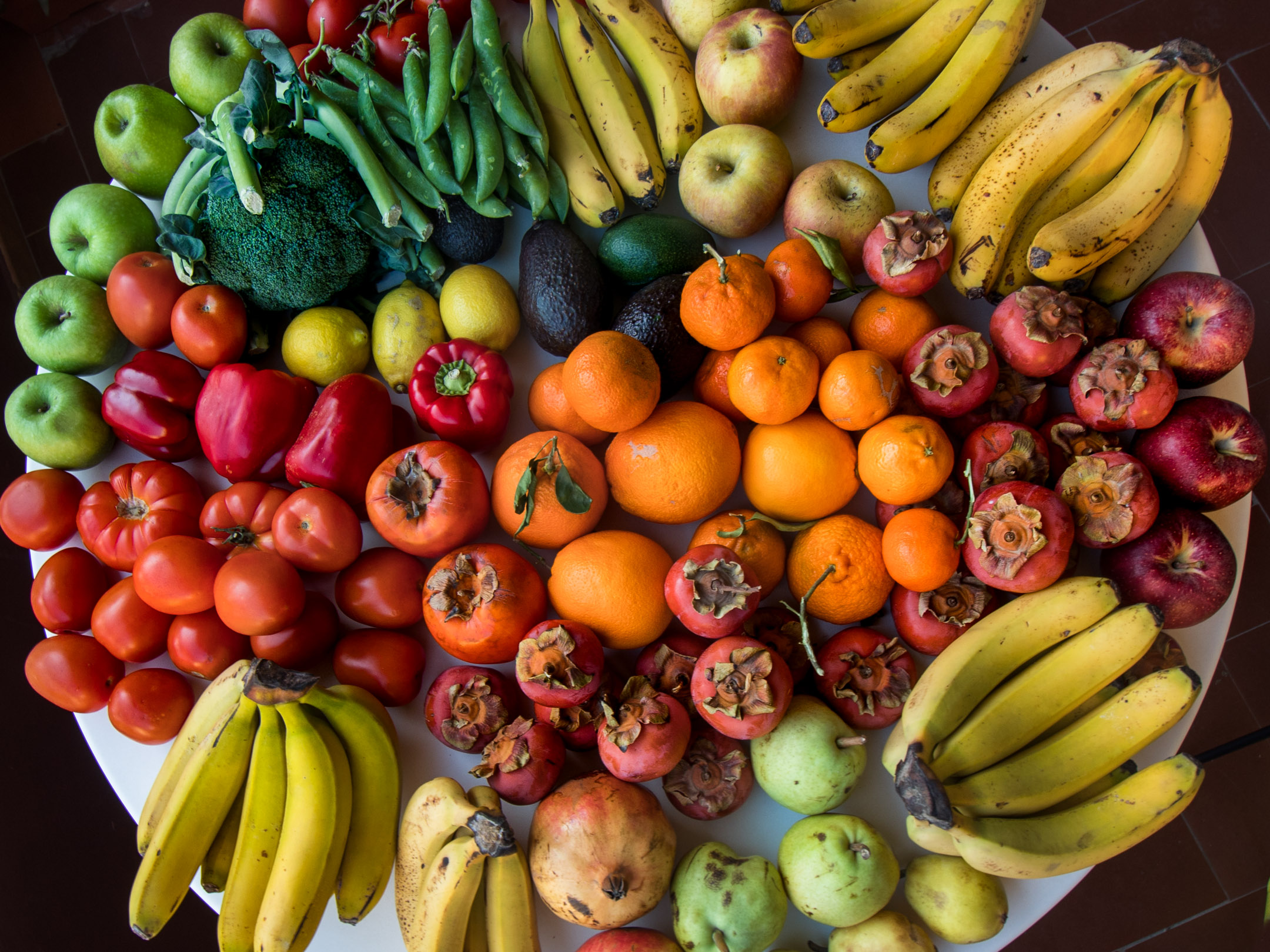 Organic-friendly Barcelona
Before traveling to Barcelona, we searched for organic options online and new there are organic shops, but we had no idea there so many so great fully organic shops, vegan stores and raw vegan foods. We hope we can help you to plan your shopping in Barcelona. If you are not from here, keep in mind that some shops are closed during the noon, some till 5pm. On a Sunday, the stores will be closed as well, also check for national holidays to avoid surprises. We didn't get the chance to go to farmers markets, maybe there were not so many during December when we were here, or we just were overwhelmed with the other shopping options. If you find an interesting organic market, let me know in the comments below.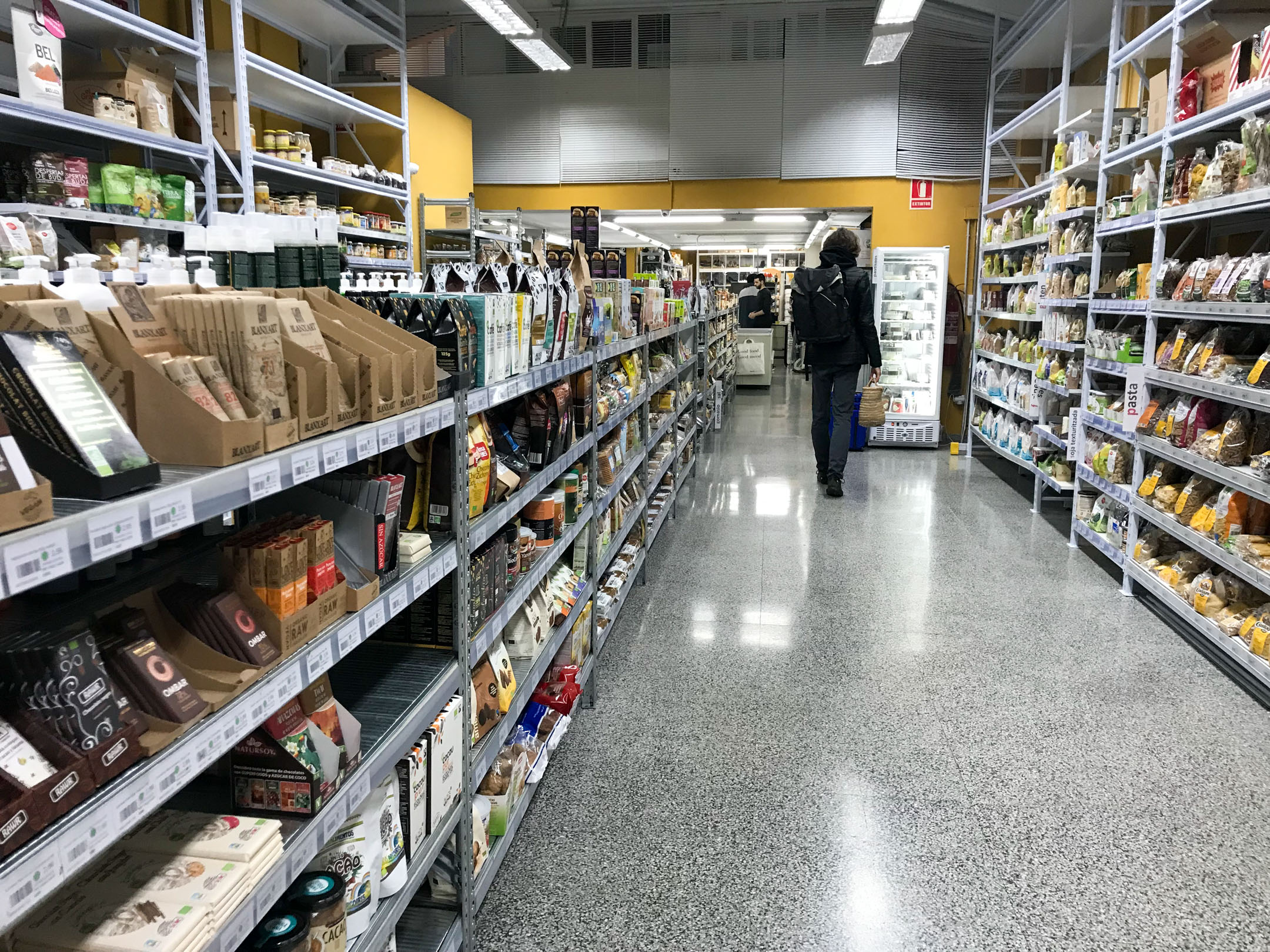 Ecocentre Supermercado Vegano
Ecocentre Supermercado Vegano is a fully vegan and organic market in central Barcelona. They have lots of staples and vegan specialty products like vegan cheeses, vegan milks, organic supplements and superfoods, raw vegan snacks and vegan ice cream. They don't sell produce, so we buy mostly snacks and ice cream here.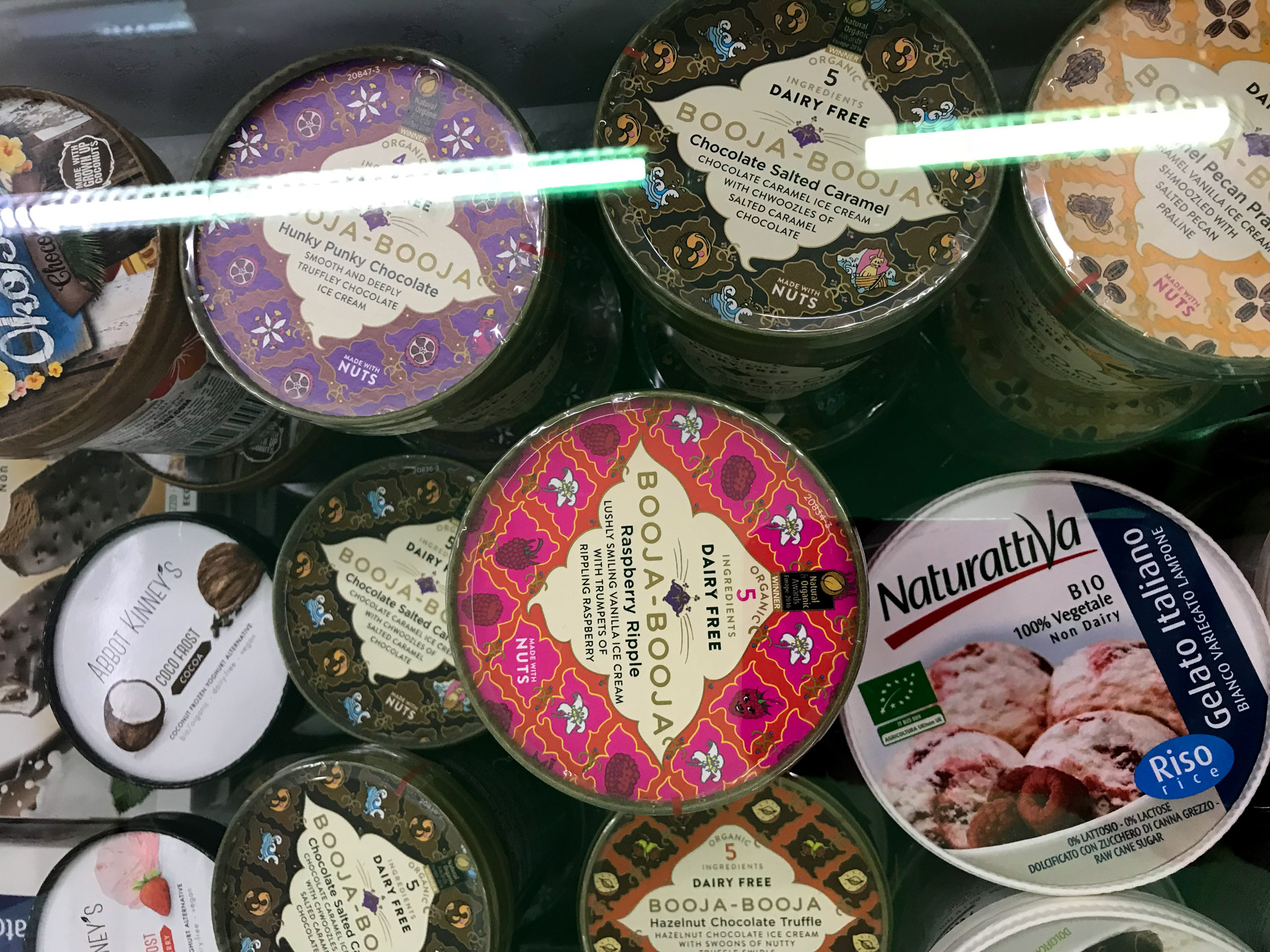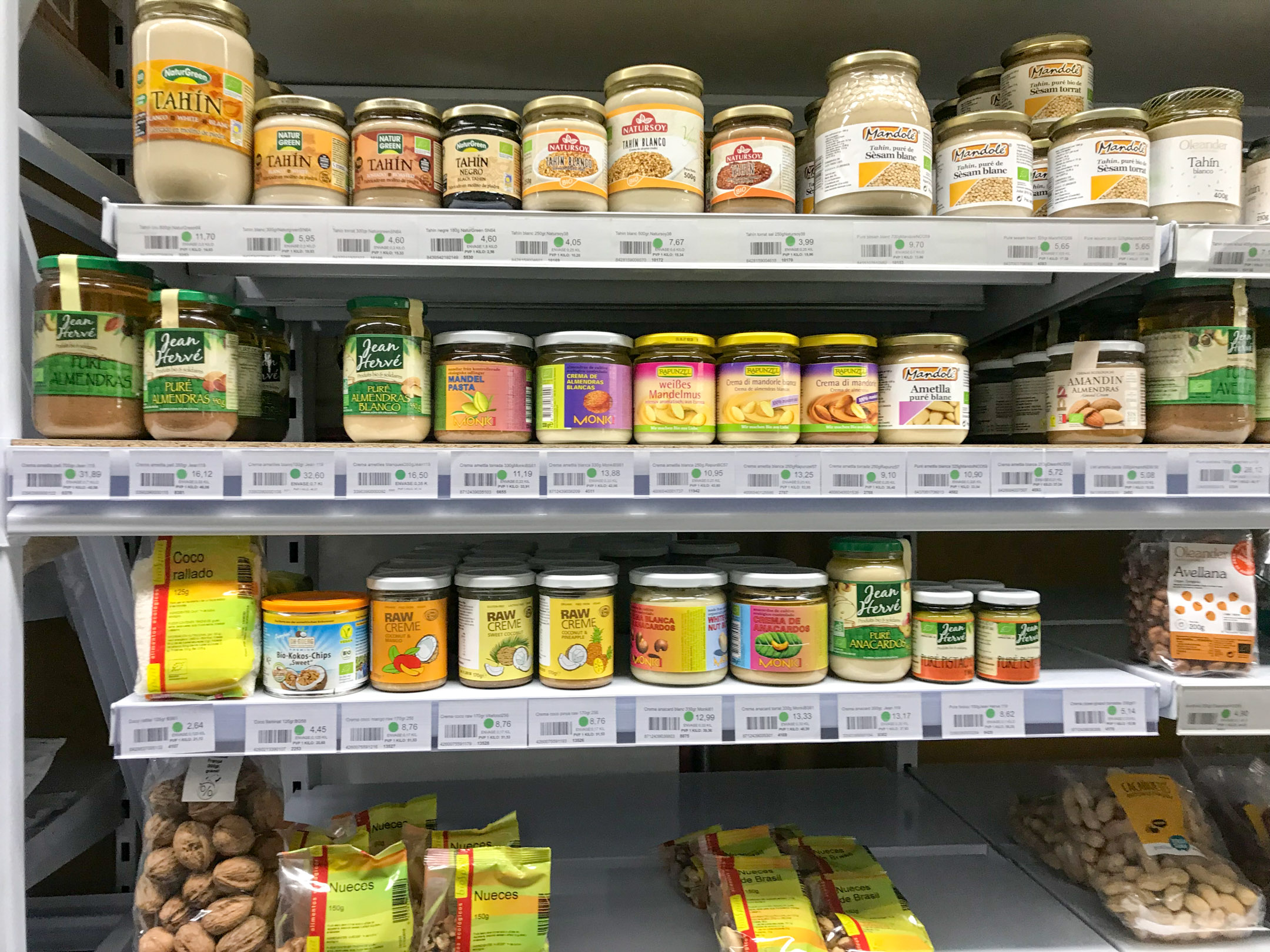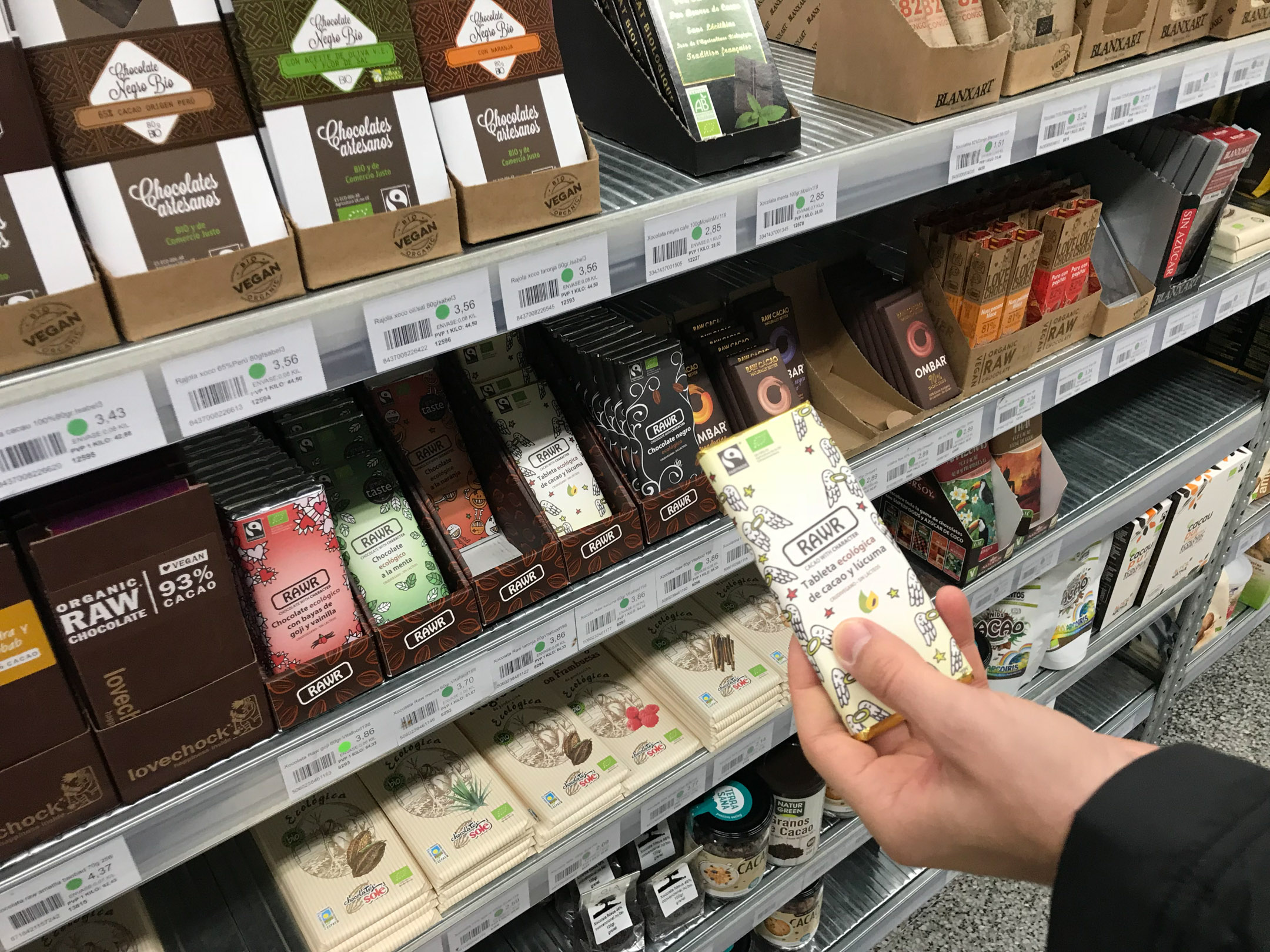 They also sell vegan shoes, cookbooks, cleaning products and natural cosmetic produsts here. Definitely worth a visit if you are looking for organic and natural food, beauty products and alternatives for meat and dairy.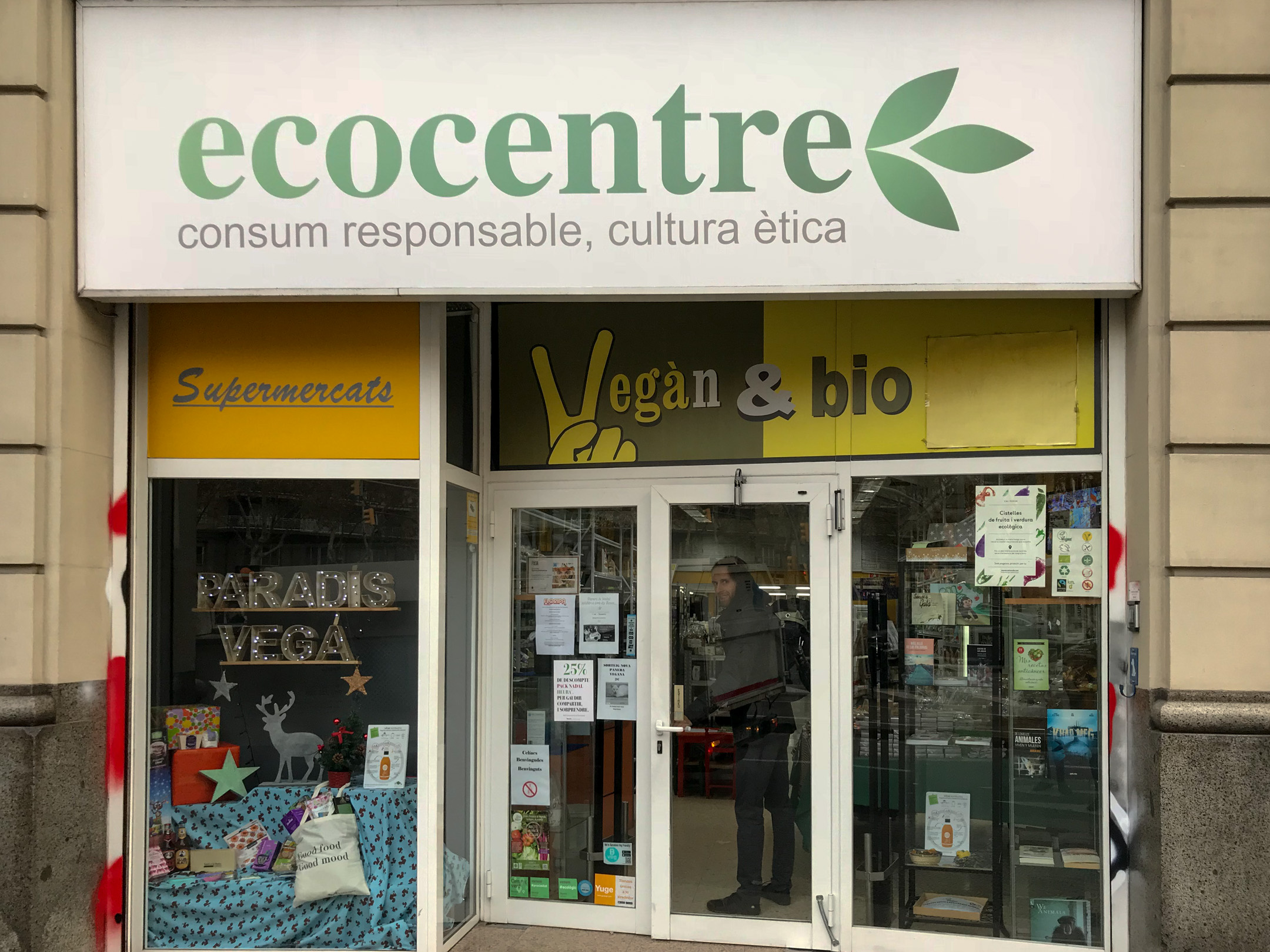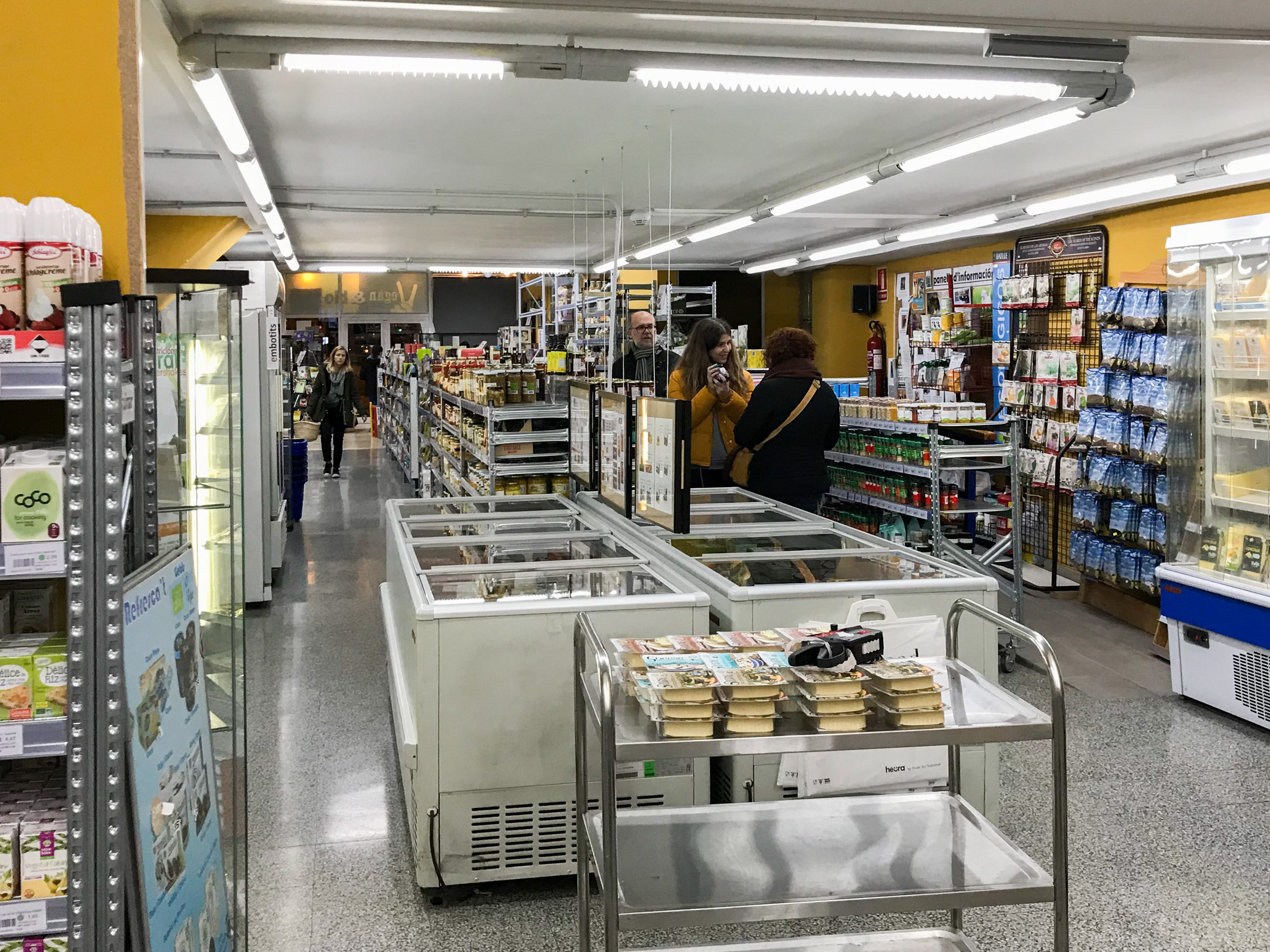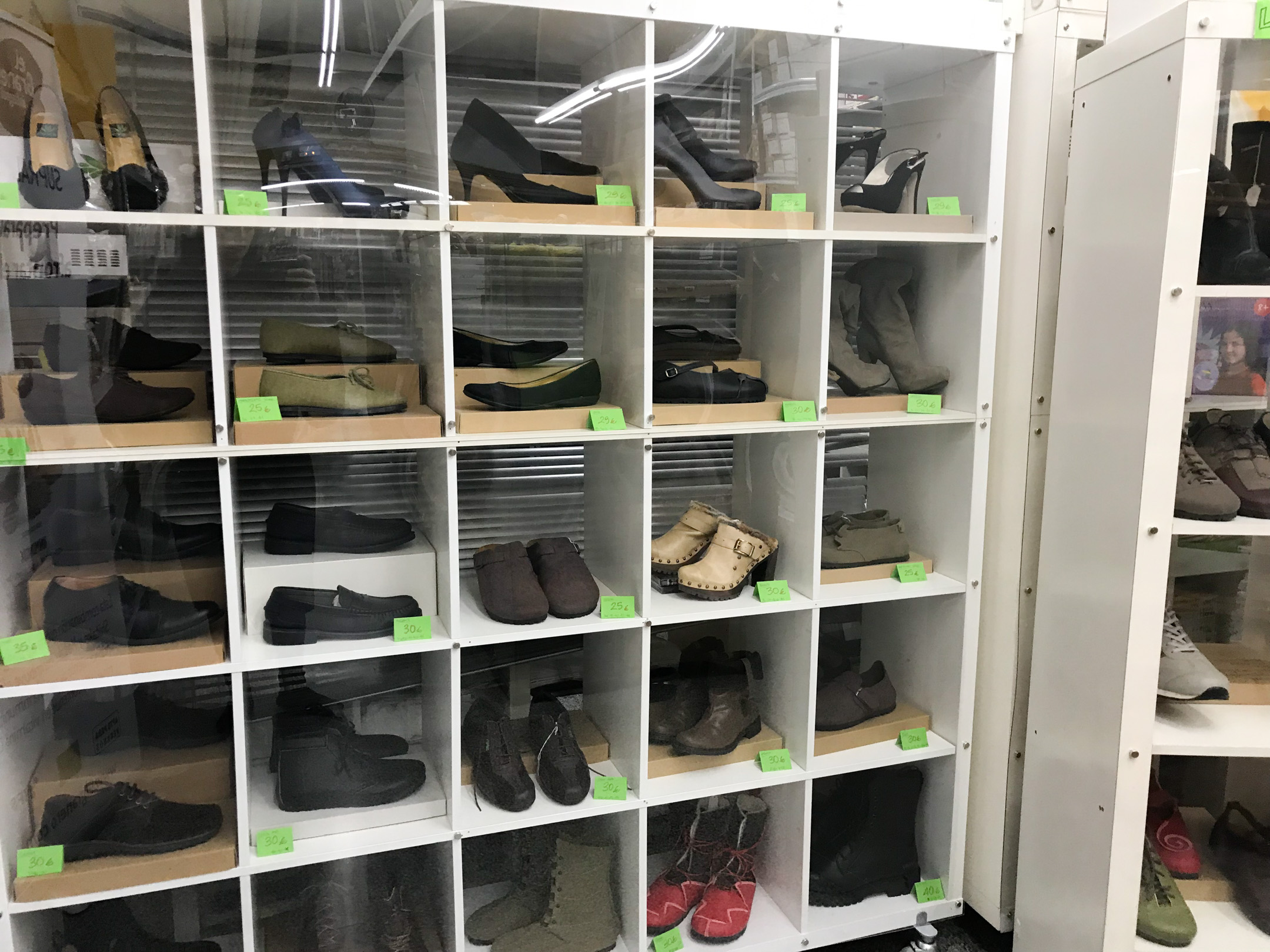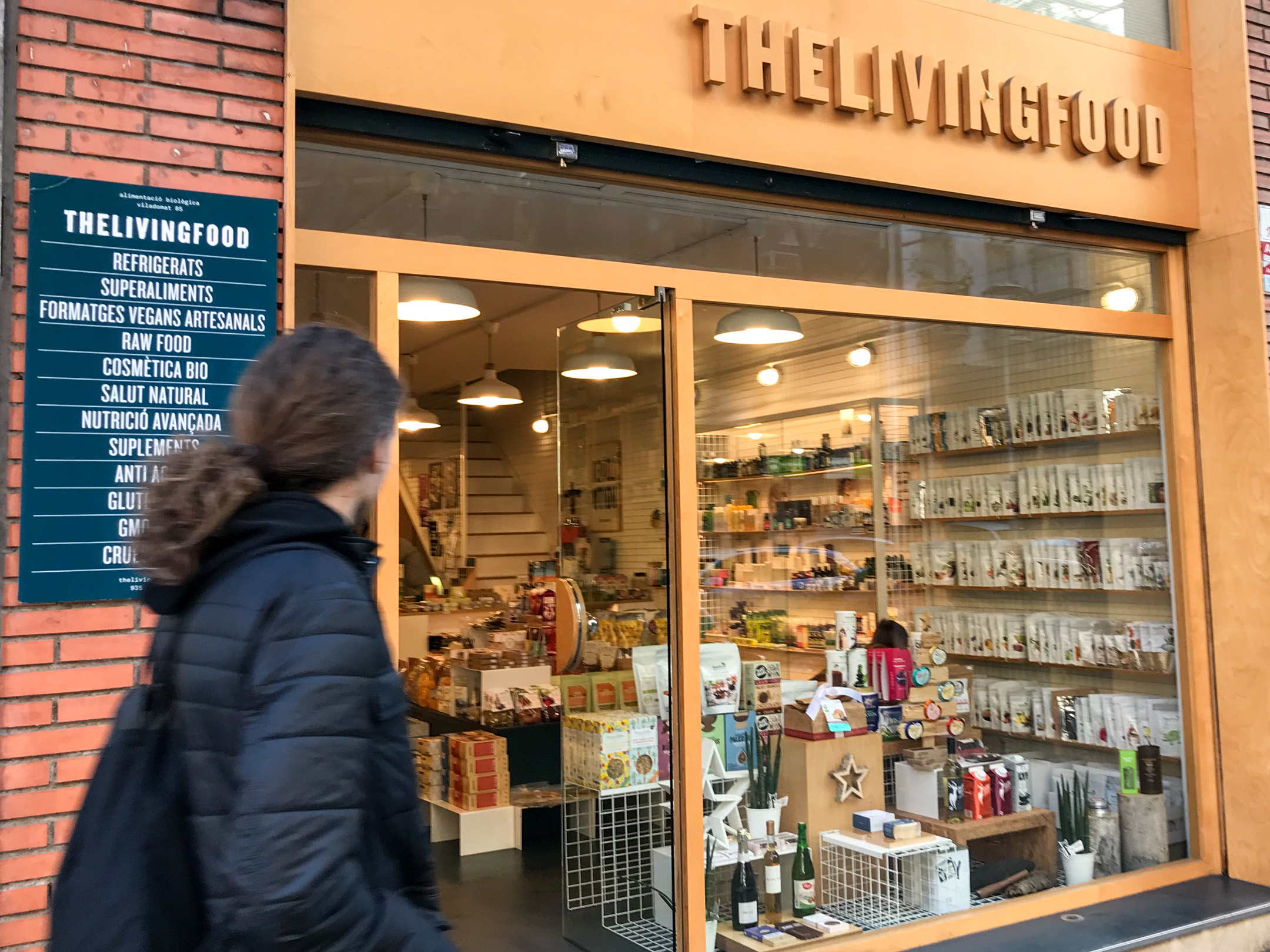 The Living Food
It's a fully vegan and organic shop with lots of specialty products you won't get anywhere else. The selection of vegan supplements is exceptional. We always find amazing raw vegan treats, chocolate, cookies here.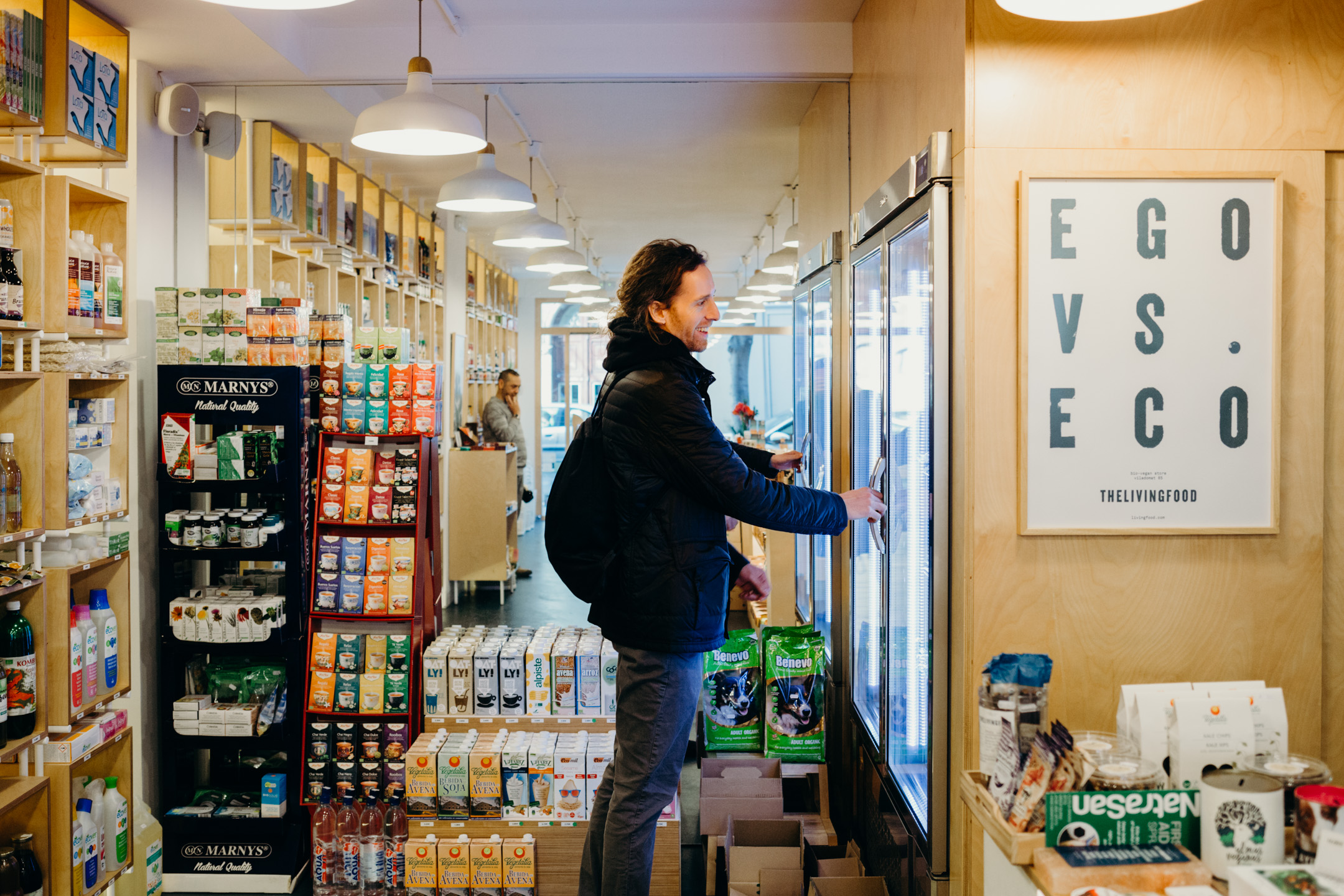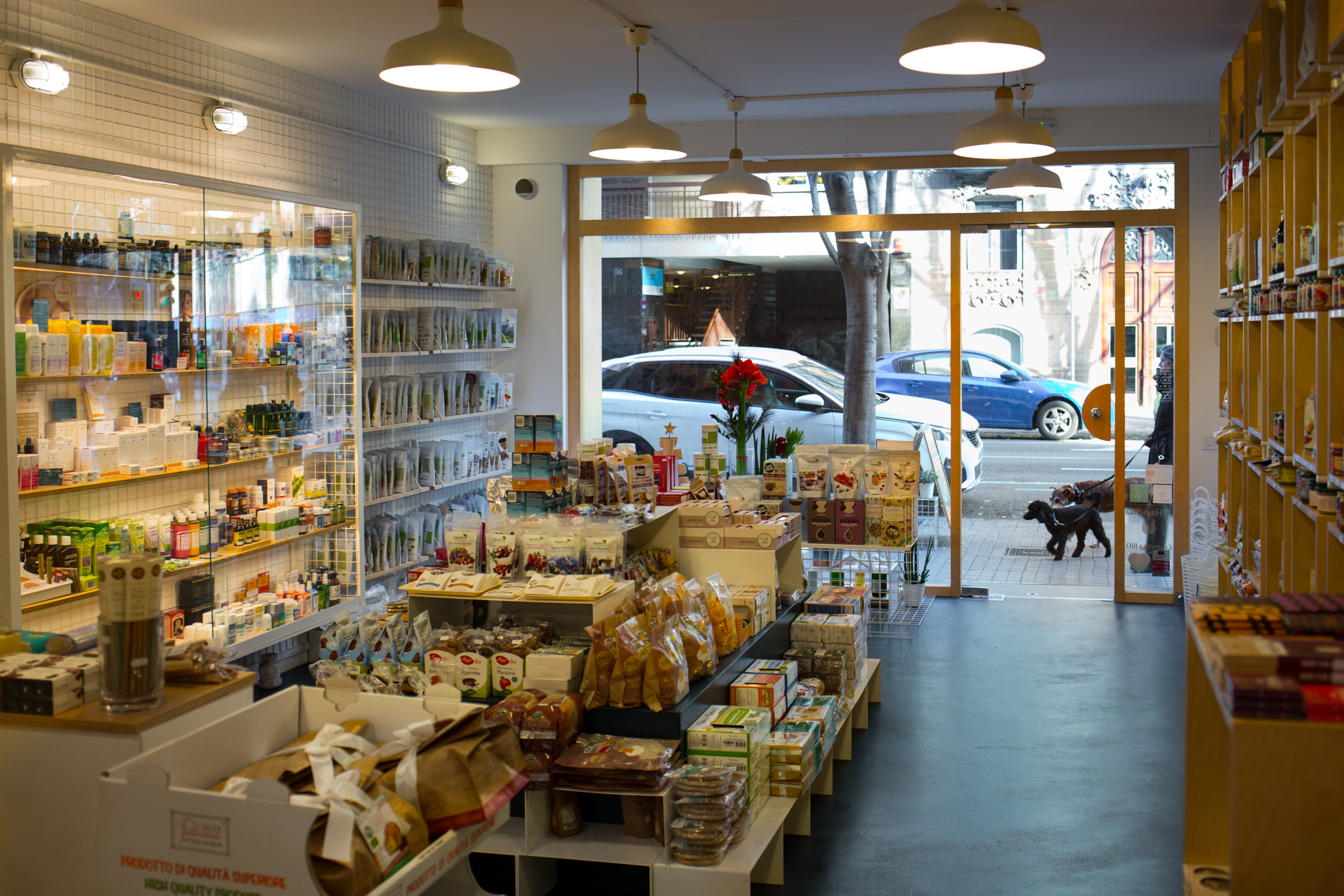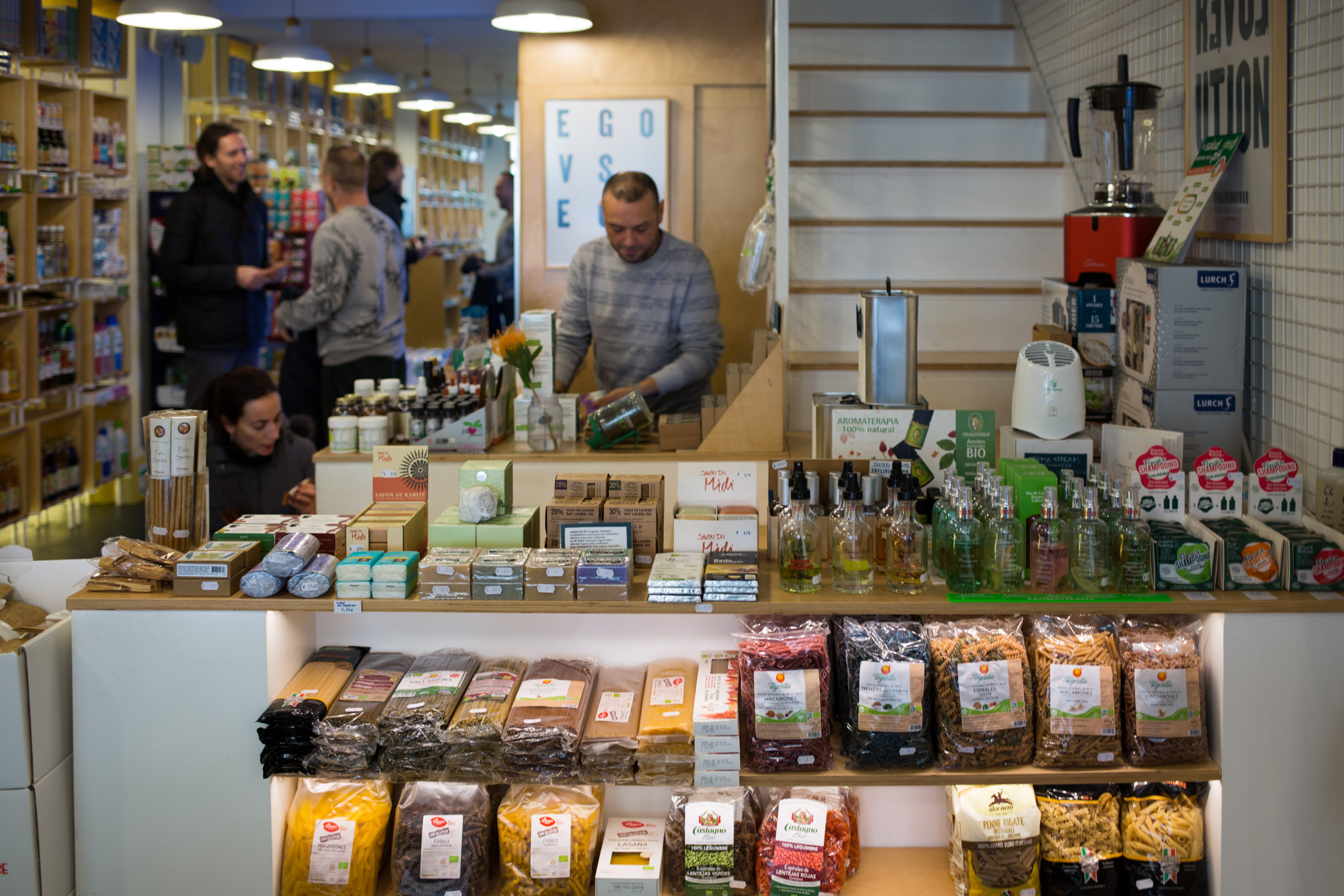 Our absolute favorite product here it their artisanal raw vegan cheese. They have quite a few different varieties ranging from fresh spreadable cheese to harder aged cheese. An absolute paradise for vegans, raw vegans and everyone interested in good food.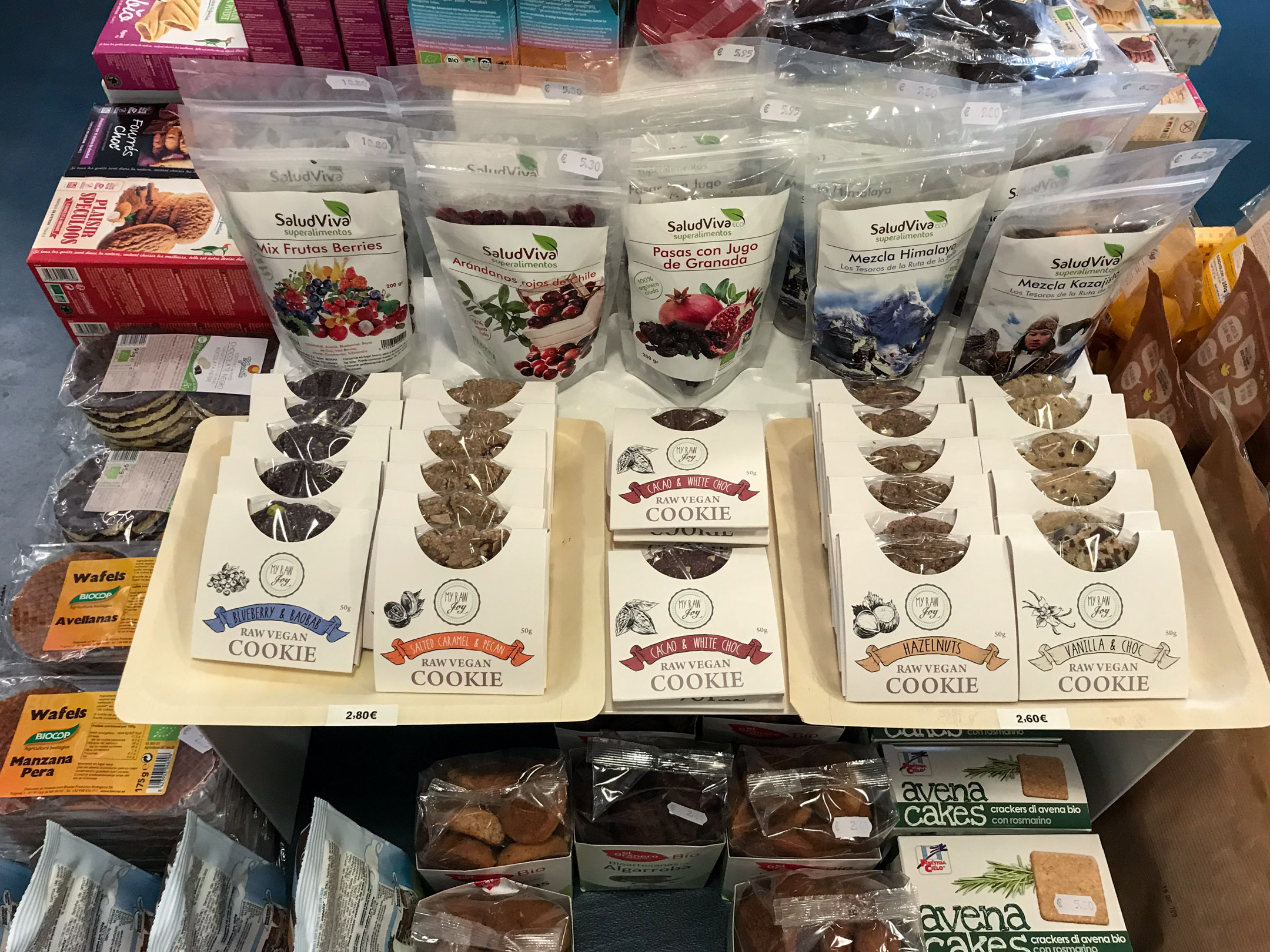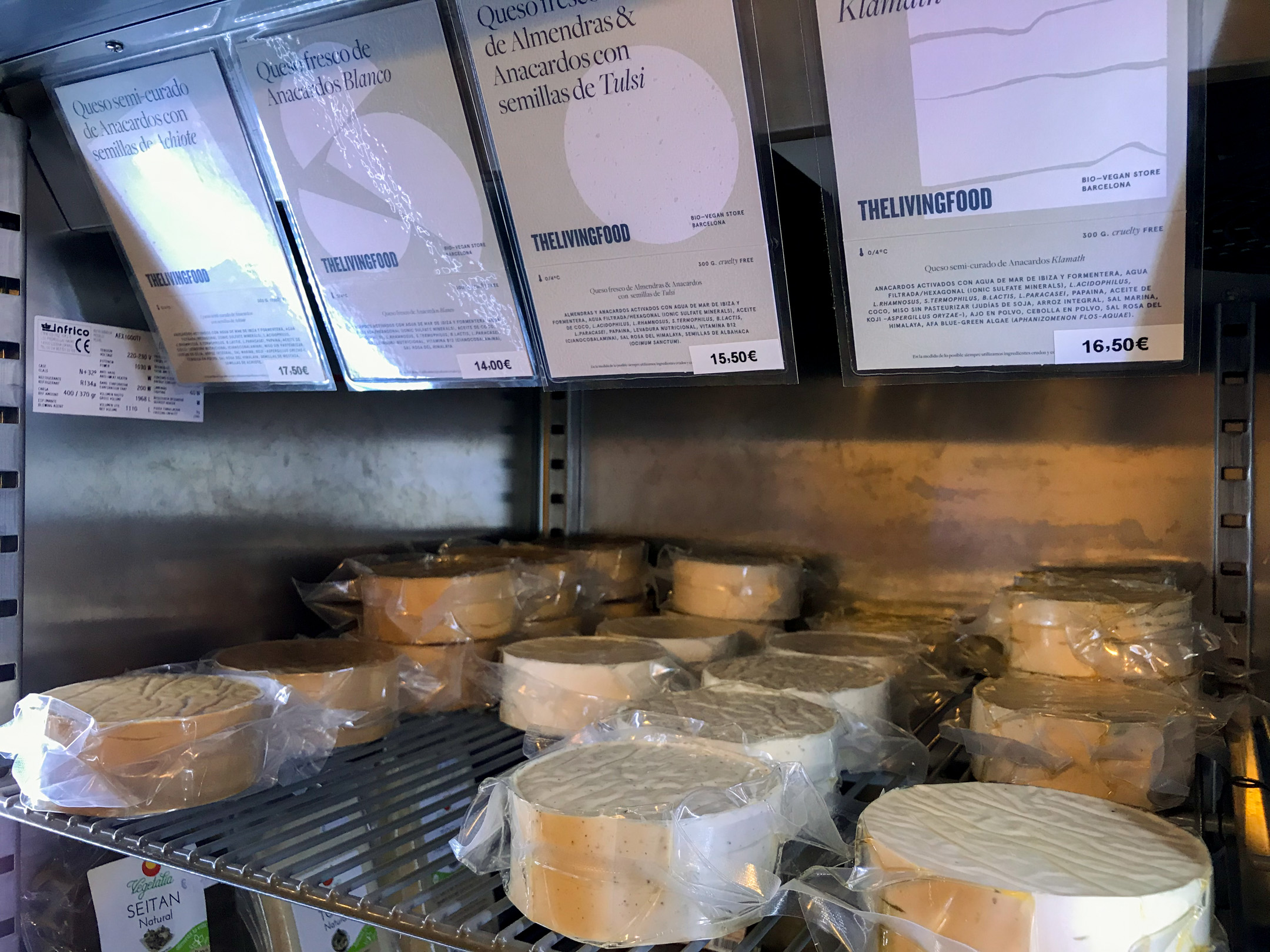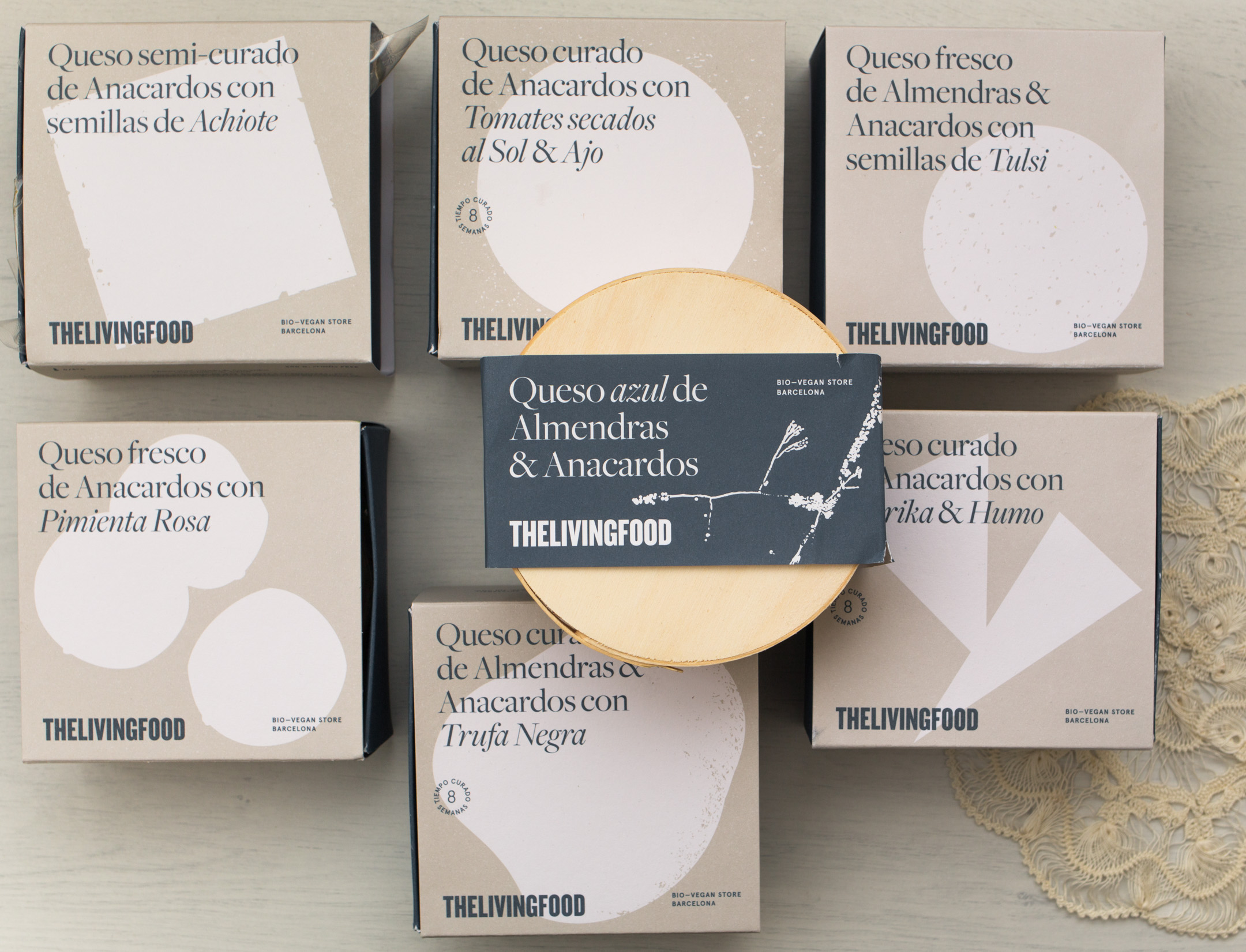 More about The Living Food and their amazing vegan cheeses here. You can try the cheeses at the raw vegan restaurant Petit Brot.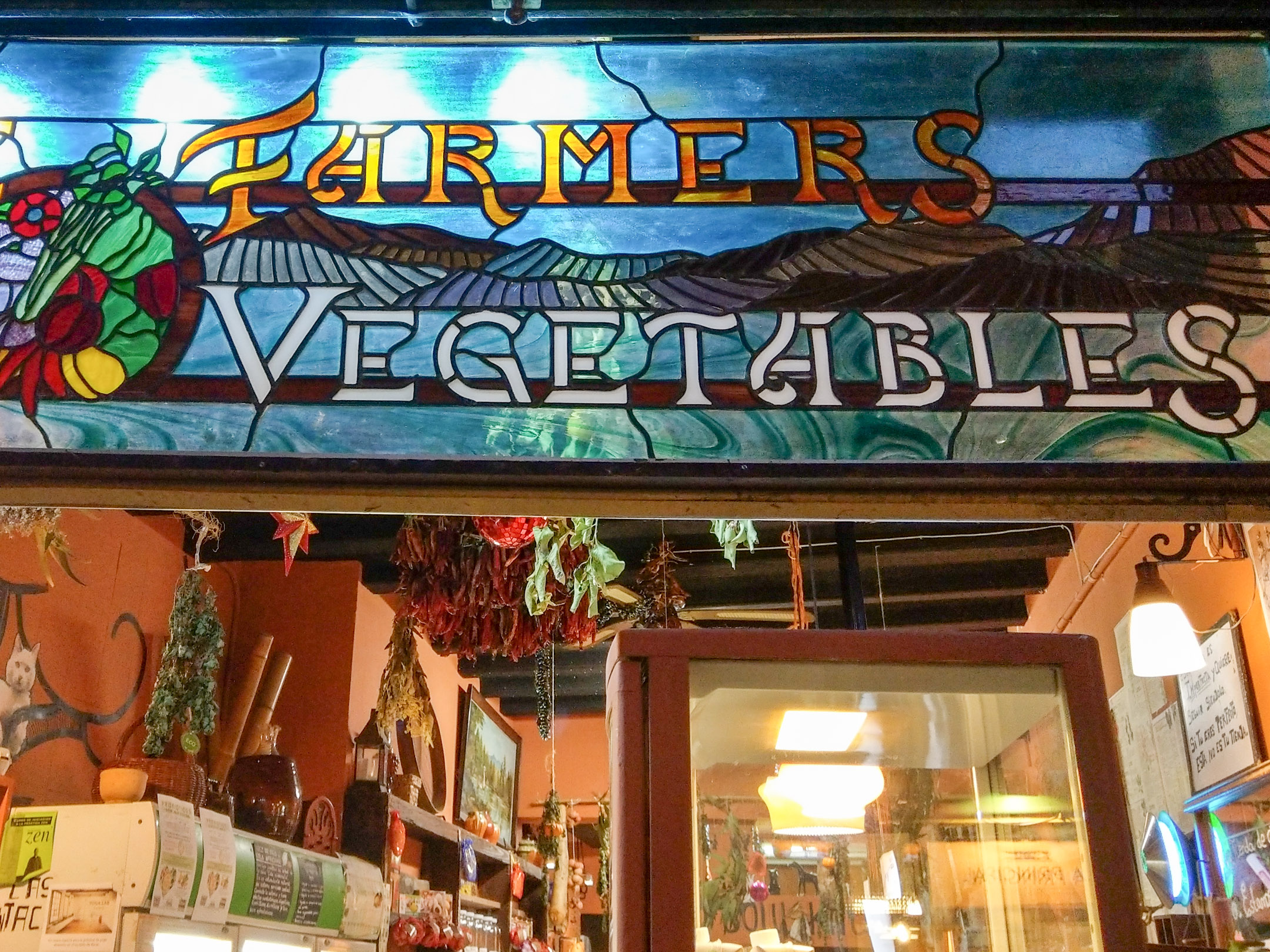 The Framers
Might be a little hard to find as the shop moved a couple houses further, check their Facebook for opening hours
here
.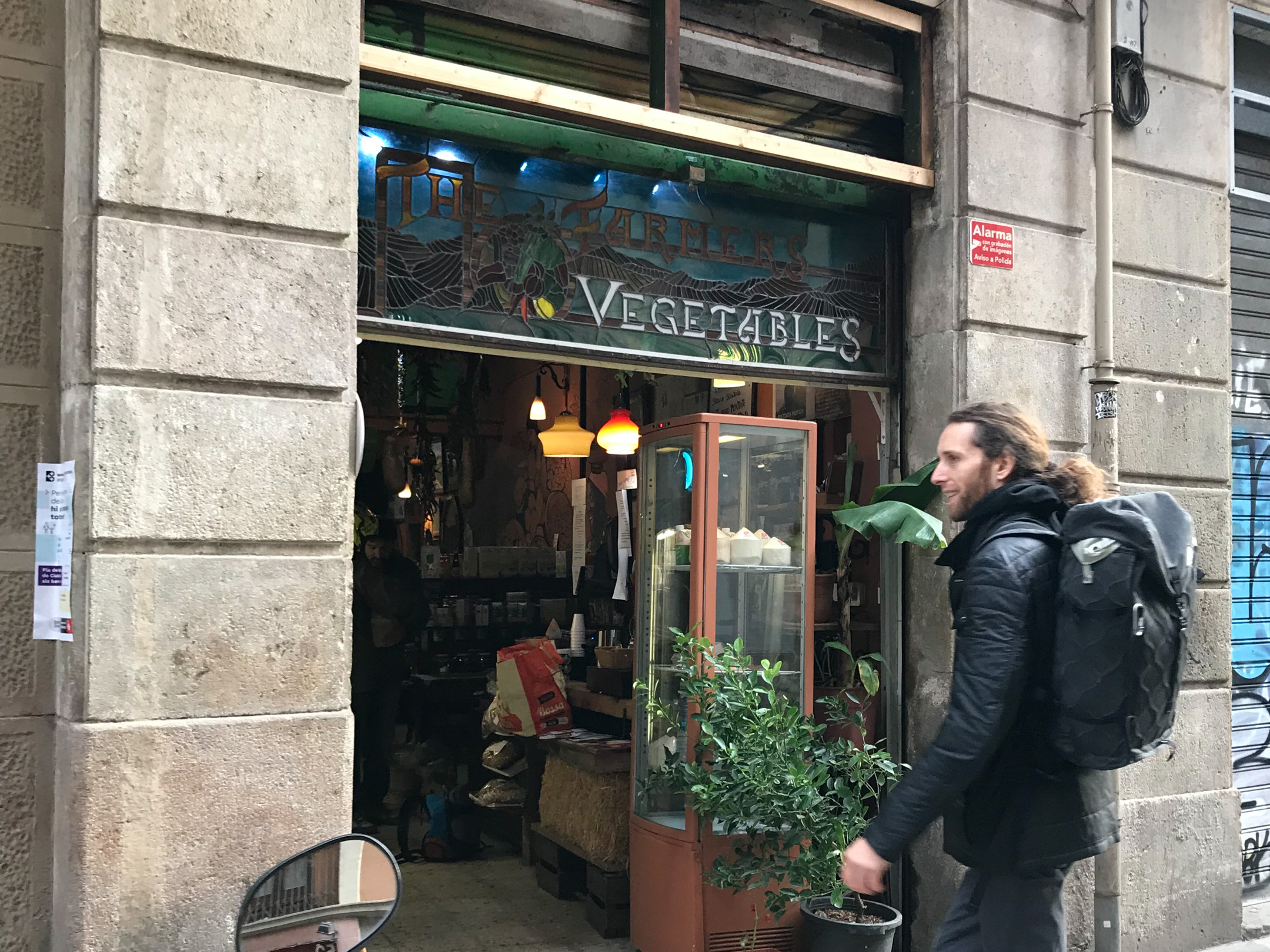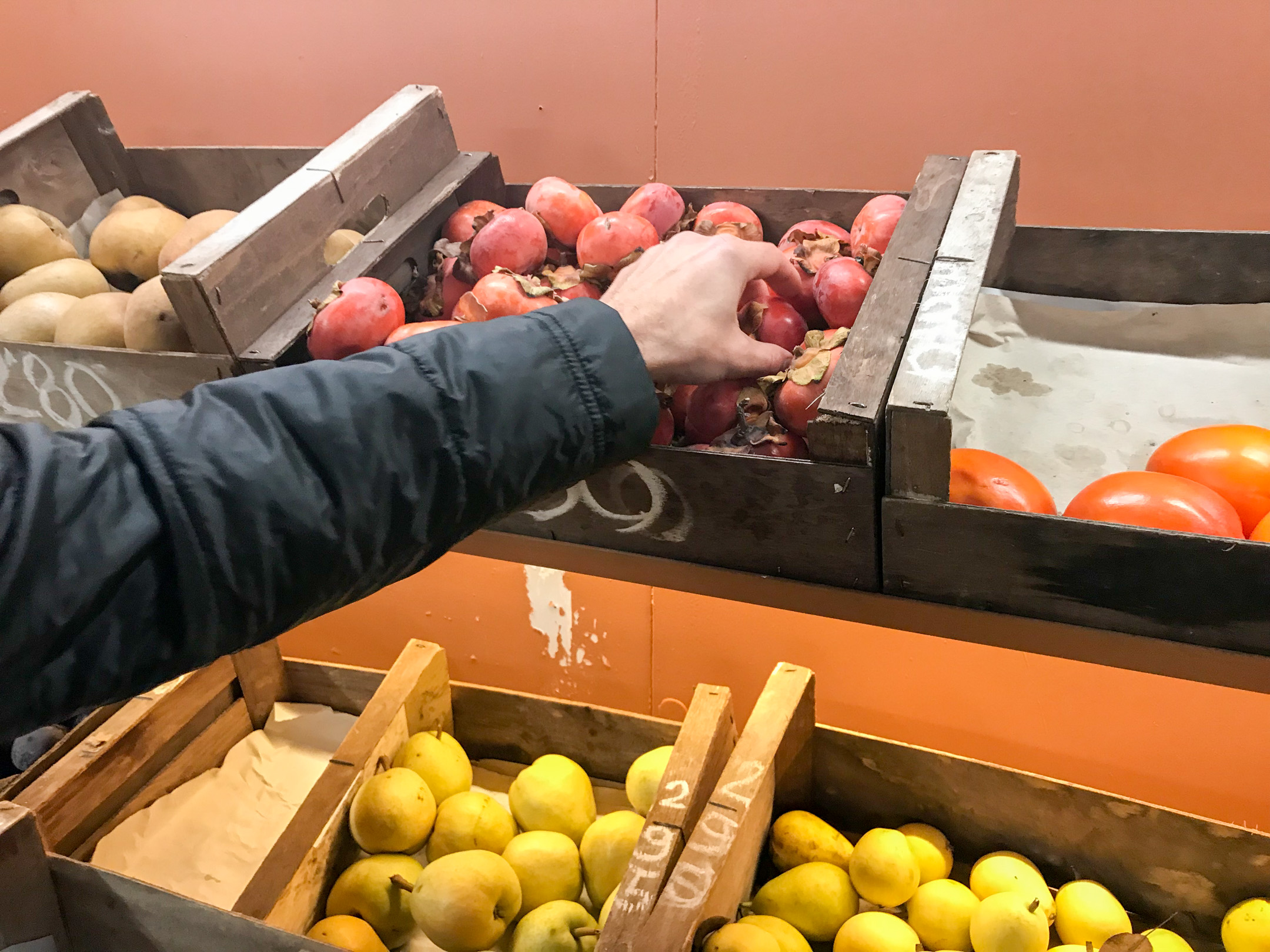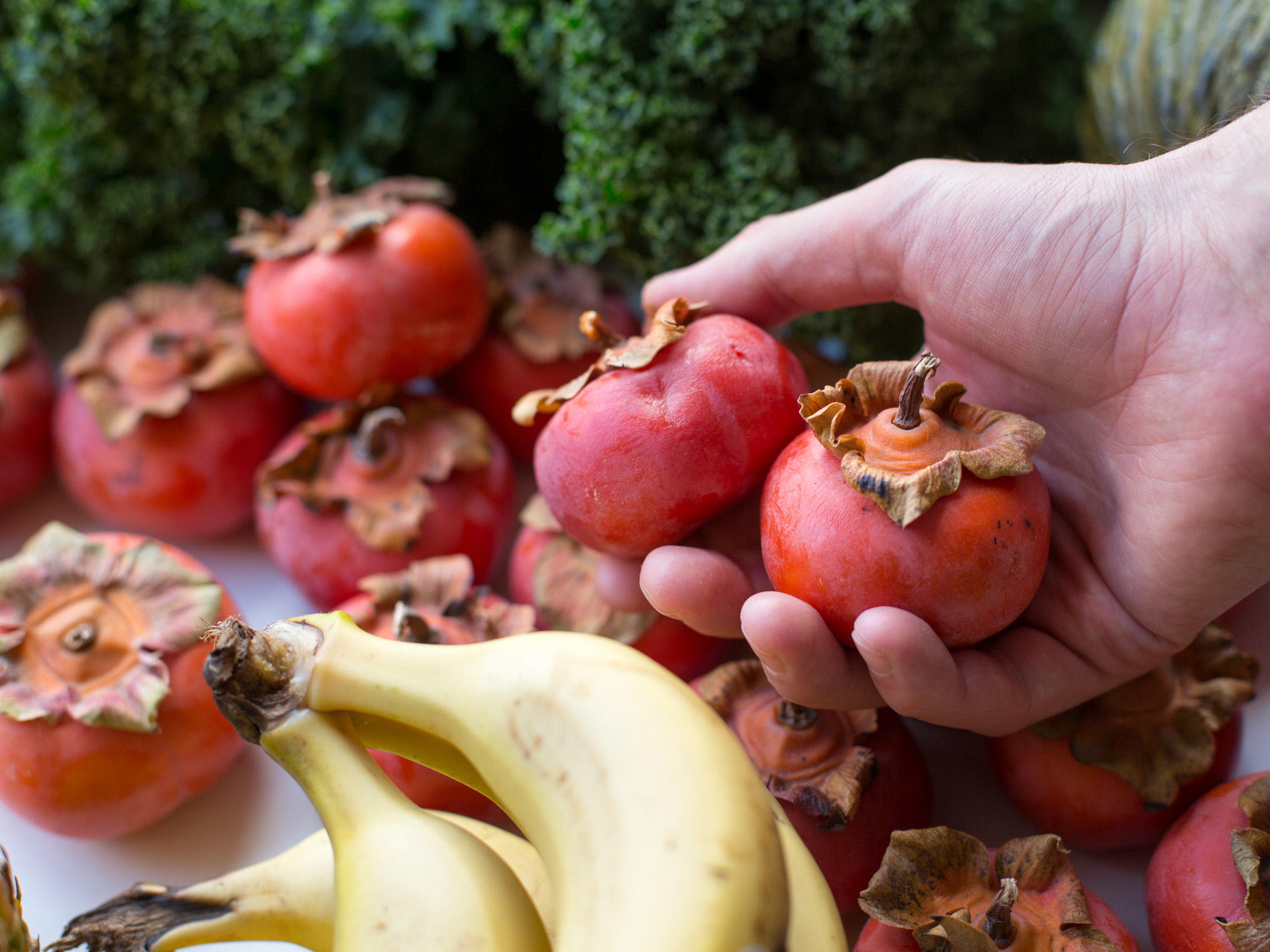 We love shopping at this organic market, it has this farm-to-table feel to it. Great variety of seasonal organic produce and affordable prices. They have fruit that other chain markets don't have. All produce is always organic, some other products might not be, better to ask.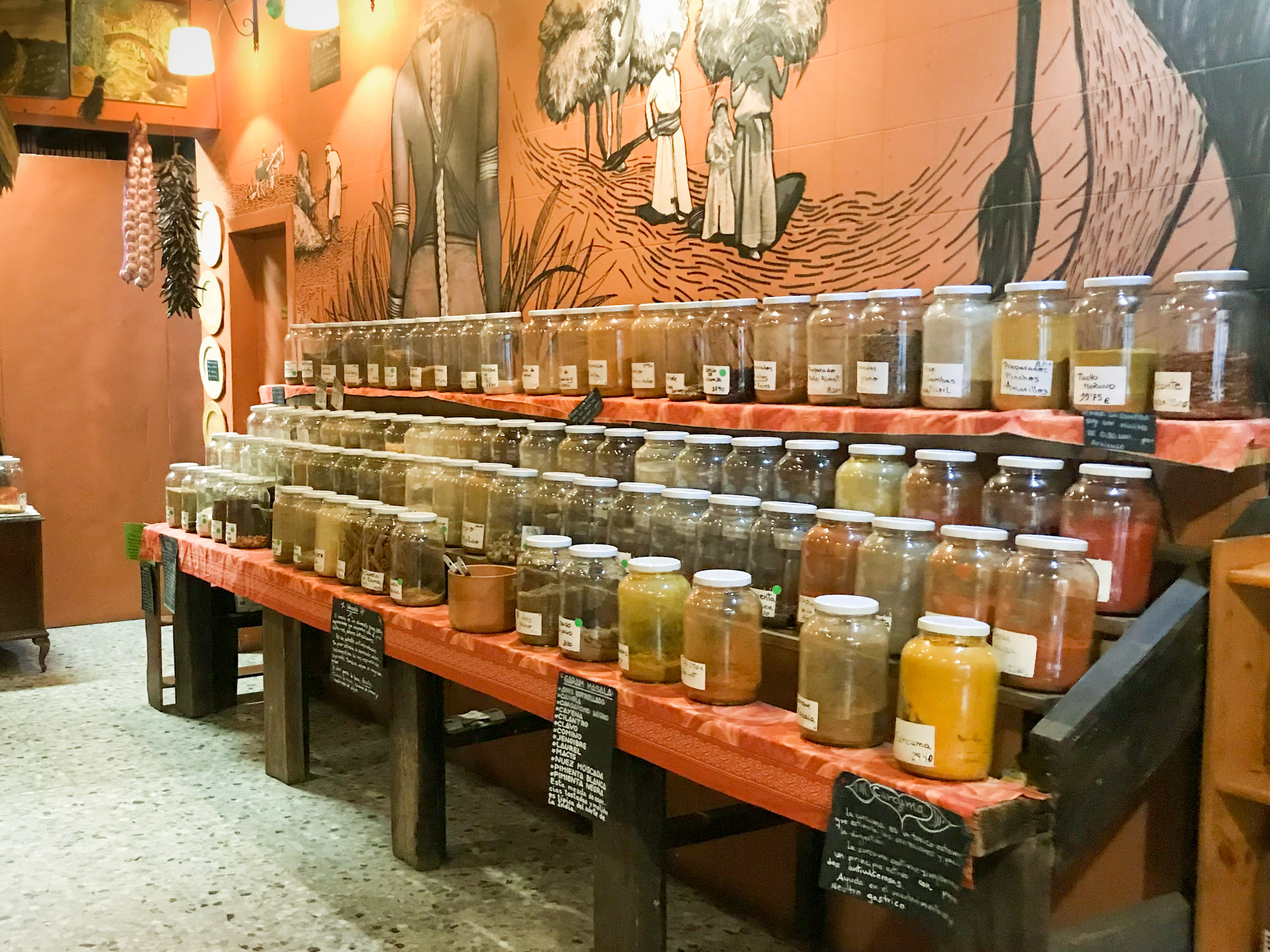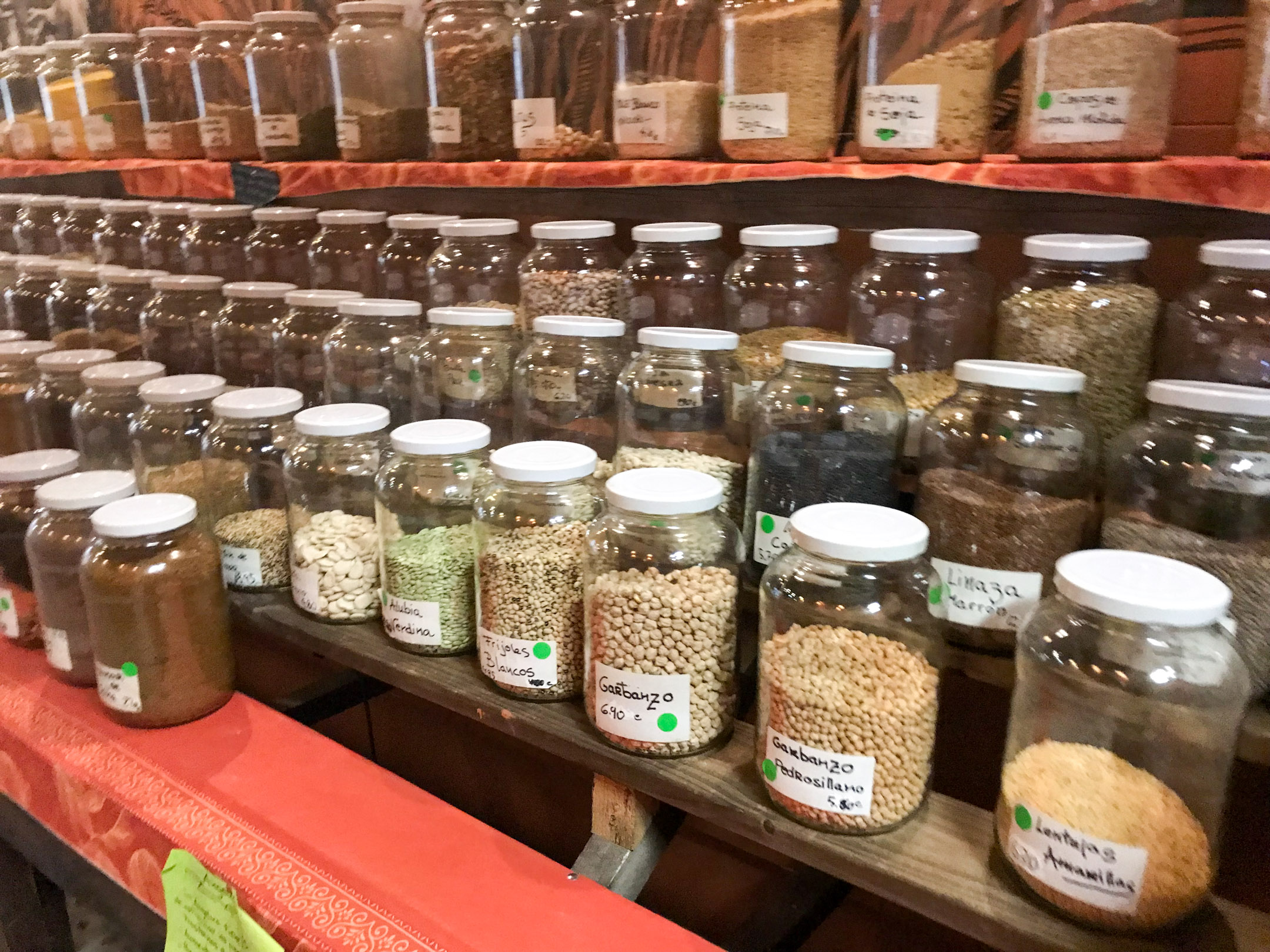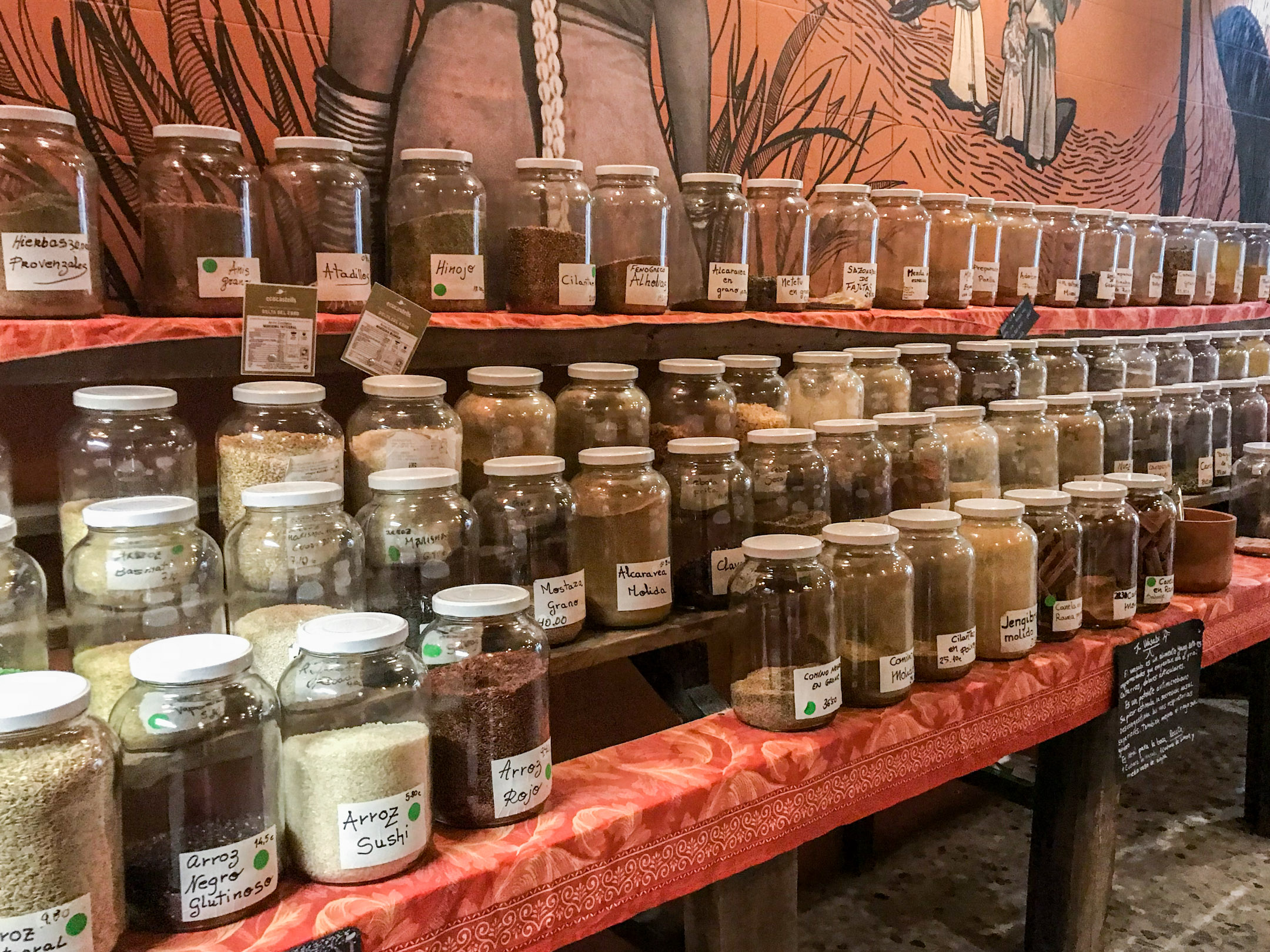 They have a bulk section where you can shop zero waste style. For the produce, they only have plastic bags, so bring your reusable one.
Reusable produce bags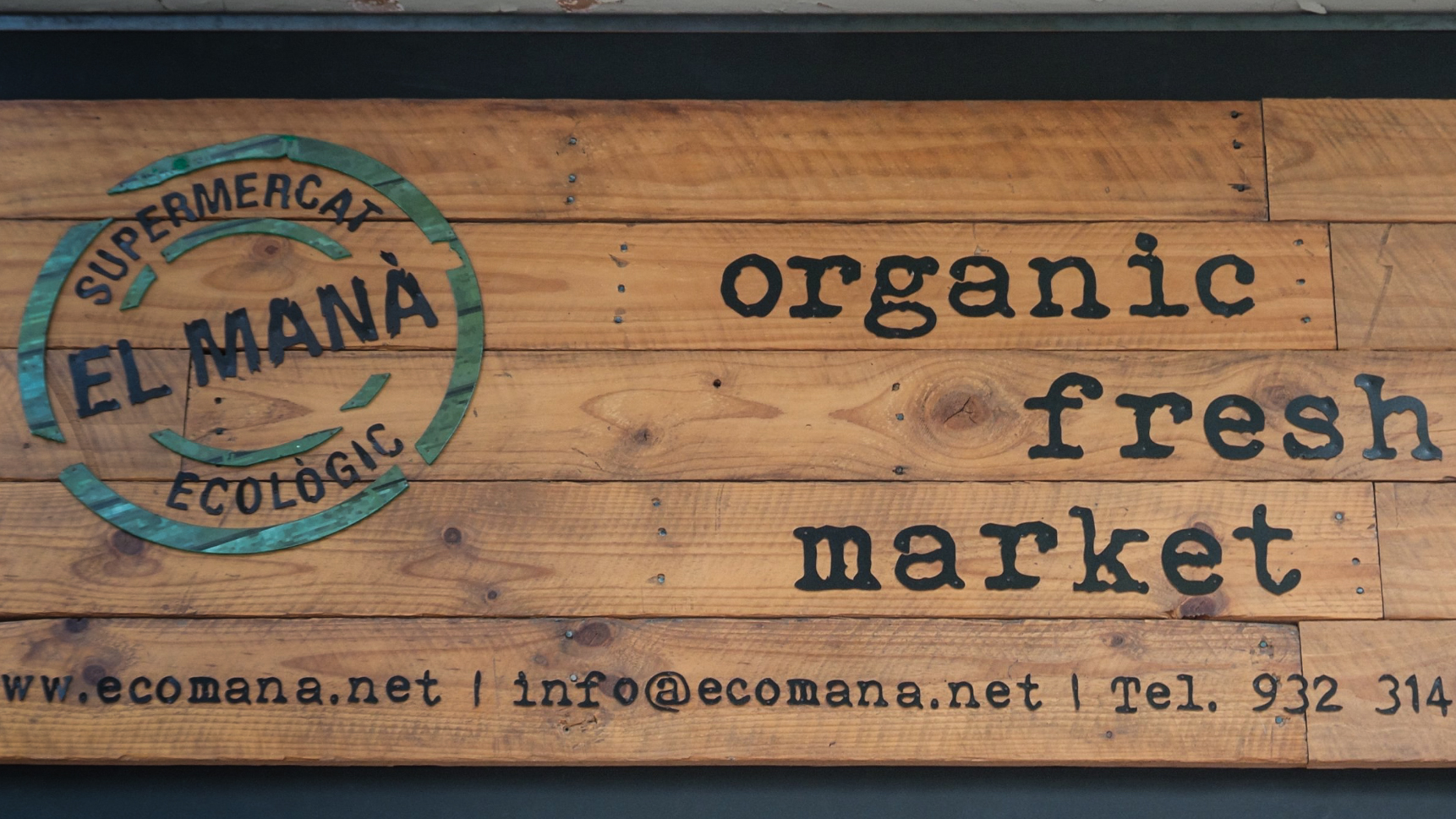 El Manà Supermercat Ecològic
A small organic store close to Sagrada Familia. Small selection of fruit, more local vegetables. Vegan products and raw freeze dried fruits and veggies.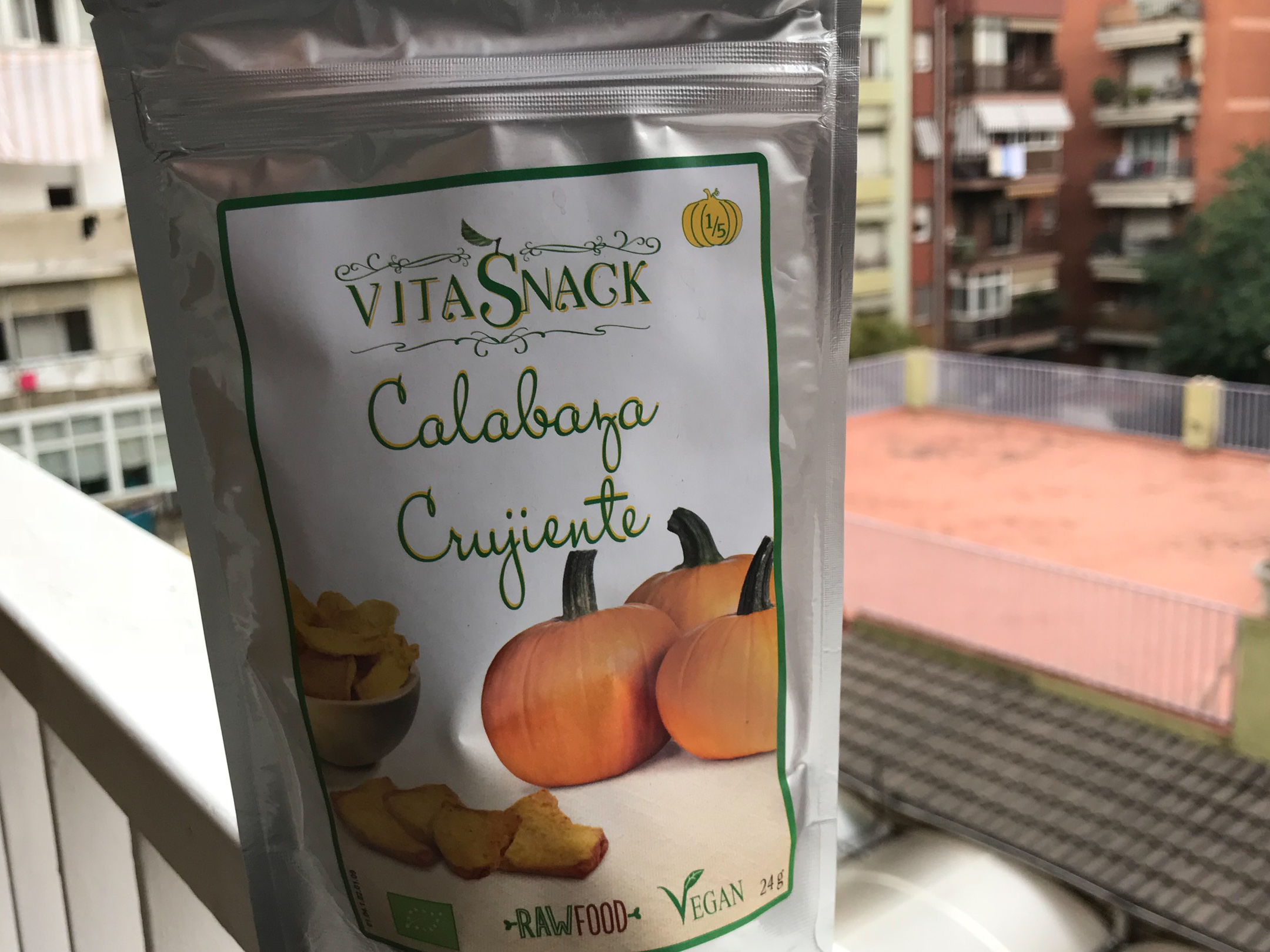 Didn't take any pictures inside the store the first 2 times we went as I was planning on coming here regularly. Though it was the nearest store to where we stayed, we ended up shopping at Molsa instead.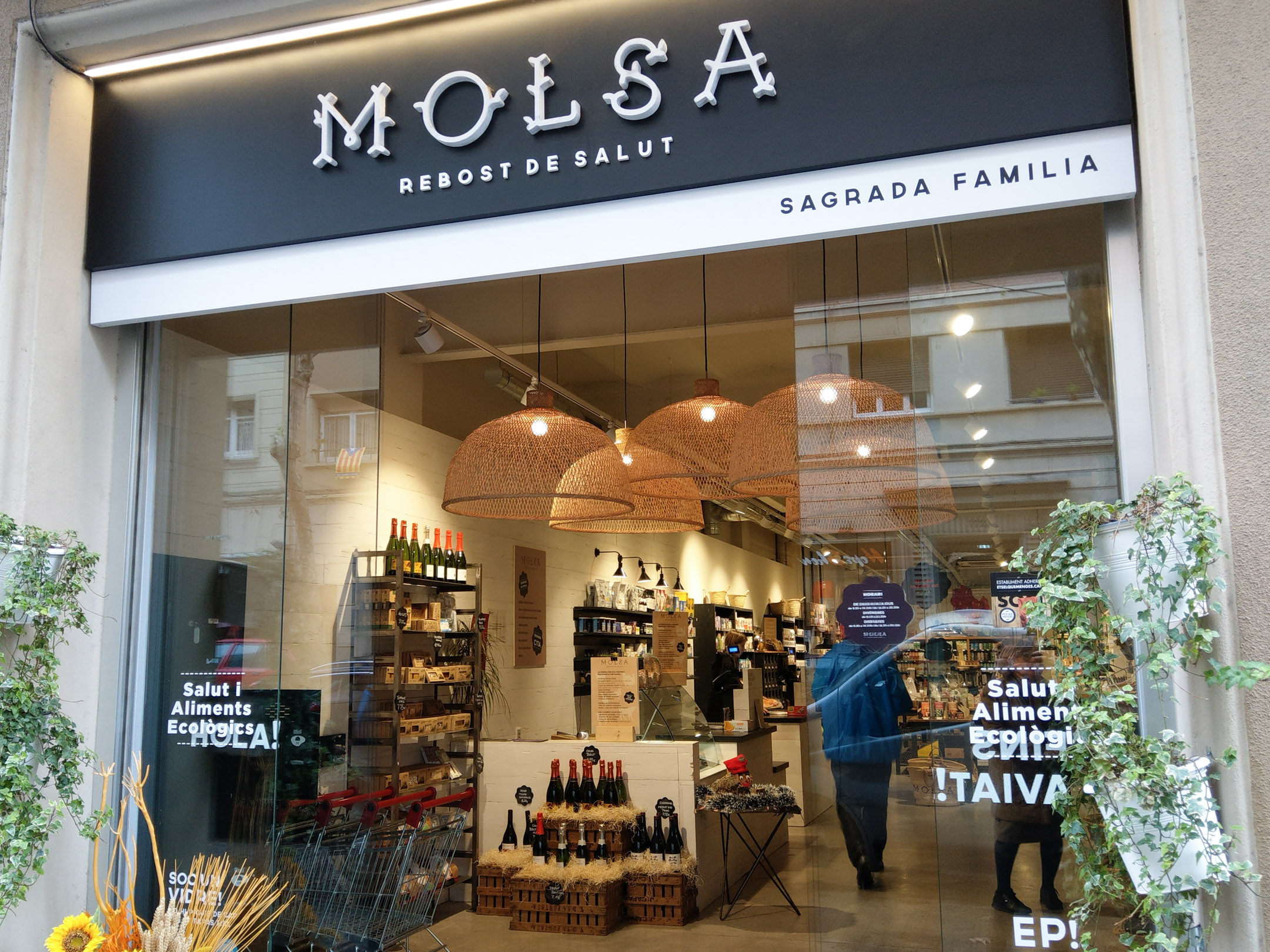 Molsa
We had one Molsa shop near by and loved it. The fruit and veggie section was great. Everything was fresh and the variety decent. The shop is all organic and sells many vegan products like milk, tempe, tofu as well as staples like organic beans and pasta.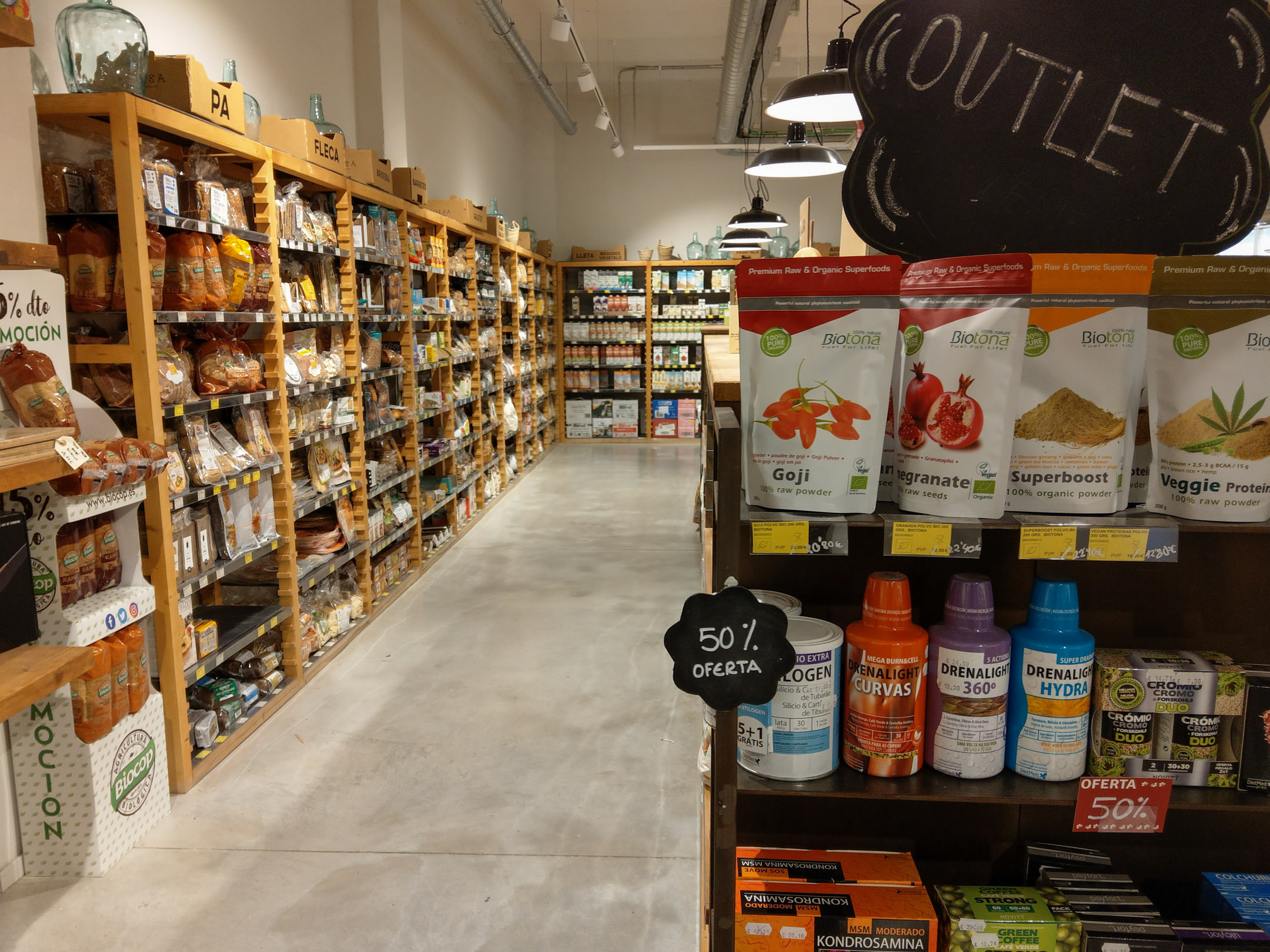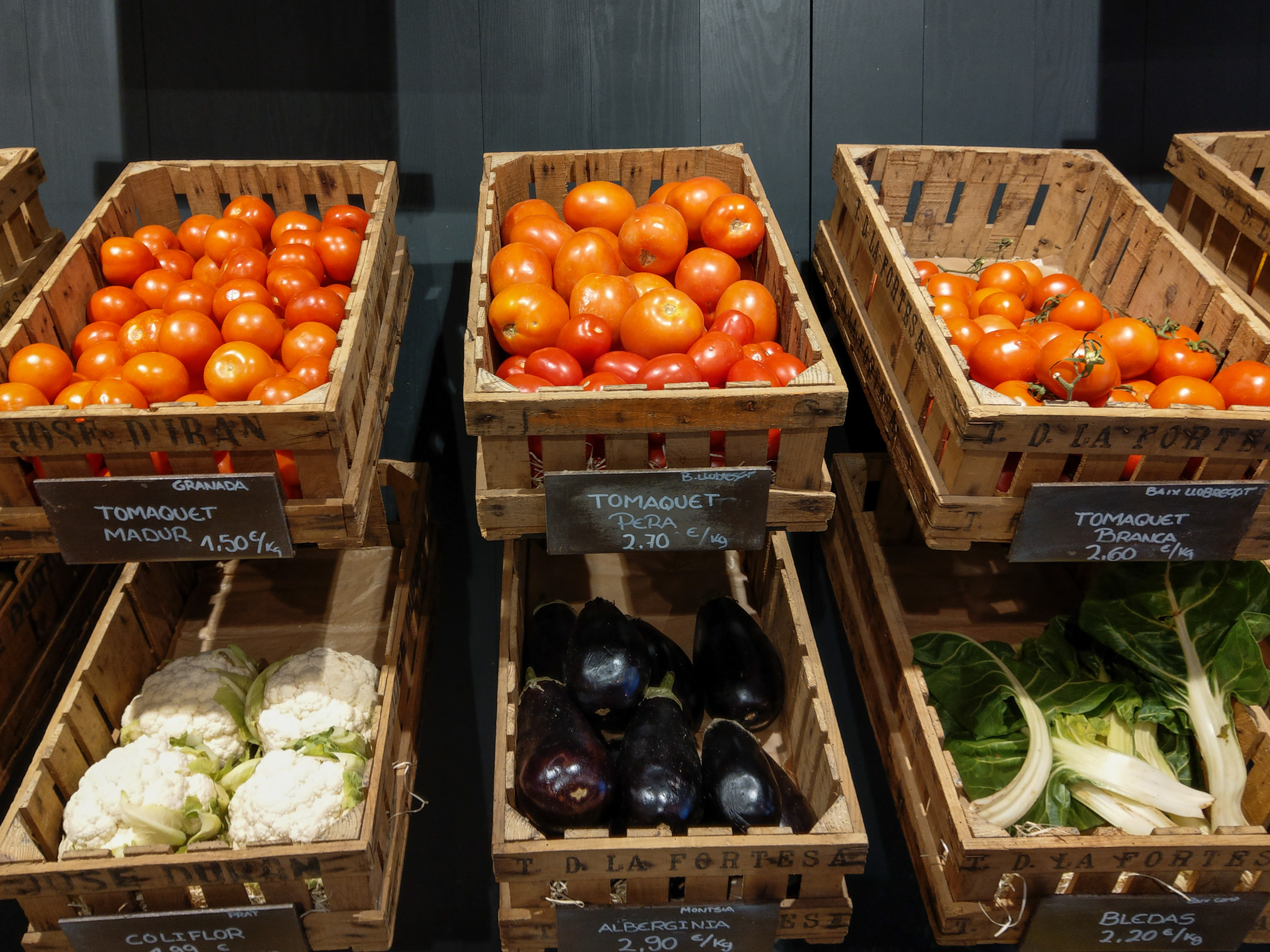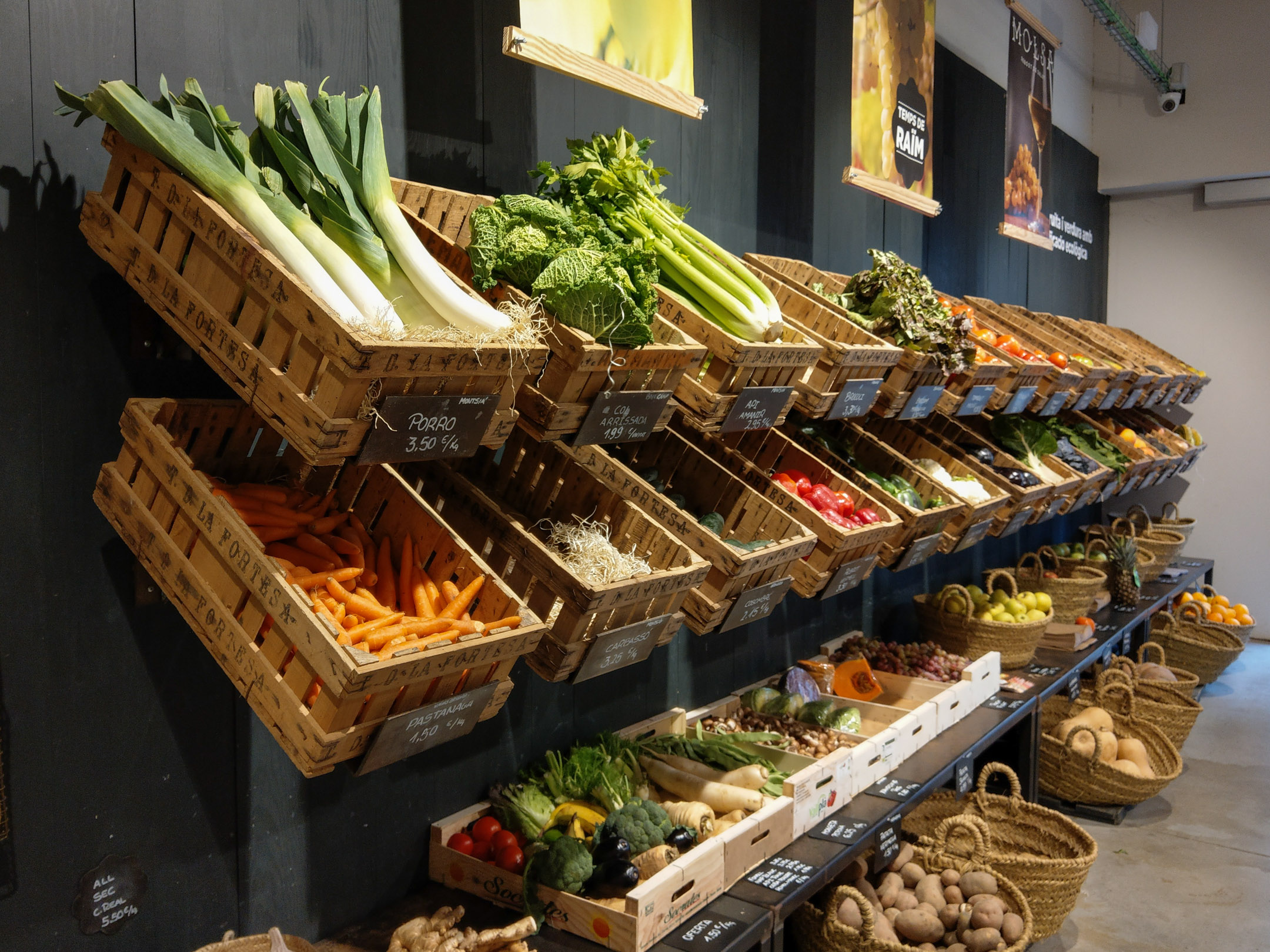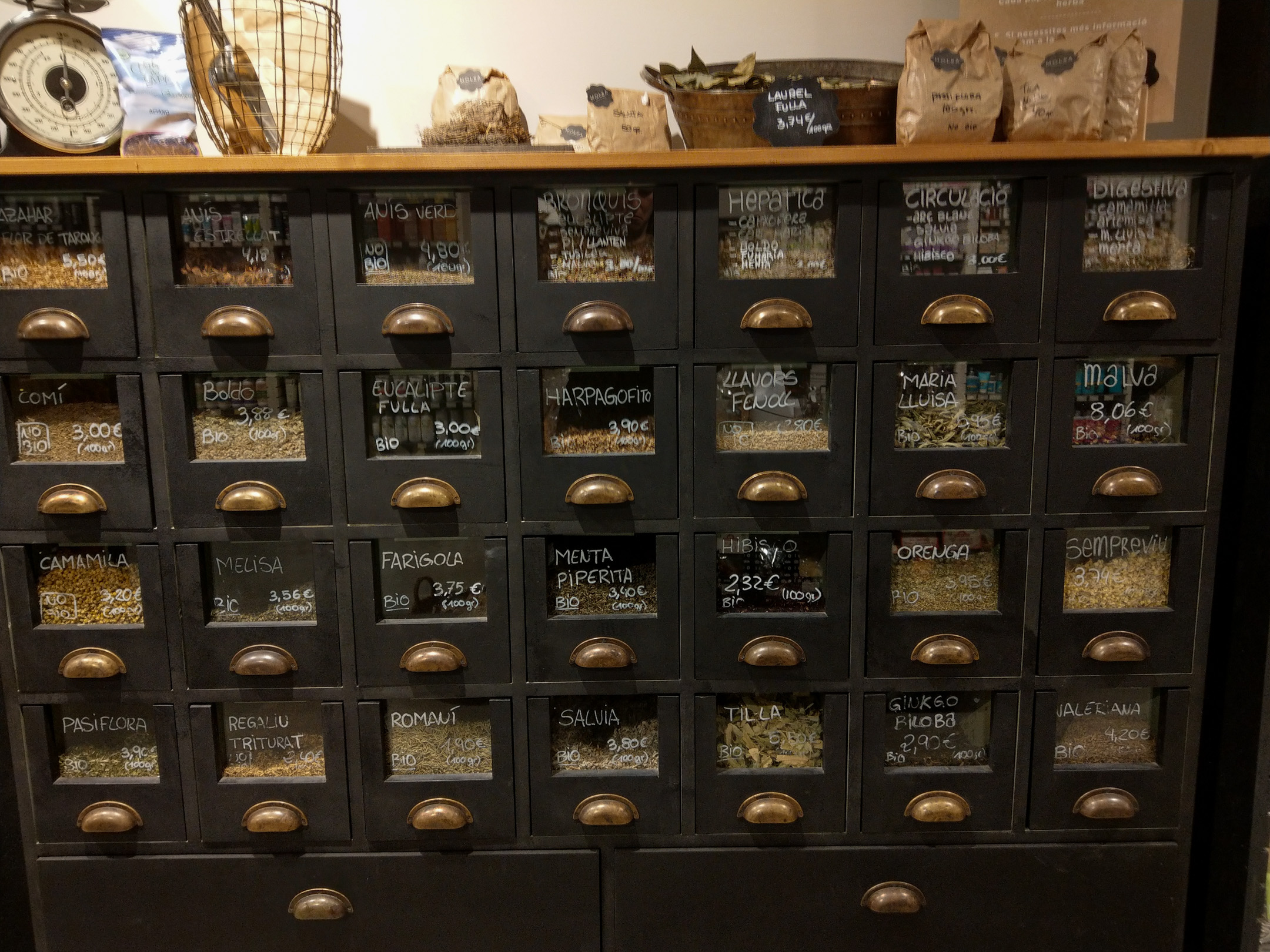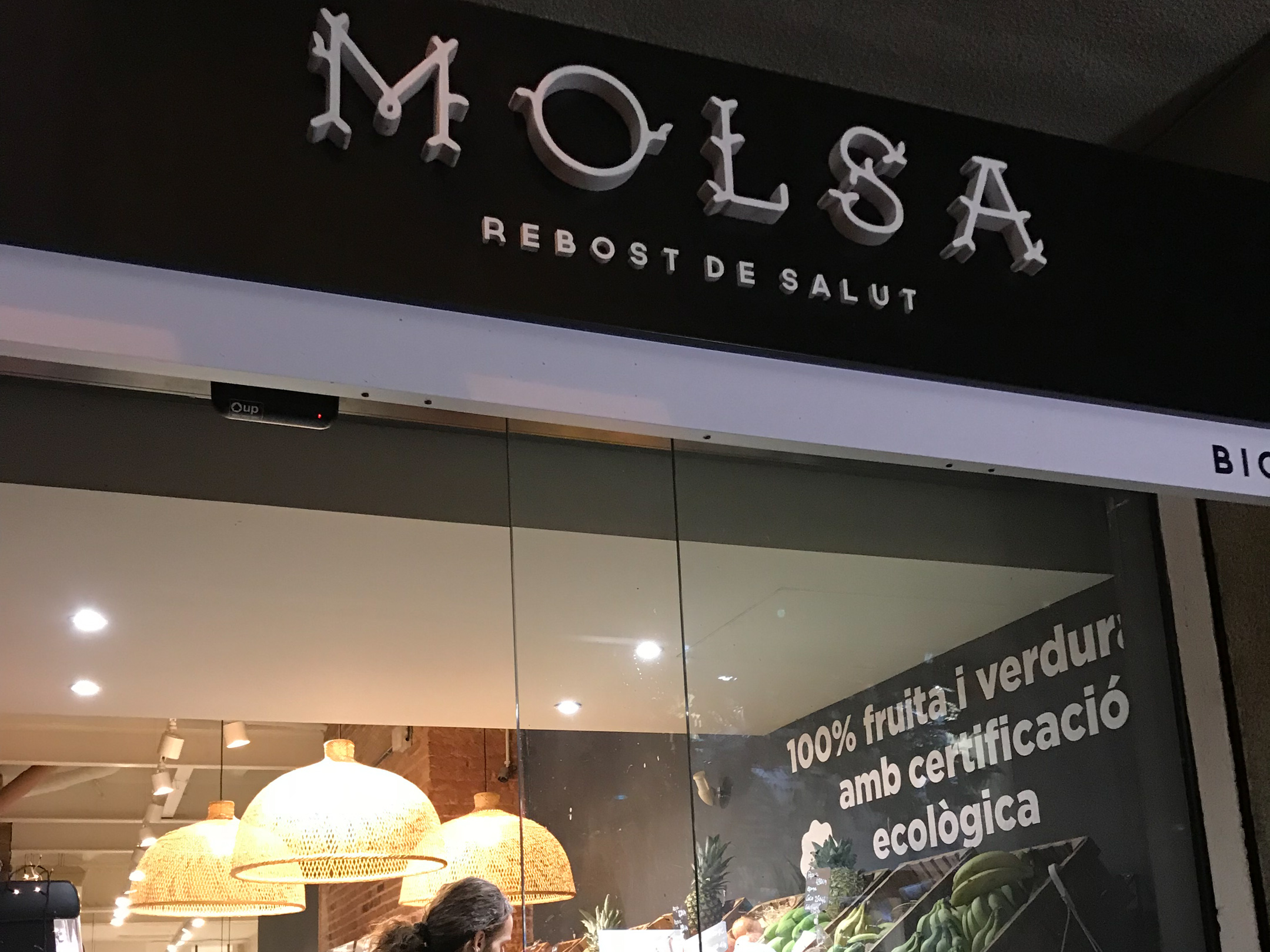 We also went to another Molsa store and the produce there was also great, they had a produce fridge with berries, that the other Molsa didn't have. There are more stores of this chain across Barcelona, google them to find the nearest one.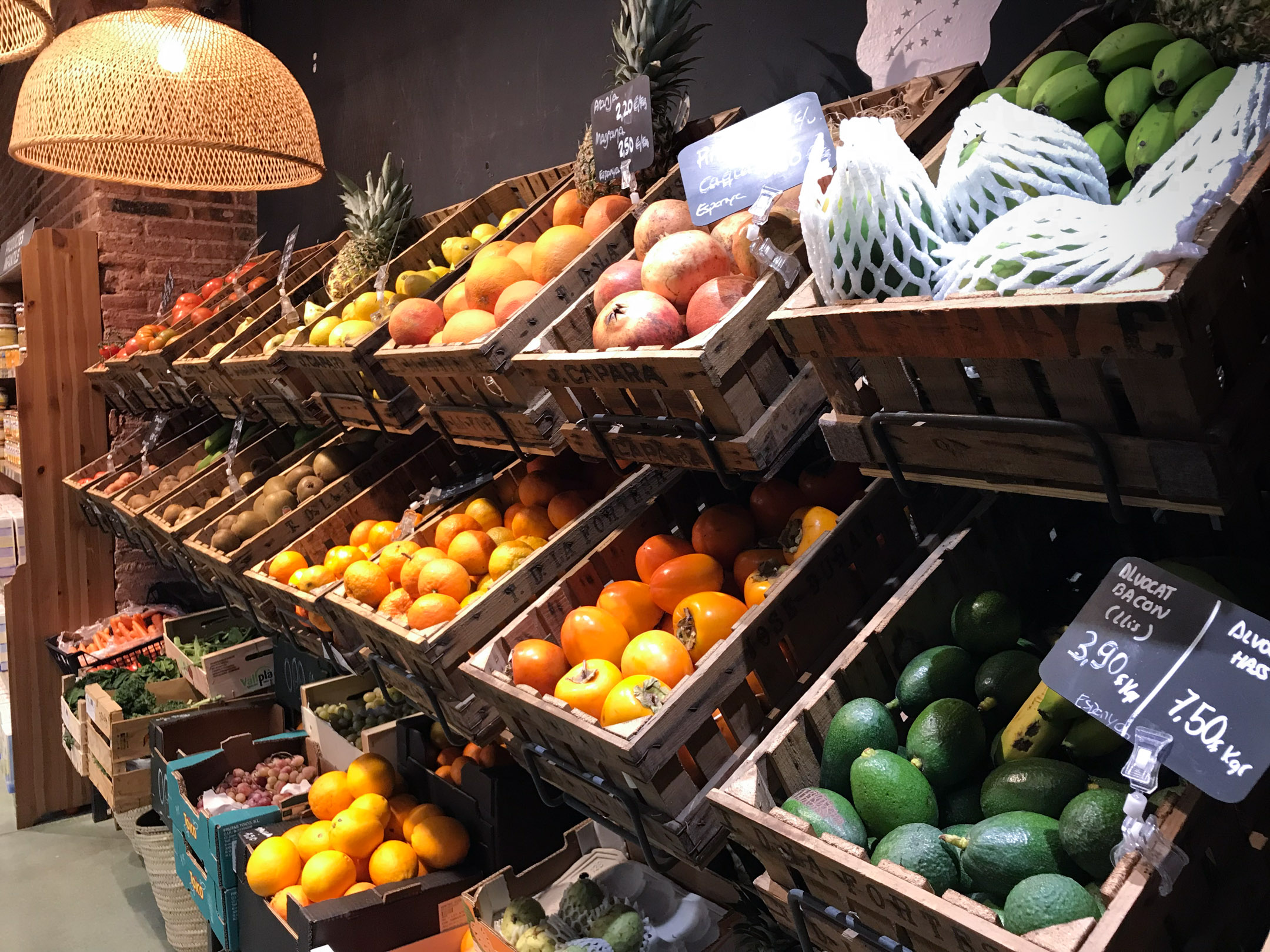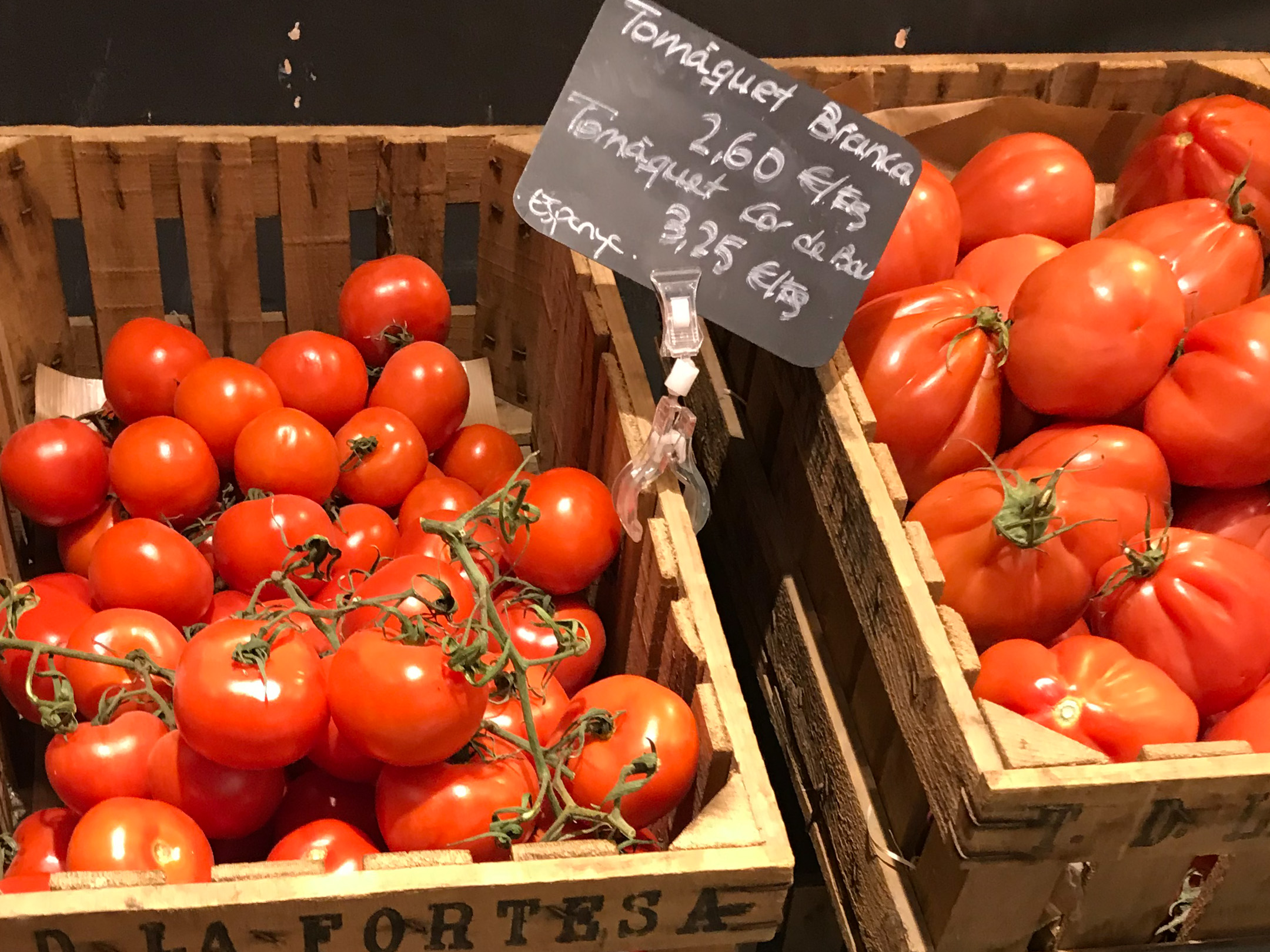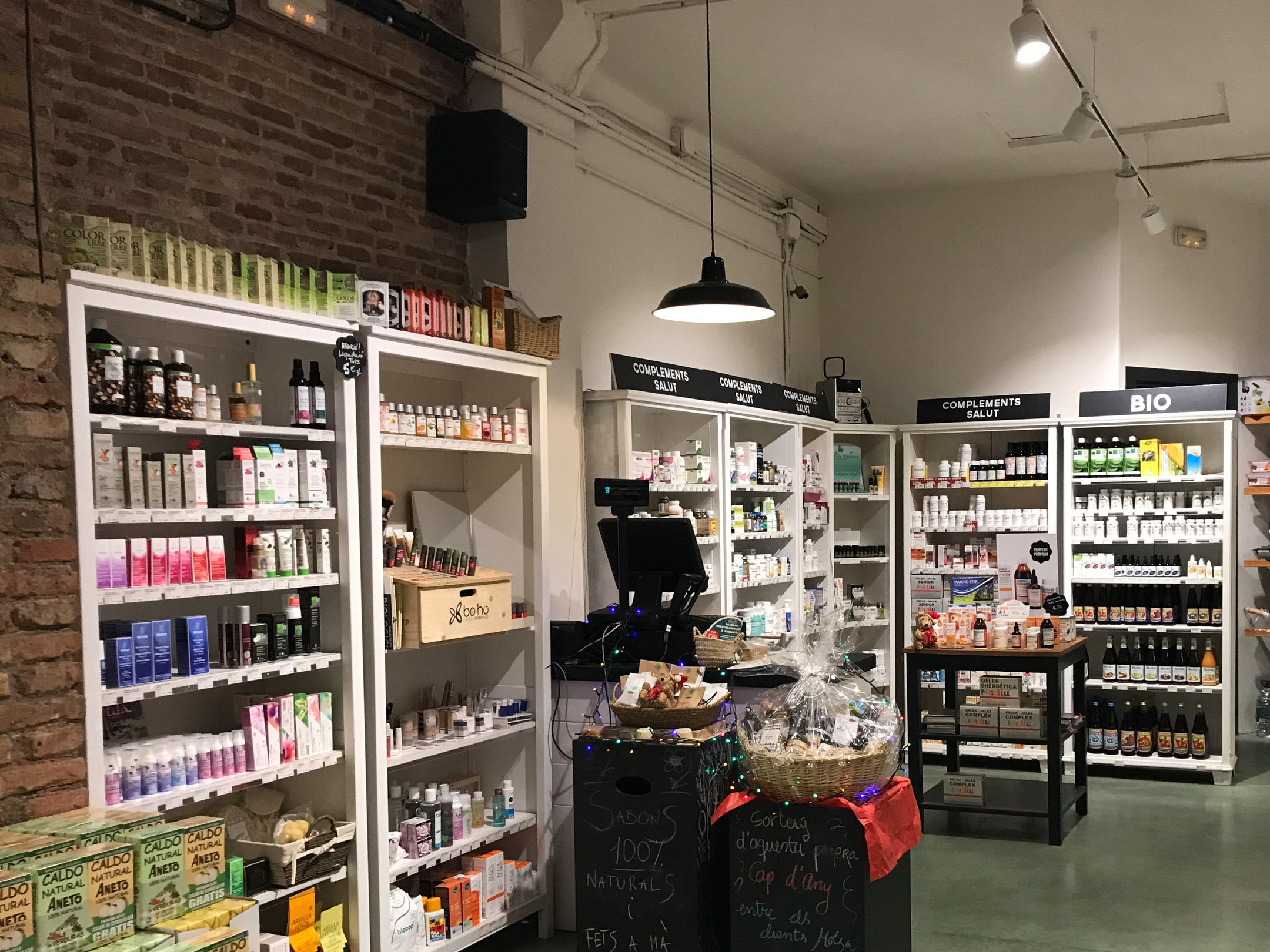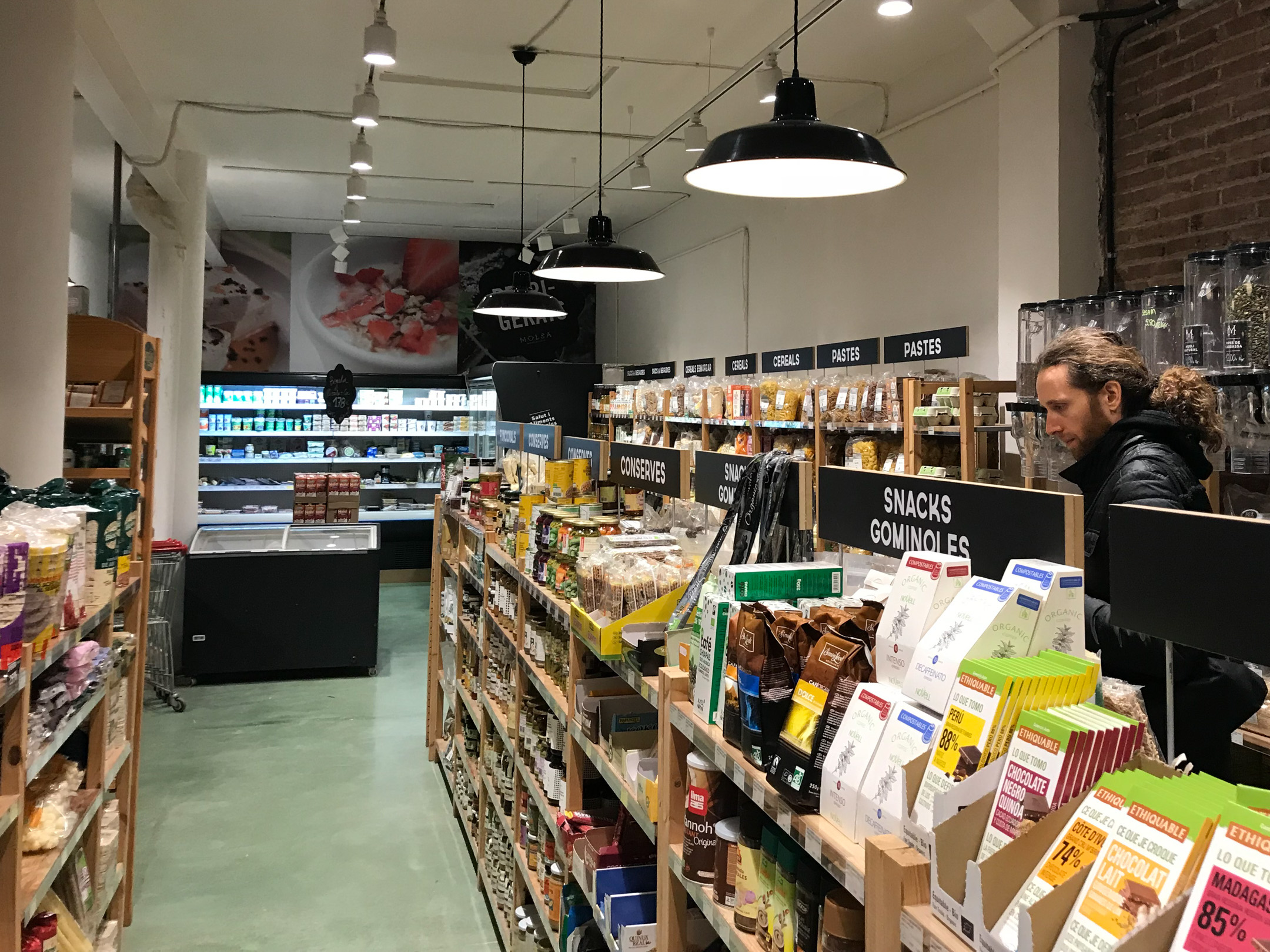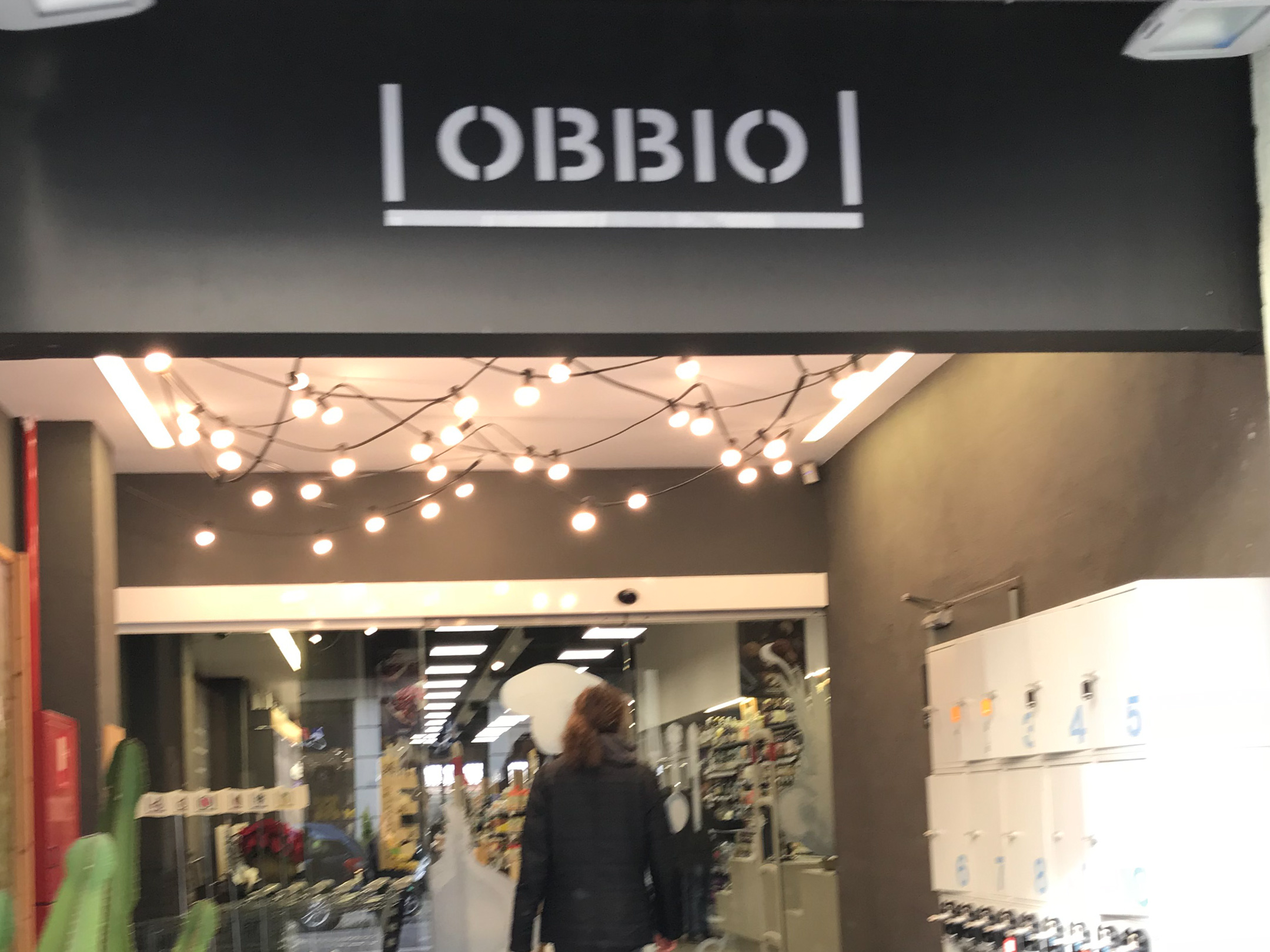 Obbio
Obbio is one of the larger organic stores in Barcelona. They have a great variety of fruits, veggies, greens. As well as a big range of vegan products. The produce was on the pricier side, but the variety was much better than at smaller stores.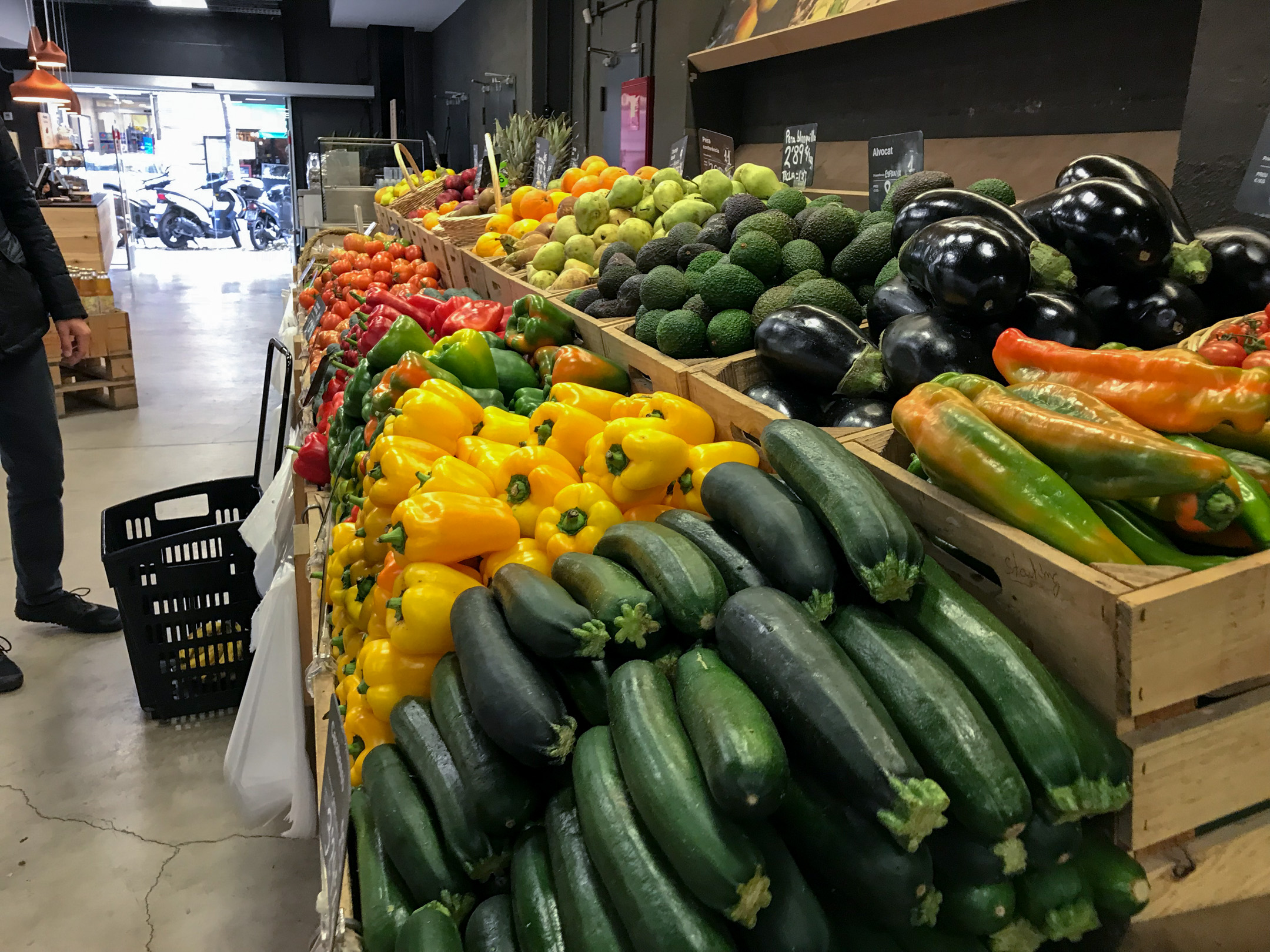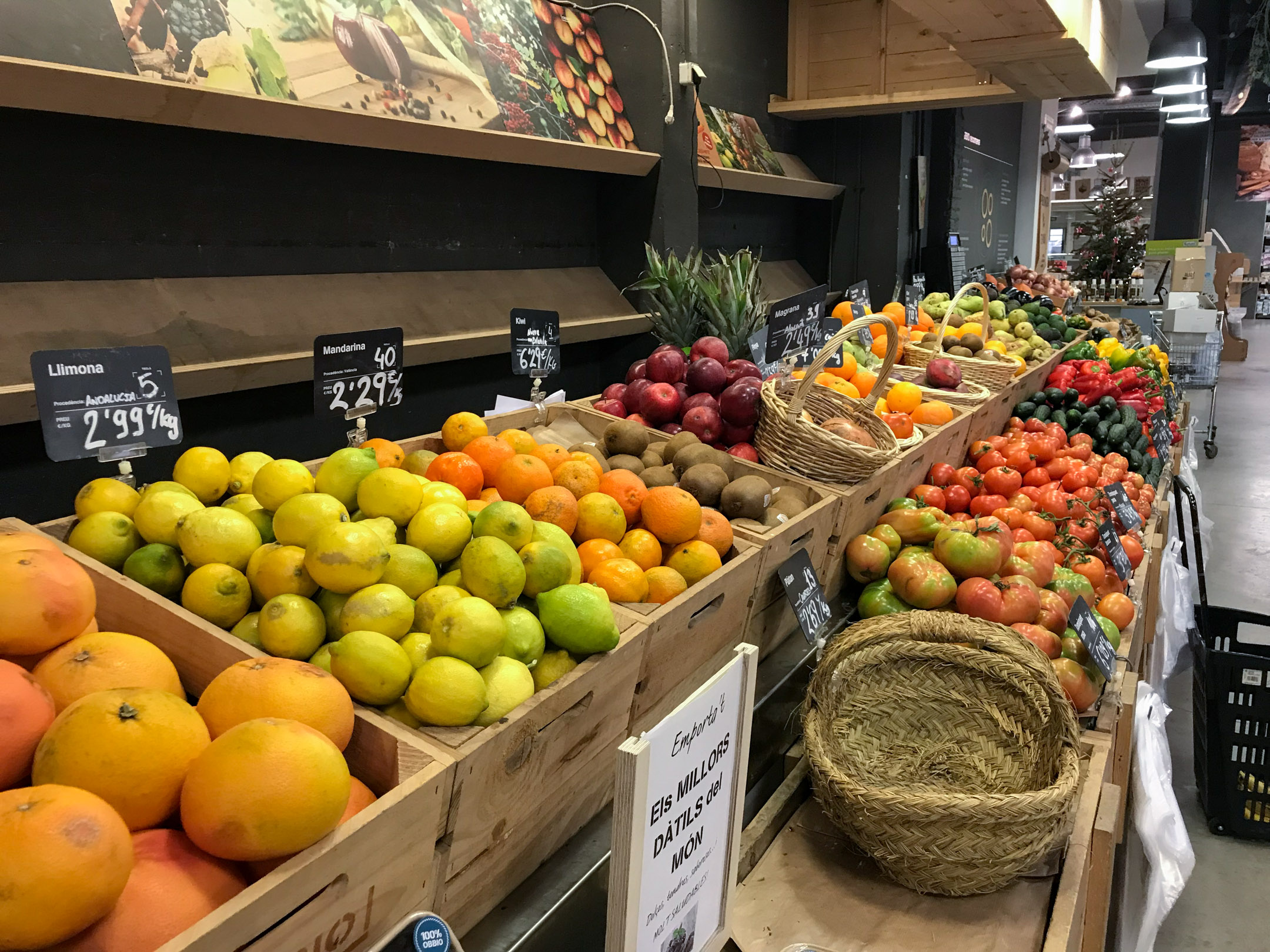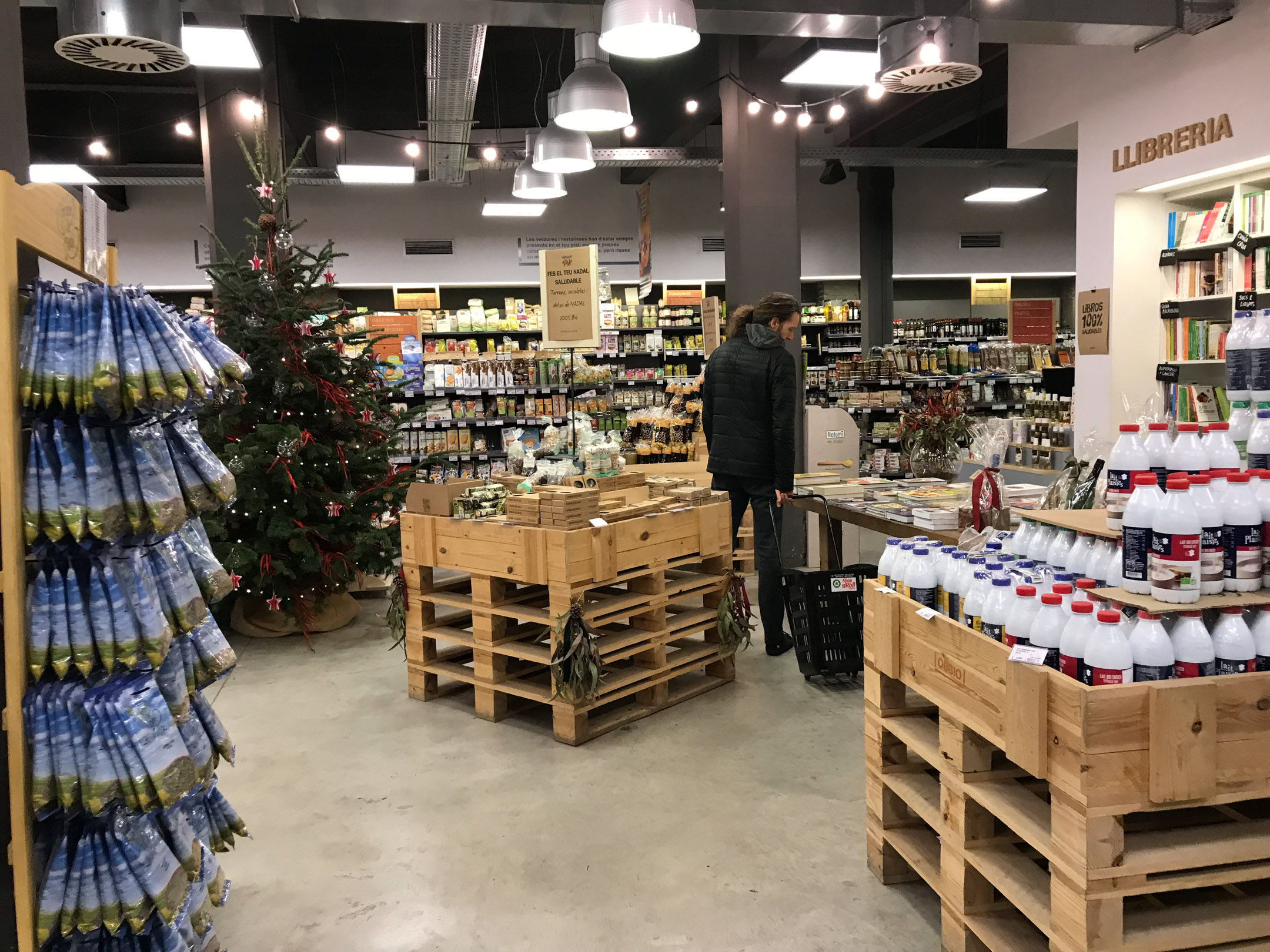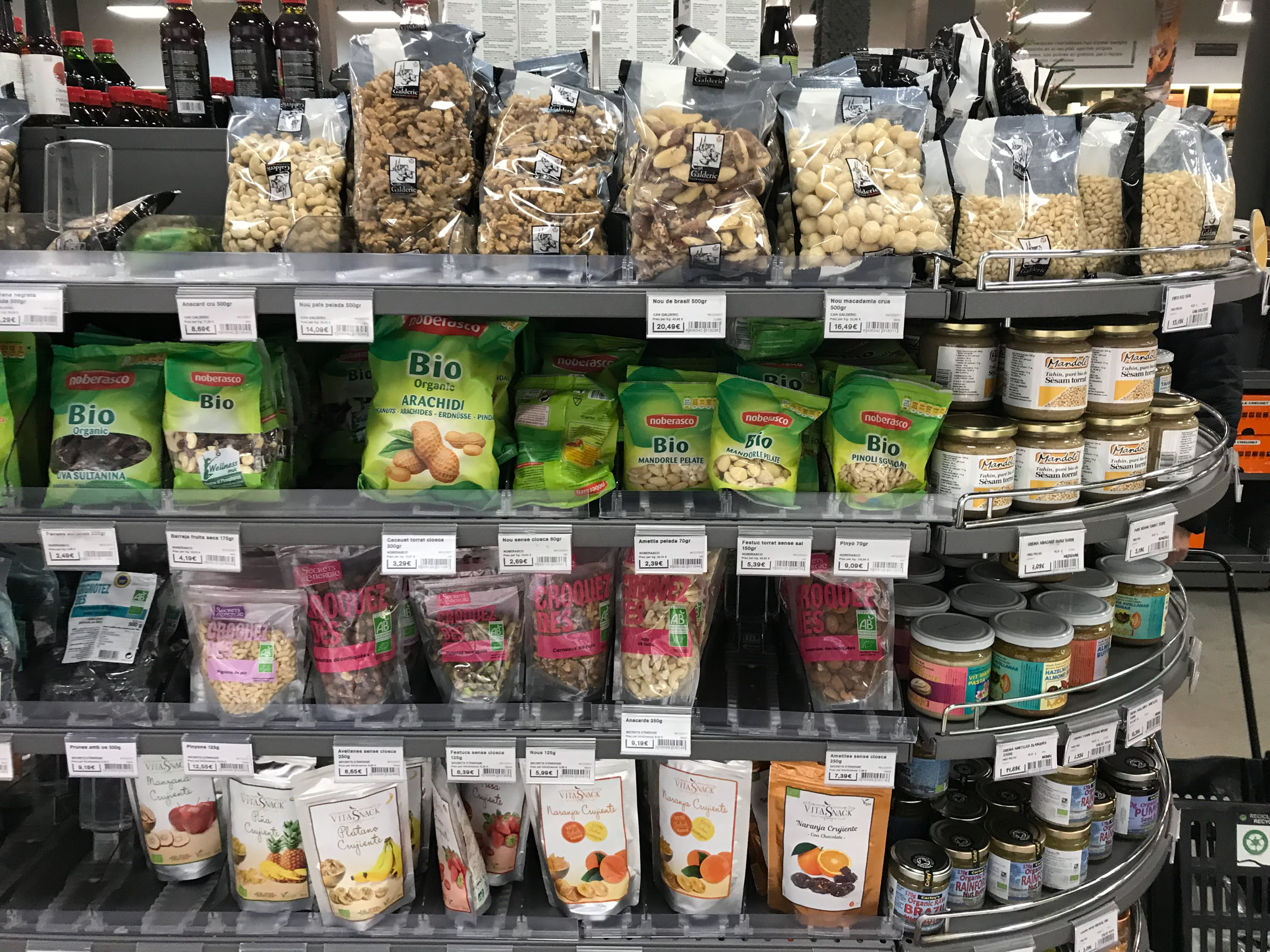 The speciality are raw nuts and raw nuts butters. Also, the bulk section is incredible.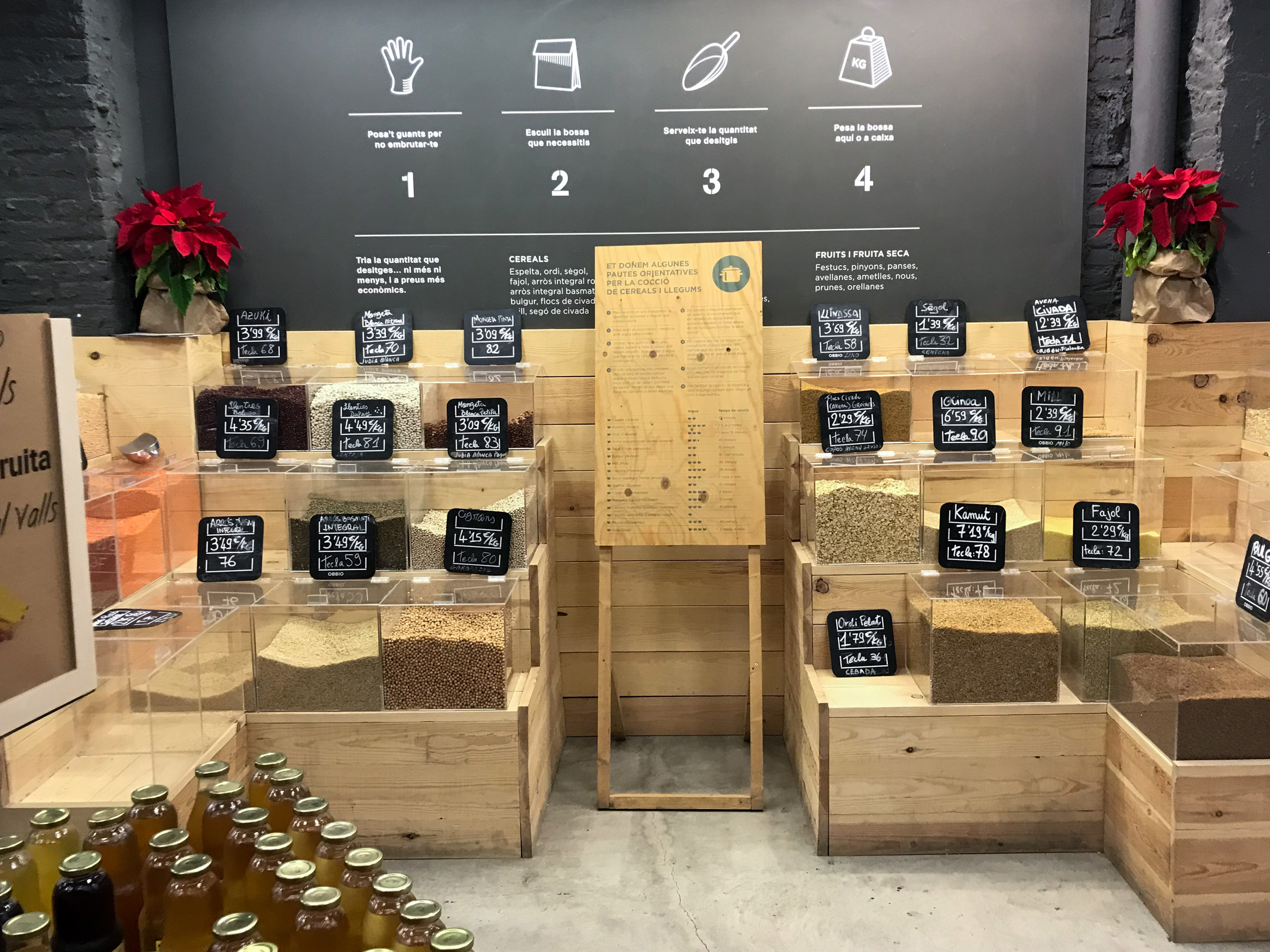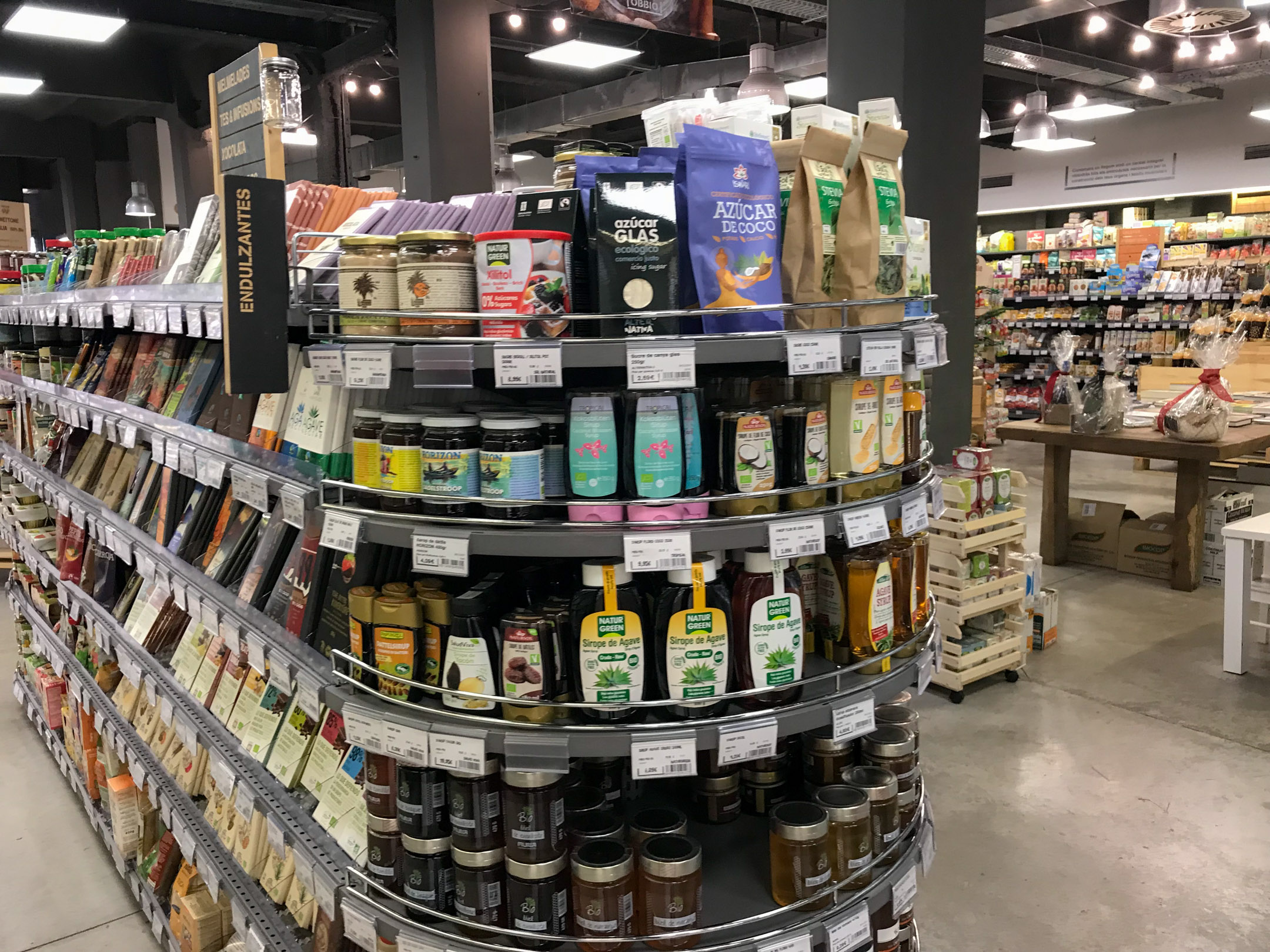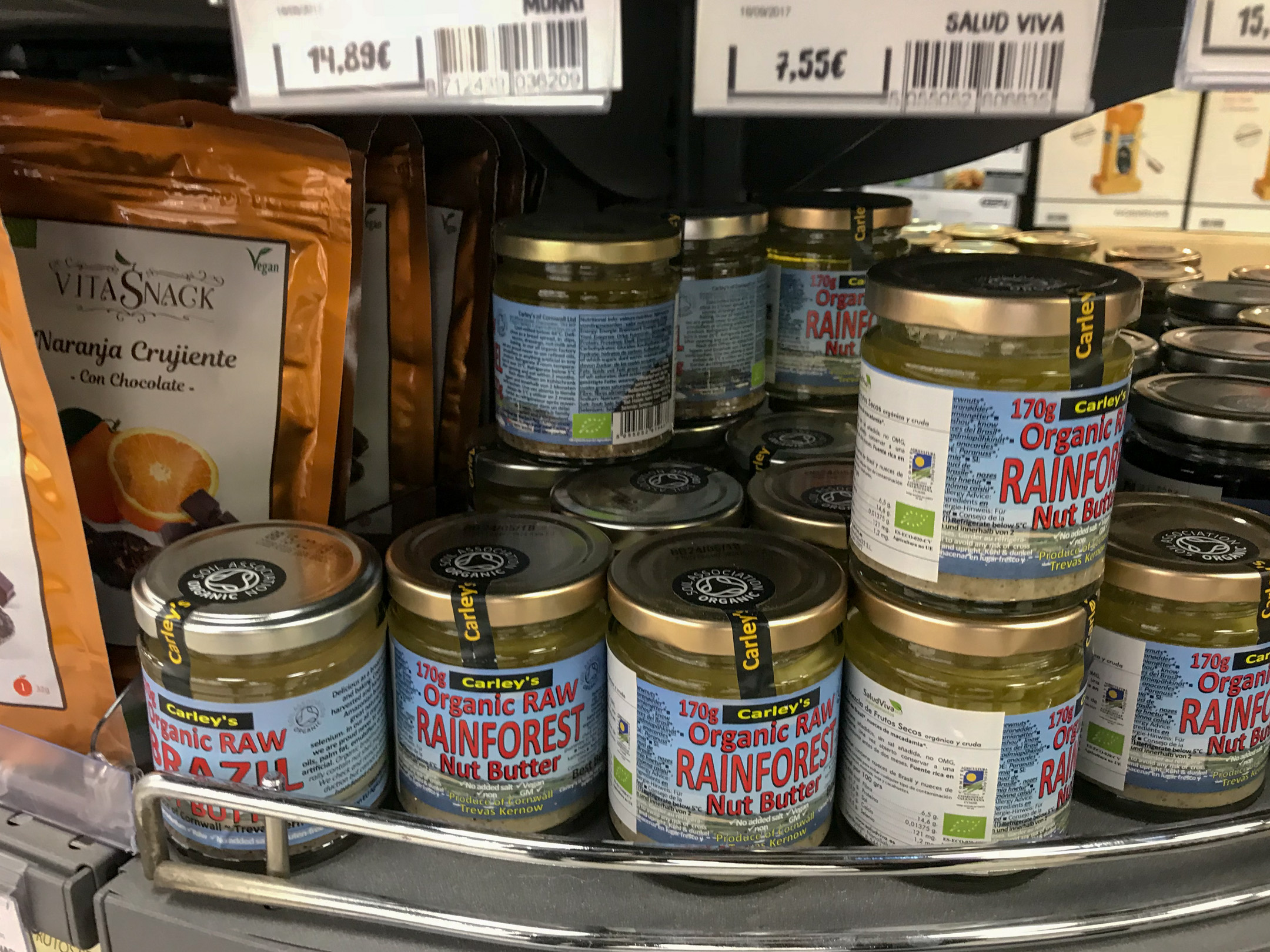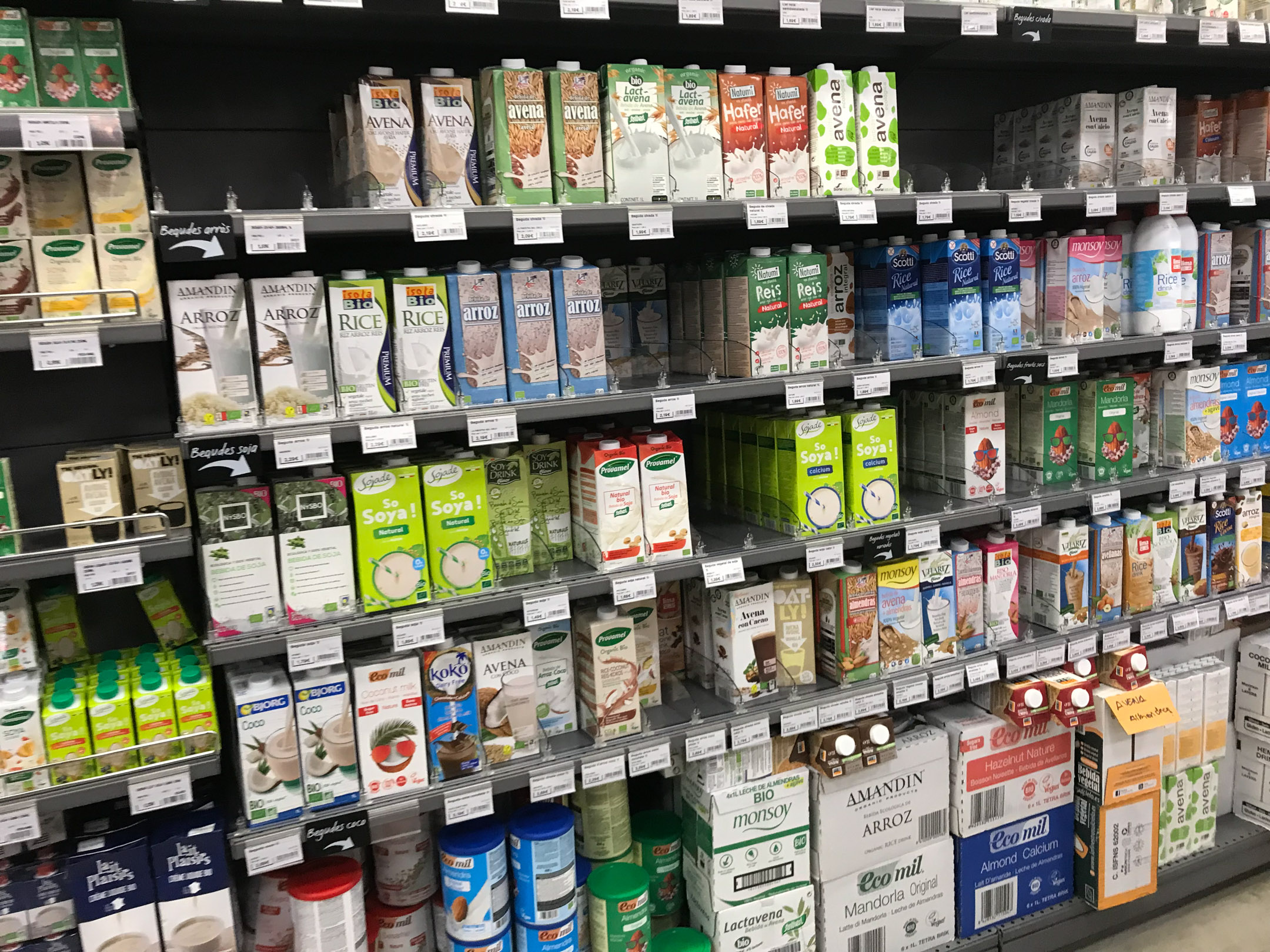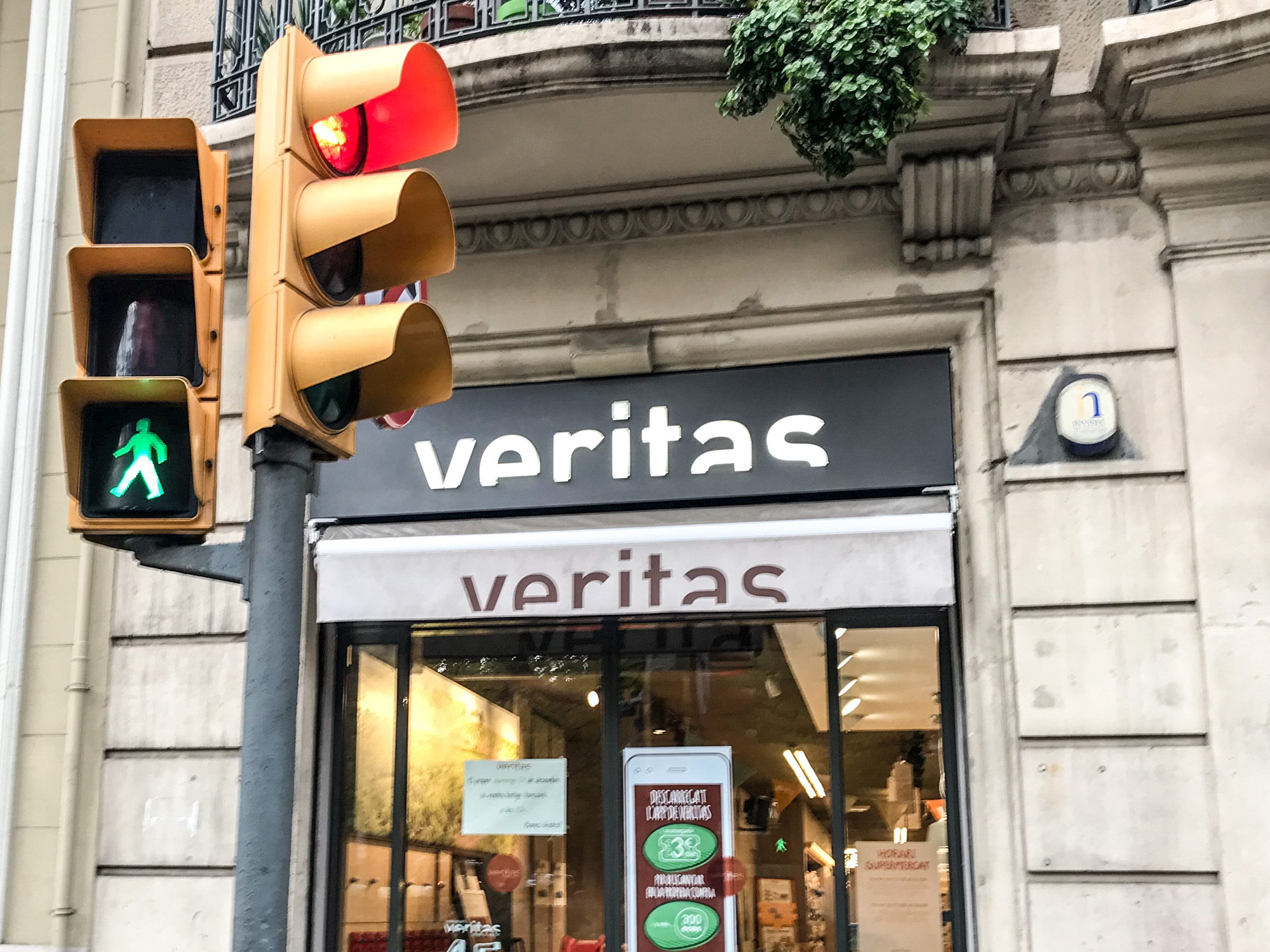 Veritas
Many stores across Barcelona. Great produce and many vegan products.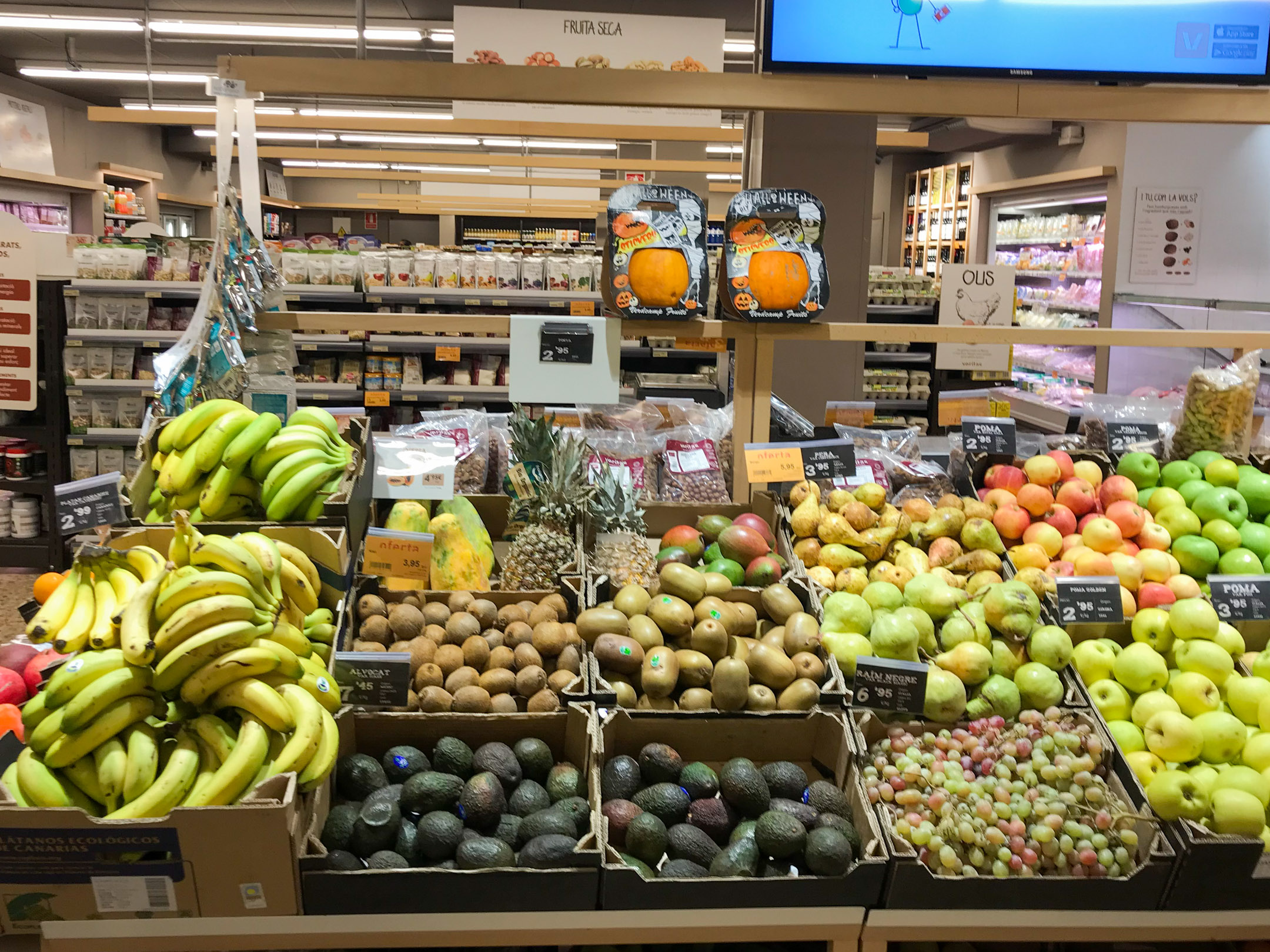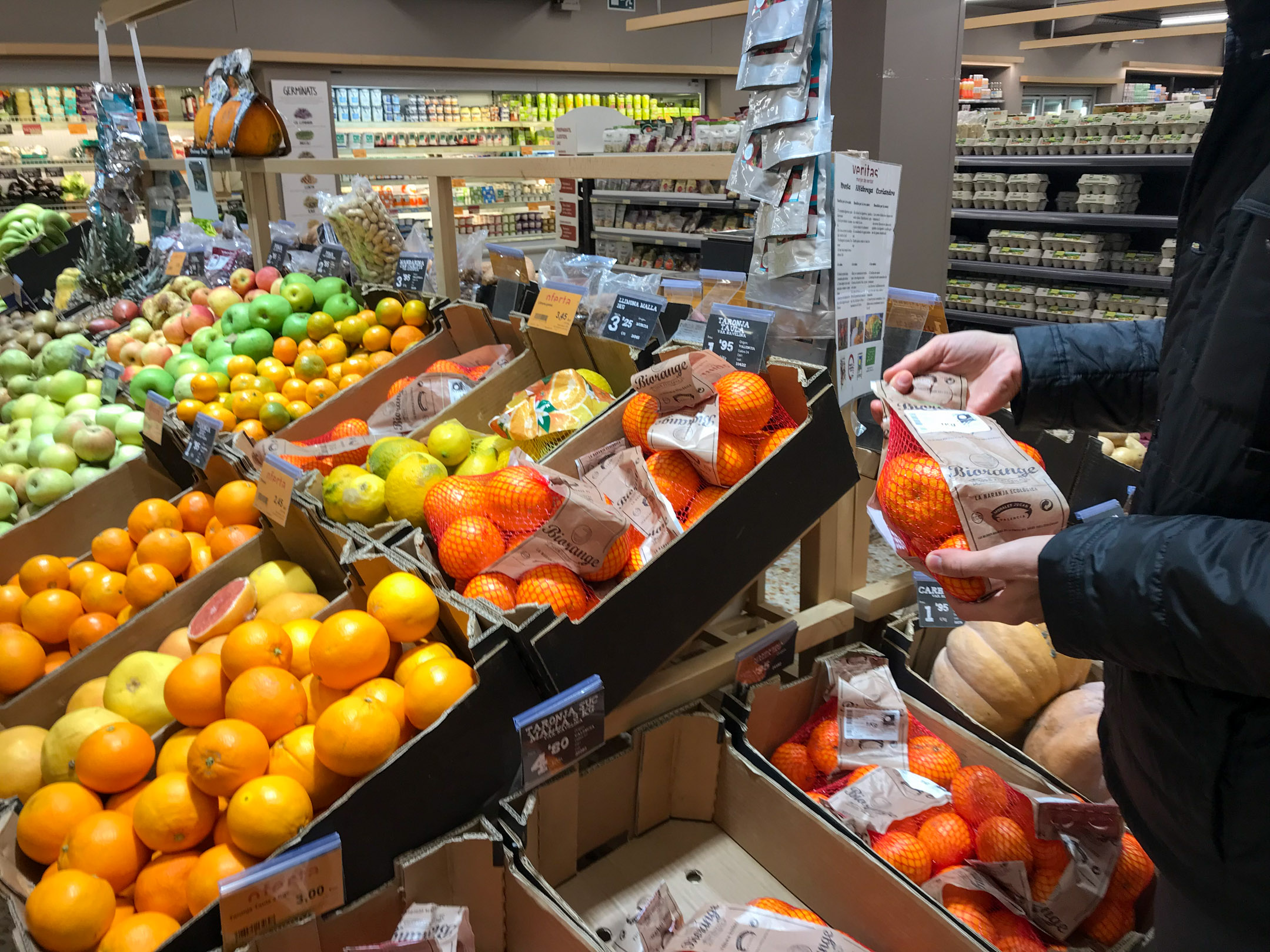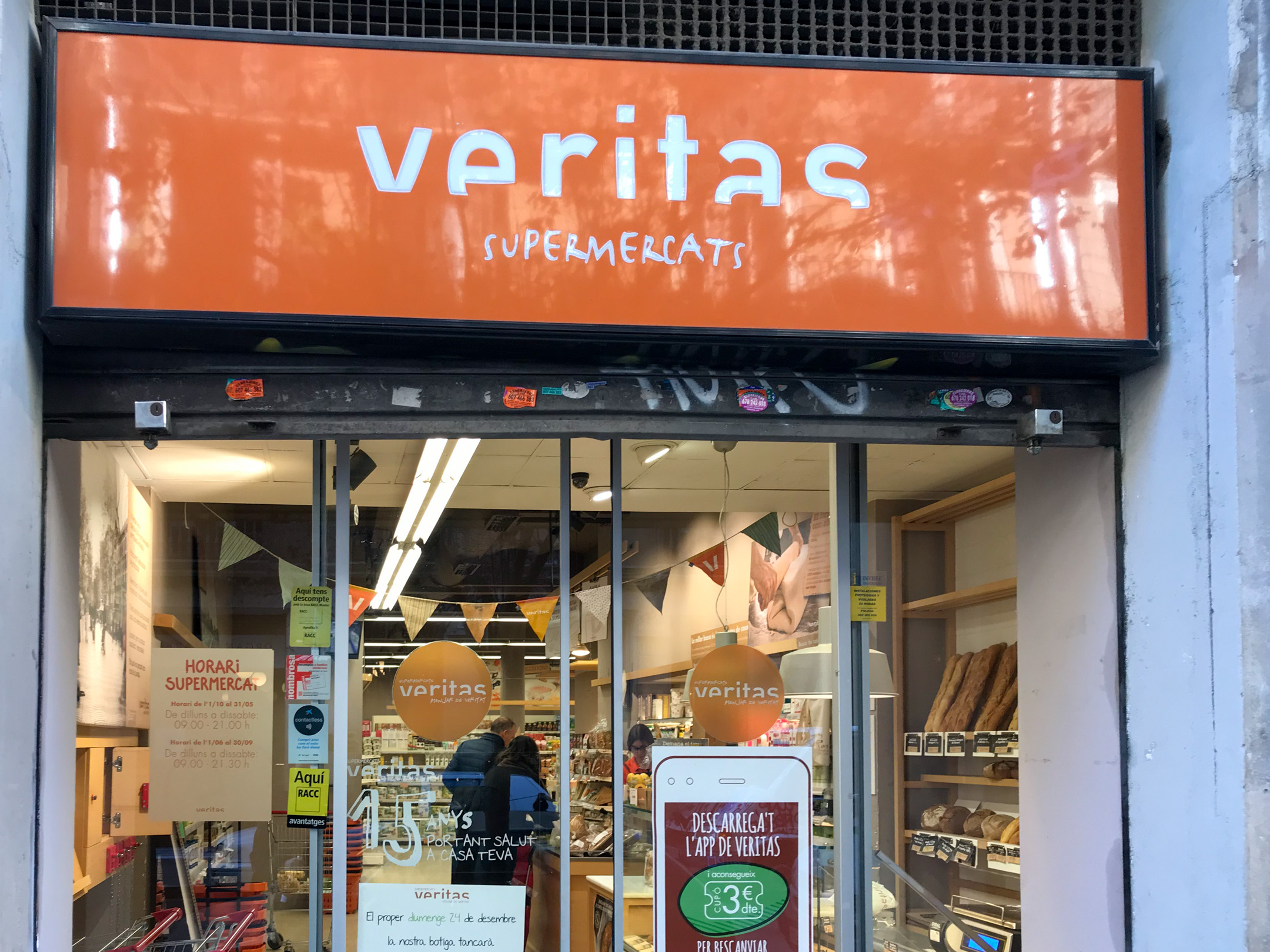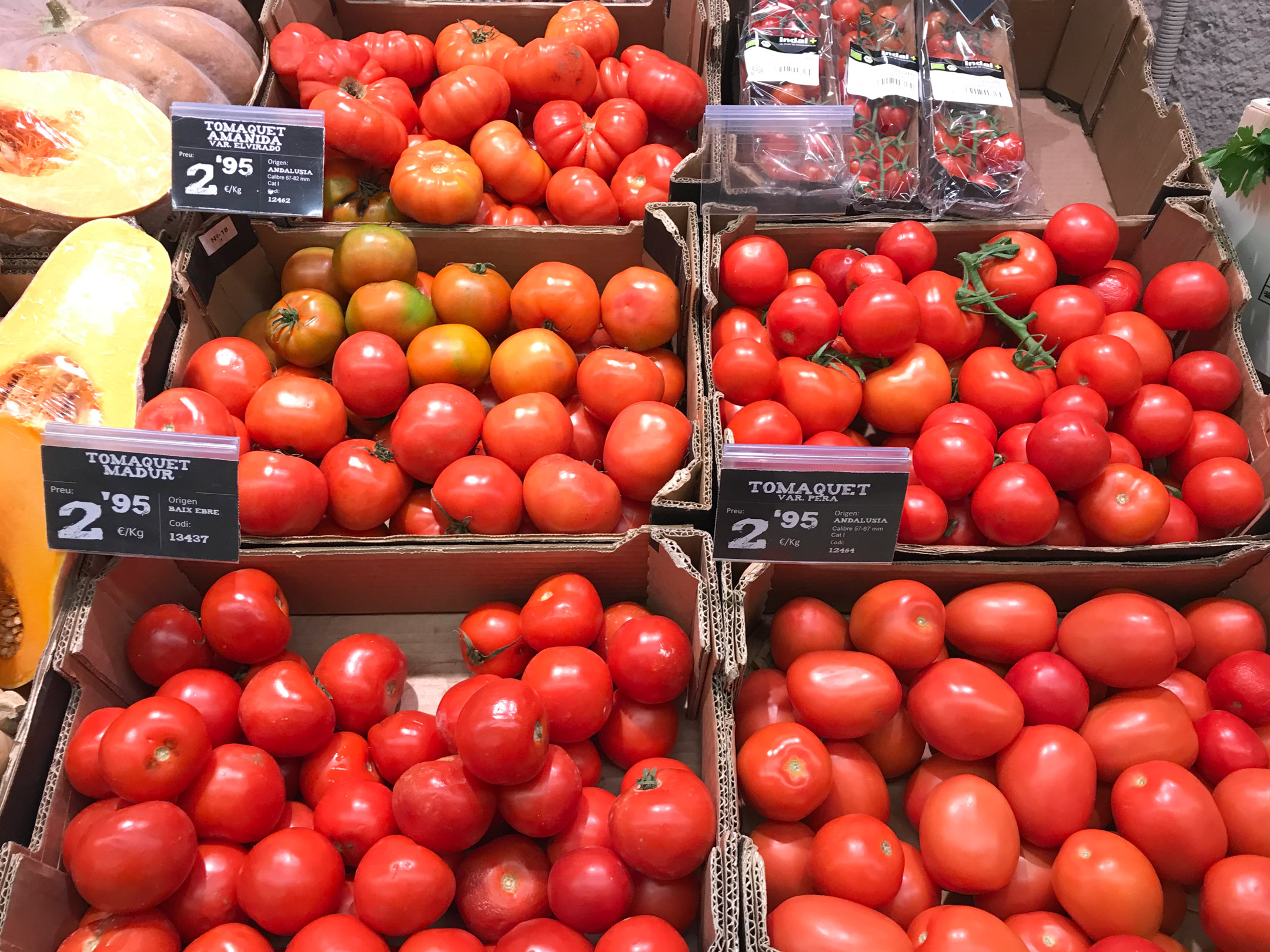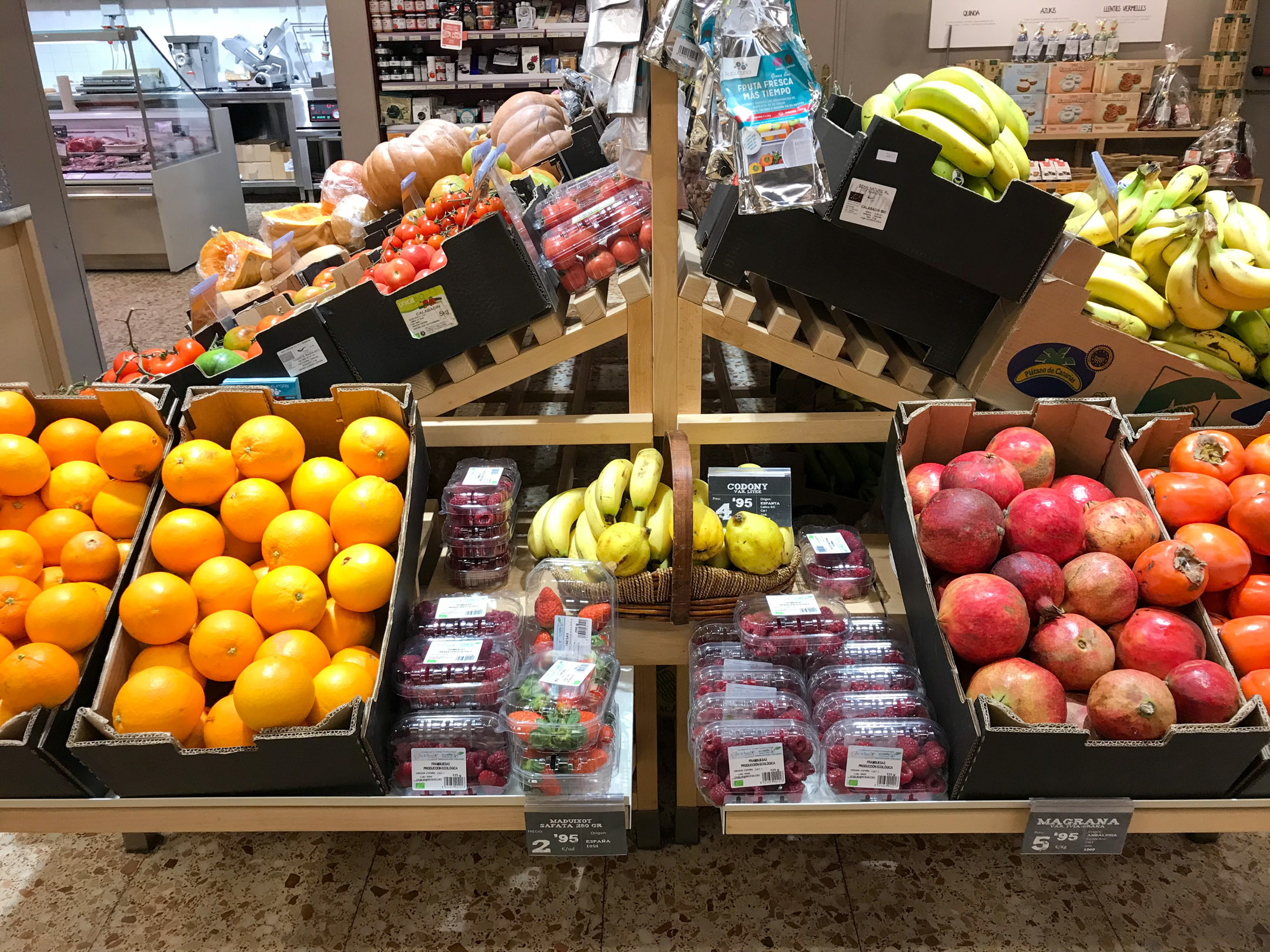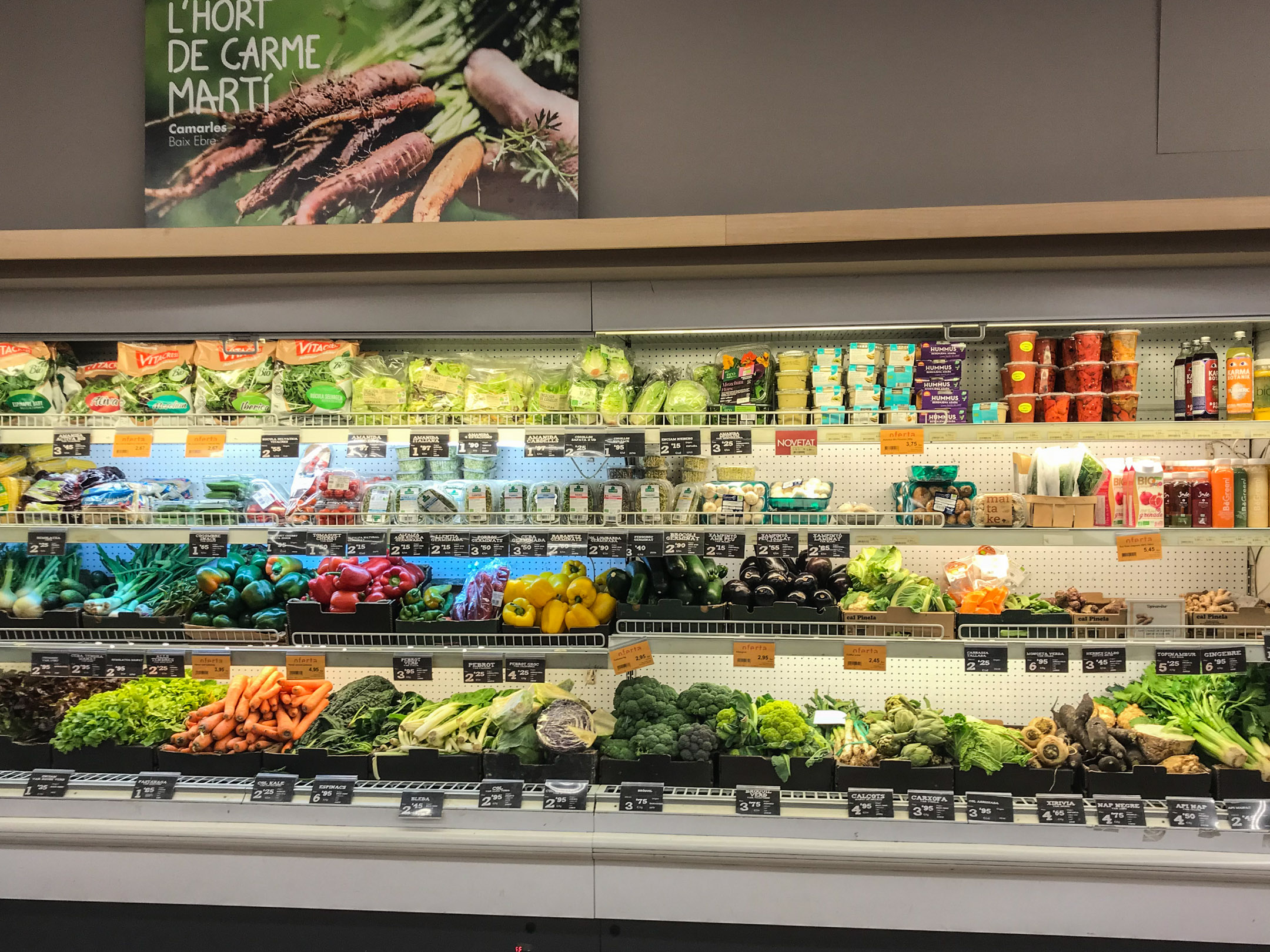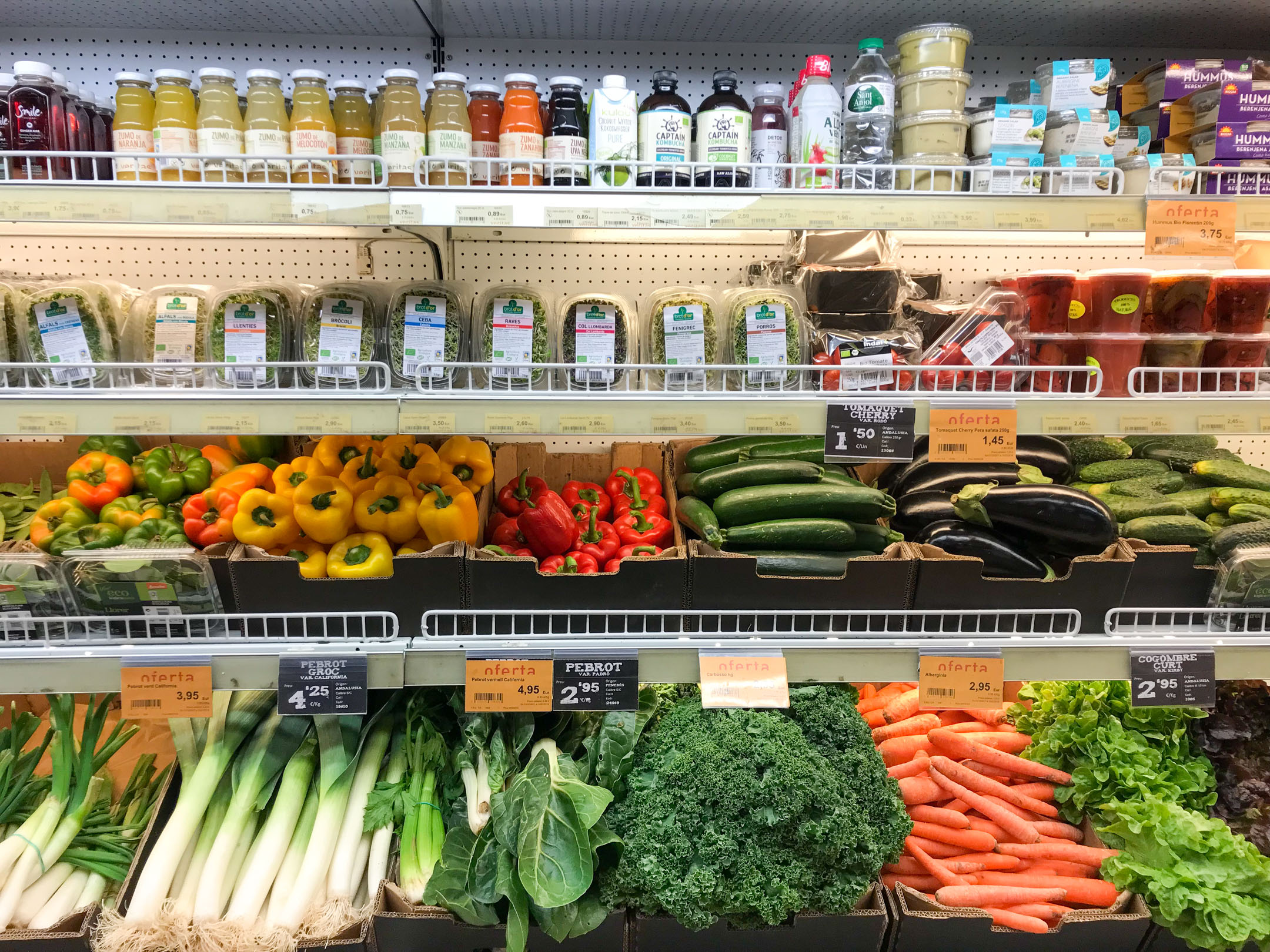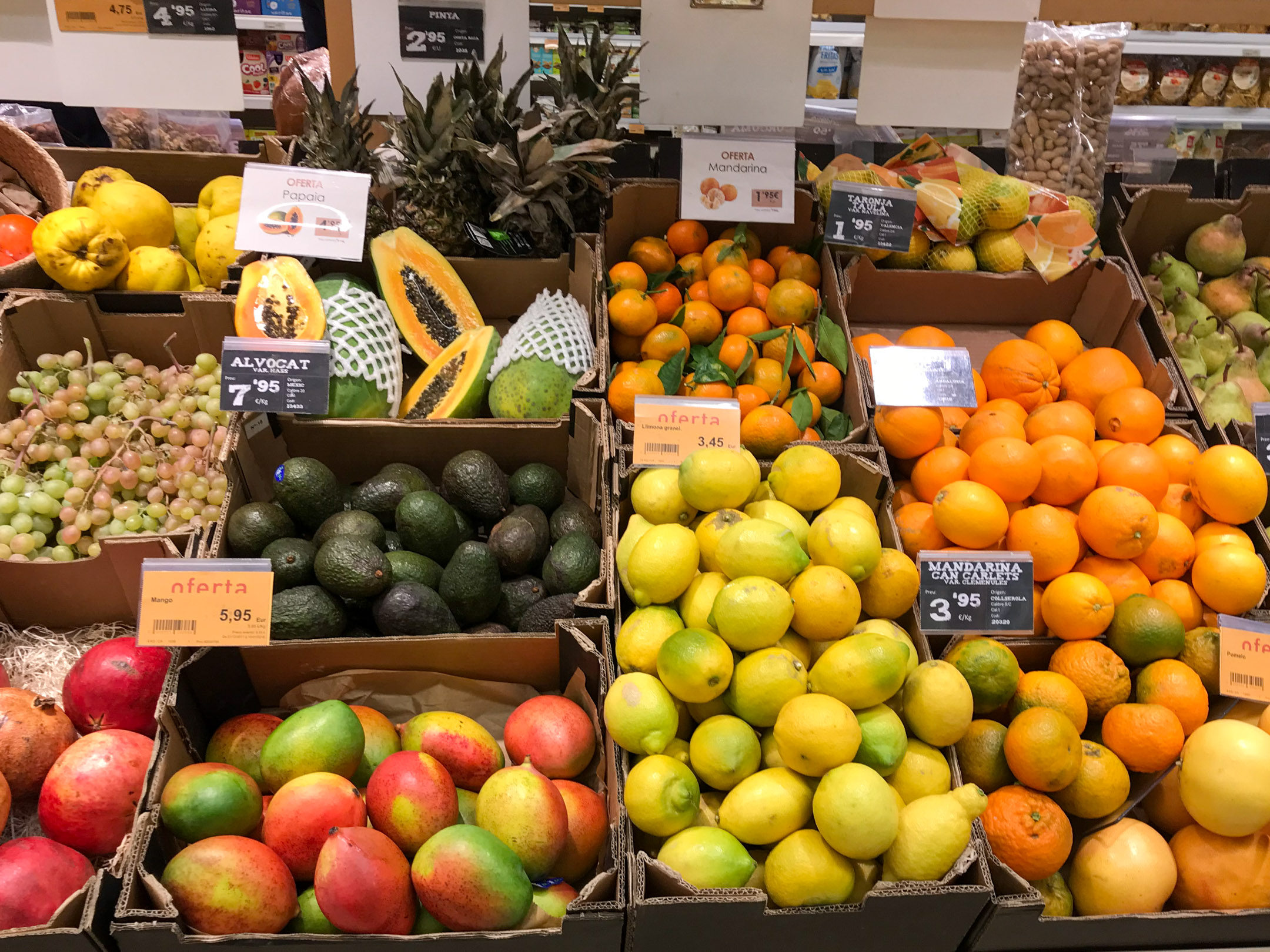 Subscribe to the newsletter!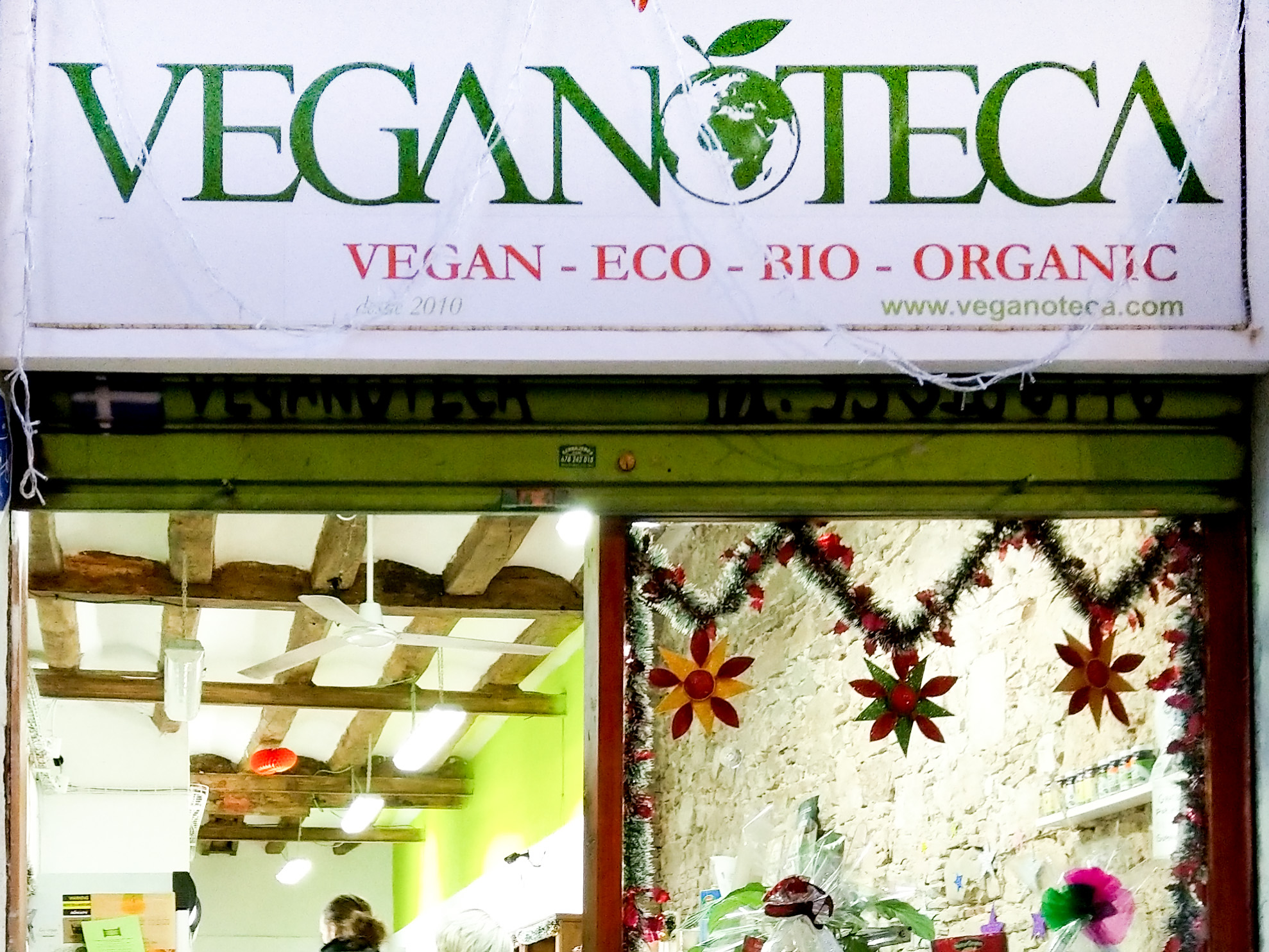 Veganoteca
A fully vegan store sells the raw ice cream that we love, all kind of vegan meats, cheeses, milks. Also found natural vegan beauty products I've never seen before anywhere.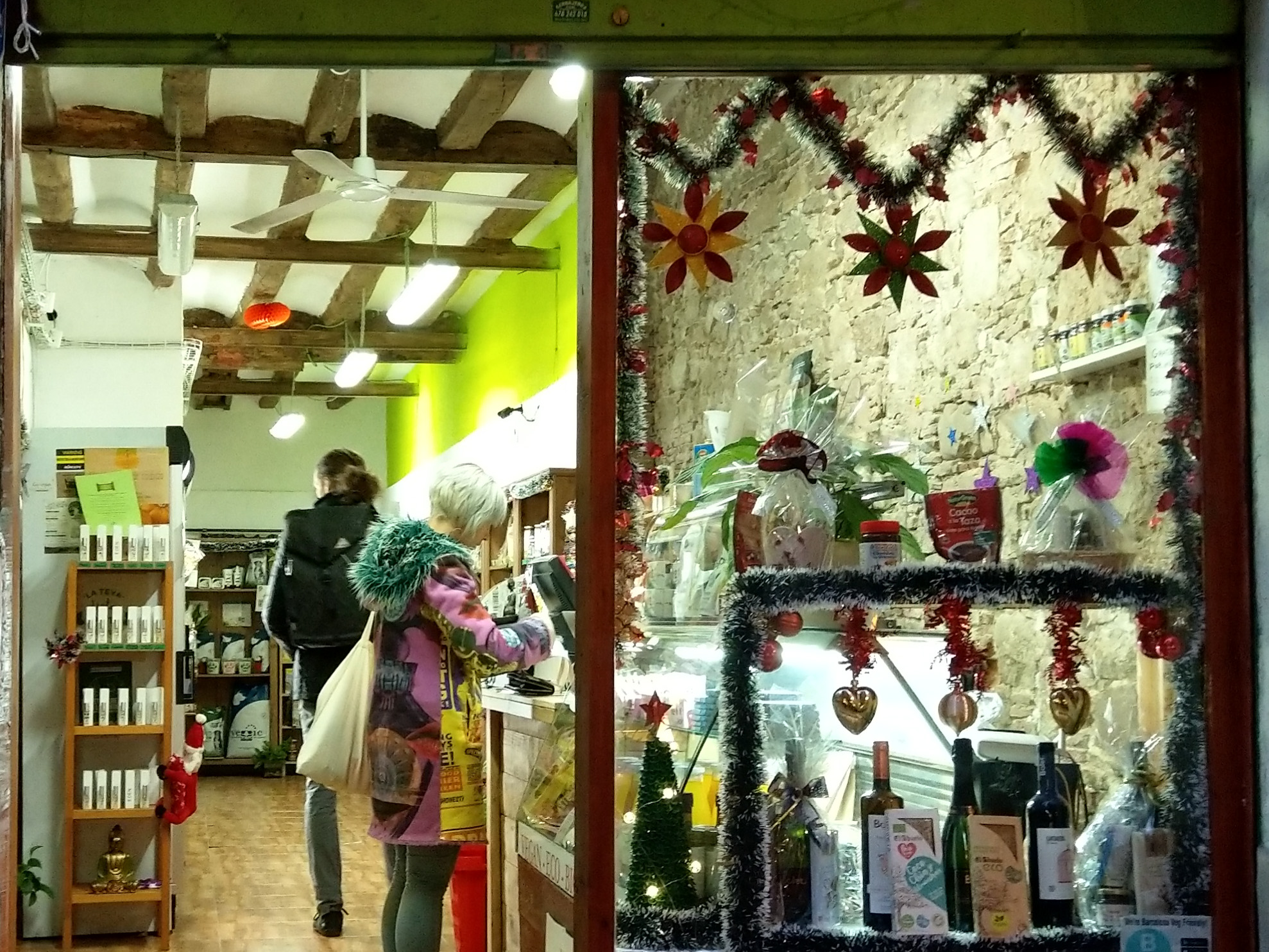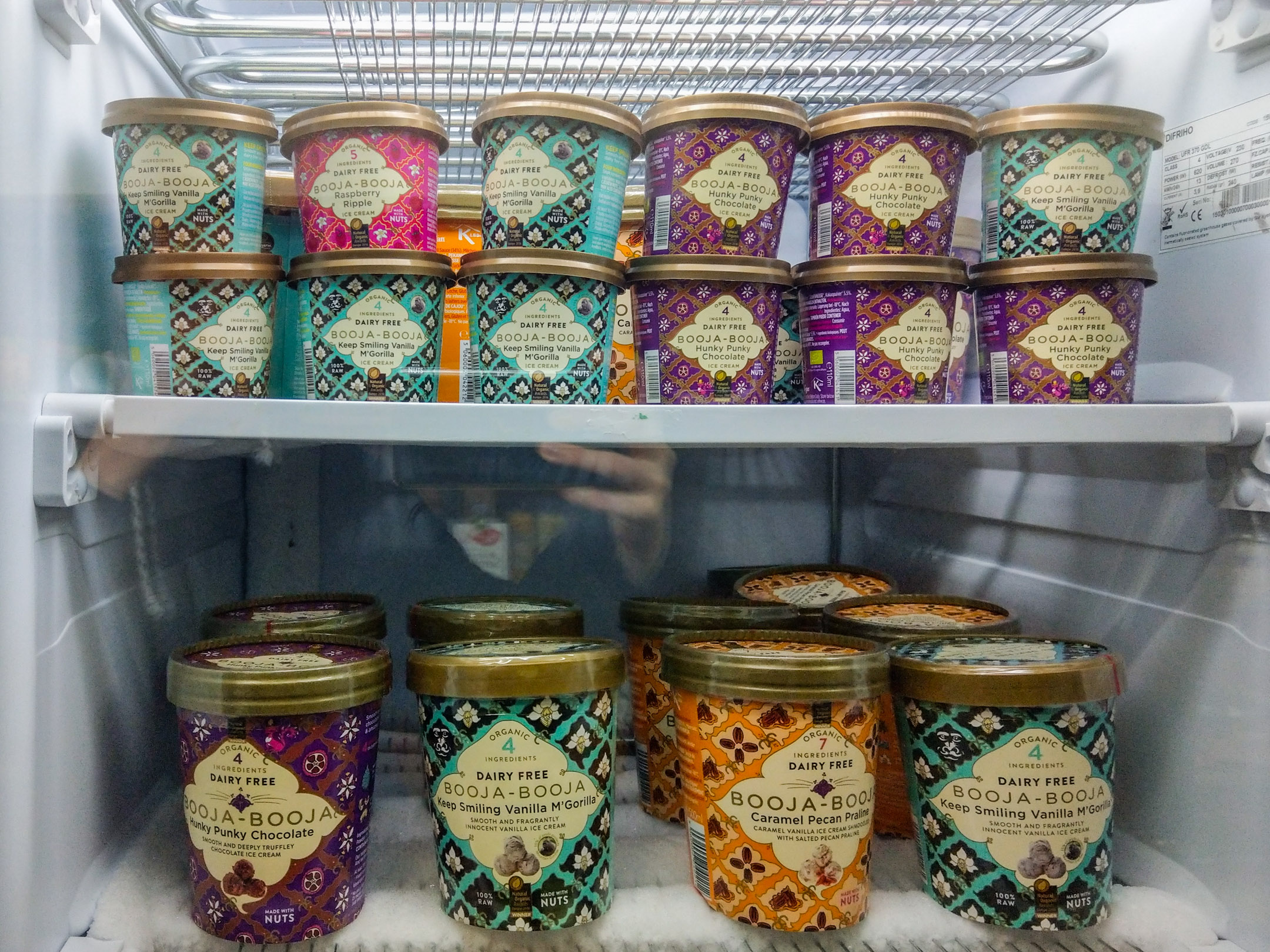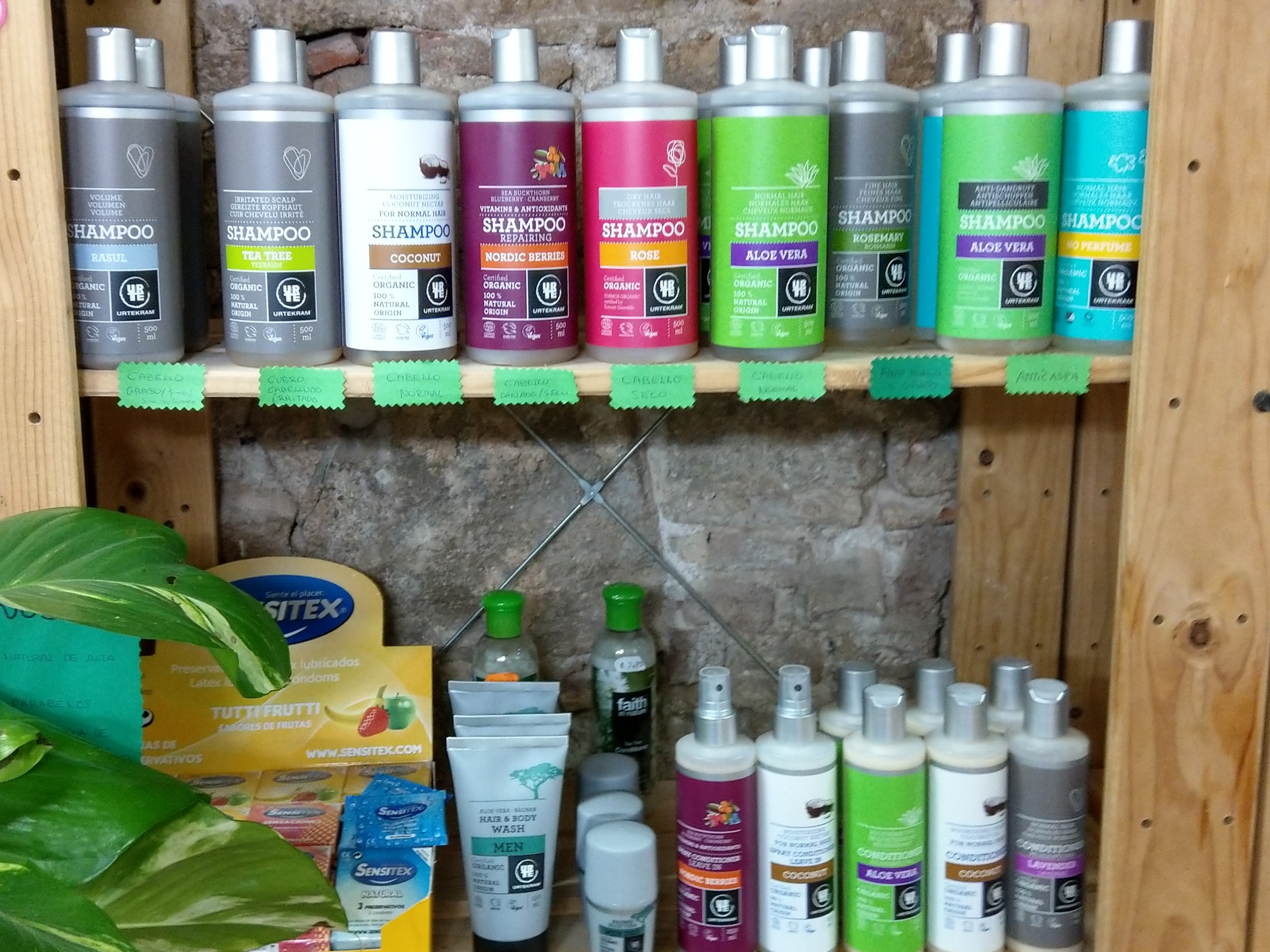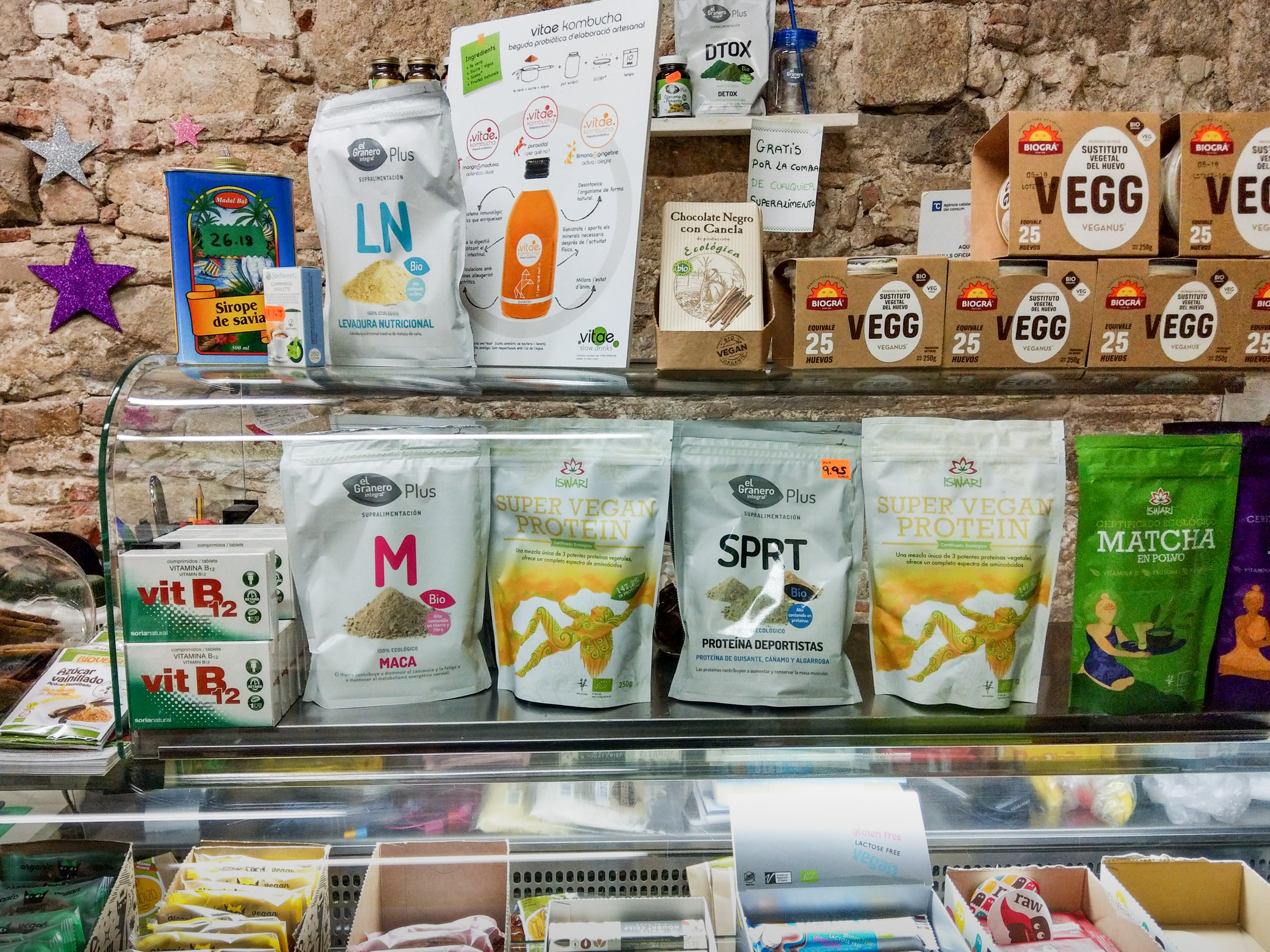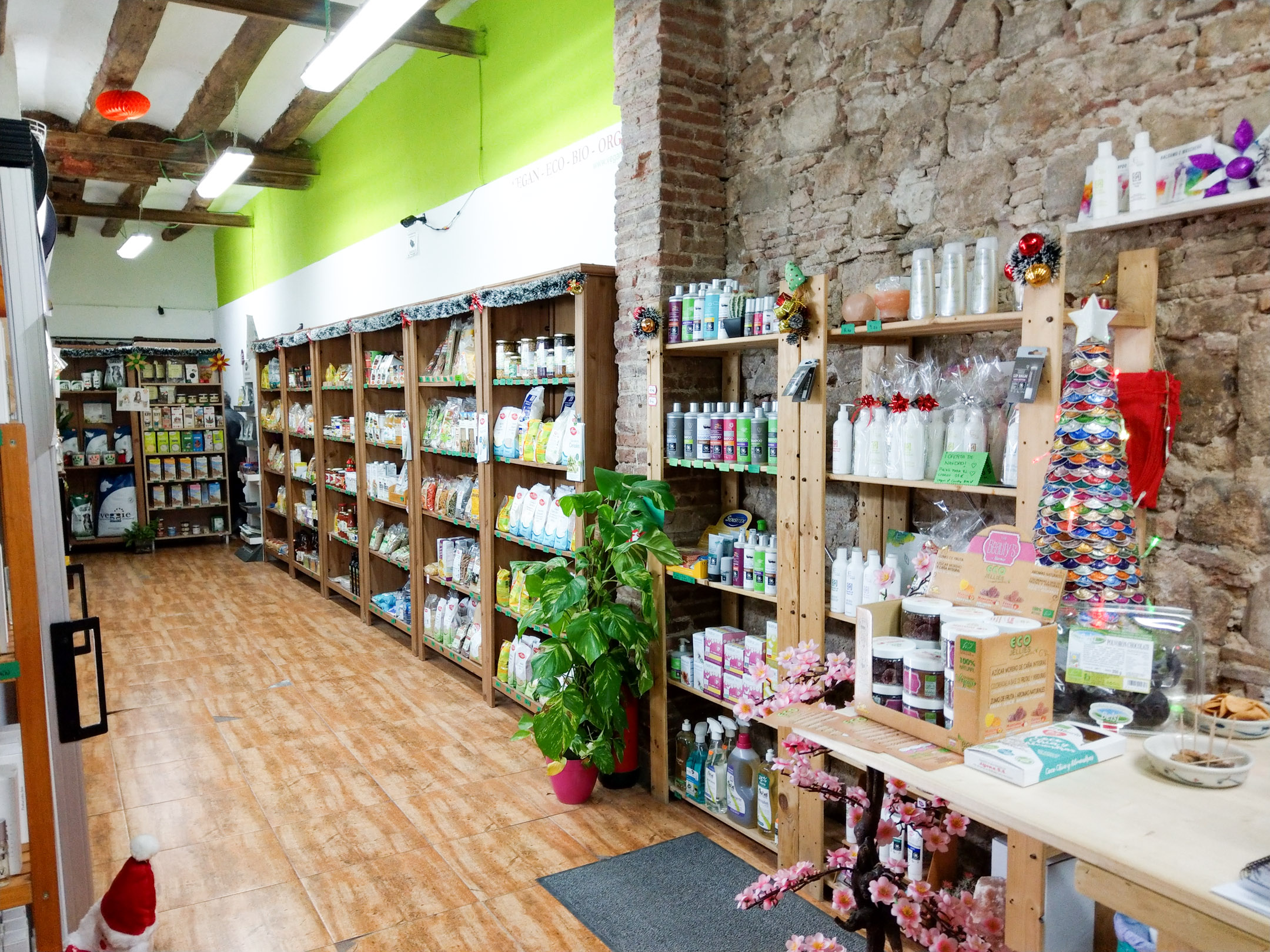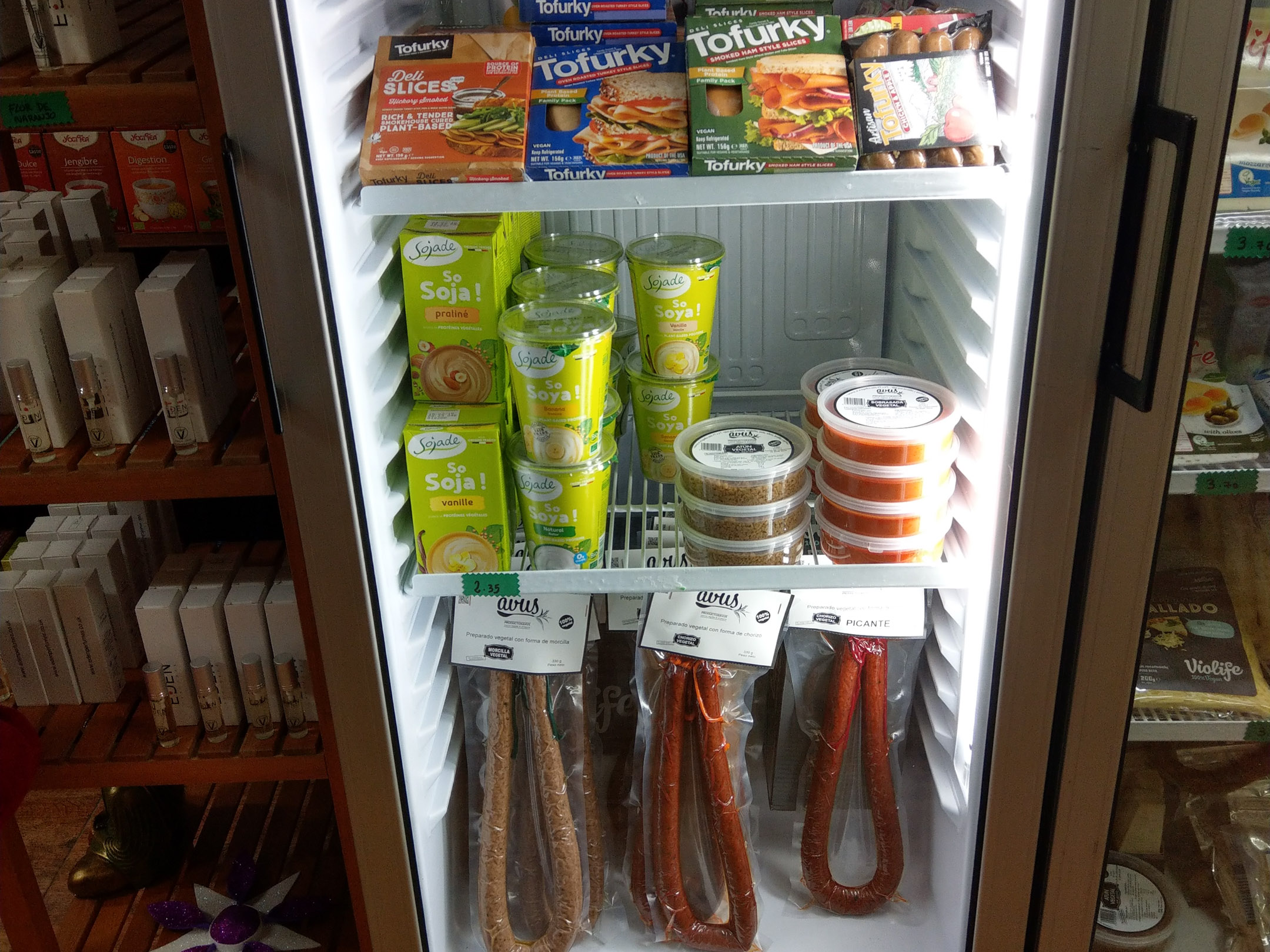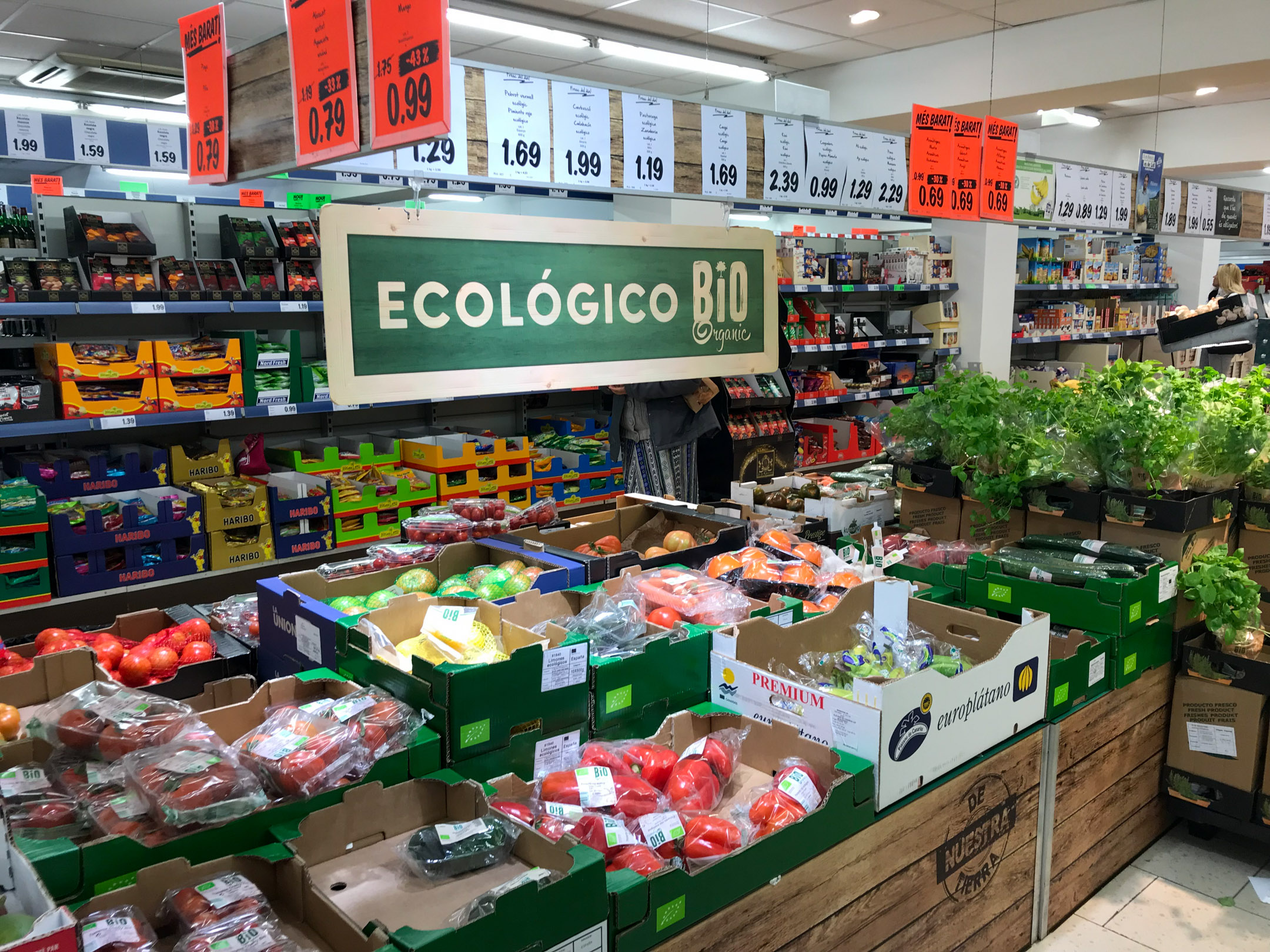 Lidl
Looking for organic at a discounter is pretty much the last resort for 3 reasons: the variety is limited and 2 of 3 fruits might be sold out and if not, the fruit is extremely unripe. Second, everything is in a plastic dish and then wrapt in plastic and more plastic. And third, it's more expensive than at the organic store. This aside, the Lidl we went to in Barcelona had some organic fruit ad veggies one could survive on for a week. They also had lots of organic staples, even soy milk and tofu, beans, carbons beans, rice, potatoes and pasta.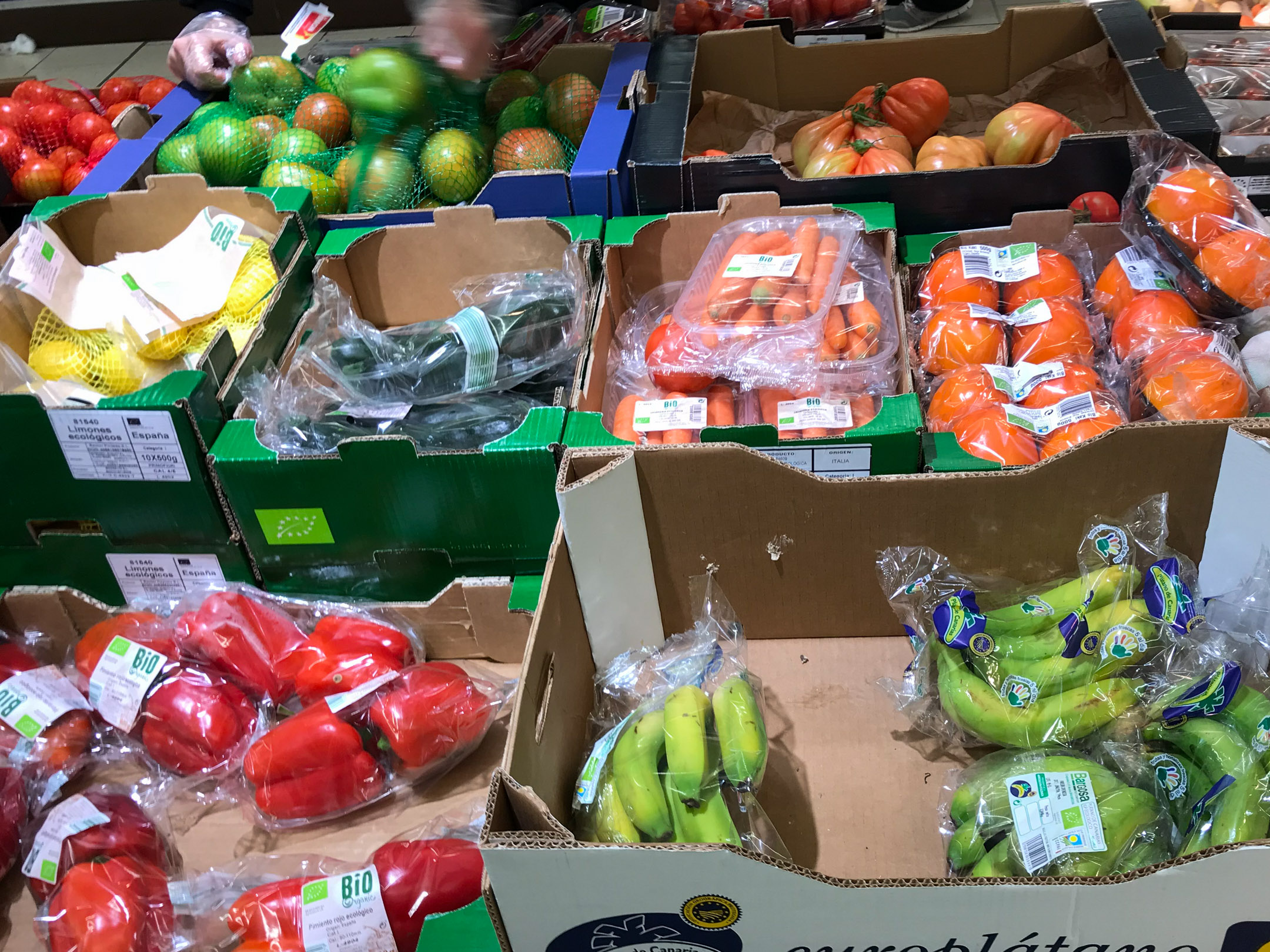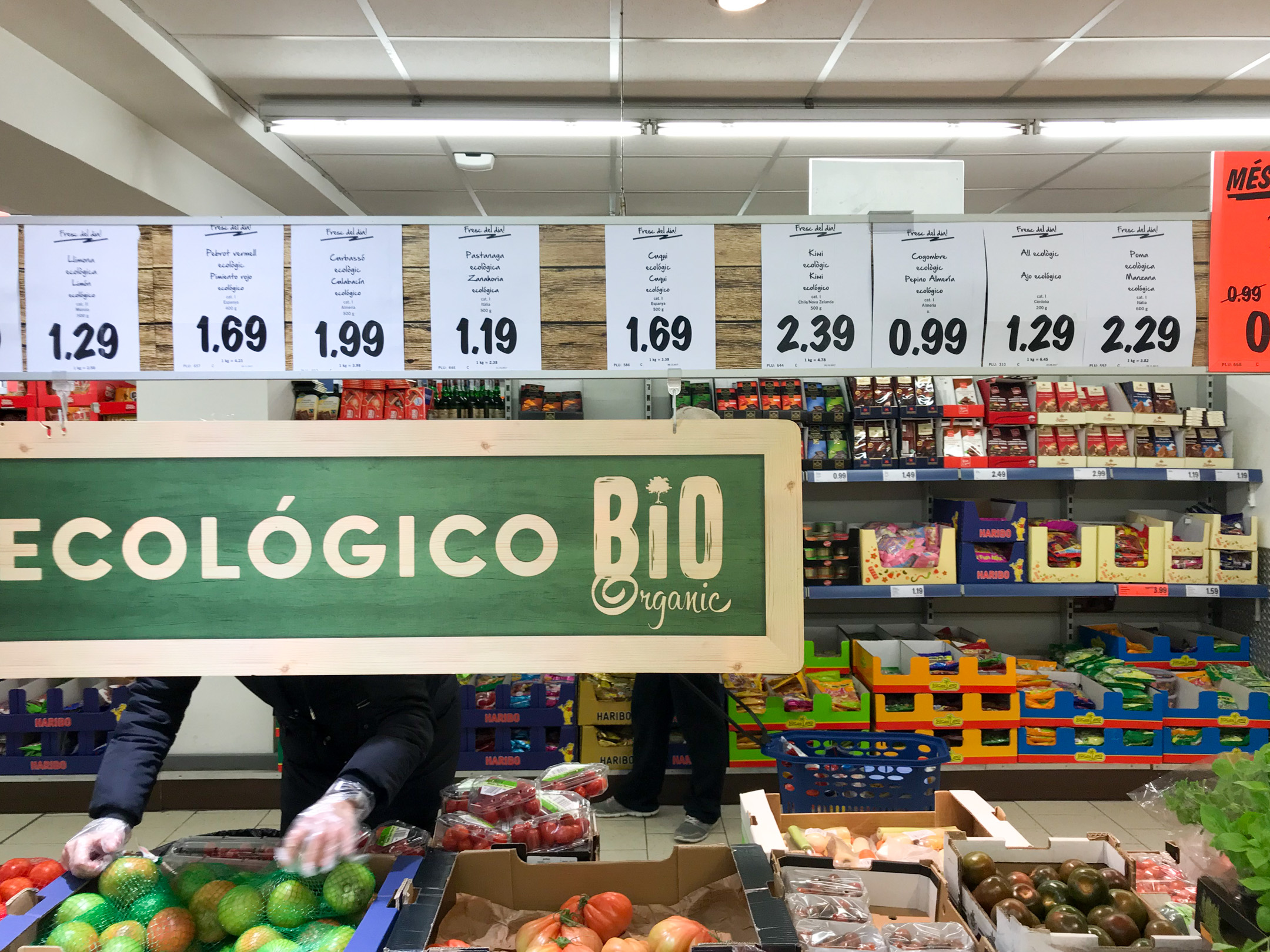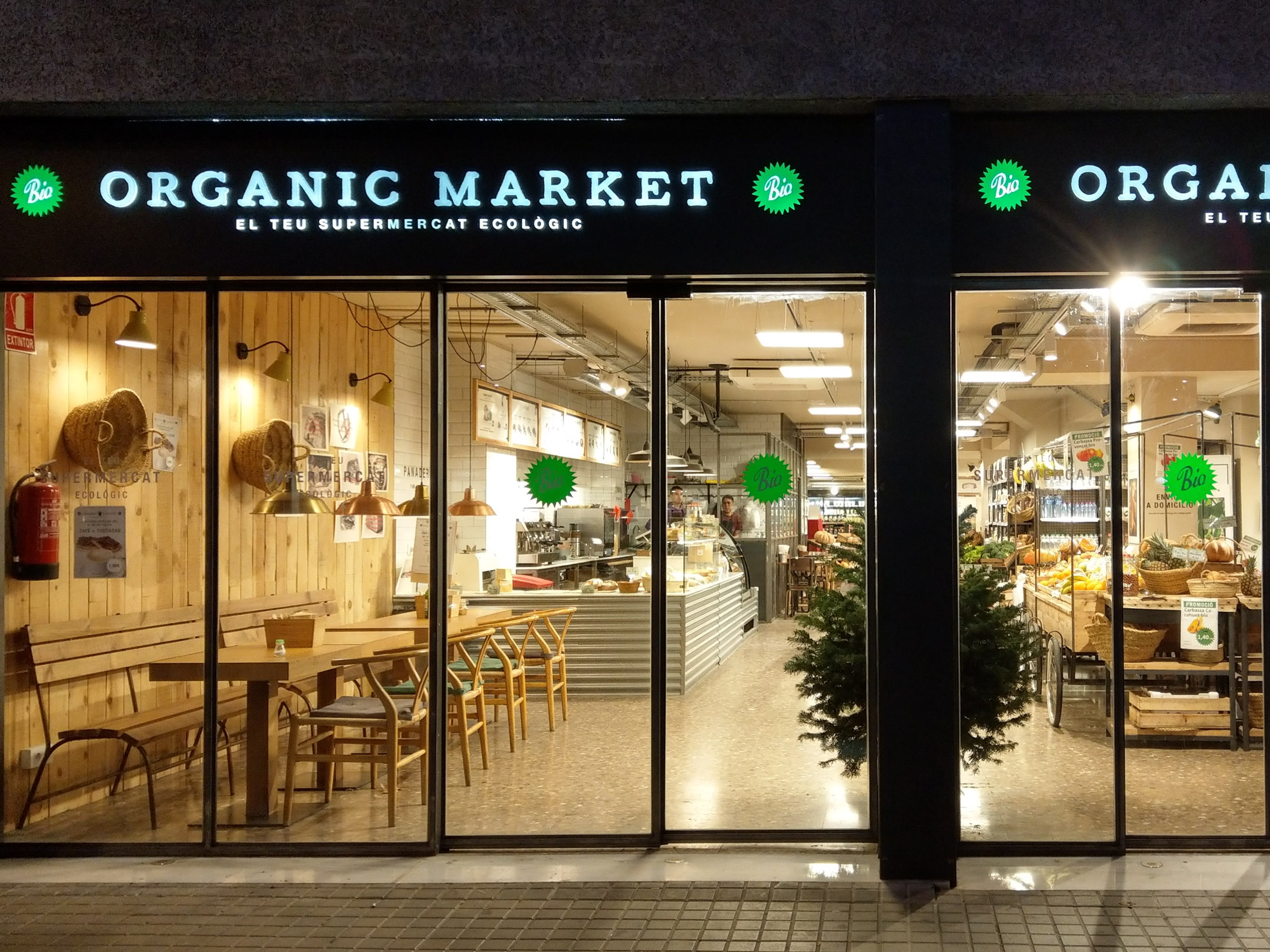 Organic Market
A large beautiful store. Fruits, veggies, all kinds of organic products. We found raw vegan chocolate here.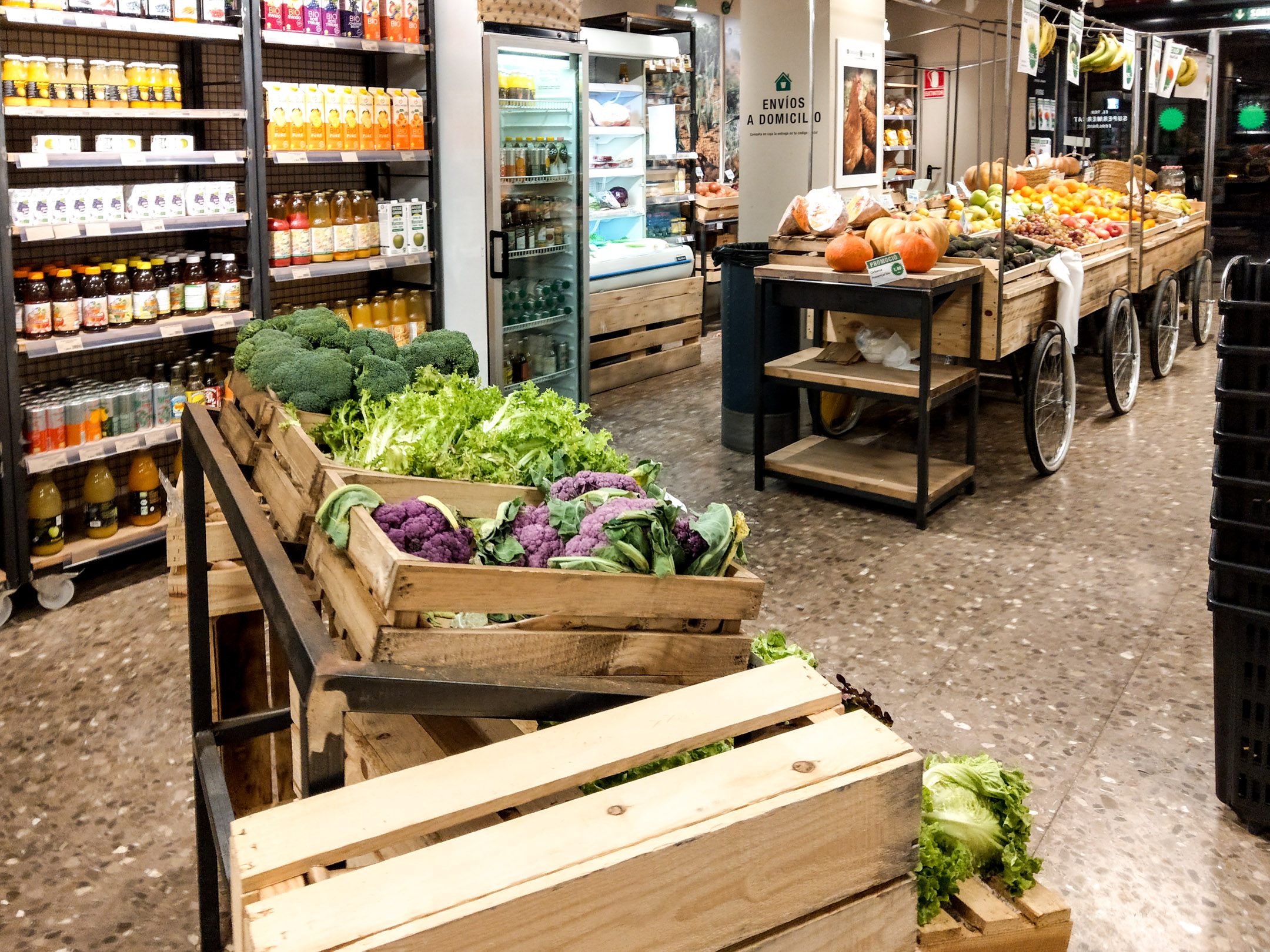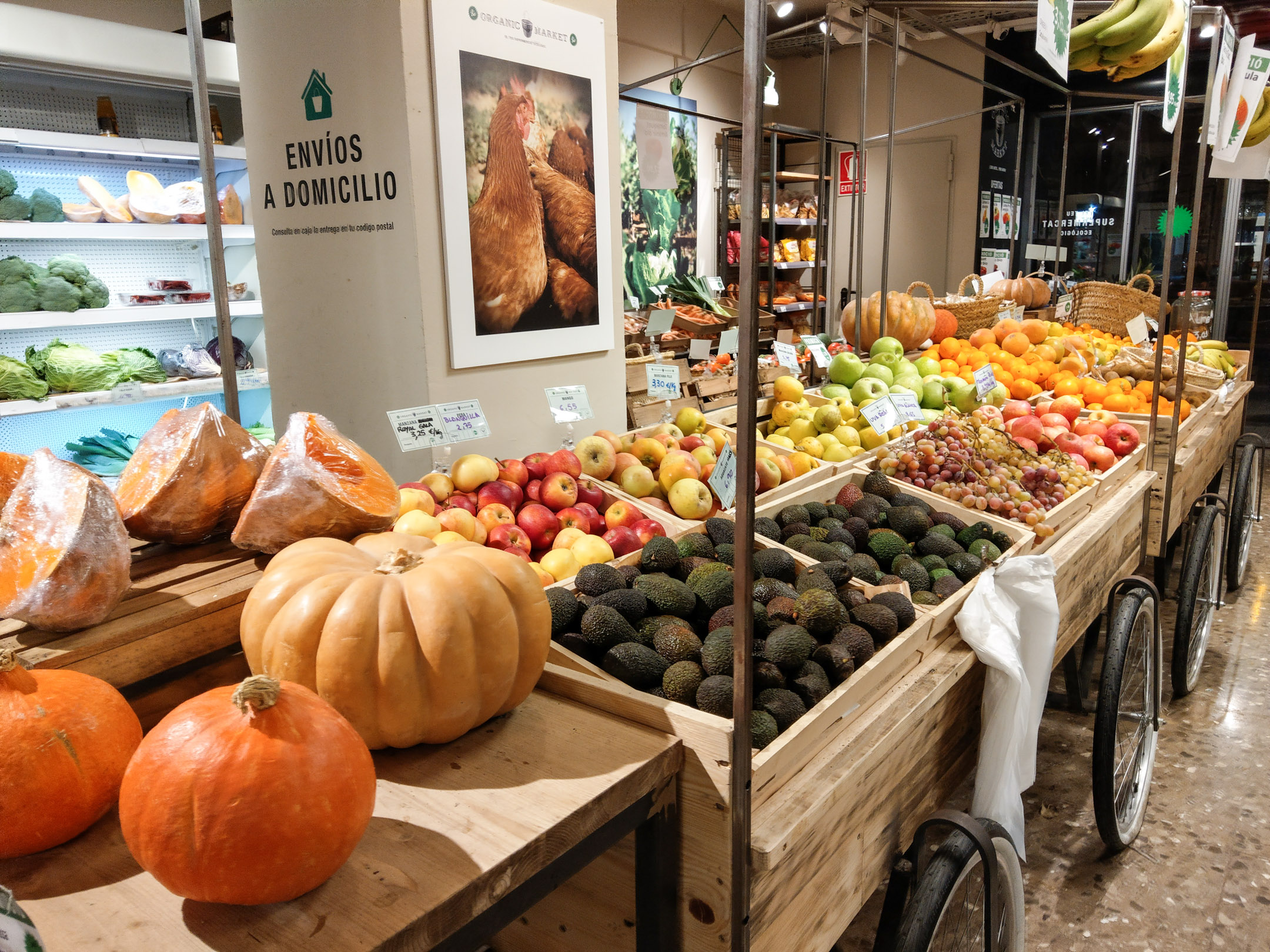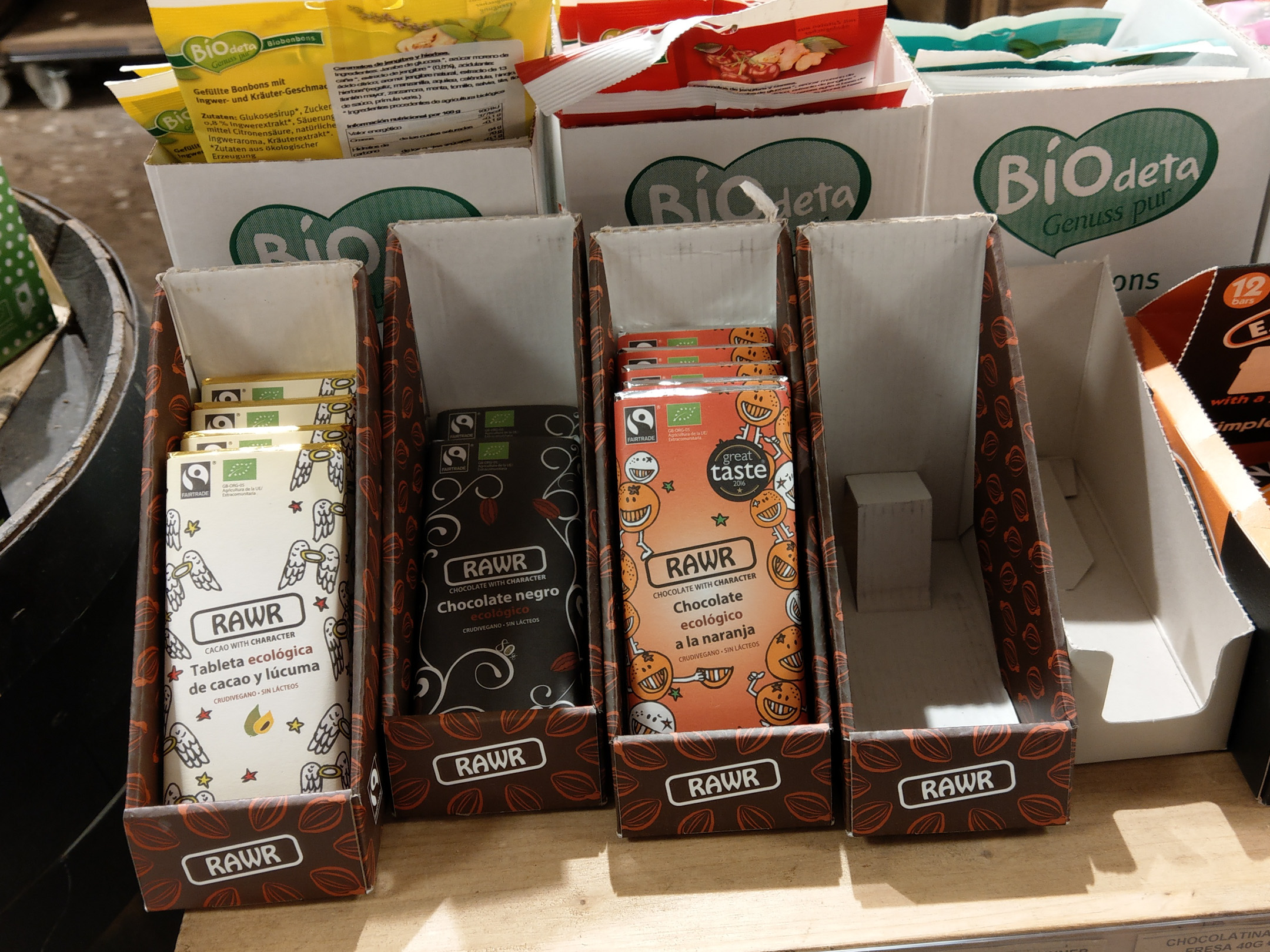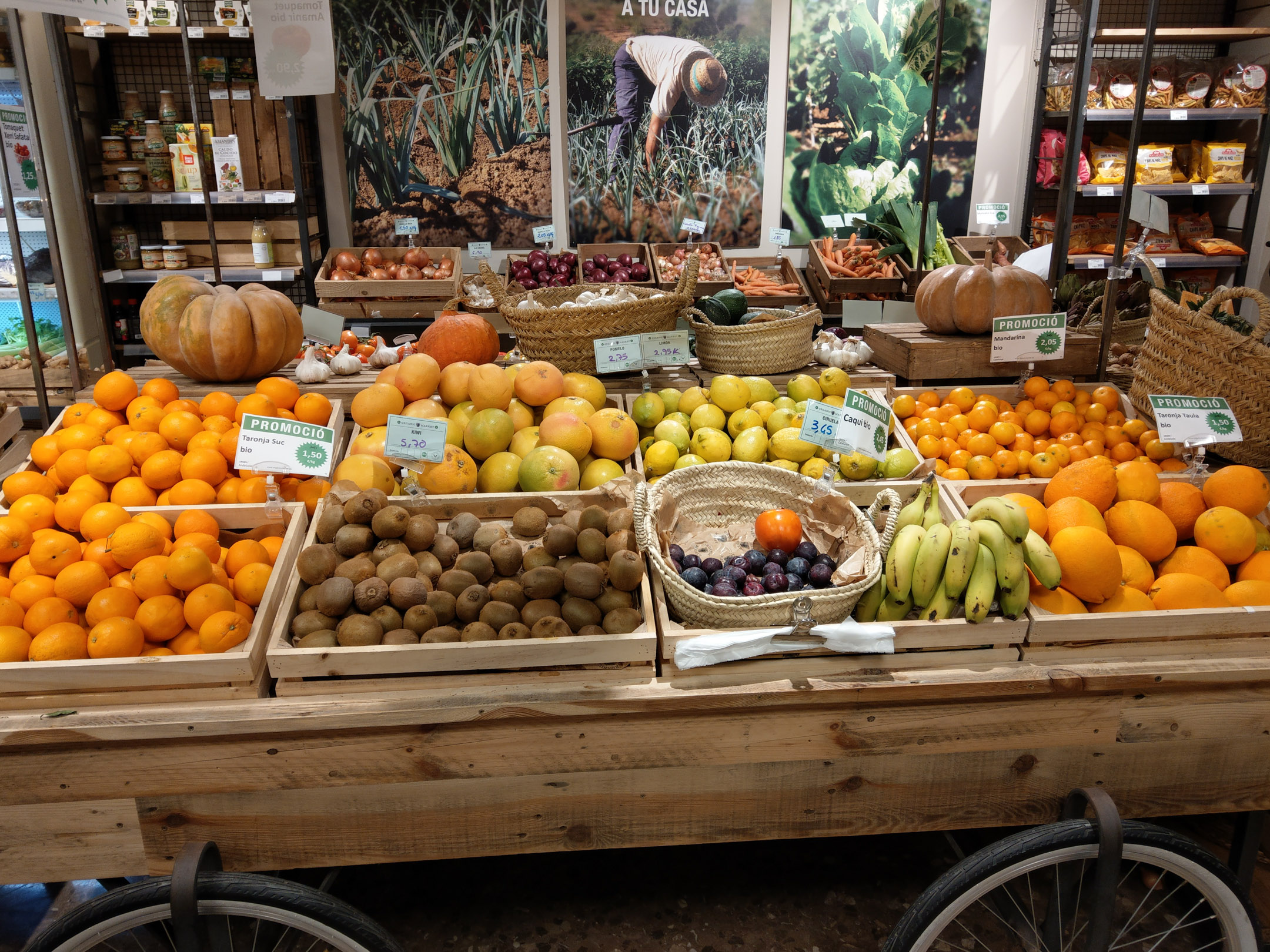 Subscribe to the newsletter!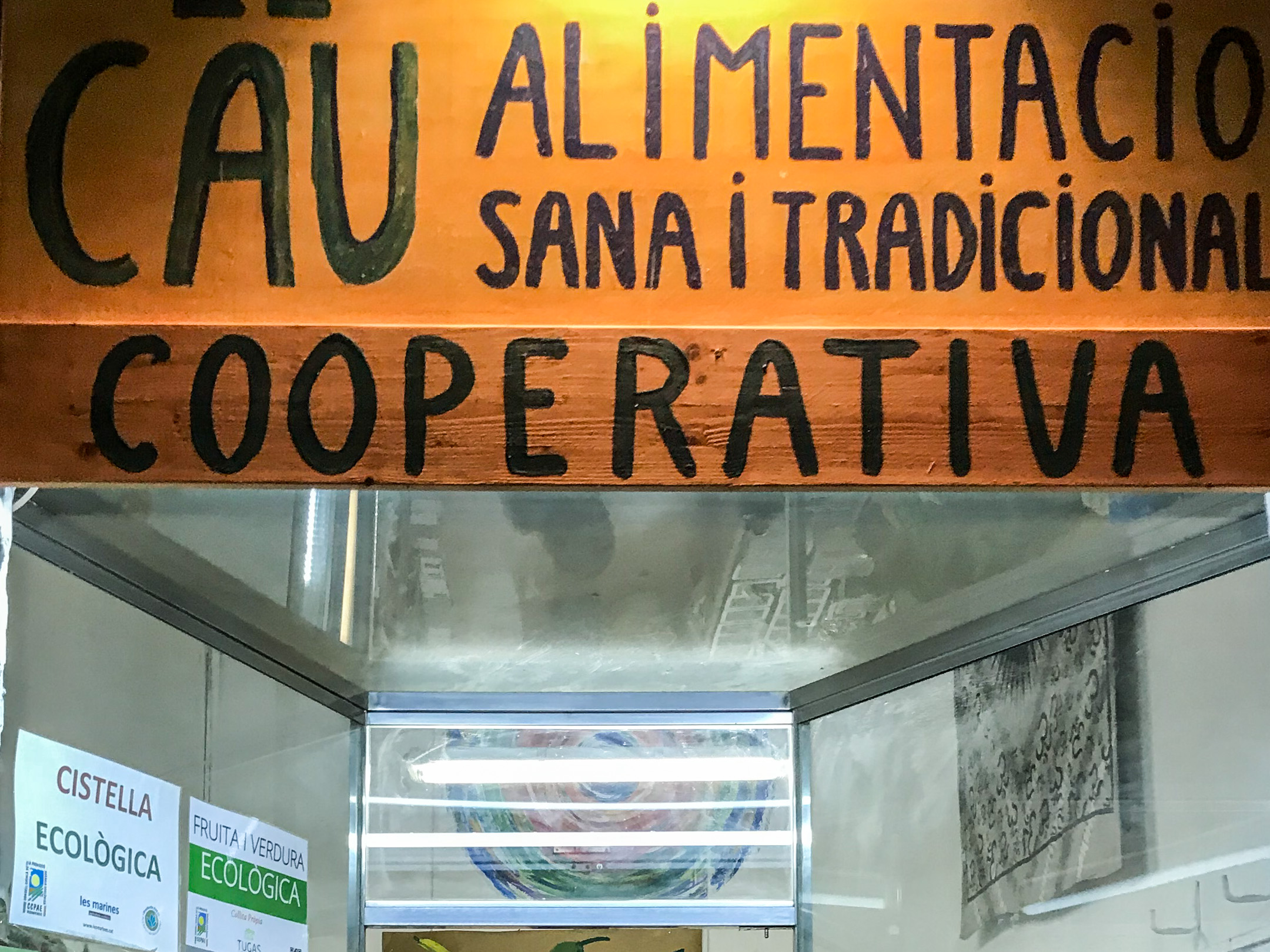 El Cau Cooperativa
A fantastic local produce store. We couldn't shop here often, it was to far from where we lived, but if we stay nearby the next time, we definitely go there regularly! Fresh local organic produce and the prices are good too.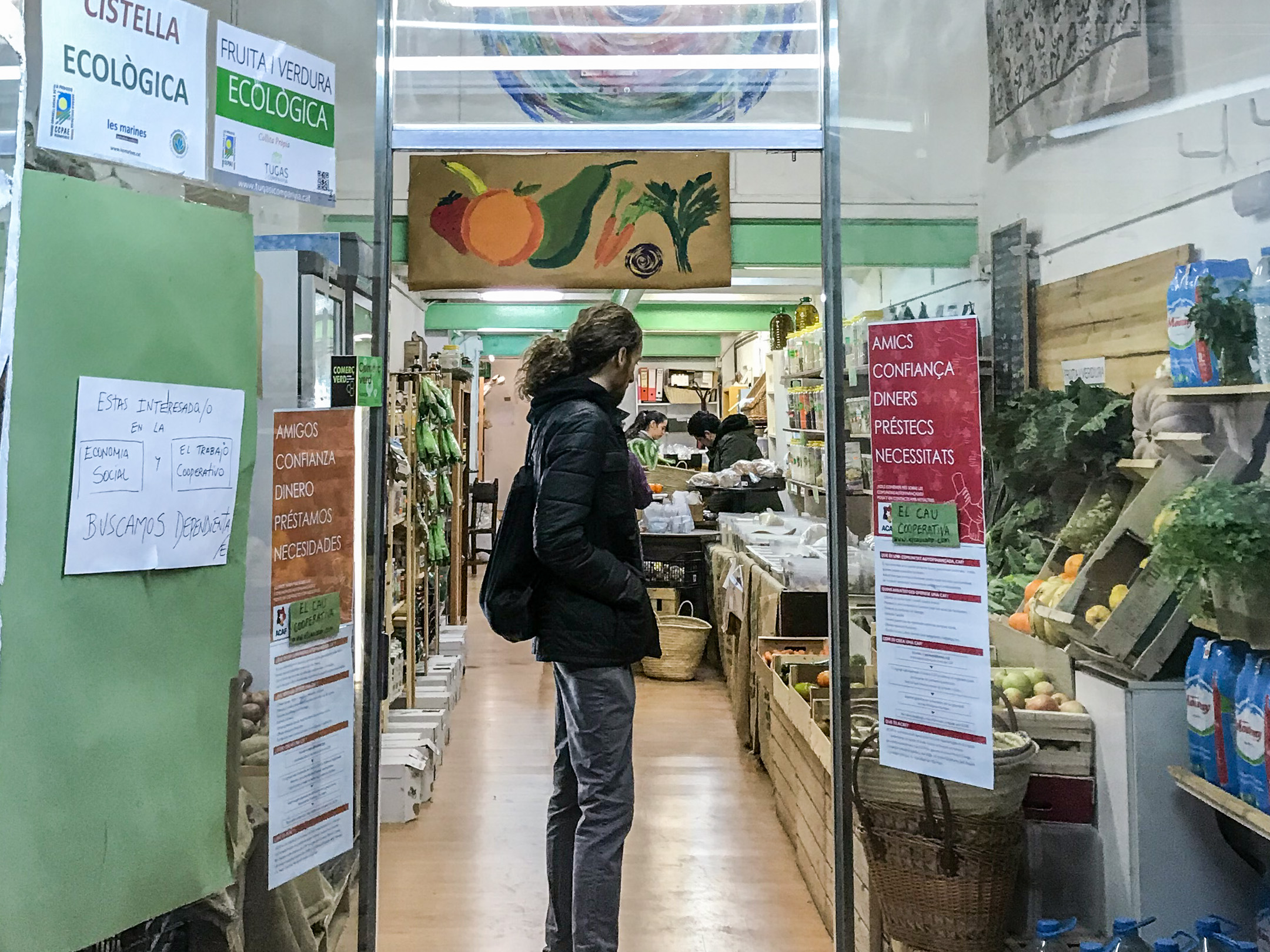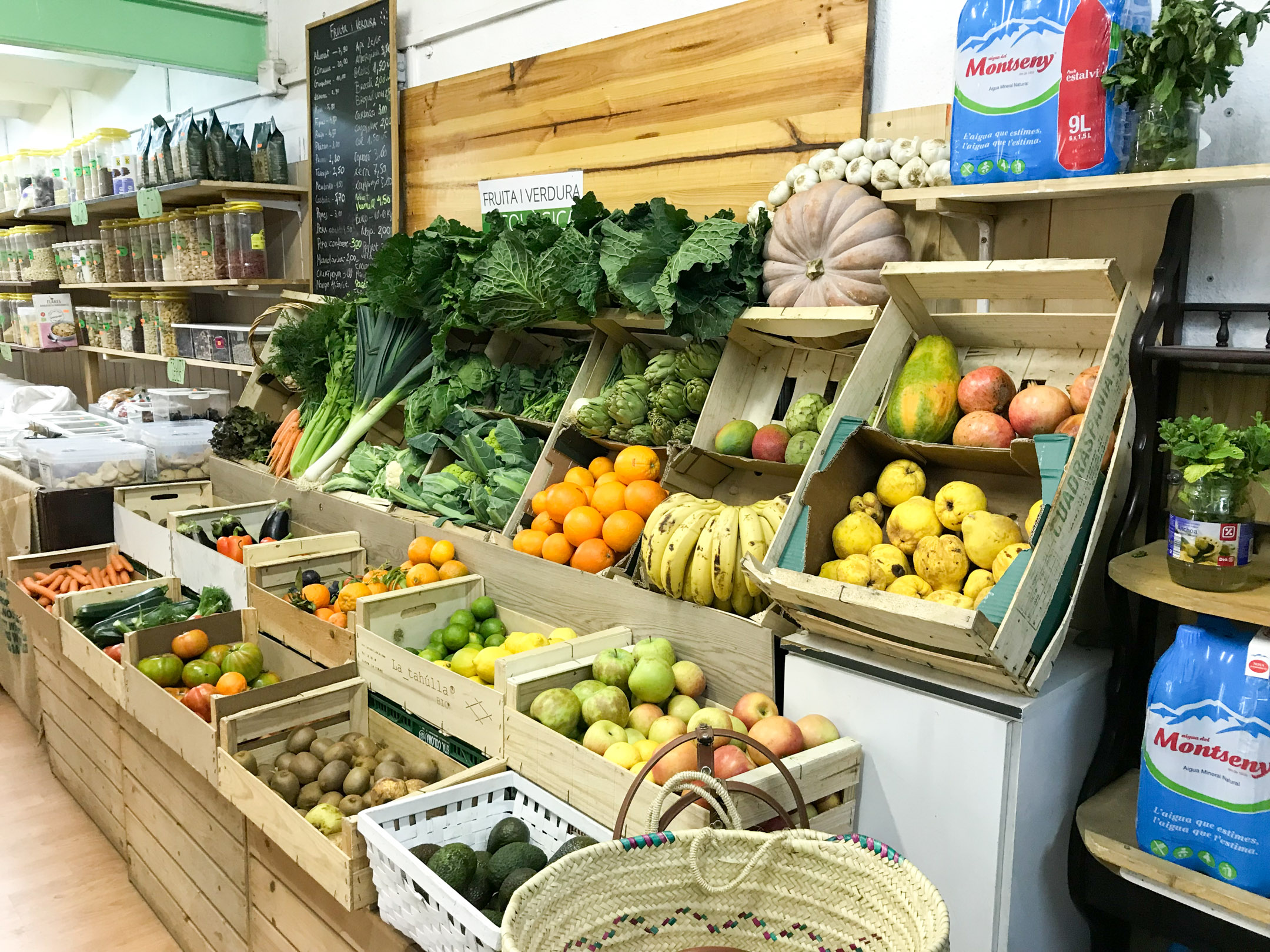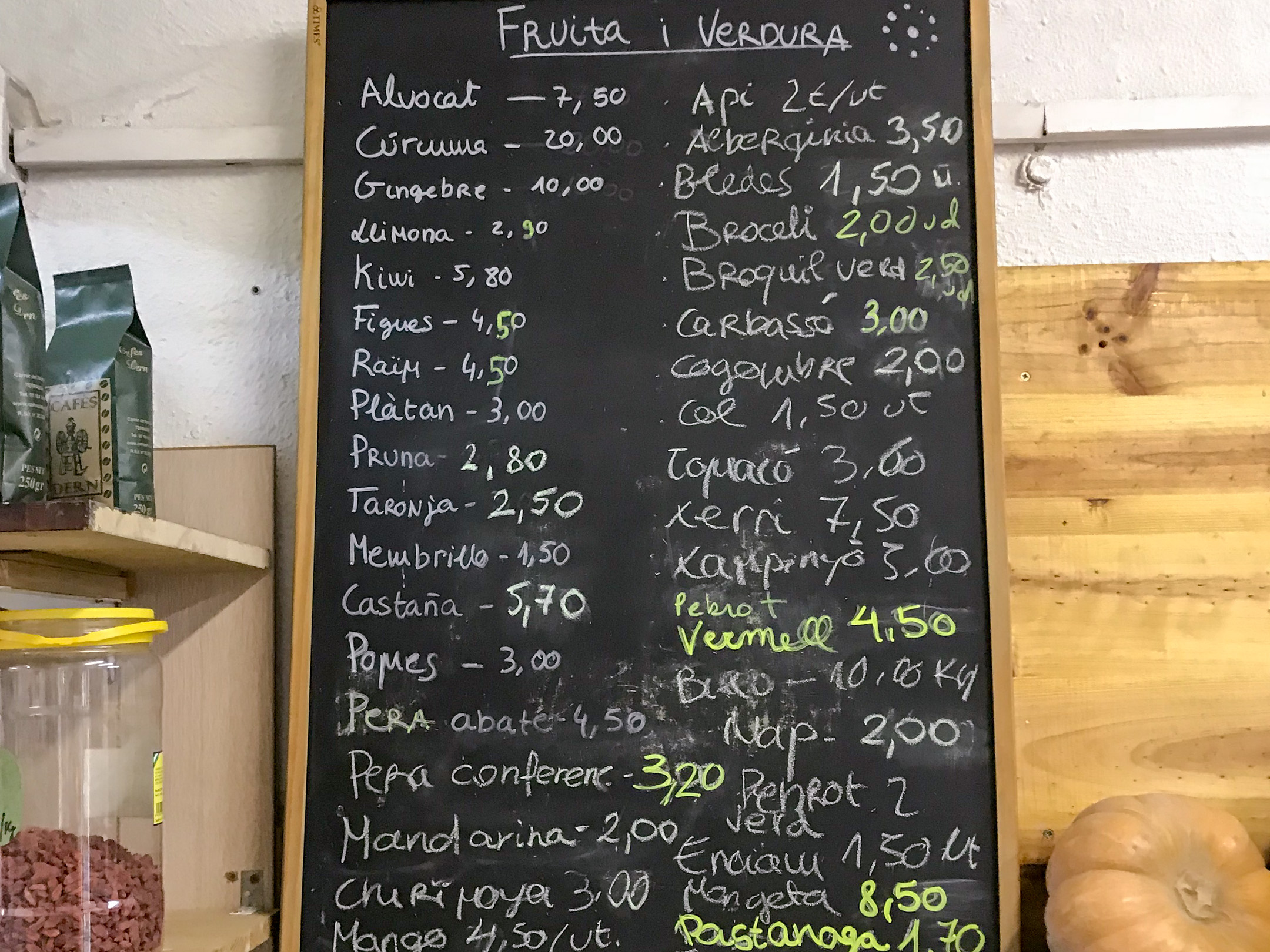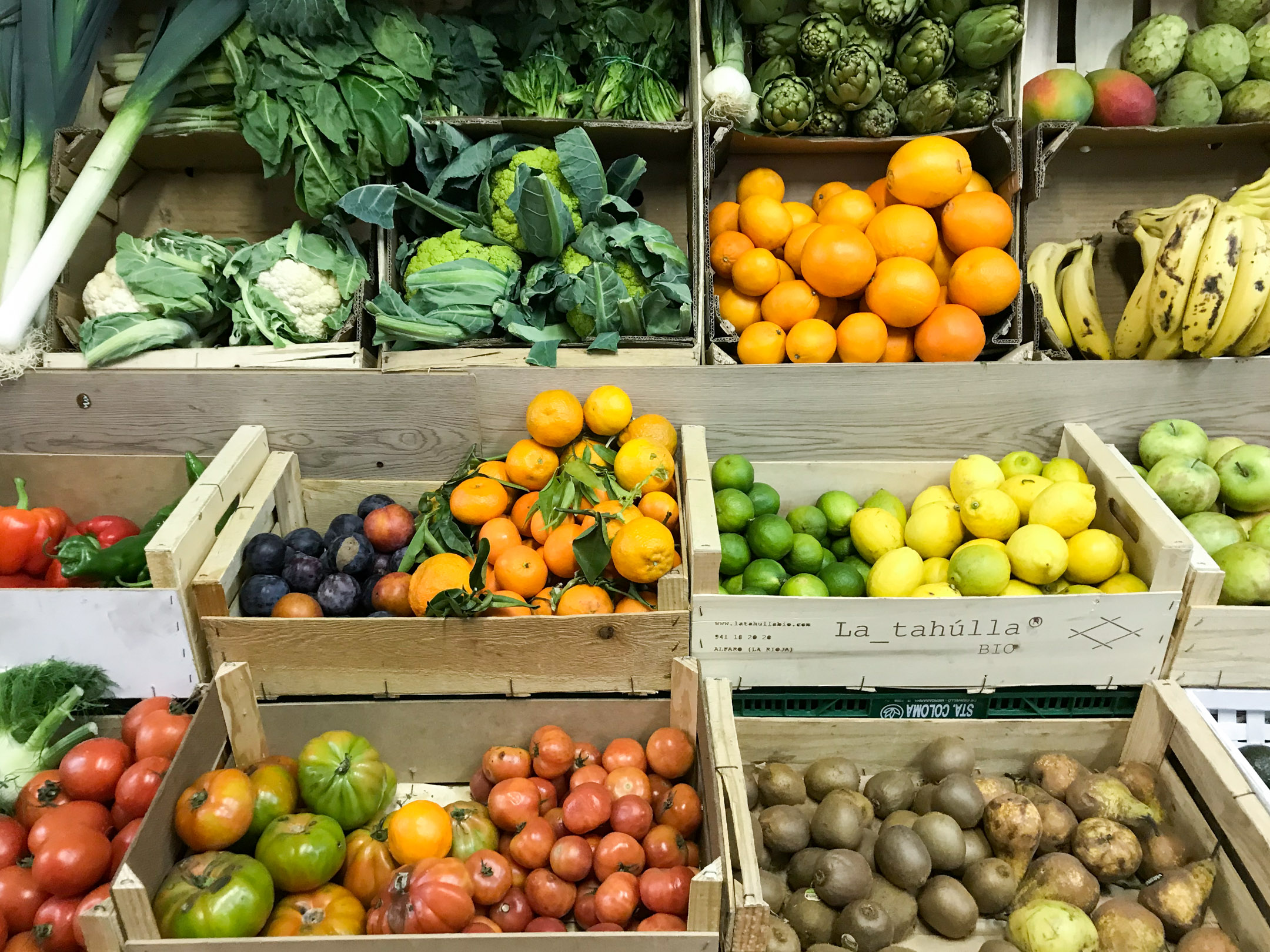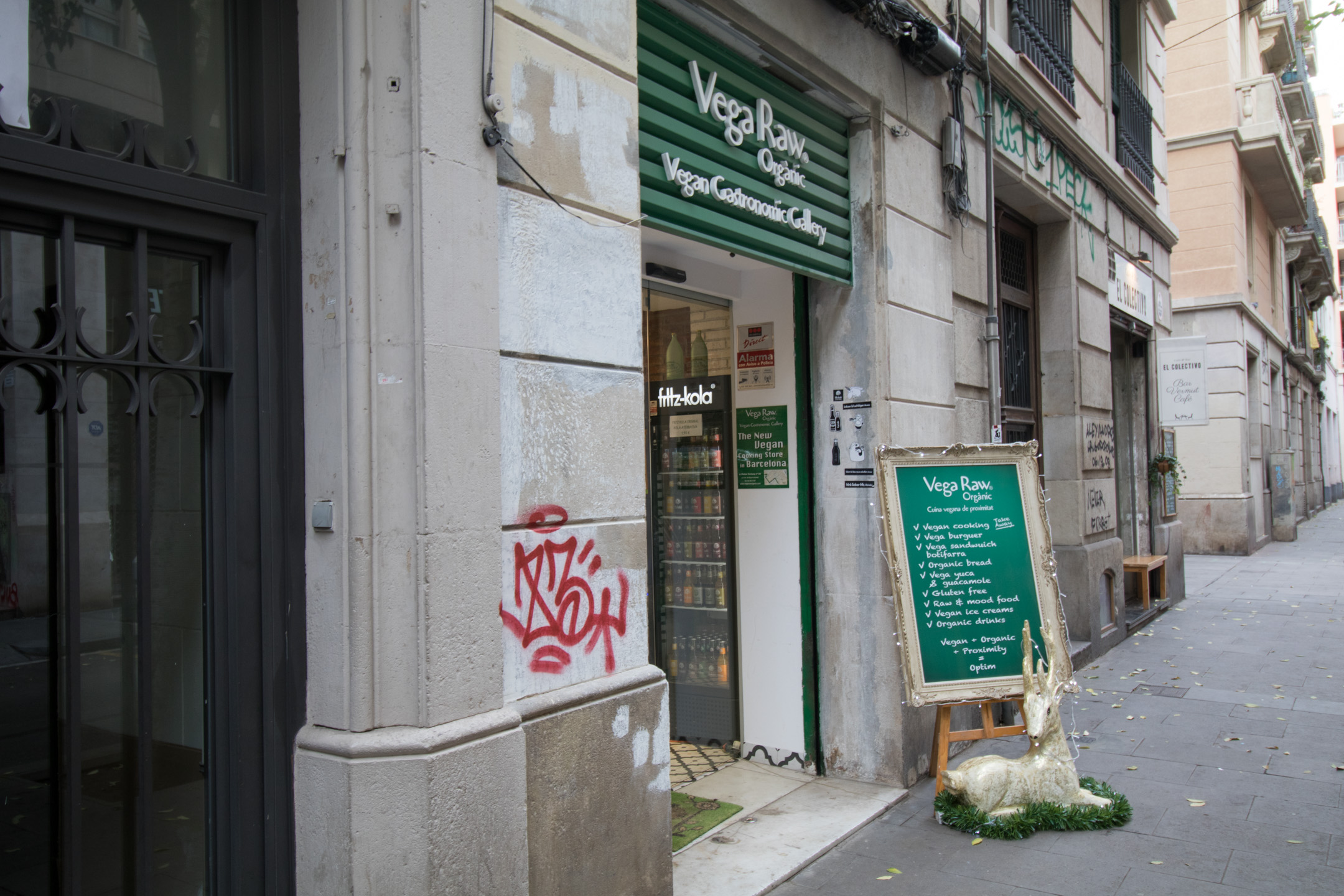 Vega Raw Orgànic
A vegan store with a restaurant. Lots of to-go options and ice cream. Some raw vegan snack.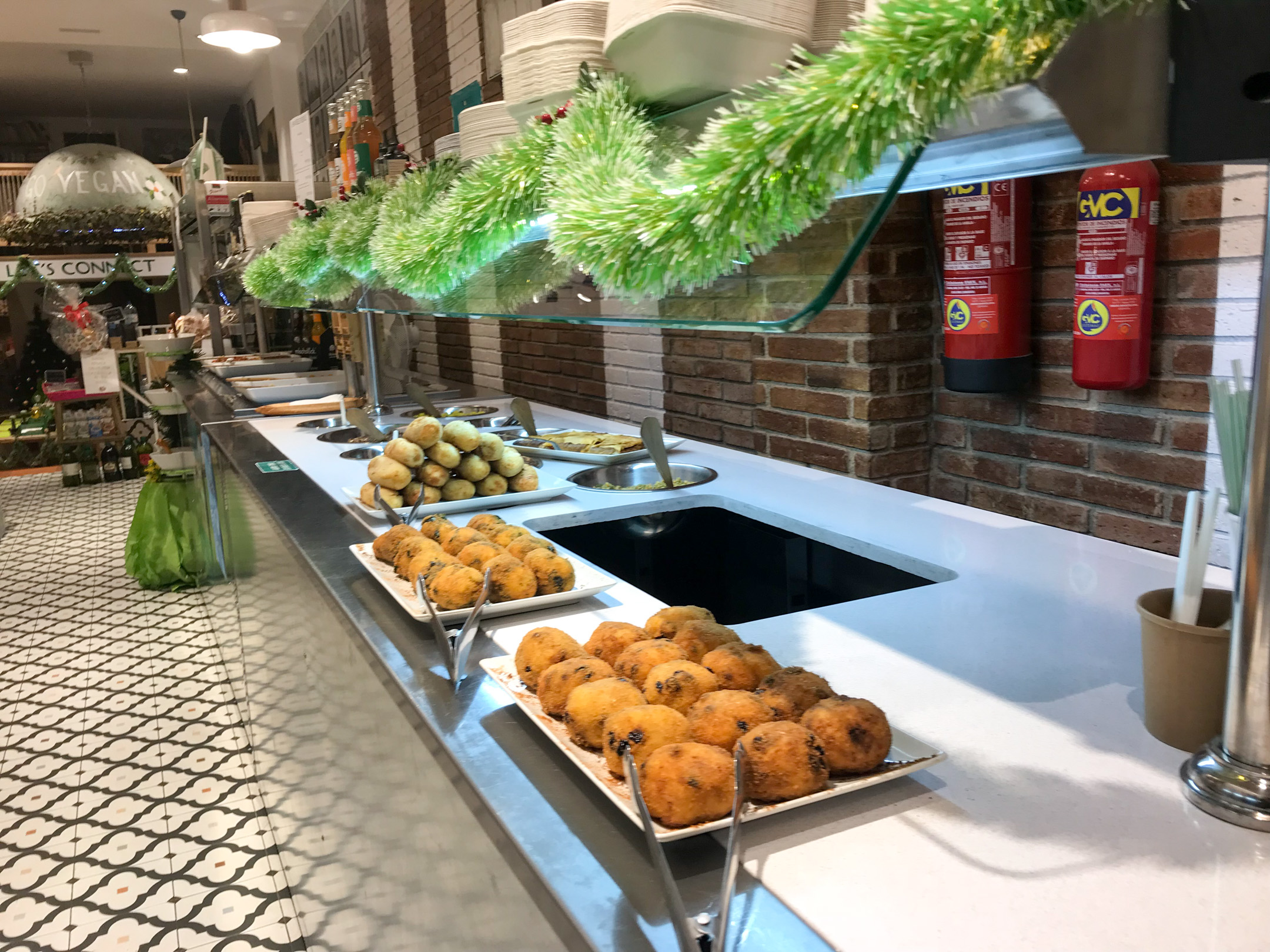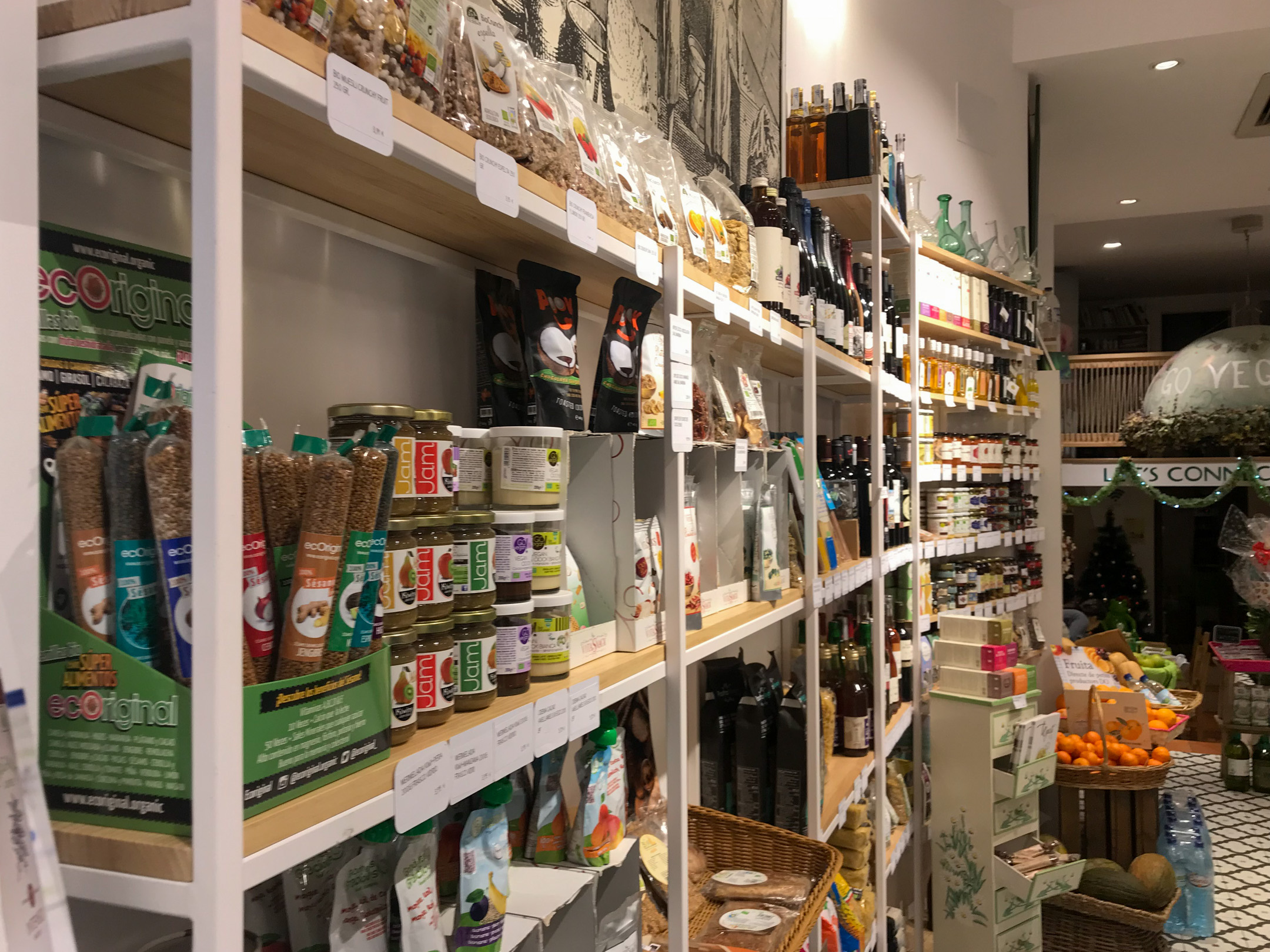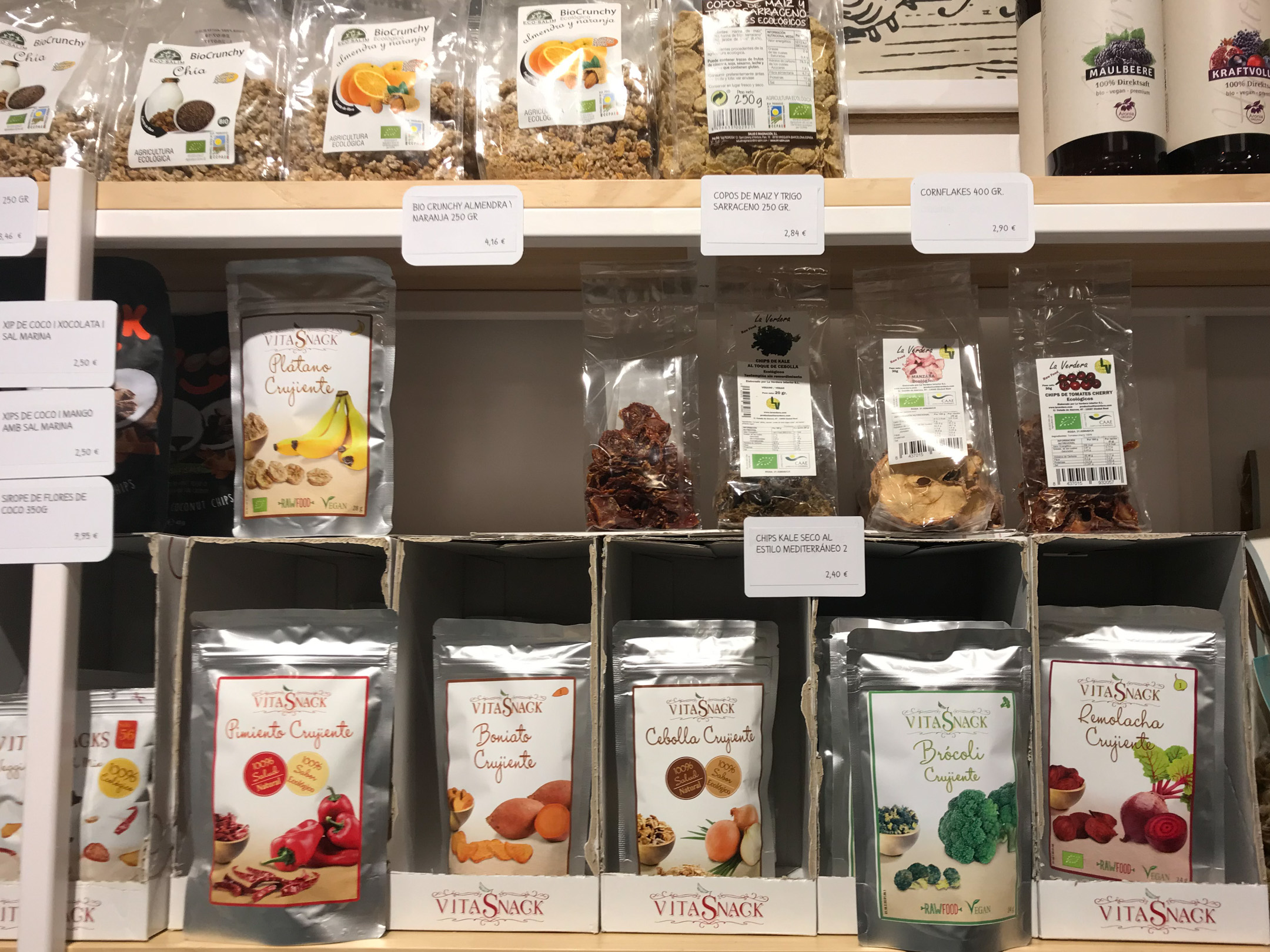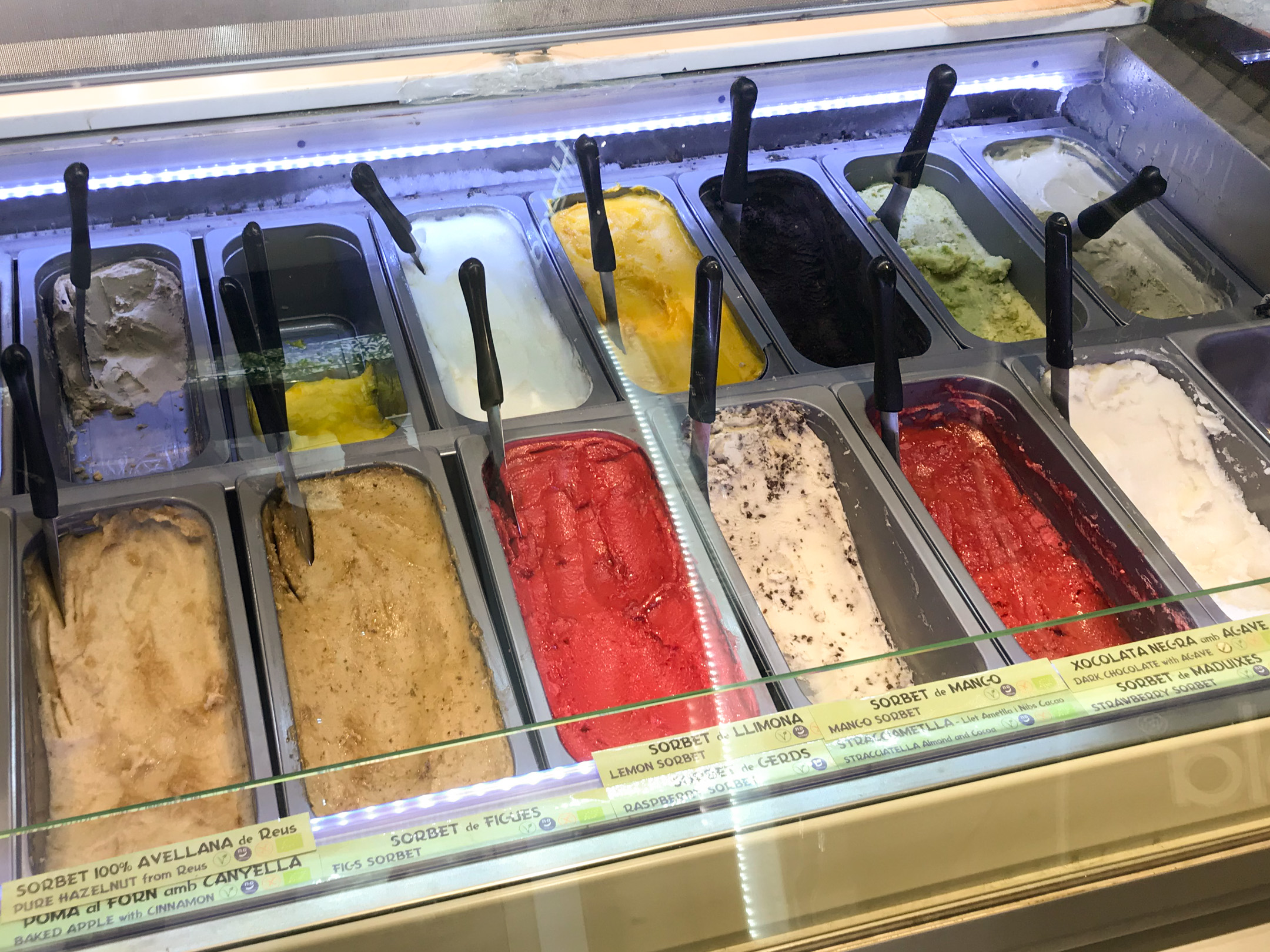 Thank you so much for reading.
If you found this interesting or helpful and would like to give back, I would be more than happy to receive one virtual smoothie from you.You can paypal me one right
here
.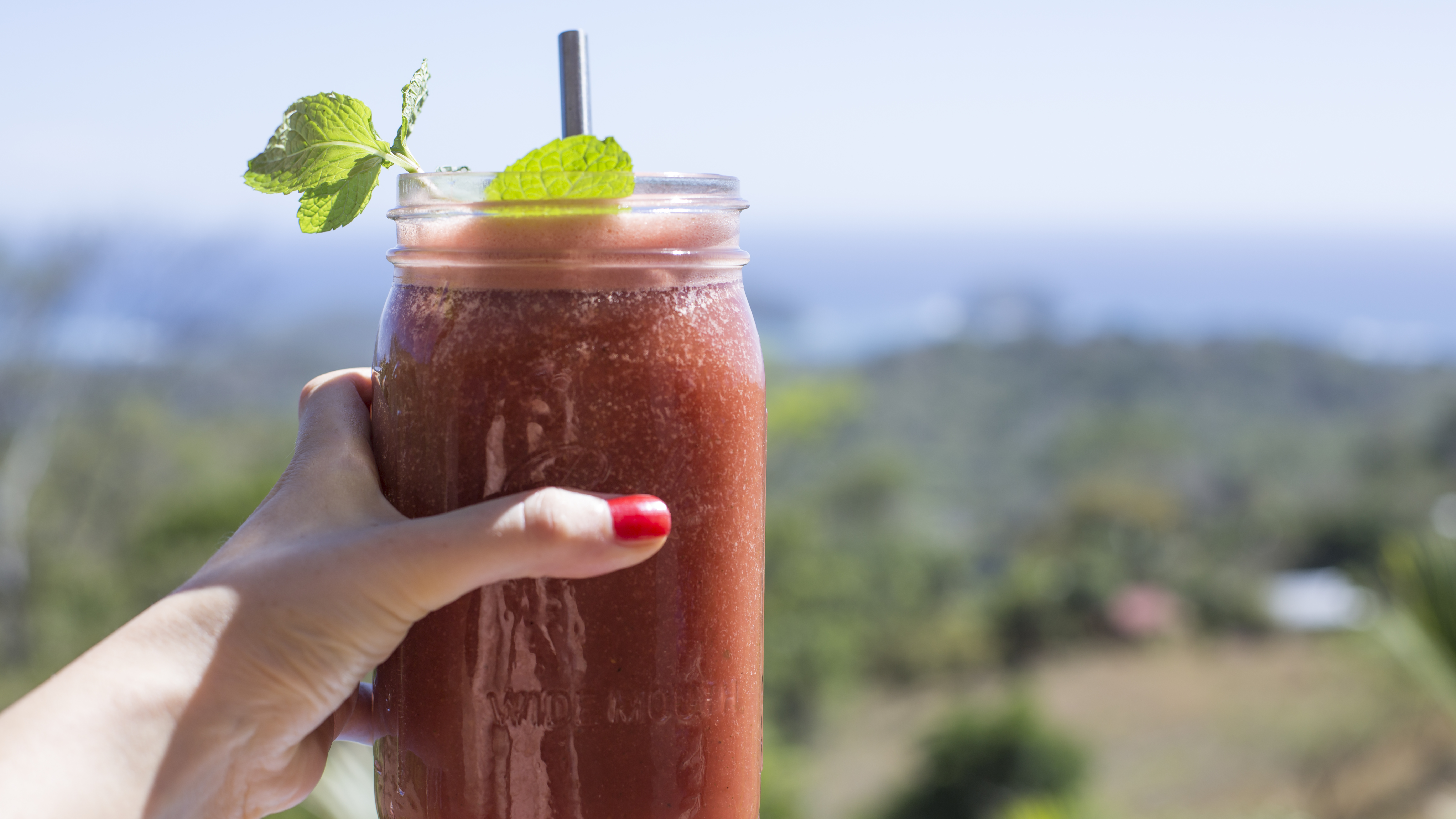 Thank you so much for being here. Hope to see you again, soon. Much love, Ina.
Best art museums in Barcelona
Fundació Joan Miró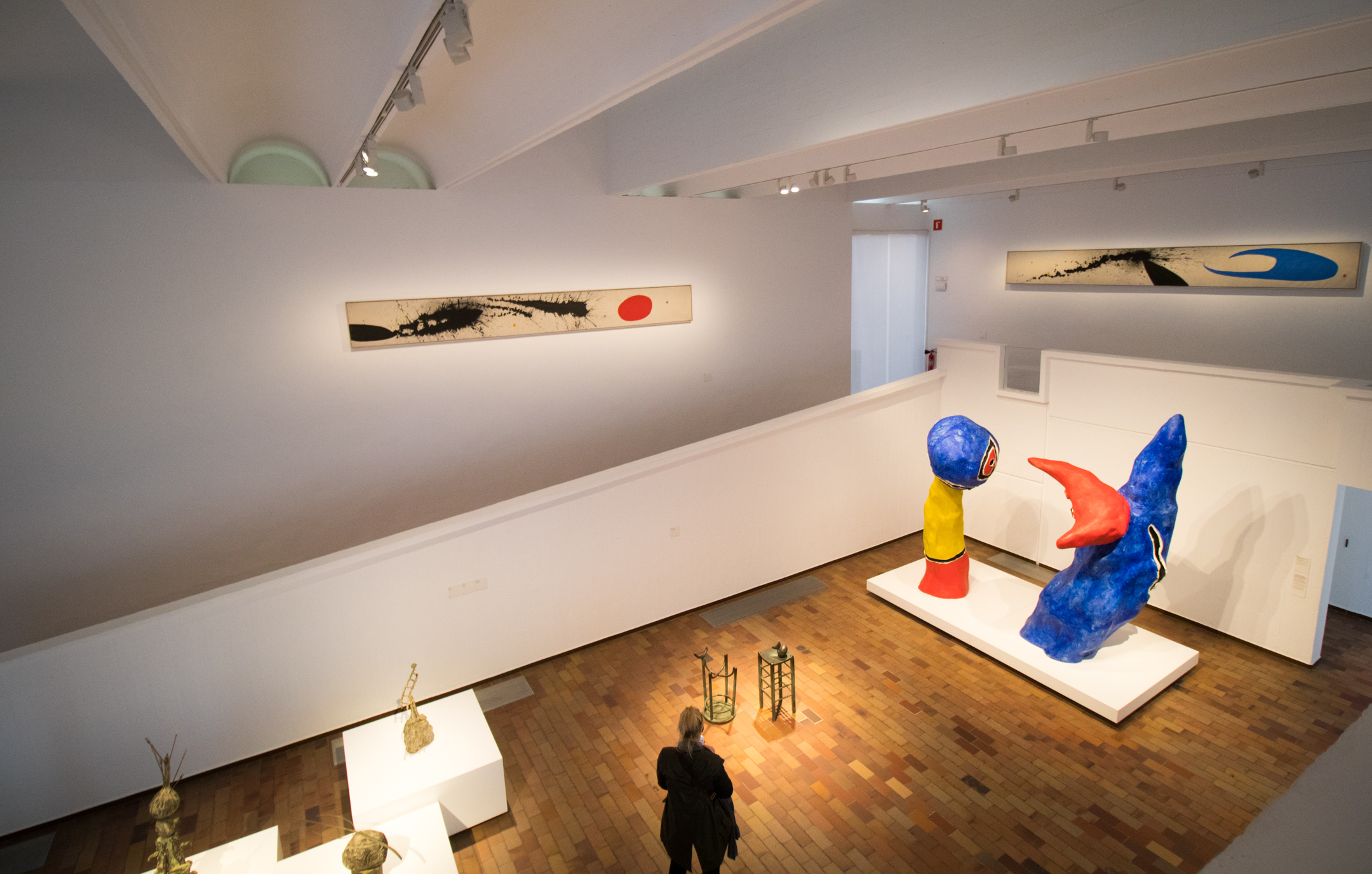 Created by Miró himself, Fundació Joan Miró offers an incredible overview of Miró's art throughout his life. We loved the incredible building, that took us on a long art walk inside and outside.
The museum has an very useful audioguide, it's not free, but totally worth it. It has explanations to many paintings, as well as several walk and supplemental information you will only find out if you play with the audio guide around.
More about my experience and more pictures here.
More information on the museums website.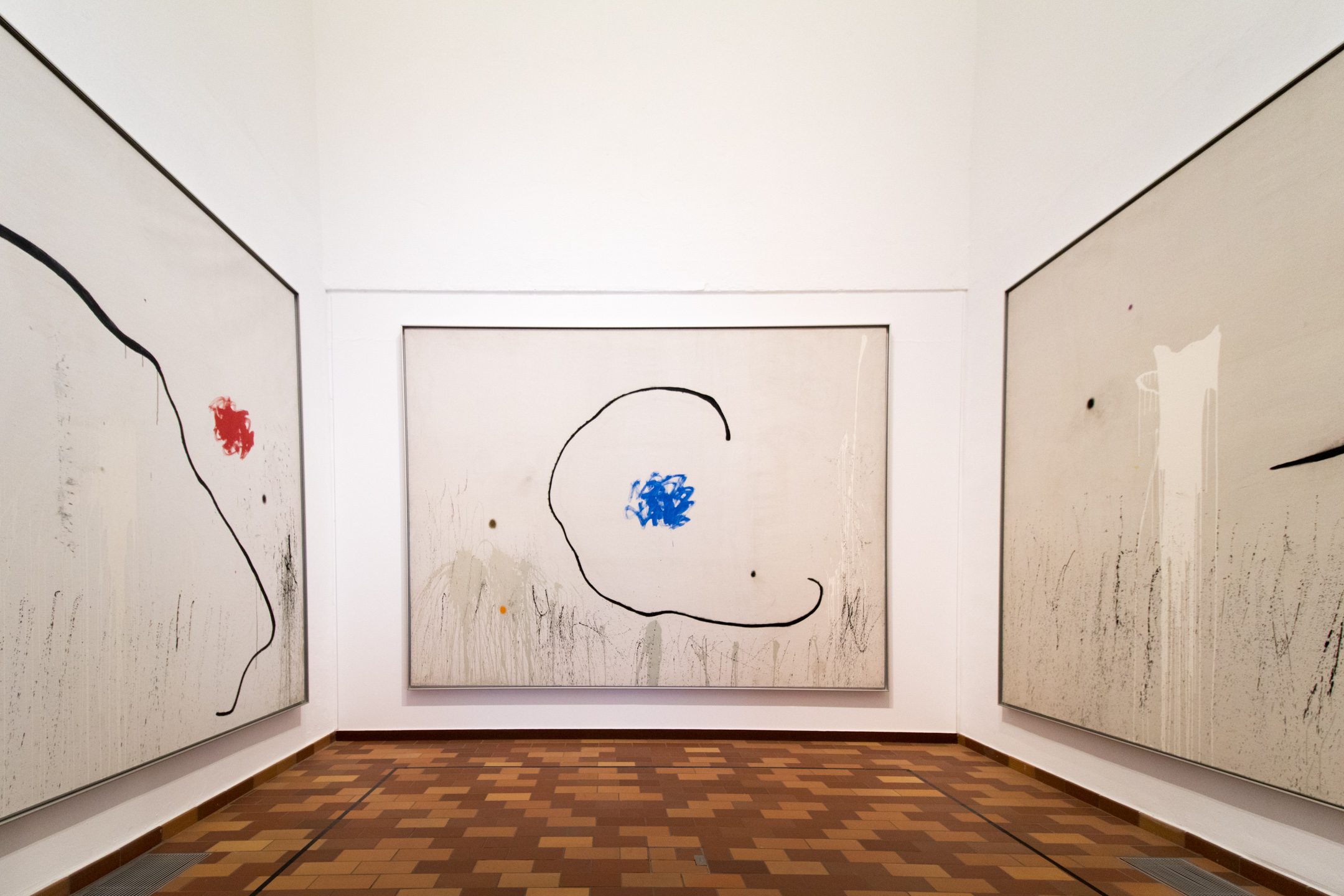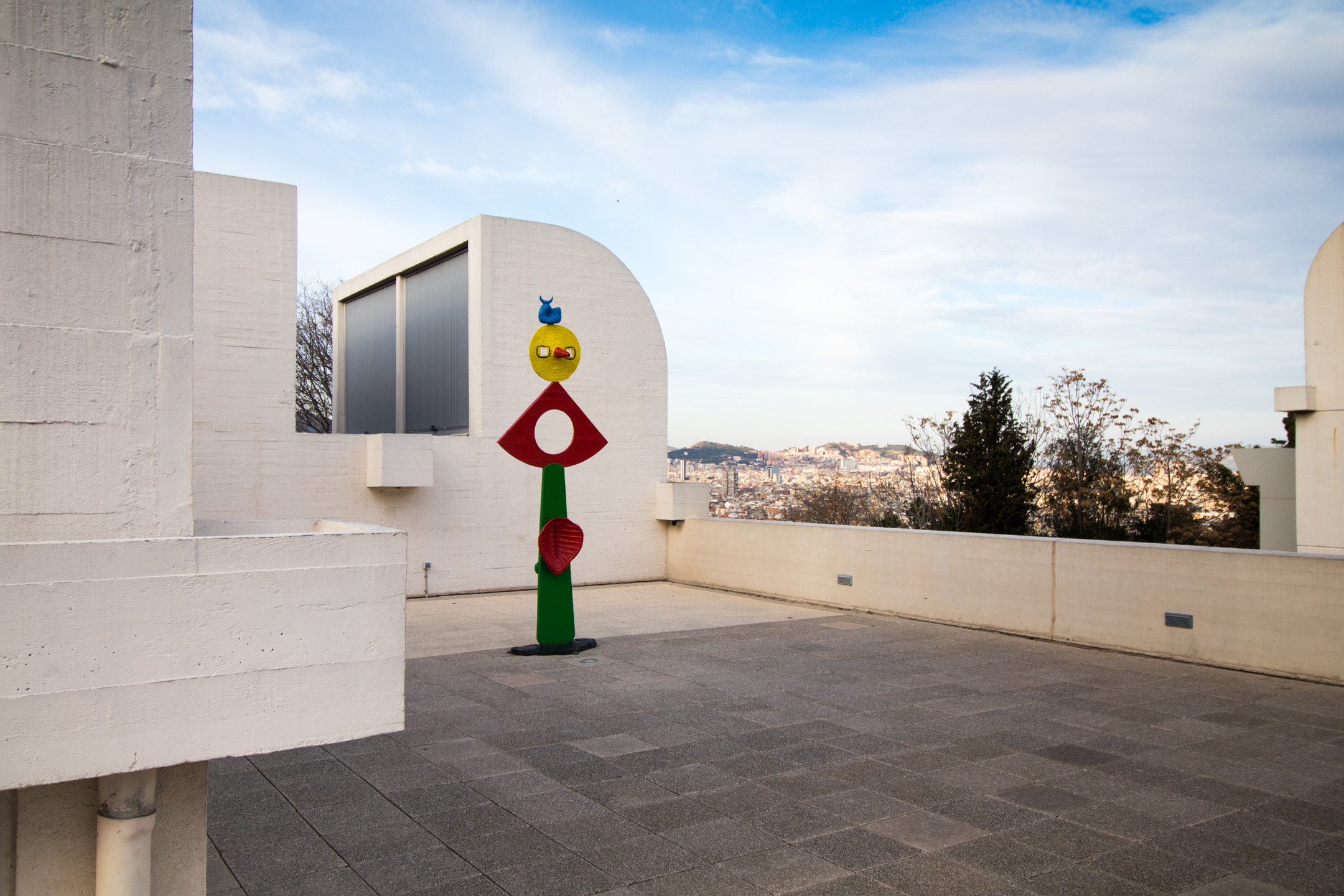 CCCB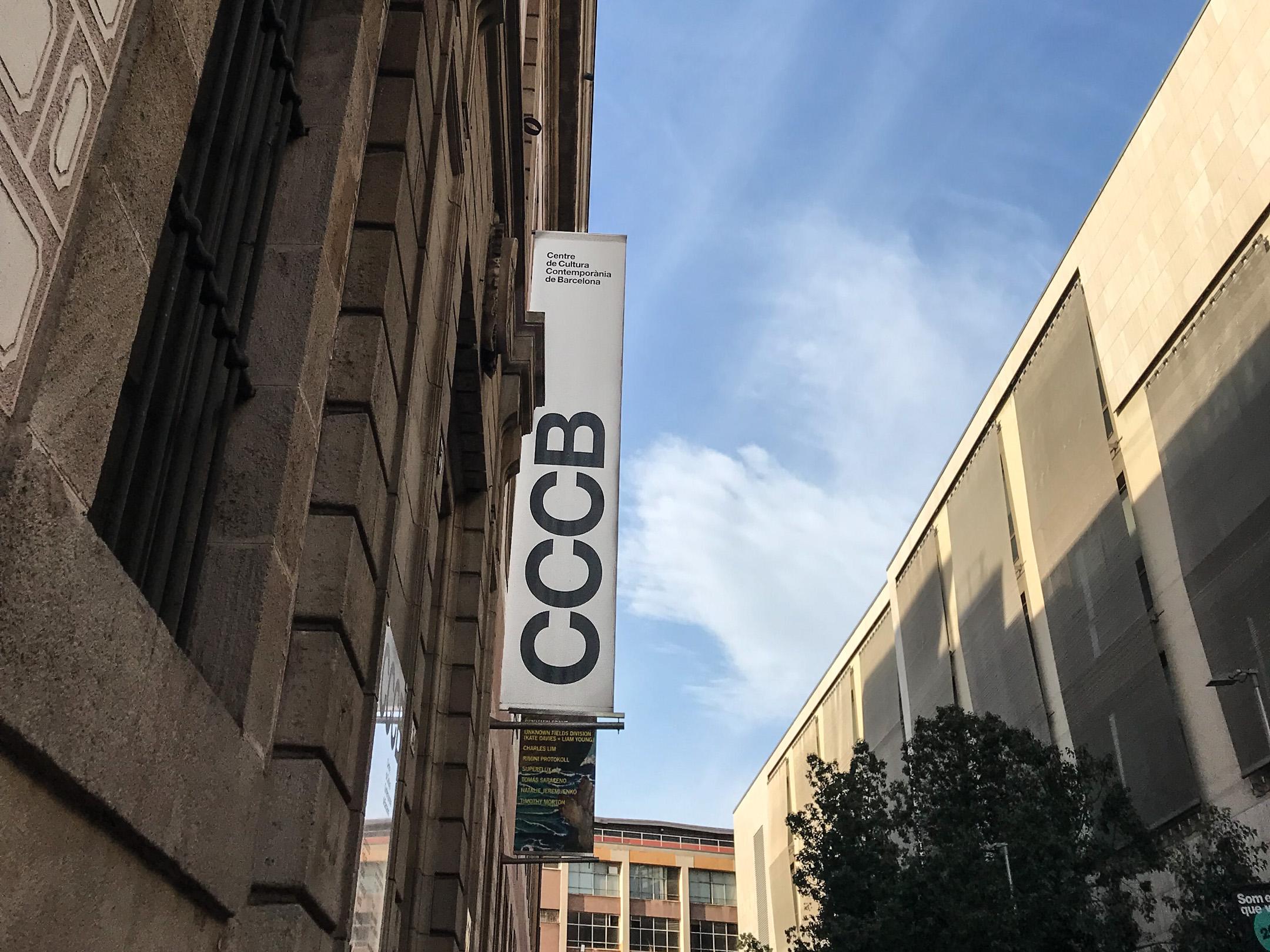 At the Centre de Cultura Contemporània de Barcelona we enjoyed the most insightful multi-media exhibition "After the End of the World" on environmental challenges our planet faces now and will in the future.

More about my experience and more pictures
here
.
More information on the museums website.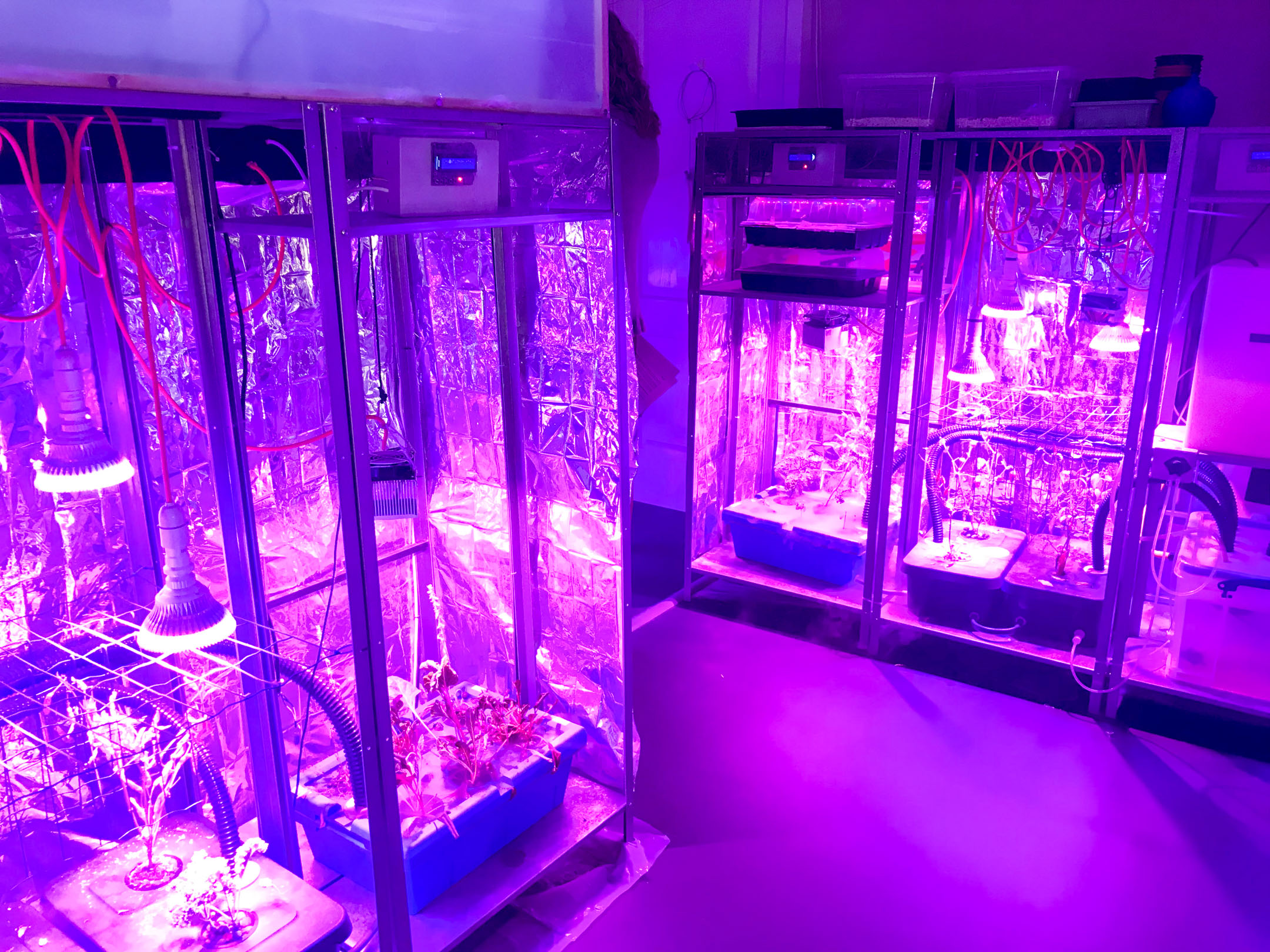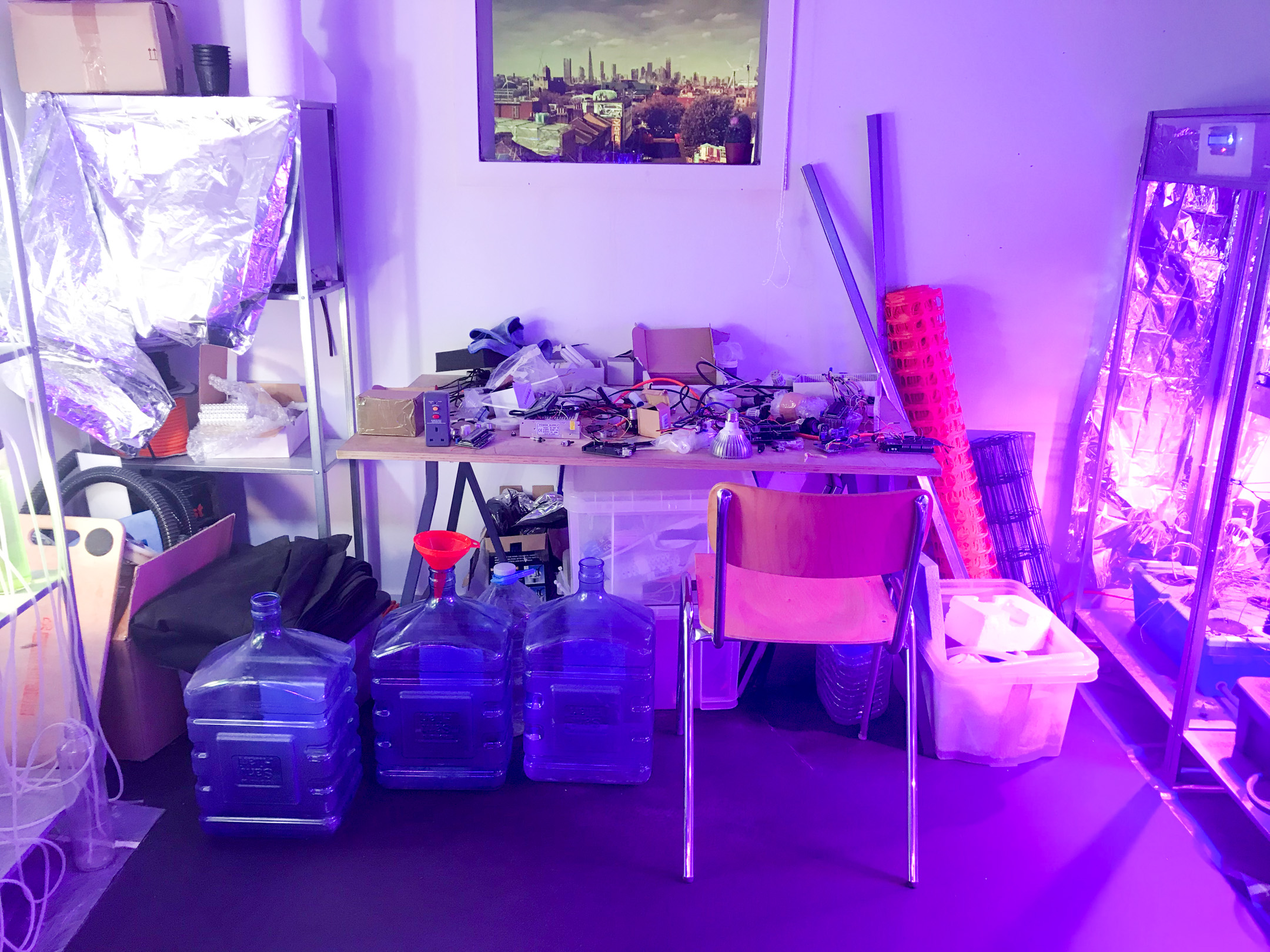 Museu Picasso of Barcelona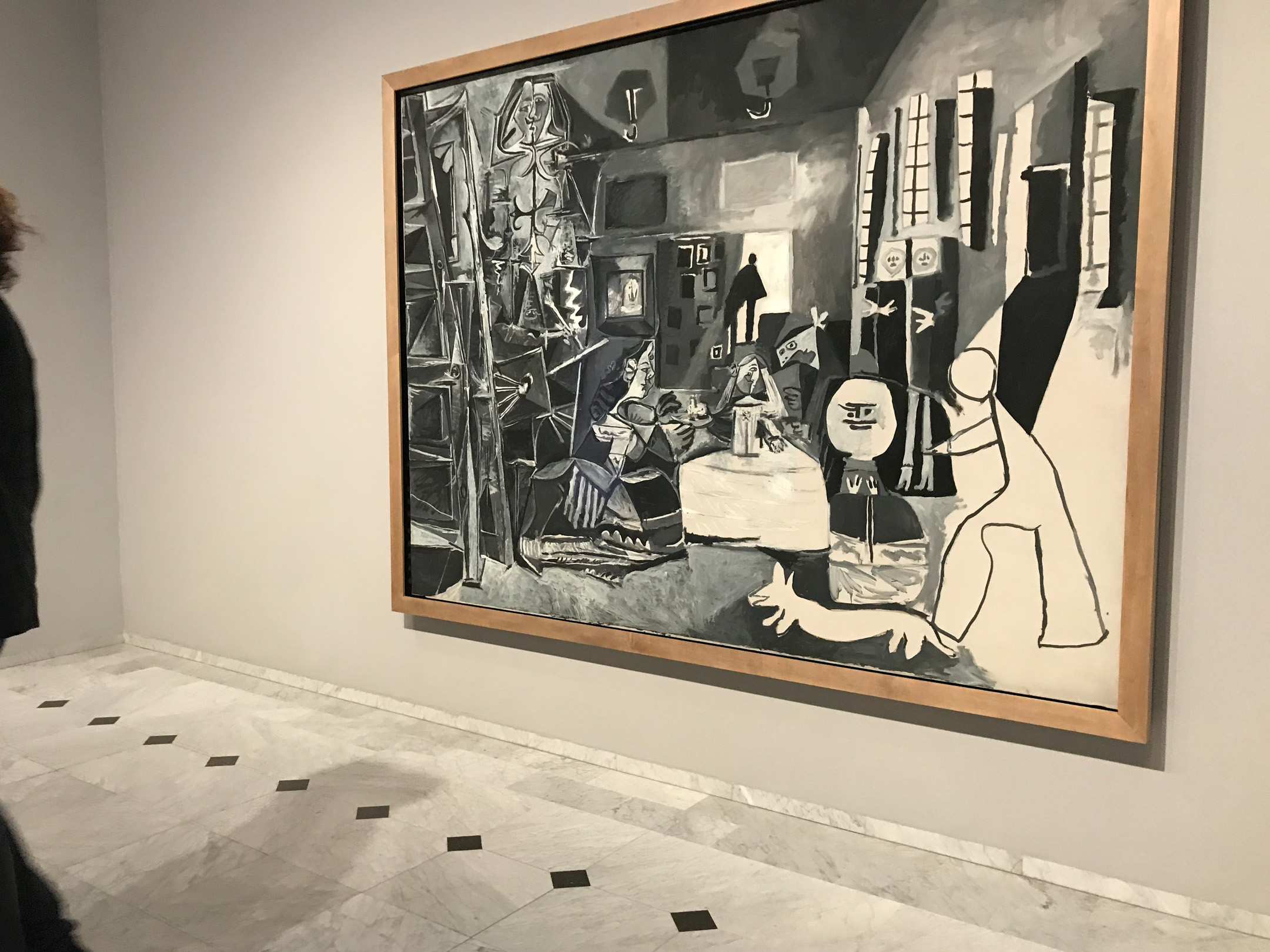 The Museu Picasso holds a beautiful collection Pablo Picasso's early works. Not many interesting later work, but definitely worth the visit. The audio guide is very helpful, it's not allowed to take pictures inside the museum.
More information on the
museums website
.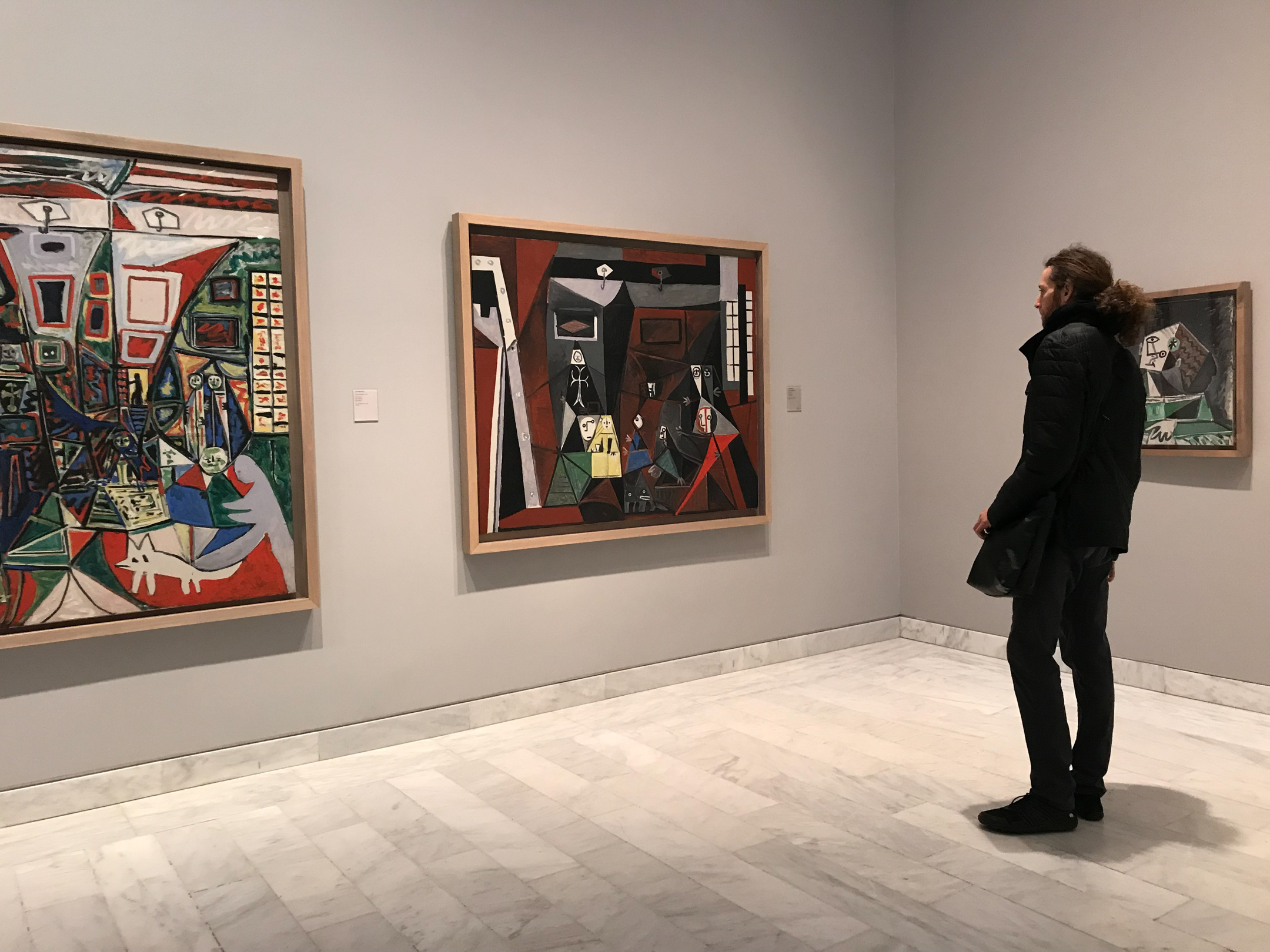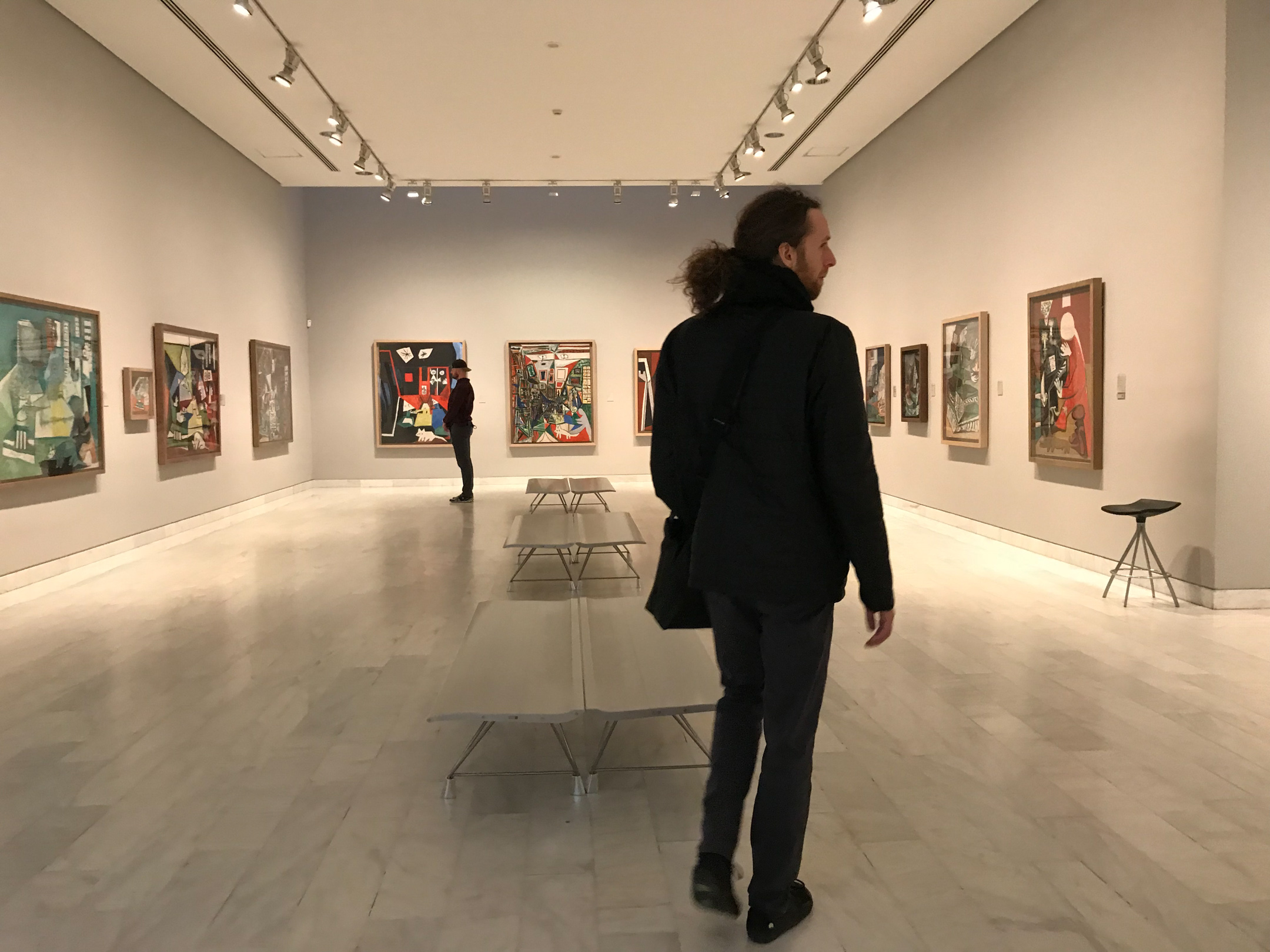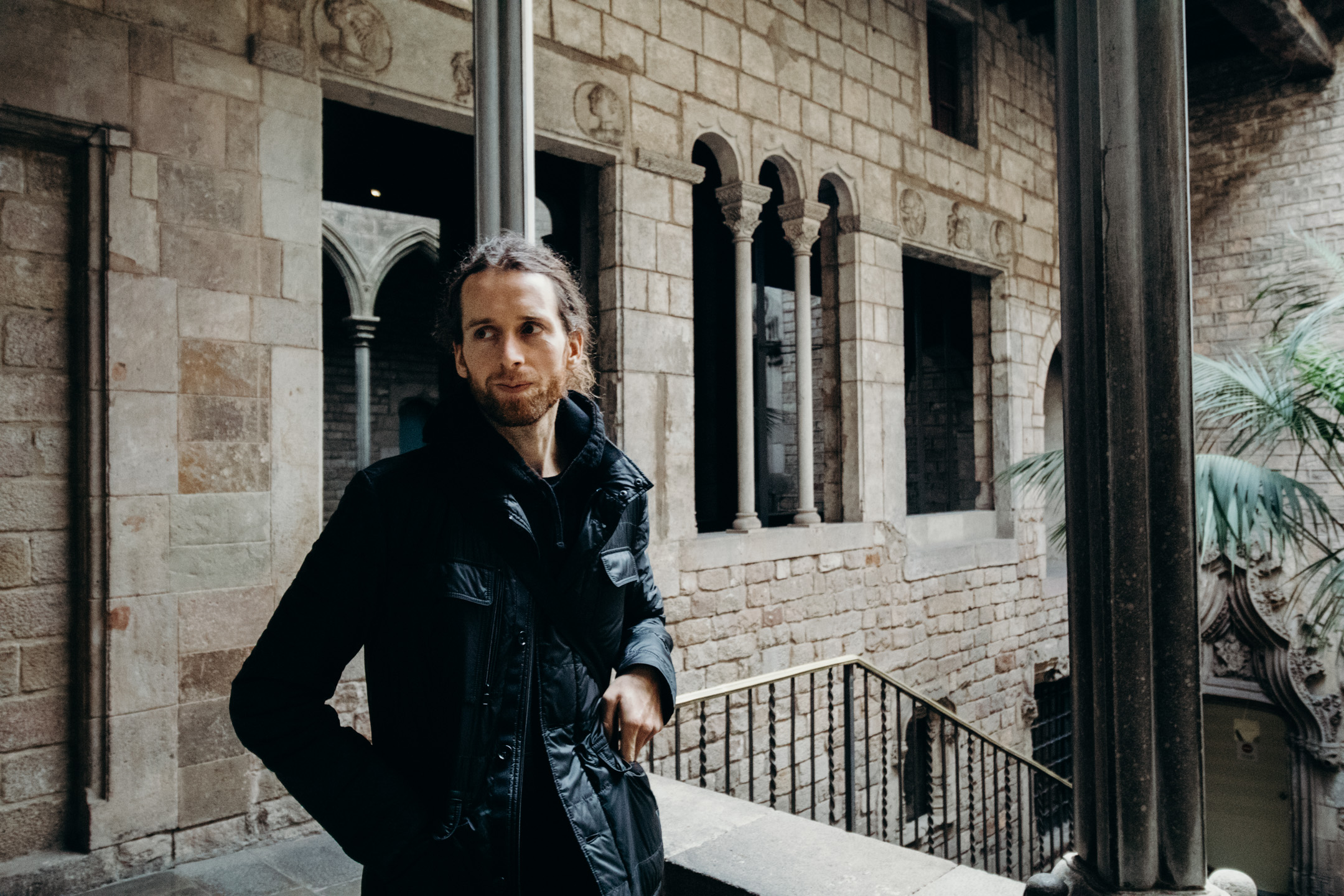 Museu Nacional d'Art de Catalunya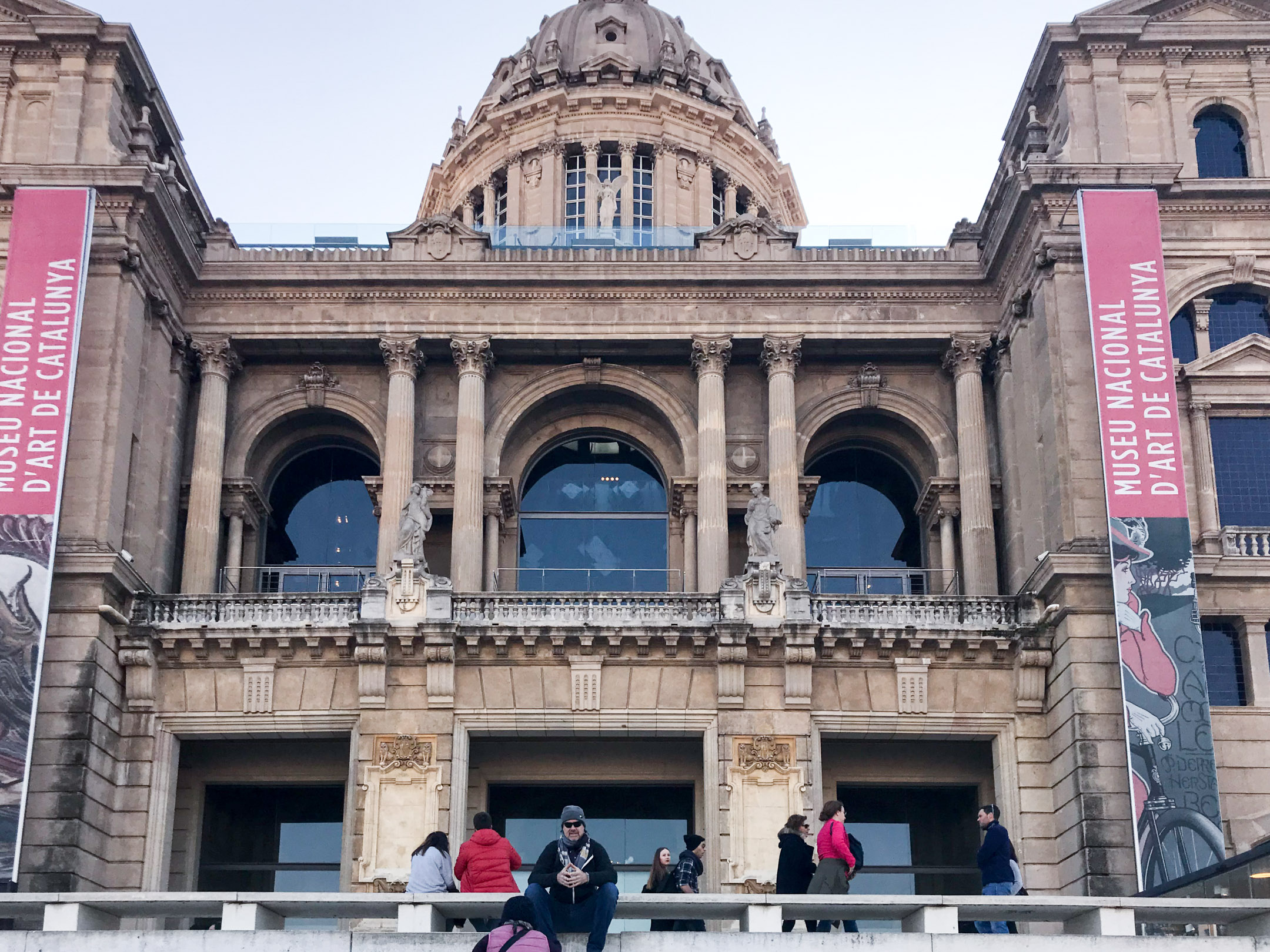 More about my experience and more pictures
here
.
More information on the museums website.
We went to the Museu Nacional d'Art de Catalunya for it's collection of Modernism Art, the Building and the view were worth visiting this incredible museum as well. They have a good app with helpful explanations, don't forget the headphones, you won't be able to listen to the audio otherwise.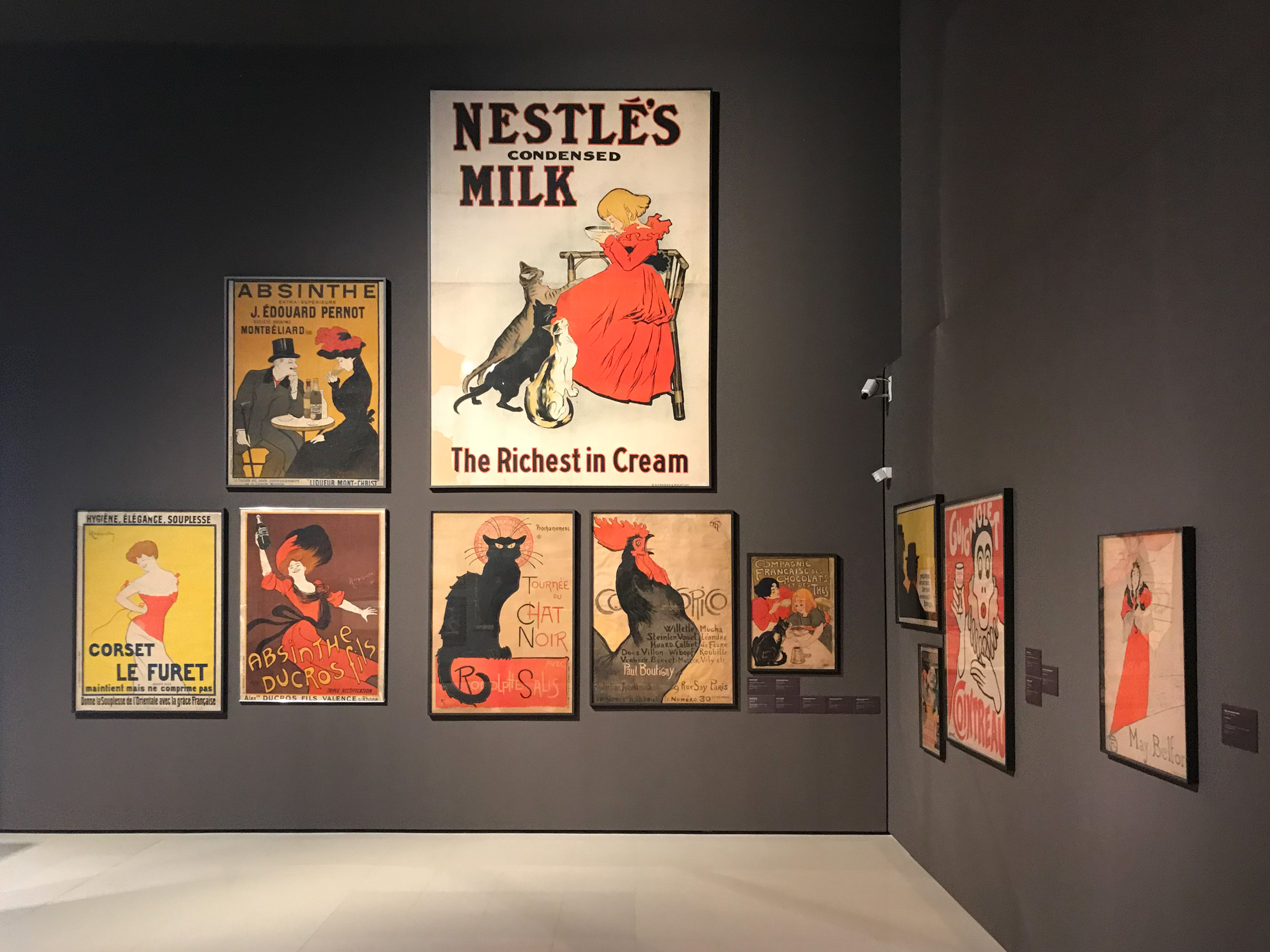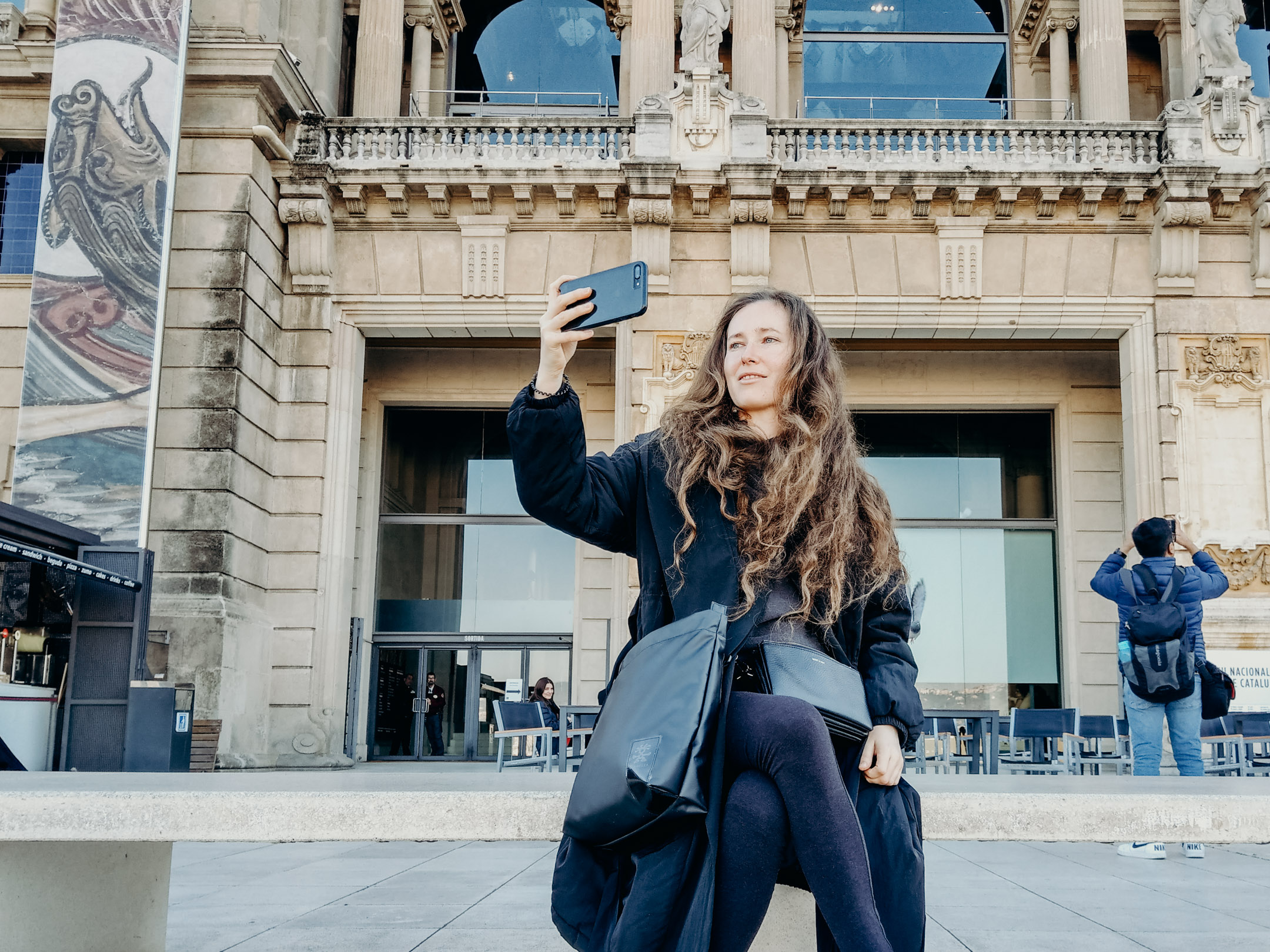 MACBA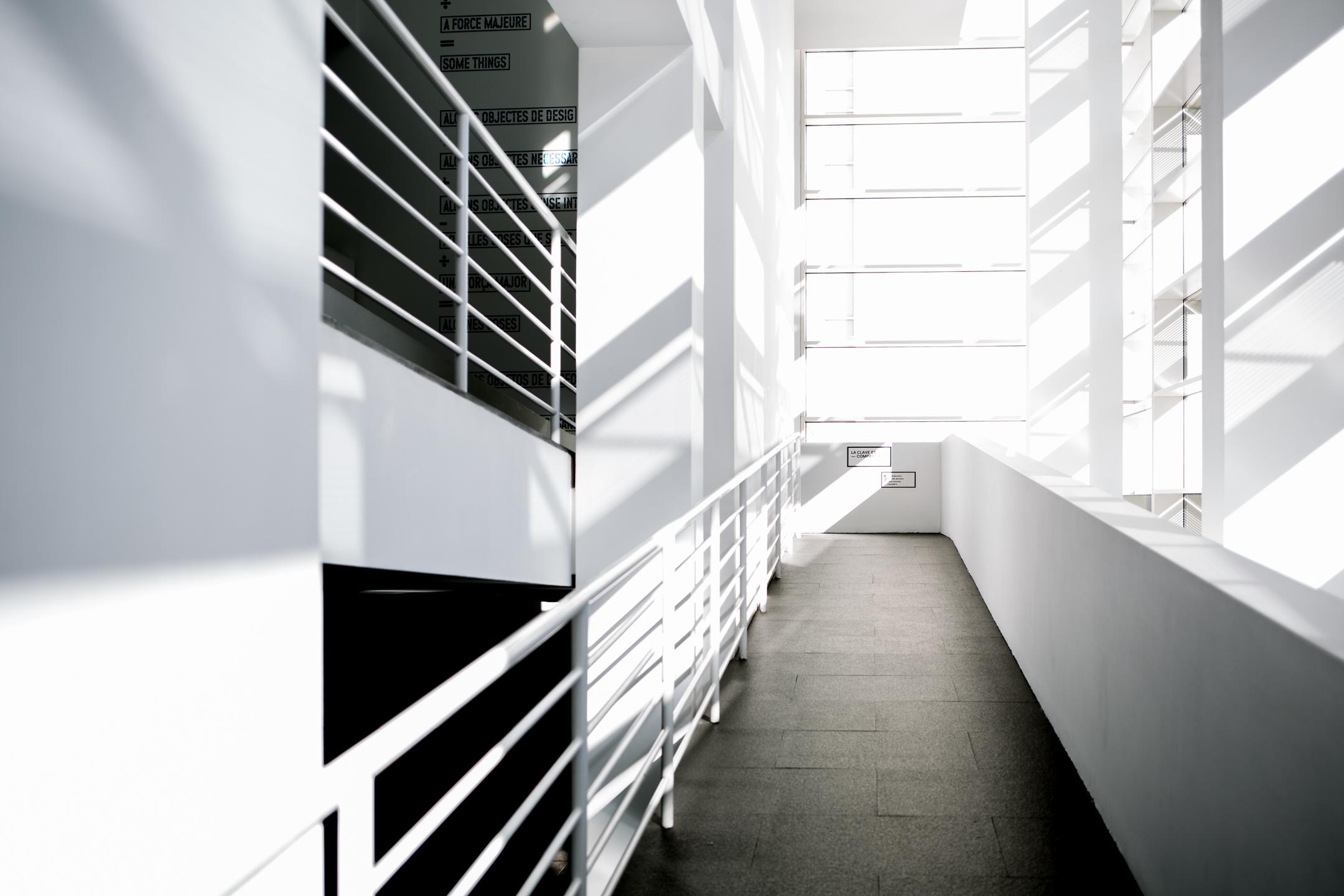 Exiting contempo­rary art exhibitions.

More about my experience and more pictures
here
.
More information on the museums website.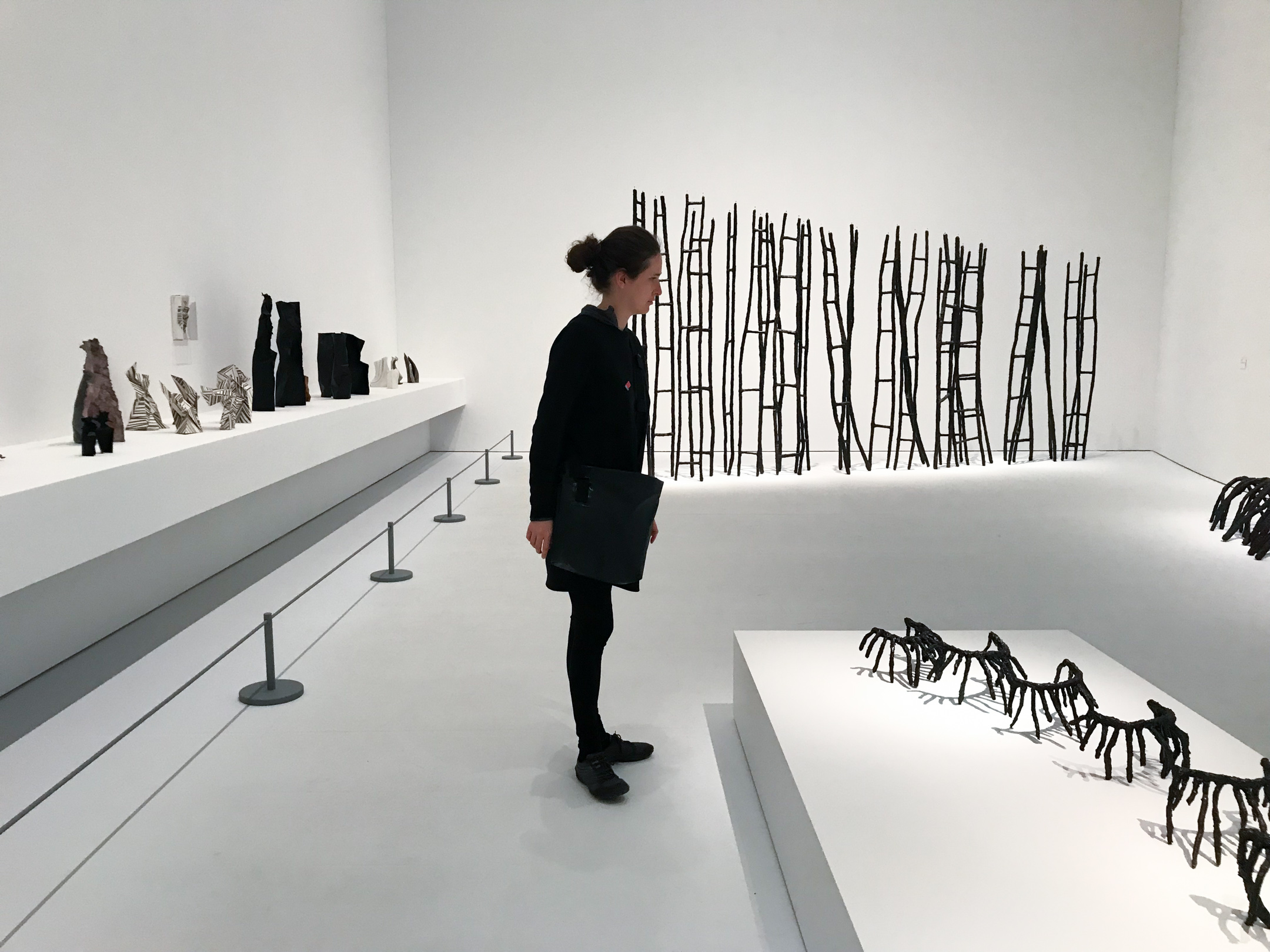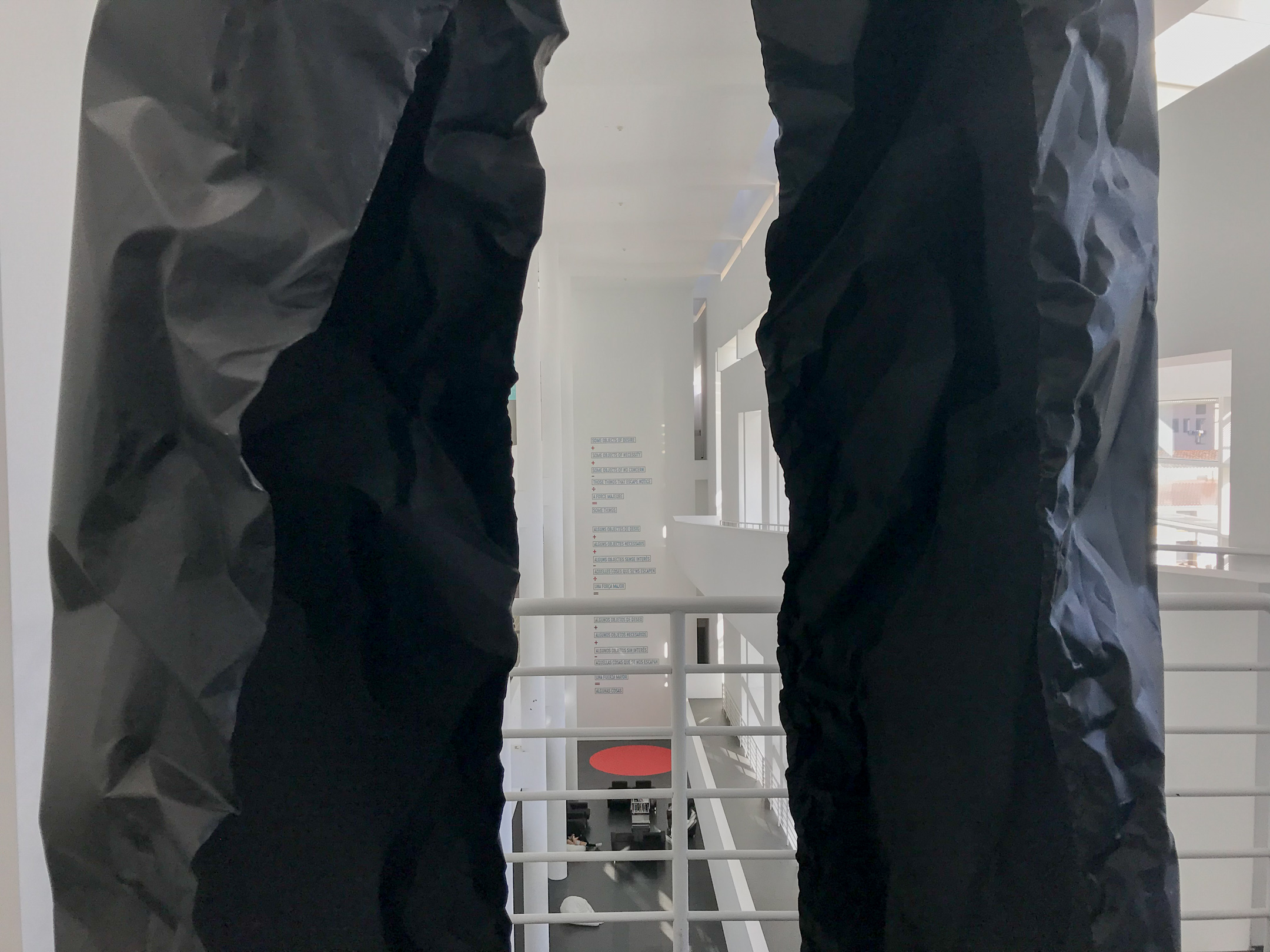 Fundació Antoni Tàpies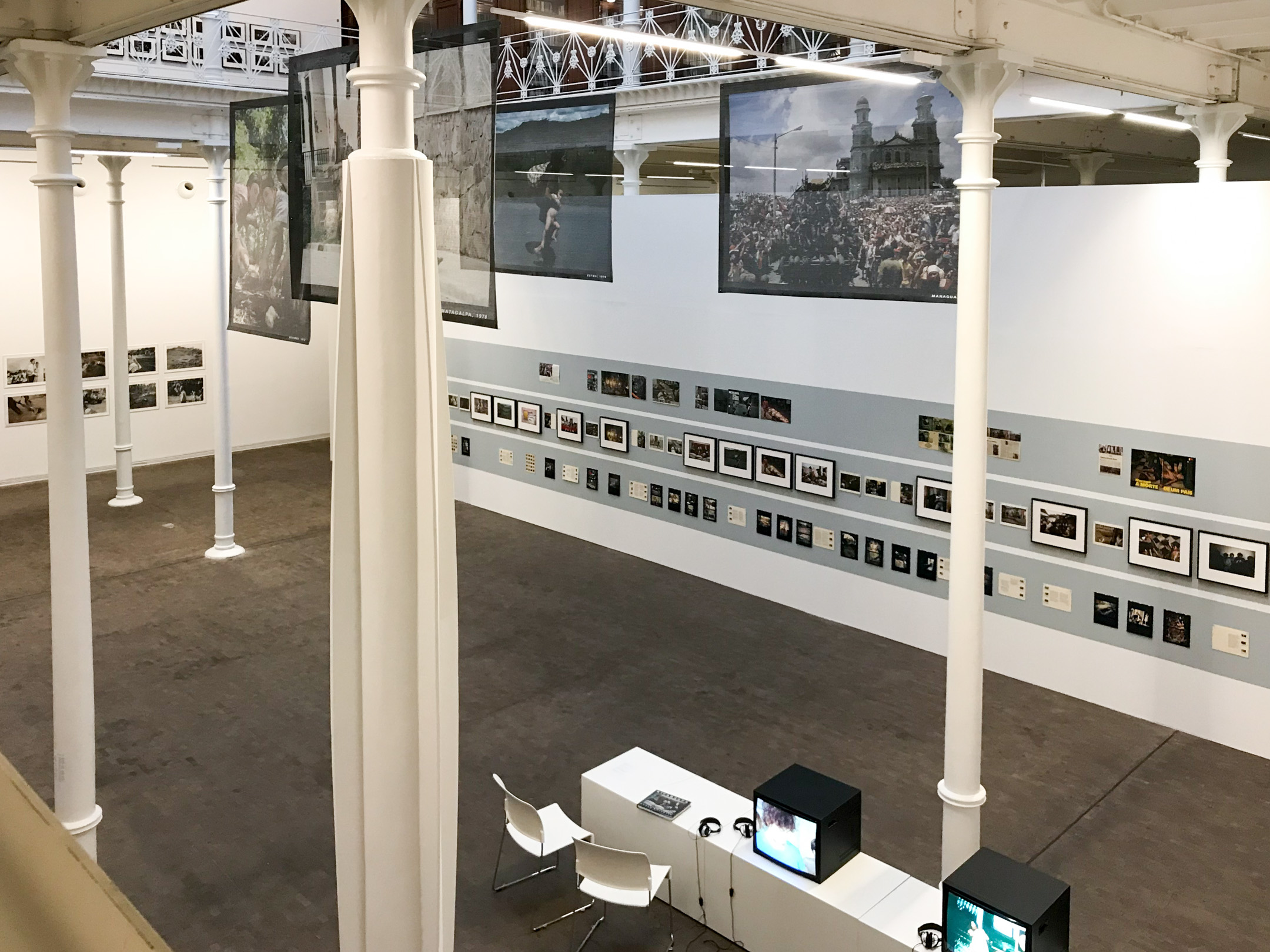 The Fundació Antoni Tàpies has some major works by Tàpies' on display, the temporary exhibition of the time of my visit was the incredibly insightful photography series by Susan Meiselas documenting the Nicaraguan war. The museum has an app with lots of supplemental materials for some exhibitions, so don't forget your headphones and ask ask for the app, it was free at the time of my visit.
More about my experience and more pictures here.
More information on the museums website.