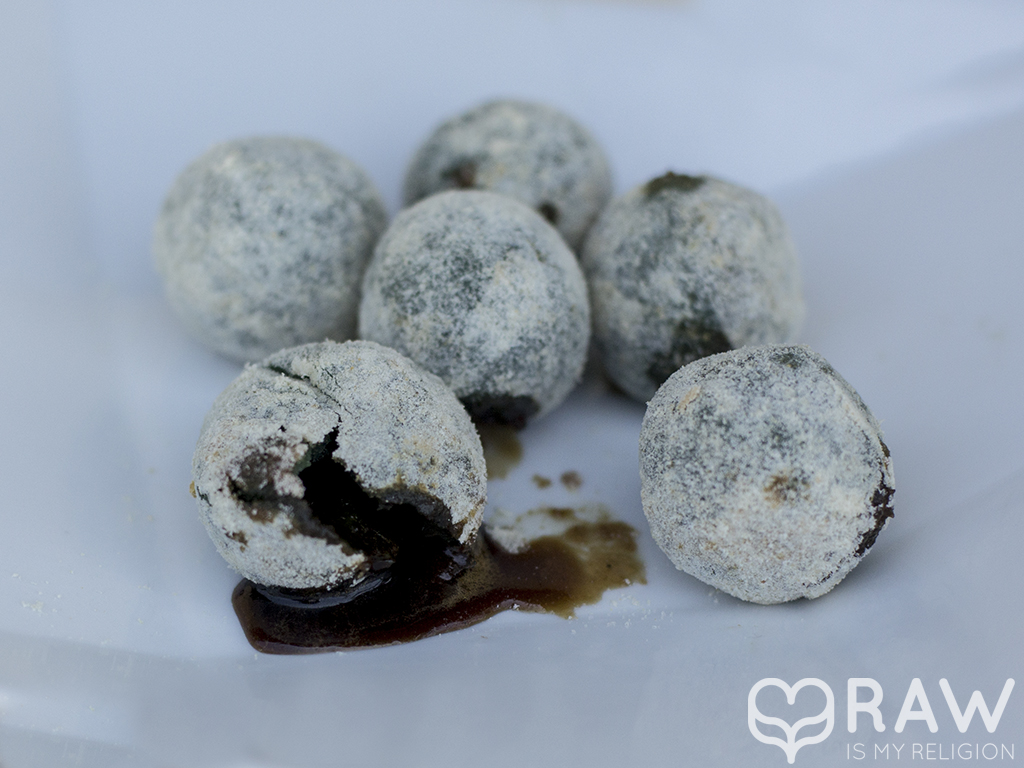 Lunch and dinner at Au Lac
We had an amazing lunch here 2 years ago when we stayed in Long Beach for a while. The last thing we had the last time were the donut holes. Even we were very full after eating our way through the menu, these tasted so good that we ordered them as a starter today for lunch. After that, we had the best raw bread there is, turning to the comfort foods shorty after. We came back for dinner, and in the company of the best vegan fiends there are in this world who treated us to a beautify second round of rawmazingness, we had more of everything and a great dessert.
Thank you Alicia & John. What an amazing day.
What we had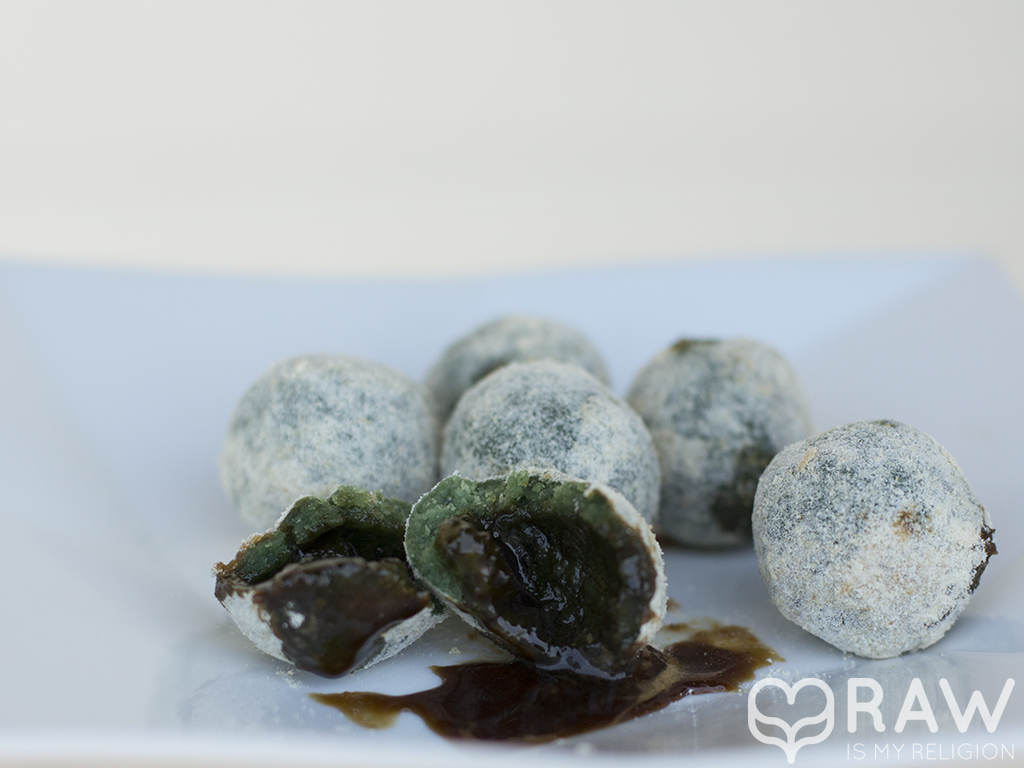 Donut holes
Warm macadamia and spirulina dough filled with liquid palm sugar. Coated in coconut powder.
The donut holes ($7) are without a doubt my favourite item on the menu at Au Lac.
We ordered the larger serving size twice. These are just divine. A healthiest version of a chocolate lava cake. The warm liquid palm sugar oozes out as soon as out bite into the powdery soft ball. You have to try them!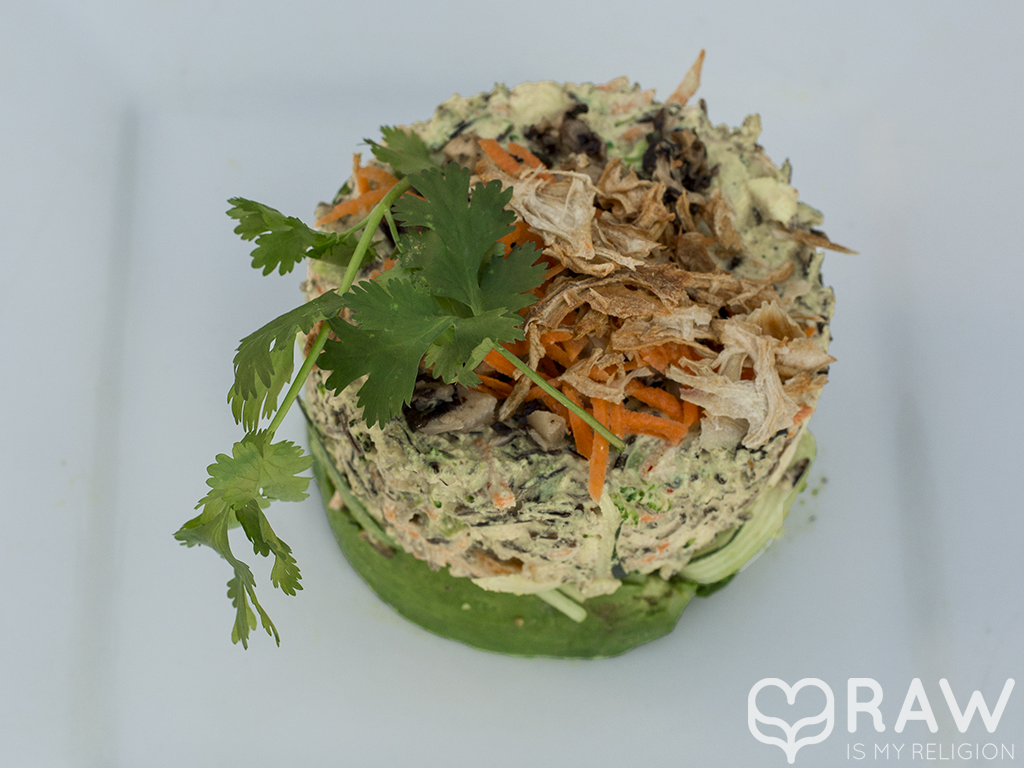 Curried Rice
Wild rice, broccoli, cauliflower, peas and corn in spiced macadamia sauce. Served over avocado, olives and cucumber. Topped by marinated mushroom, crisp onion, carrots and cilantro.
I had a small serving of the curried rice ($15) for dinner. I was blown away by the tantalizing presentation seeing it earlier that day and my favorite server recommend it as well as we told him that we will stop by for dinner. Taking the first bite, my first impulse was to share this goodness with our friends. We were fascinated by the texture of the rice and the veggies, the creamy macadamia sauce transformed this raw dish into a cooked tasting amazing curried rice. I'm glad my husband was here to eat the avocado that is a little too much for me, besides, I enjoyed every single bite of the curried rice and would not hesitate getting the full size dish if it was the only dish I were eating.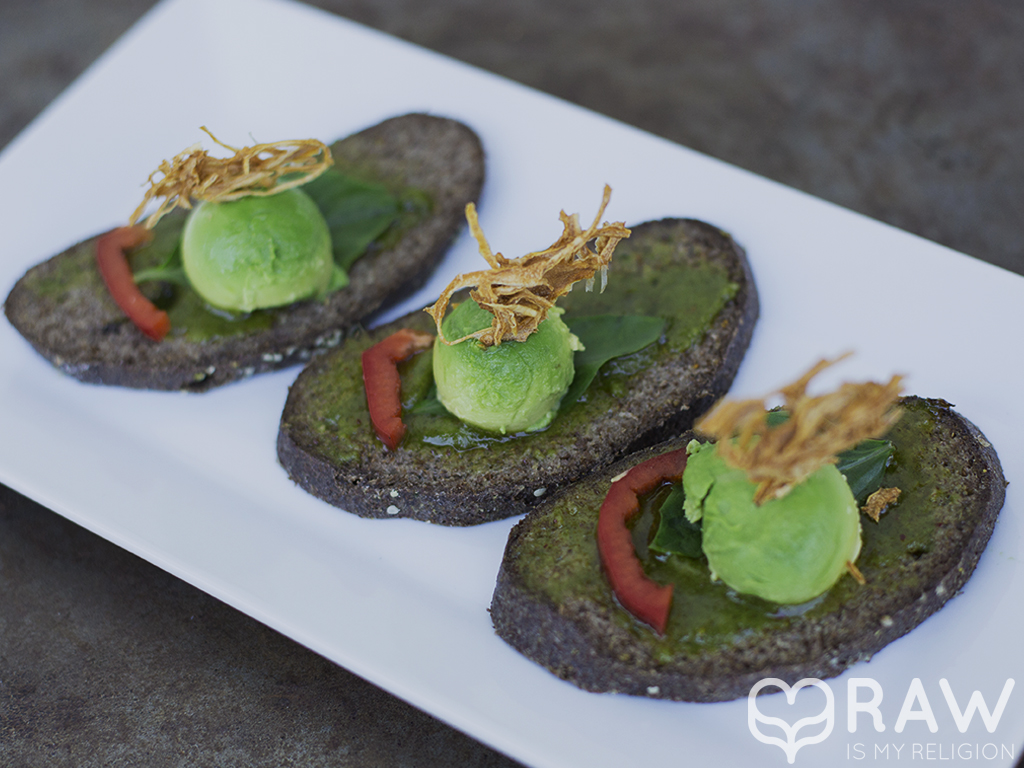 Cream Cheese
Flax seed chips topped with avocado, pesto, basil, bell pepper, marinated mushroom and crisp onion.
We are huge fans of the garlic bread they have here, so we substitute crackers in any starter by the garlic bread. We got the cream cheese ($6 + $3 for the garlic bread substitution) for lunch and dinner, the one we got for dinner had amazing marinated mushrooms on it. There is no cream or cheese on it though. I do not enjoy the large balls of avocado, but my husband does. I love the onion chips on top, it thy very flavorful, light and crispy.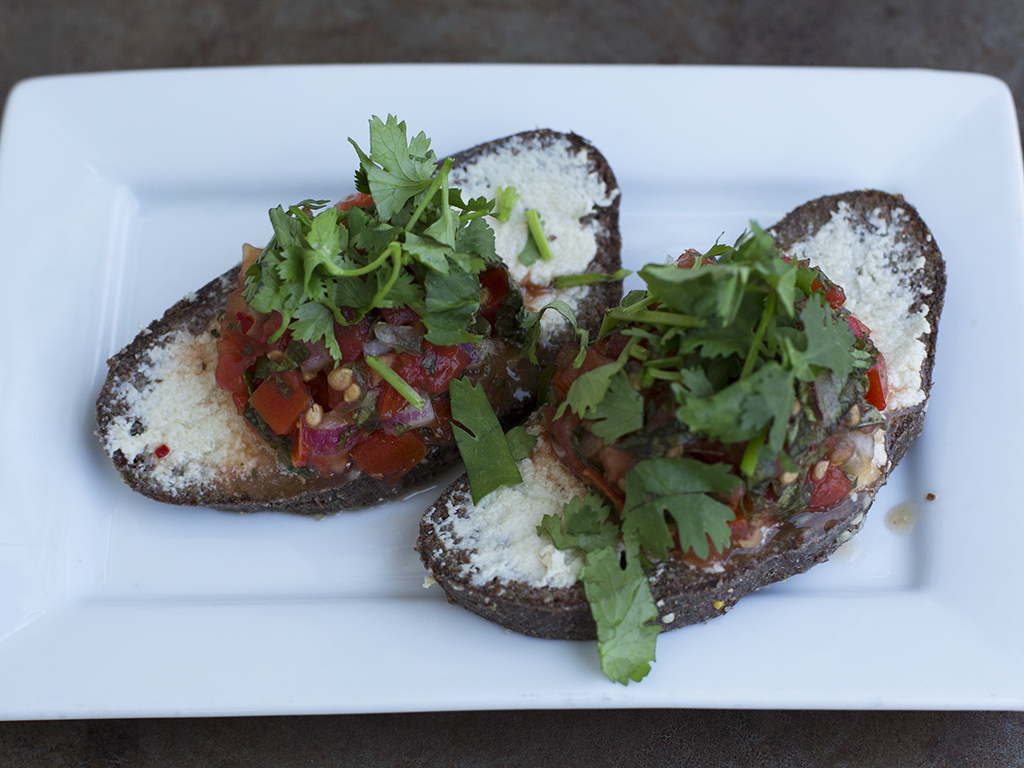 Madeleine Flax
Flax seed chips topped with macadamia cheese, bruschetta and microgreens.
I love the macadamia cheese they make here. Onion bread topped with this cheese is amazing ($6 + $3 for the garlic bread substitution). The bruschetta topping consisting of marinated tomato, onion, fresh cilantro was light, refreshing, with a touch of sweetness that gave this italian classic a vietnamese spin.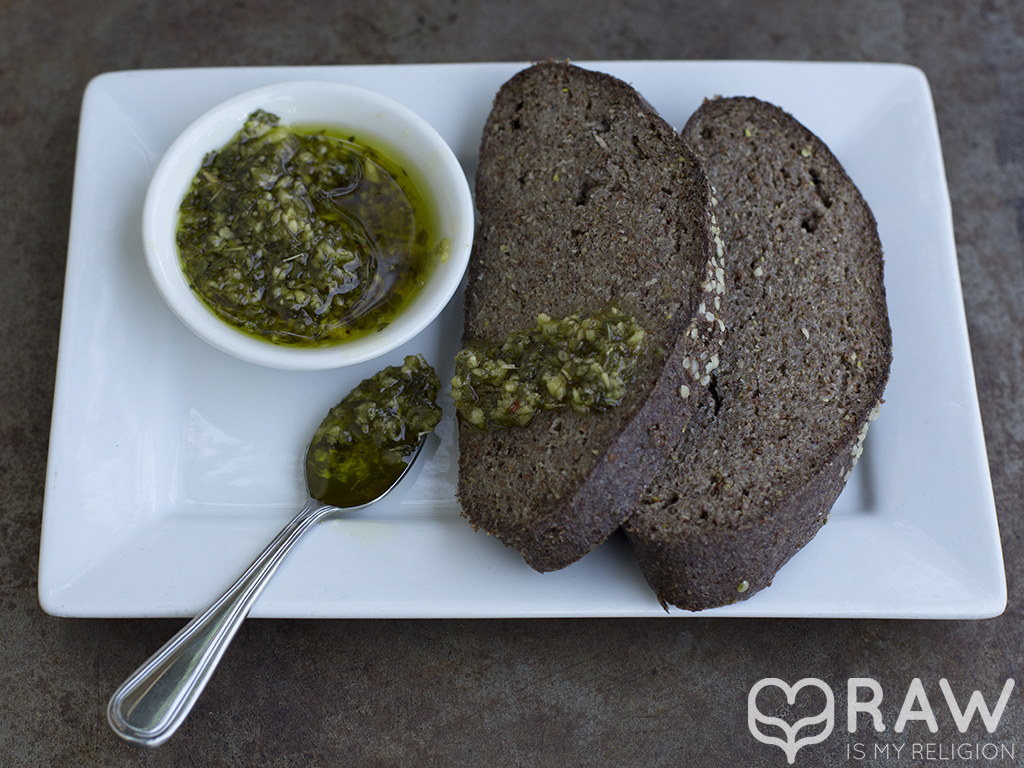 Chimichurri
Flax-based garlic bread. Served with herbed olive oil dip.
This garlic bread ($5) with a garlicky, herby oil is terrific. I'm not a fan of oil, don't get me wrong, but if you go to a raw vegan restaurant and are not ordering just a salad without any dressing, you will end up eating oil, pure on the salad, hidden in a dressing, soups, crackers, cakes or burger patties. So eating out, I say yes to oil. Especially combined with this amazing bread. Soft, fluffy, it even has a darker crust. A raw vegan masterpiece. The oil is seasoned very well, I enjoyed the garlicky taste a lot. Great value too.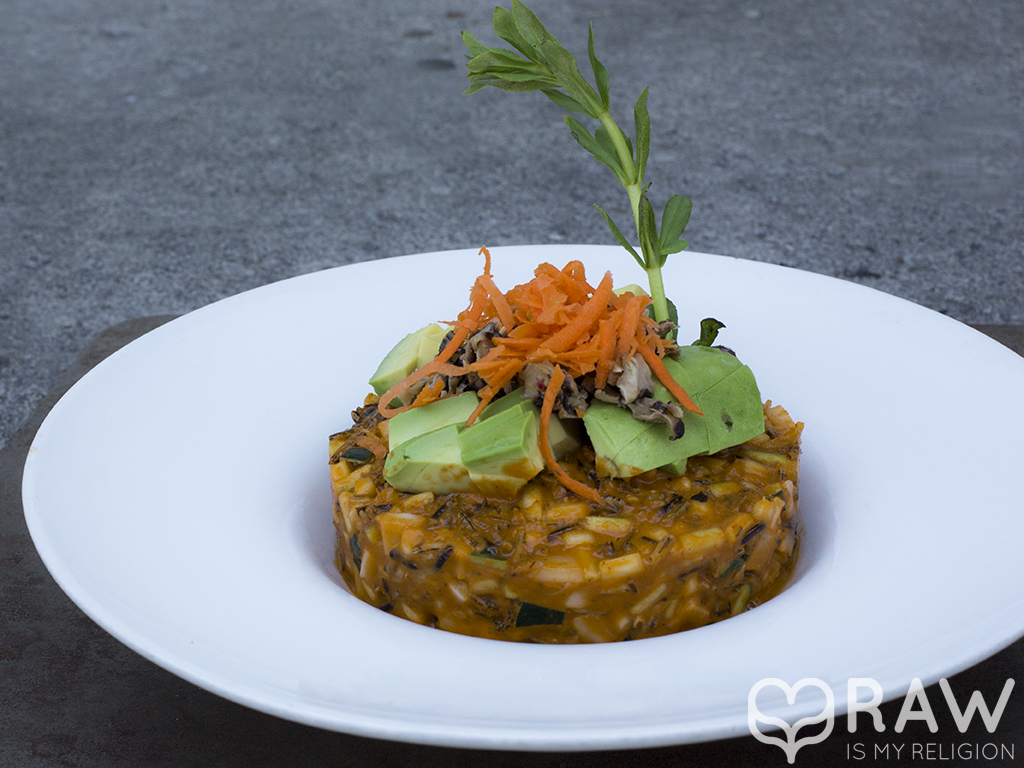 Risotto
Wild rice, zucchini and coconut in marinara sauce. Topped by avocado, marinated mushroom, carrot and rice paddy herb.
We had the small serving of the risotto ($13) for lunch. The texture and the flavors are amazing, especially the marinara sauce had plenty of flavor and a great savory tomatoey after taste. The young coconut chunks hold the dish together and give it a soft, cooked like finish. The coconut meat hater in me rejected the whole dish at first, blaming myself for not reading the manu carefully and picking something mainly consistent of coconut, but the rational me took 4 big spoons of all the goodness, covering the coconut chunks in marinara sauce and enjoyed every single bite a lot before giving the other half to my coconut loving husband.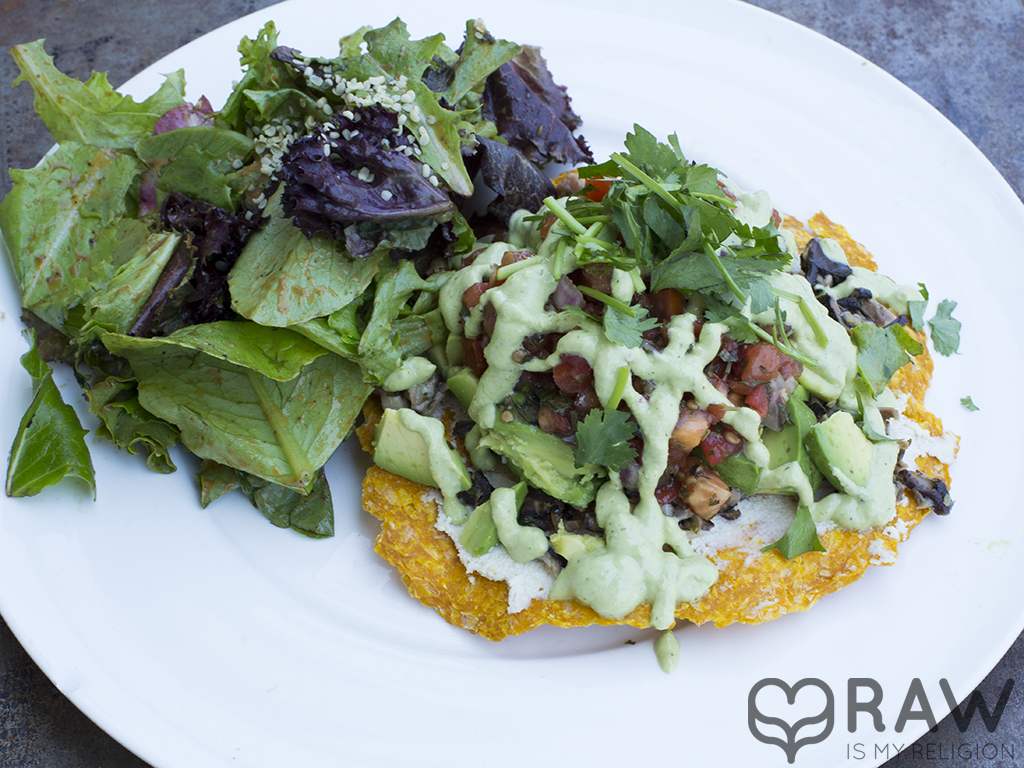 Tostada
Crisp cornmeal shell, shredded cabbage, macadamia cheese, ground mushroom, salsa, dill-ranch sauce and cilantro. Served with spring mix greens in balsamic vinaigrette and topped by hemp seeds.
The Tostada ($17) sounded so good on the menu, we just had to get it. We ordered it without the cabbage that my husband doesn't eat. We got this huge tostada with the salad on the side and were impressed by the crispy tostada shell that stayed crispy throughout our meal. The filling was exceptionally flavorful, light and seasoned very well. I loved the marinated mushrooms in the filling, they are much lighter that the nut based meat that one usually gets on a raw vegan tostada. And the corn shell was organic of cause.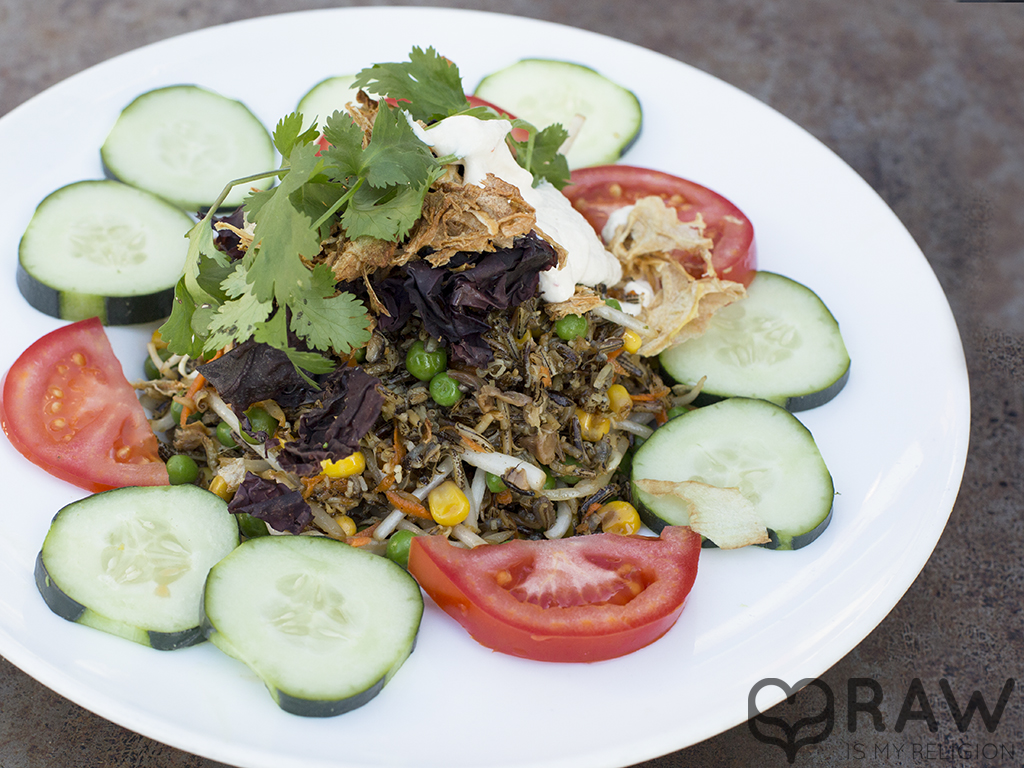 T-Anh Fried Rice
Wild rice, bean sprouts, peas, corn and carrots tossed in ginger-tamari, garlic and spices. Topped by dulse, mushroom, crisp onion, cucumber, tomato and cilantro. Served with macadamia ranch.
T-anh fried rice ($14) was a great take on a fried rice dish my husband used to love so much before starting eating healthy 8 years ago. What they make with raw rice, veggies, sprouts, nuts here, is simply impressive. It was my husband's dinner, and even we share everything, I barely got a bite of it, he liked it that much. Compared to curried rice that I had for dinner, this dish was more on the souvery site than creamy, which made it light and easy to eat.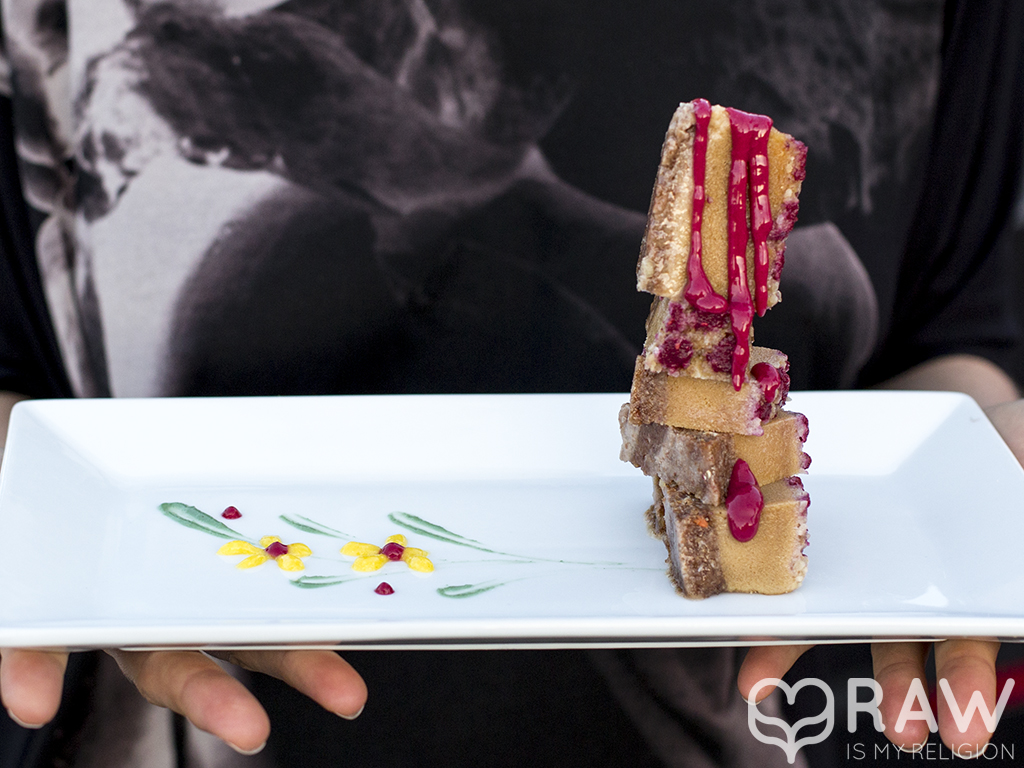 Scotch On The Rocks
Chilled pie with butterscotch-macadamia filling and a rocky walnut crust. Dotted with raspberry sauce.
We finished the meal with the scotch on the rocks ($7). Coming back from taking a photo outside, I passed couple of tables with people staring at the huge pile of pie bites. The women at the last table established such a strong eye contact with our dessert, it made me stop just in front of her. For 10 seconds we would be staring at the dessert and at each other, then again at this dessert. We enjoyed the dense texture of the pie, a great alternative to the soft cheesecakes raw places usually serve. I love the butterscotch flavor and it came out pretty nicely. The berry sauce was a great contrast to the sweetness of the cake. Wow.
The Au Lac Experience
I love Au Lac, the booths are very comfy and private. It is a unique restaurant within the raw scene and surely one of the best, food wise. The ambiente is synched with the presentation and the flavors of the food. The soft light is very enjoyable, even though it's a death sentence to any picture of the food you will attempt to take inside. I loved the staff, from their friendliness and pleasantness to their high regard for the food they are serving and professionalism. The waiter who served our lunch today was the best ever. Very patient, answered all the questions I had, and there were many, he was always around when we needed him, but gave us all the space we needed to take pictures, yes, I went outside to take the picture at least 20 times during lunch alone. The whole experience was very uplifting, to say the least. The ambience, the amazing staff, and the glorious food all add up to a place that should not be missed by anybody who enjoys raw, vegan, organic, vegetarian, or simply great food. Great place to bring your friends and family. We will definitely be coming back soon.
Tips
Au Lac is completely vegan, which makes the ordering extremely easy. The cooked and raw dishes are clearly marked, so there is no mix up possible. If you are coming in for dinner and want to try different thing, come in time for the opening around 11:33 to have enough time to enjoy everything before the kitchen closes at 3:33. Even I love the raw bread, It might get a little pricy to substitute the crackers with the bread. Better get the starters as they are.