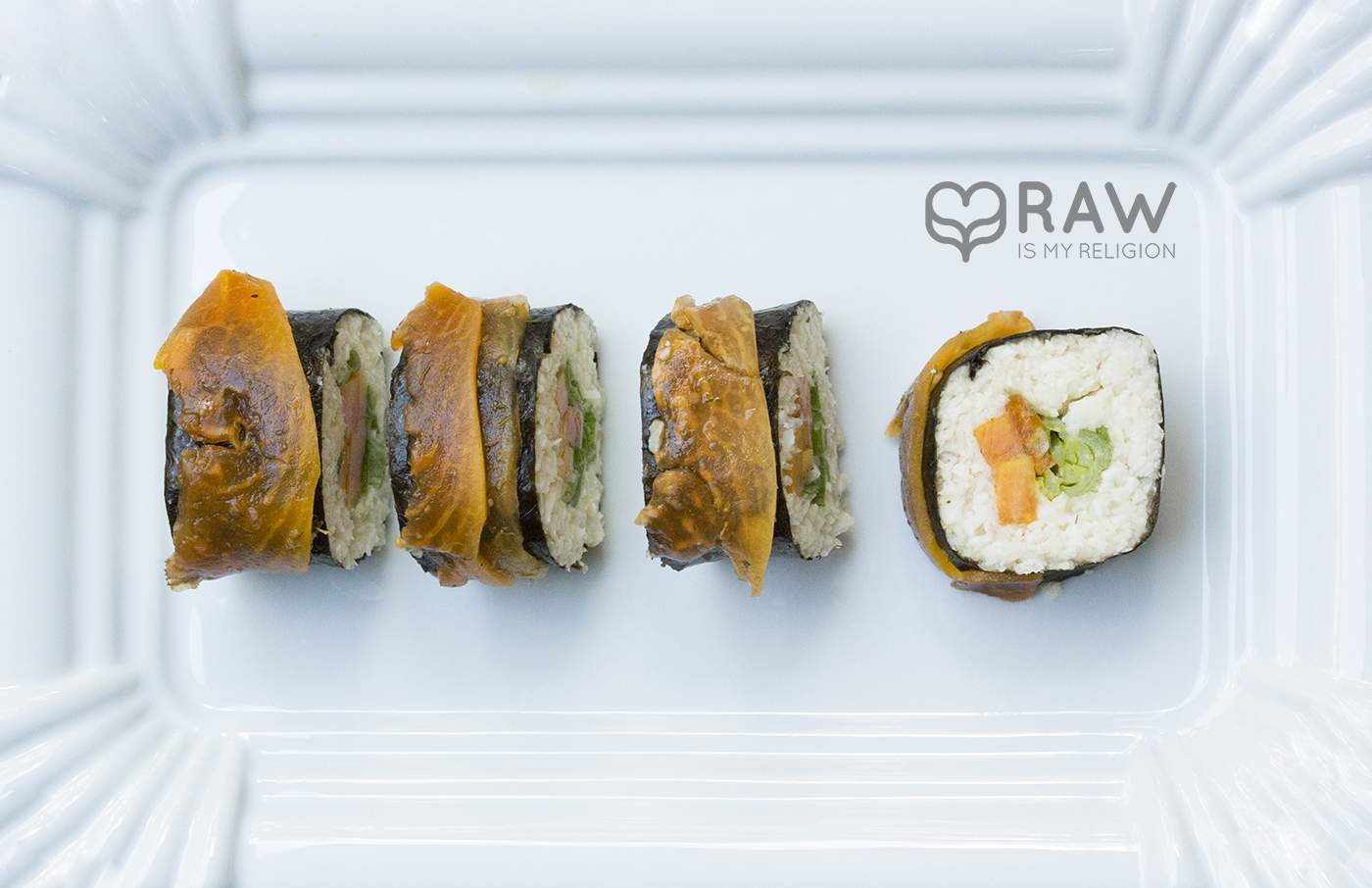 vegan Salmon Sushi
I could never let go of sushi. Why should I. Just look at these raw vegan sushi rolls. I made smoked salmon out of papaya. This recipe was inspired by the one I tried at a vegan potluck in Munich last week. It's really easy to make, except the smoking part.I really cold smoked it. But smoked salt will do as well, if you eat salt. I'm not suggesting anything, just saying.
There will be a sushi book one day. But for now, enjoy the smoked papaya salmon.
Papaya salmon
Knife, Smoking gun
garlic
, dried, granulated
Choose a less sweet papaya variety with thick skin. Make sure the papaya is fully ripe but still tender to the touch. Peel the papaya, cut it in half to remove the seeds. Cut the papaya in very thin sizes or stripes depending on what you are planing to do with it. Spread the pieces on a plate, drizzle with the juices and sprinkle spices on top. You can layer your papaya pieces on top of each other. Cover the plate and let it sit for 2 hours at room temperature.
If you want to smoke your papaya, use a smoking gun. Alternatively, use smoked salt for the smoky taste.
---
Smoking gun for cold smoking
If you love burgers, tacos, gyro, you need this smoking gun.
Who else if not Matthew Kenny gave me this idea. I had smoked raw vegan cheeses at the M.A.K.E. restaurant back in 2013 and asked how they create this unbelievable smokey flavor. Here some tips.
Try different flavors, it so much fun to experiment in the kitchen.
Things I love