Let's eat some raw food!
We are always looking forward to try out new raw vegan places every time we come to a new city. In San Diego, there were not too many raw vegan options, so Peace Pies it is.
What we had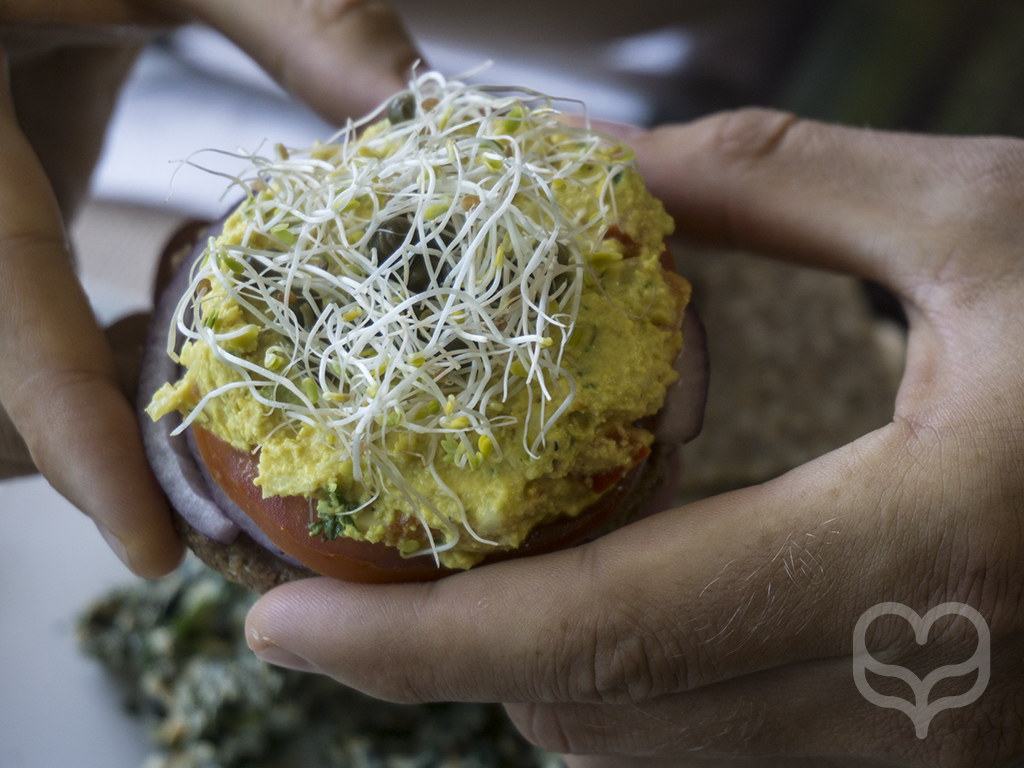 Egg-less Salad Bagel
Coconut meat, cashews and mixed veggies & almond pulp coconut meat and dates.
This bagel ($7) caught my eye at the first glaze at the fridge. The egg-less salad totally tasted like the egg salad I used to buy every morning on my way to school many years ago in Germany.
The bagel was rich and flavorful. I didn't particularly enjoyed the sweetness the dates gave it, but my husband liked it. I might be just skeptical about sweet breads with savory toppings. If you are like me, ask to substitute for the onion cracker. Yum!!!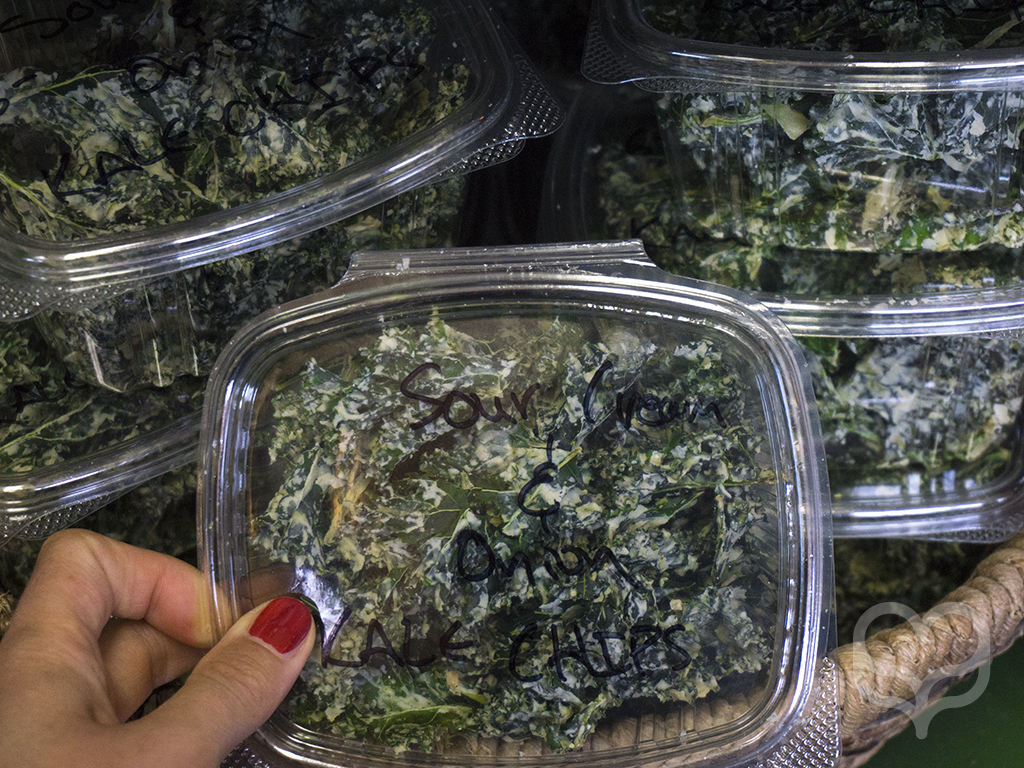 Kale Chips
Sunflower seed based and fresh out of the dehydrator. No nutritional yeast!
These raw vegan kale chips ($6) are probably the cheesiest on the planet. They were also unbelievably crispy. I could taste the freshness. Don't forget to grab a box of kale chips for later if you stop by.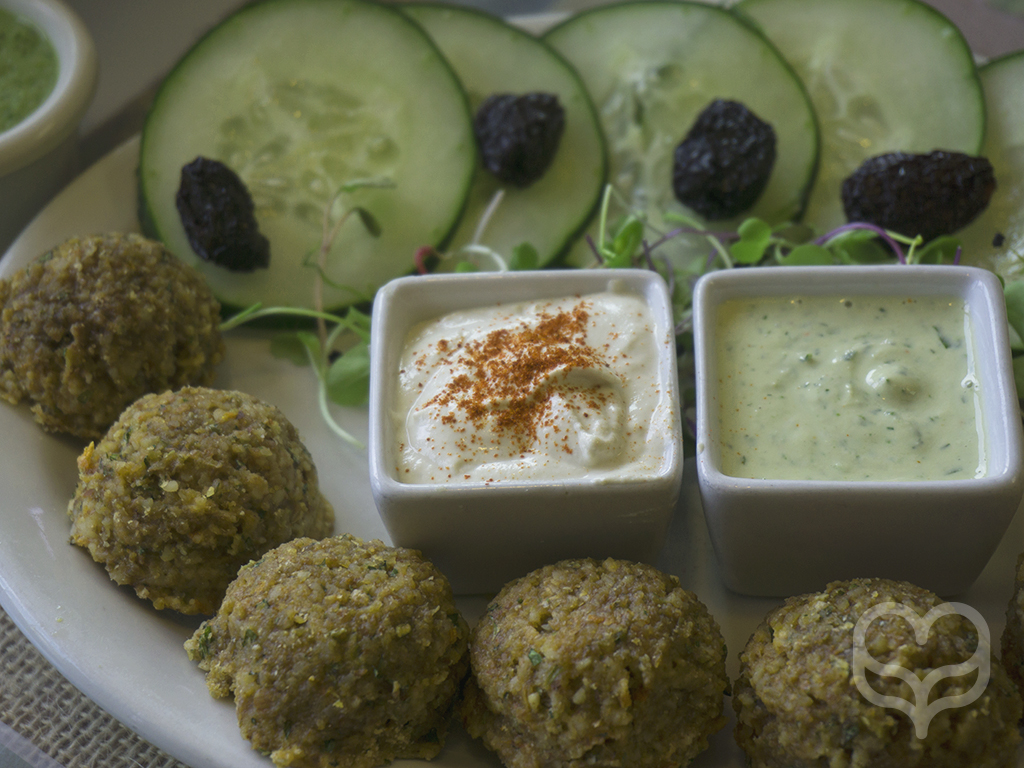 Mediterranean Sampler
Sprouted almond, pea & lentil falafel served with cucumber dill sauce & cashew hummus.
These are basically falafel with awesome dipping sauces ($6). We ordered couple more falafel balls and got 3 different dippings. I loved the rich dill-mustard (?) dipping, my husbands fav was the spicy humus dipping. I liked the third, less creamier cucumber-dill one (not in the pic) a little less. But as the third one was obviously the lowest in fat, it would be something I would make myself if I made falafel. Just one more word: Salt-free olives!!!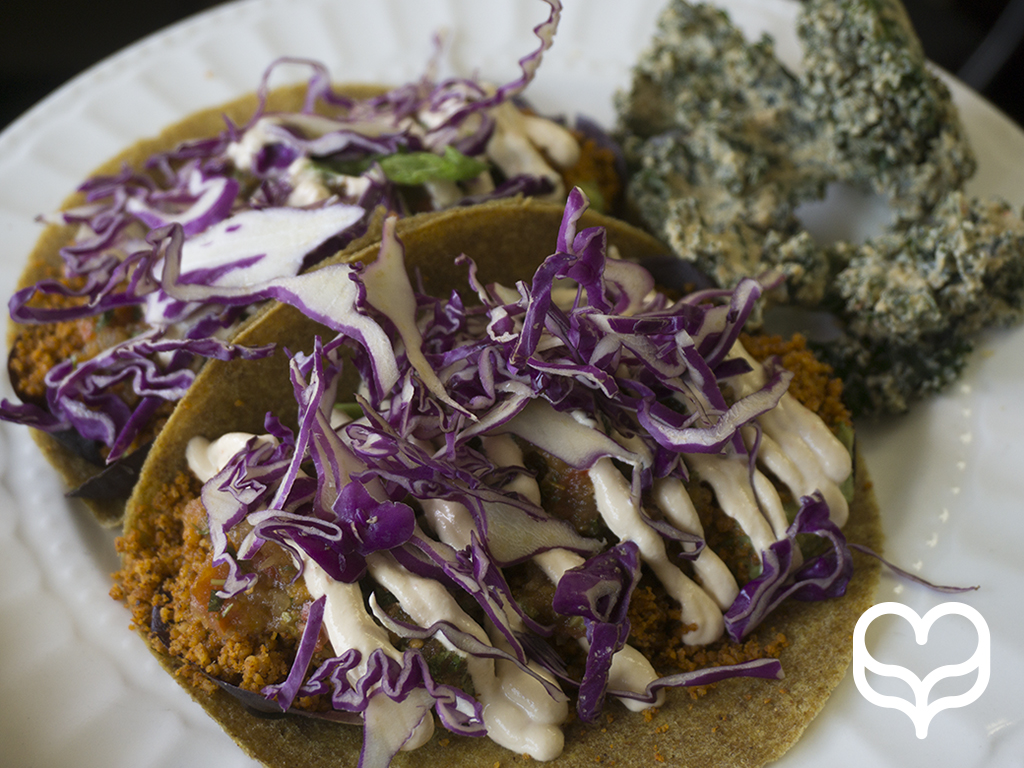 Tacos
Veggie-coconut based shell. Walnut meat, guacamole, salsa & cheez.
Growing up in the taco-free zone and becoming vegetarian at the very young age, I've nеver had regular tacos in my life, and all the raw ones didn't have a proper taco shell, so I was excited about these a lot ($12). And I wasn't disappointed. Crispy shell, the "meat" had a great texture and flavor. If I would come back and could order just one dish, it would be the tacos.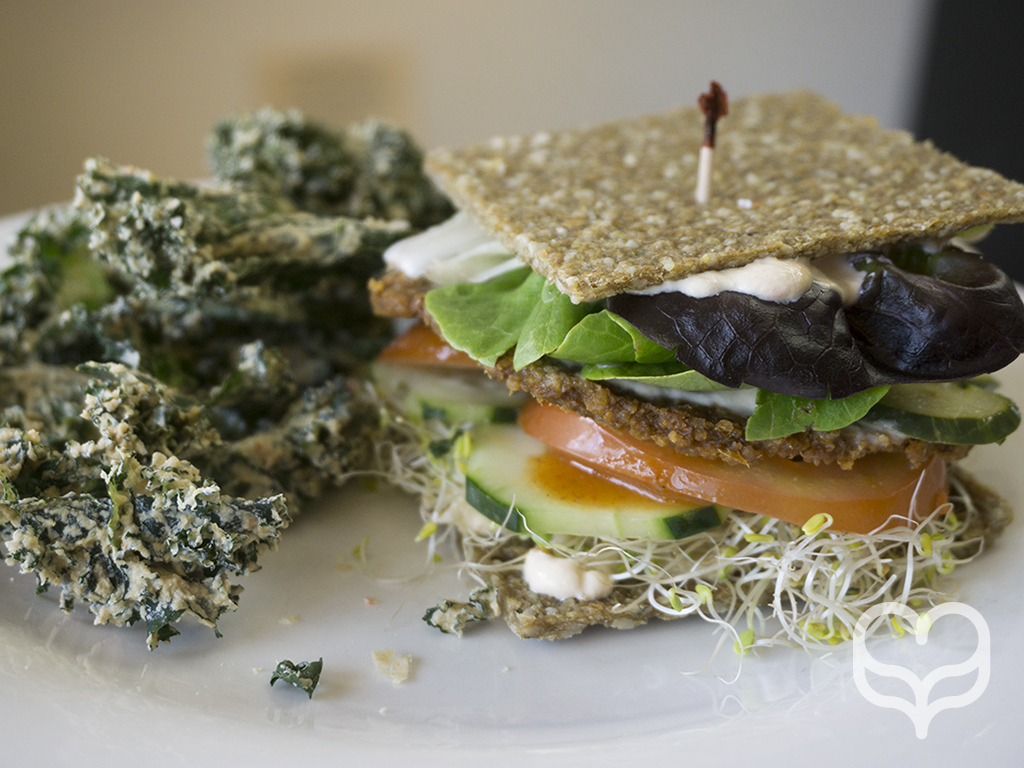 Bliss Burger
Sundried tomato, walnut burger, cheez, pickles, and homemade ketchup. Onion bread.
This hearty burger ($11) was delicious. The onion bread was really good! The pickles just right on point. Not too salty. The patty was walnut based, I tried it separately from the burger and missed spices or a smokey aroma. Something that would make it more burger like. But I totally understand if a restaurant doesn't want to use smoked spices, as they are technically not raw. As most the dried spices. Back to the burger: Delicious!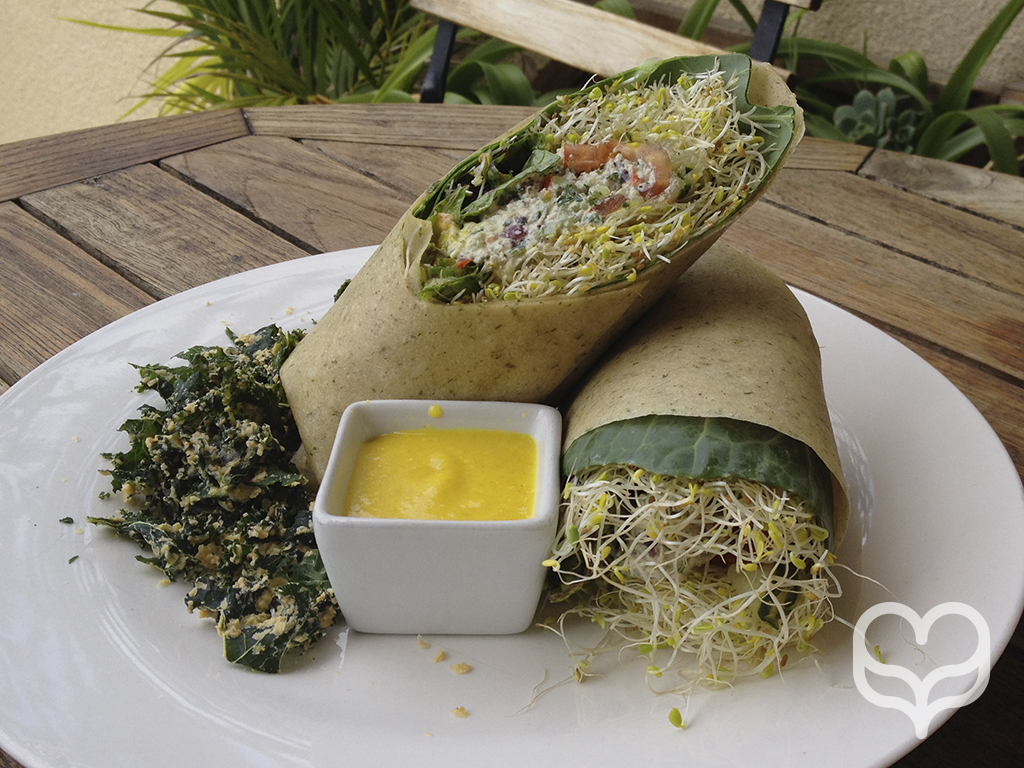 Luna Tuna Wrap
Sunflower seed tuna pate with tomatoes, pickles, sprouts. Mango dipping sauce. Wrapped in a coconut tortilla.
Awesome wraps, a great value ($12). The coconut wrap perfectly held together a huge amount of filling. I loved the mango dipping, I ate it mostly with the kale chips provided on the side, so good! We had the mango dip with this wrap instead of the mustard dressing that they call honey mustard dressing. If your are vegan, always make sure the restaurant doesn't put honey into your dish. Reading the menu carefully and specifically asking for honey works for me the best.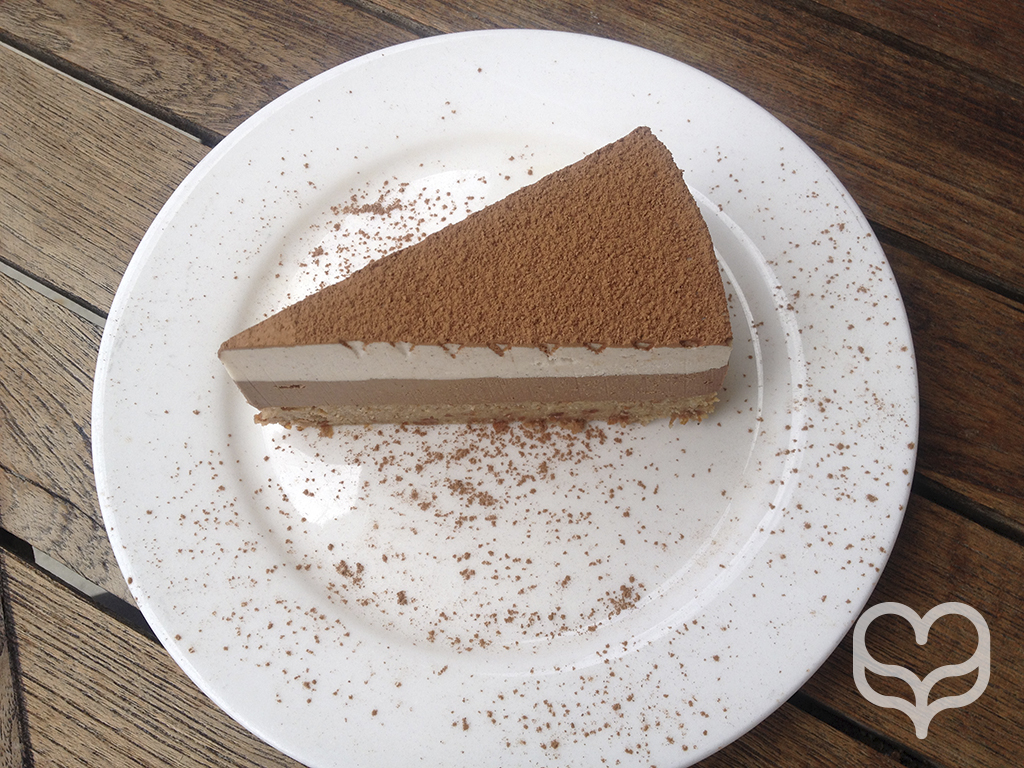 Tiramisu
Coconut based.
On the menu, they call it Conscious Cheezecake ($8). And it's a great cheese cake, but not a tiramisu.It's a little bit to dense for my taste. My husband on the other hand kind of liked it. He is also much more into coconut meat than me. I def prefer nut based cheese cakes. But I knew what it was made of before ordering, so I can't complain about the coconut in this one.
Feel good
Peace Pies is a restaurant with a very honest, straightforward, new age atmosphere. Keep this in mind when bringing your non-raw non-vegan friends and family. They might dislike the food based on the atmosphere they are not used to. We are used to judge the book by it's cover, but here, one has to try the food first. The food can keep up with many raw food places and fine restaurants. I might take the food to go the next time. So reading this, go straight to Peace Pies, you will be surprised!