Accidently Lunch
Our little vlogging camera has been repaired and was shipped to a store of a big American delivery company, we went to pick it up. The line was like 1,5 people, but those of you know me, I don't like to wait. So I rapidly pulled out my iPhone out of my pocket, shockingly surprised by its low battery status. Nevertheless, I went to yelp and started tipping in "restaurants" and "vegen" into the search field. Lifefood Organic popped up. This is where we have to go right now, I told to my husband. So even I'm not that hungry, I can't say no to trying out a new raw vegan place. They are even offering 10% off with the yelp check in, something I will have forgotten by the time we get there. As we were looking for parking, the parking lots in the rear seemed very familiar all of the sudden. Right, it must have been the old Raw Star Cafe. I knew that it was gone, but had no idea it would have been just around the corner from our place.
What we had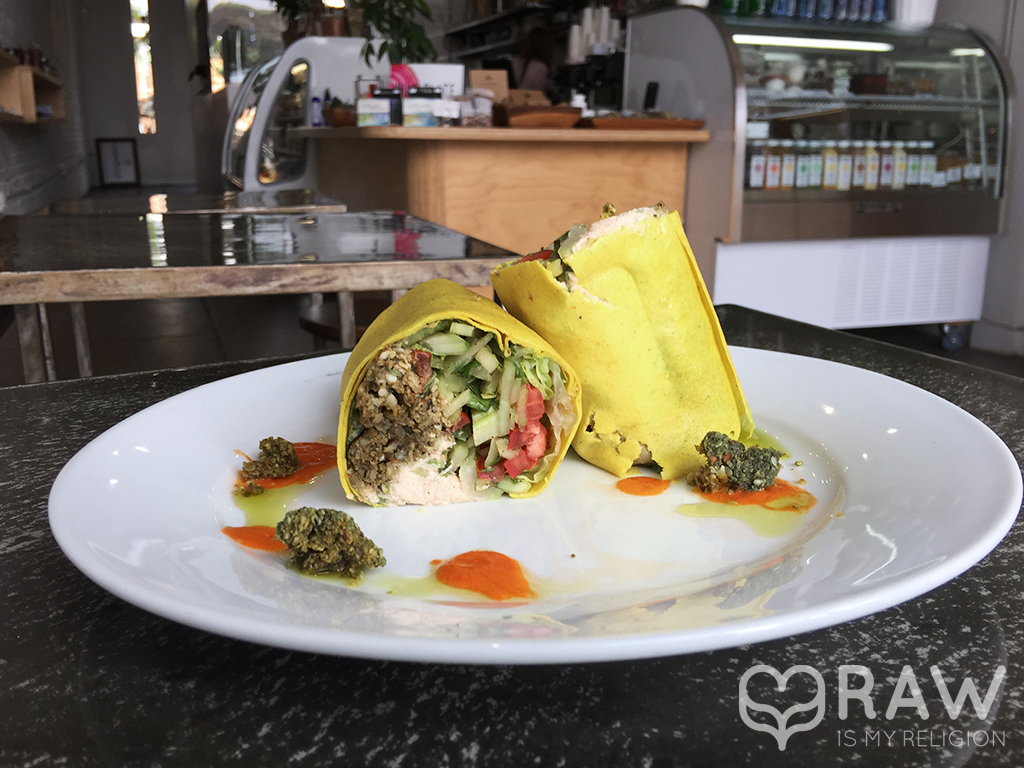 Falafel Wrap
Coconut, garbanzo beans, pumpkin seeds, onion, tomato, cashews, tahini dressing.
Lots of food was pre-made and sitting in the display. This way it was easy to see what you get and to double check the ingredients as they were all listed carefully. This falafel wrap ($14) looked gorgeous and sounded good. I love falafel. The wrap came with a tahini mint dressing. The dressing was delicious, but very liquidy, so I didn't really know how to eat it with the wrap. I should have used it as a dressing for the salad that came with the burger. The wrap was very well made, large, the perfect balance of nuts and veggies, the wrap was even strong enough to handle all the filling.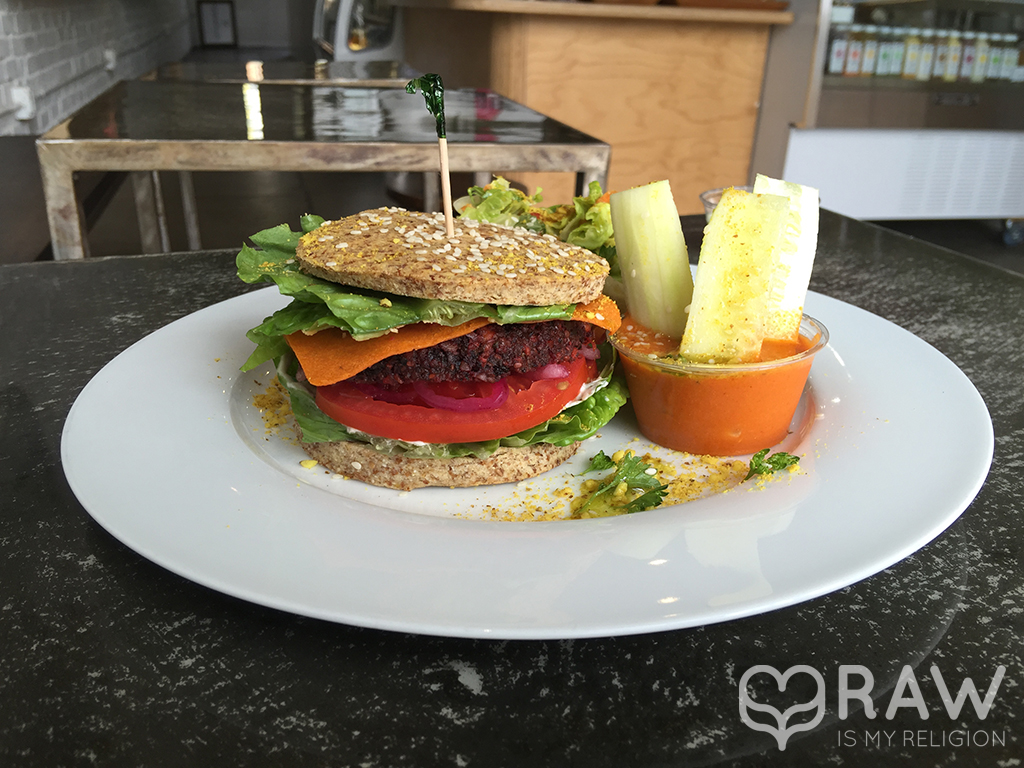 Sun Burger
Almonds, flax, zucchini, walnuts, carrots, sunflower seeds, coconut, tomato, & salt.
My husband saw the burger ($14) and knew immediately that he wants it. The burger bun was amazingly soft, I have been disappointed lately with burger buns which basically were dry crackers. But this one was very bread like, soft, not flat at all. The burger patty was very meaty and delicious. There even was a slice of cheese made of coconut. I didn't notice it as I only had 2 bites, and I wasted both while being filmed. Giving instructions on how I should be filmed, I swallowed my 2 bites way to fast without paying attention to all the flavor nuances. But I can definitely say: it was delicious. It came with a runny tomato sauce that tasted like a sour tomato soup. Again, I had no Idea how to use it. I would have preferred a thick raw vegan ketchup made with tomatoes, sundried tomatoes, dates, no water.
Lifefood Organic Experience
It's a nice place with many pre-made options for if you are in the hurry. Everything is raw so there are plenty of choices, the food looks great. Fresh, put together beautifully. The service was very nice and attentive.


Tips
The restaurant is 100% organic and raw, but it is NOT 100% vegan! Most deserts have honey in it and some savoury dishes contain goat cheese. So be careful with that. All ingredients are listed on the products, so everything you don't wanna eat is easy to identify.
If you check in with yelp, you get 10% off if your order is $20 or more.

If you have some coconut meat left over, make a coconut wrap!