Toronto, Canada
April, 2015
We had the most amazing raw vegan day in Toronto. We ate at 3 places and took some of the food to goon the plane to Hawaii. Even it was a cold morning, way to cold for us topical creatures, we enjoyed this beautiful city. Food-wise, we were in a raw gourmet paradise. After eating super clean, fruity, and salt-free for 6 month in Costa Rica it was about time to treat ourselves to something little extra. The raw food in Toronto is not high end, but pretty decent. We started with a light relatively simple salad at Whole Foods before diving into salty, fatty, delicious meals. After eating salt-free for month I must say I just hope that raw food chefs are going to realize one day that salt can be added by the consumer right before eating the dish, it blends in with the food perfectly in the mouth. No need to add it to every single component of the dish. So don't add it to my food, please.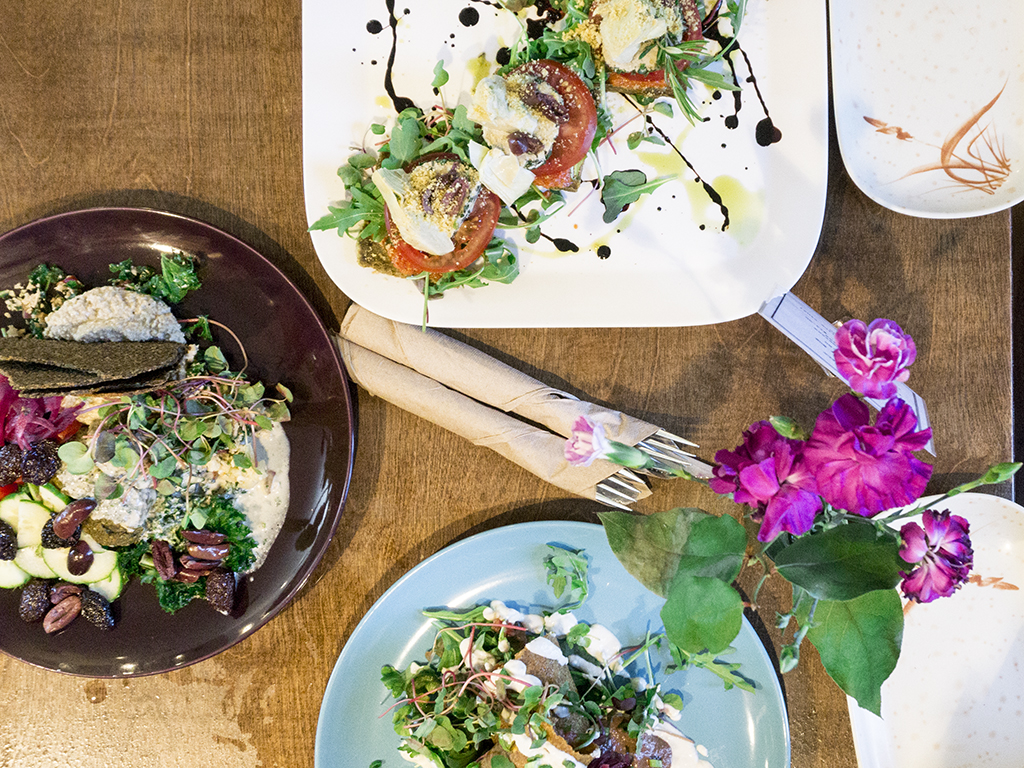 Whole Foods
Always a save place to go. Some great organic fruits and salads. But not everythign is organic, you need to keep your eyes open to find the good stuff. The prices are decent, compared to the Whole Foods in Hawaii a bargain. We had a simple salad with lots of greens, sunflower sprouts, avocado, nut butter, and lemon juice. There are several Whole Foods stores in Toronto. We went to the one closest to our hotel and Rawlicious, where we are gonna pick up our food for the flight to Hawaii.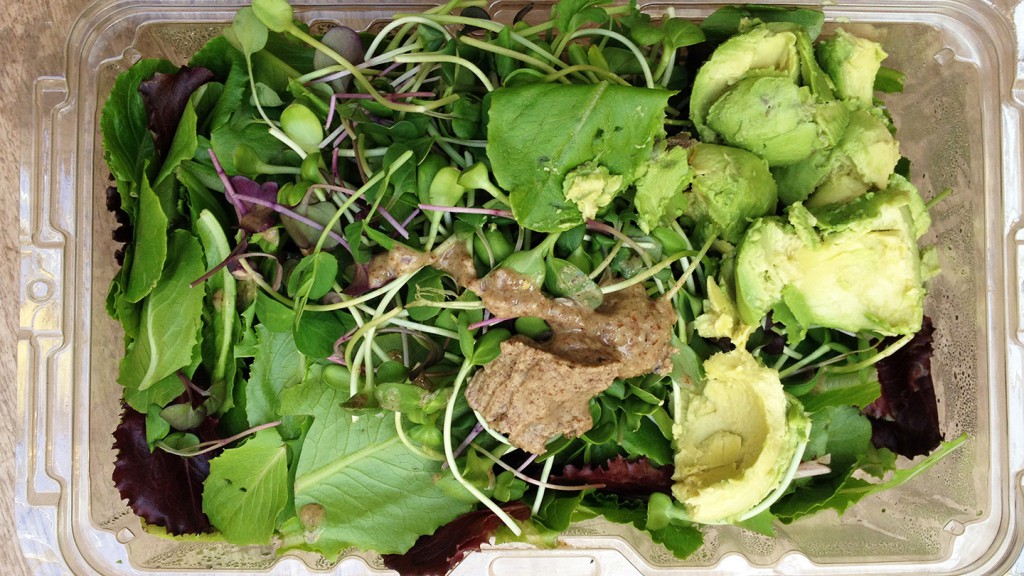 Rawlicious
Rawlicious ist a nice little all raw restaurant with a to-go service. We planed on eating there first thing in the morning, the door sign says they open up at 9 am. But what it doesn't say, they don't have food before 11 am. A common problem of a small local business to communicate with a costumer in a consistent way. So we were patient, we ordered to pick up at 11am saying that we needed to go to the airport shortly after. The food wasn't ready by 11.30, which sucked, I almost though of just to let it go, get my money back, but in the end I'm glad I didn't. I liked the food at Rawlicious a lot. Because of the horrible service, I still don't understand why It took 2 people 2,5h to consider placing the already prepared raw food dishes into the plastic containers, they did it than in front of me within 2 minutes. And because of that, there was no time to take proper food pics, so I took them after the security check at the airport. The food went though a lot already. I see it as the representation of how the food gets to the customer considering the service at that place. But enough about personnel that hopefully get trained or replaced before we will eat at Rawlicious, what we 100% will the next time. All I can think about now is the great food. The awesome food! The menu in Rawlisious claims to use as much organic as possible, the girls at the cafe assured us that everything is organic. Everything I saw in the open kitchen, like salad boxes, spices, veggies, was certified organic.
What we ate
Taco Wrap
Seasoned nut loaf, guacamole, romaine lettuce, salsa & almond nut cheese wrapped in a collard leaf
We had the unbelievably good Taco Wrap ($9.50). I never had such a delicious collard leave wrap before. Usually, once you have a leaf wrapped around and greens inside, it's hard to make it taste like something else than a salad. But here, the taco meat was so awesome, and the cheese rich and creamy, it was as far from as salad as it could possibly be! If i didn't know it was raw vegan, I would assumed it's real meat and couldn't eat it :) It's by far the best collard leaf wrap I've had so far. And even better than the taco wrap I had later that day at the other place.
Pesto Buckwheat Pizza
Sprouted buckwheat & flax crust, cashew cheese marinara or pesto, daily toppings & topped with cashew parmesan
This pizza ($10) was a special, so glad I saw it smiling at me from the dehydrator. We ate the pizza on the plane, I know, things taste better on the plane, and this pizza tasted so good. Definitely something I would get the next time and will try to recreate at home. Such an amazing idea to use pesto as a pizza sauce.
Herb & Onion Flatbreads
Nut and seed flatbreads with dill cashew nut cheese topped with cherry tomatoes & caramelized onions
We had to eat these Herb & Onion Flatbreads ($10) right in the car. They smelled so good and tasted even better! I could swear they tasted like the best Tarte flambée I've ever had.
The crust was great, the nut cheese creamy. The Onion, OMG! Maybe the dill was a little too much. And I love dill, but not a whole bunch on a tiny piece of pizza.
Quesadillas
Cashew cheddar cheese, crumbled nut loaf, salsa, avocado, & romaine lettuce in a red pepper wrap. Served with coleslaw
Quesadilla ($15), not a fan. It was pudding like, the wrap gave up on me completely 2h it was prepared. The coleslaw was between fresh and pickled, not how I like it.
Live Organic Food Bar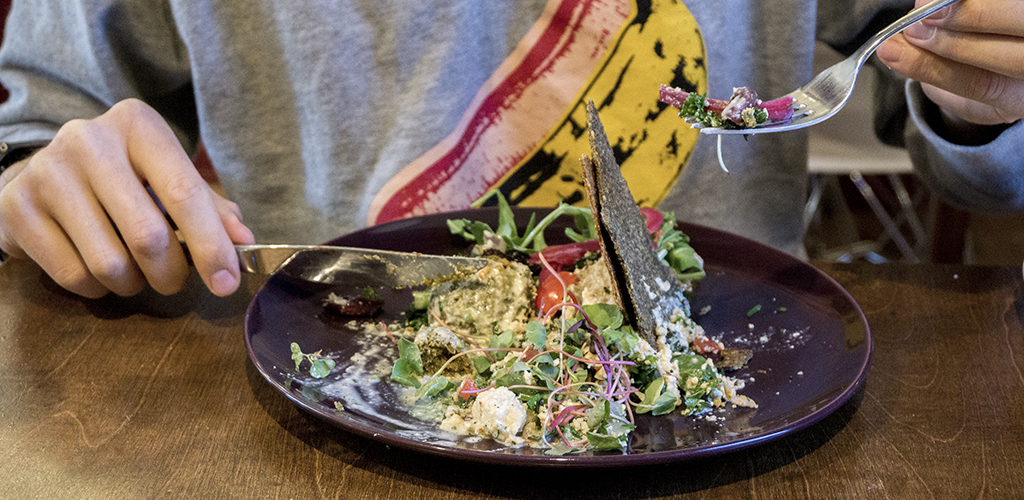 An awesome place with many great raw vegan options and also cooked vegan food.
I would totally bring family and friends there. They have a sample platter with 4 awesome raw vegan dishes to try. Perfect for first timers. The atmosphere is relaxed and alternative. They also manufacture crackers, wraps, superfoods, I saw some of them at Whole foods earlier that day. They also have a big selection of desserts, some of them contained honey. So be careful if you are vegan. The food is supposed to bee all organic and vegan, so we were told. On the way to the bathroom I passed the kitchen and saw some boxes of non-organic avocados and greens. I asked about the corn, they guarantied me it was non-GMO. The thing about eating out is, you have to trust the restaurant, even knowing they might not try as hard as you would to serve you the best food possible for the money you are spending there.
What we ate
Enchiladas
Chipotle corn wrap, sunflower refried beans, tomato salsa, chocolate almond mole, arugula, pickled red onion, jalapeños cilantro, cashew sour cream
I had the enchiladas ($16) first. It was ok, not much flavor, pudding like texture. So good there were fresh tomatoes and arugula, they gave this dish at least some texture. The taste was not bad though.
Mezze pLate
Sunflower falafels, sunflower hummus, mixed olives, cauliflower/kale tabouli, cherry tomatoes, cucumber, pickled red onion, flatbreads, tahini sauce, za' atar oil
Mezze pLate ($16) was my favorite dish. I love falafel, tabbuoleh, hummus, olives and greens. The sun-dried olives were wonderful. Beyond wonderful. The regular olives were way too salty for me after not eating salt for month, I would ask for more sun-dried instead the next time. They are the best.
Pizza
Almond crust, red pepper marinara, arugula, tomato, black olives, artichokes, cashew feta, almond parmesan
This Pizza ($16) was my hubbies' favorite dish. The crust was wonderful, the sauce and the topping too, especially the nut cheese. First I thought the big fresh tomato slices on the pizza were a little to salady on the pizza, but actually it balanced the dish perfectly. The artichokes were so great on it.
Falafel and Taco Wrap
Red wrap, sunflower falafels, smoked carrot hummus, cauliflower/kale tabouli, cucumber, tomato, pickled red onion, micro greens, tahini sauce, za'atar oil & flax corn wrap, sunflower refried beans, guacamole, tomato salsa, walnut taco meat, micro greens, cilantro, green onion
We took the 2 wraps ($15) to go to eat on the plane later that day. The falafel wrap was basically the mezzo plate wraped into a red wrap. The taco wrap was hearty and smokey, really delicious. The wrapping veggie paper itself wasn't so great after caring it around for 3 hours, the next time I'll make sure to eat the wraps right away.