Pre Dinner Snack
Cafe Gratitude is pretty close to our house, so strolling around one afternoon, we decided to have a little snack, I was thinking their famous tiramisu. What we got instead and will we go there again? Continue reading.
We pick a able by the window to take some nice pictures for you guys. The menu is not overly impressive, seems like Cafe Gratitude turns more and more into cooked vegan restaurant. The good thing about the lack of choices is that we will be able to try everything raw on the menu.
What we had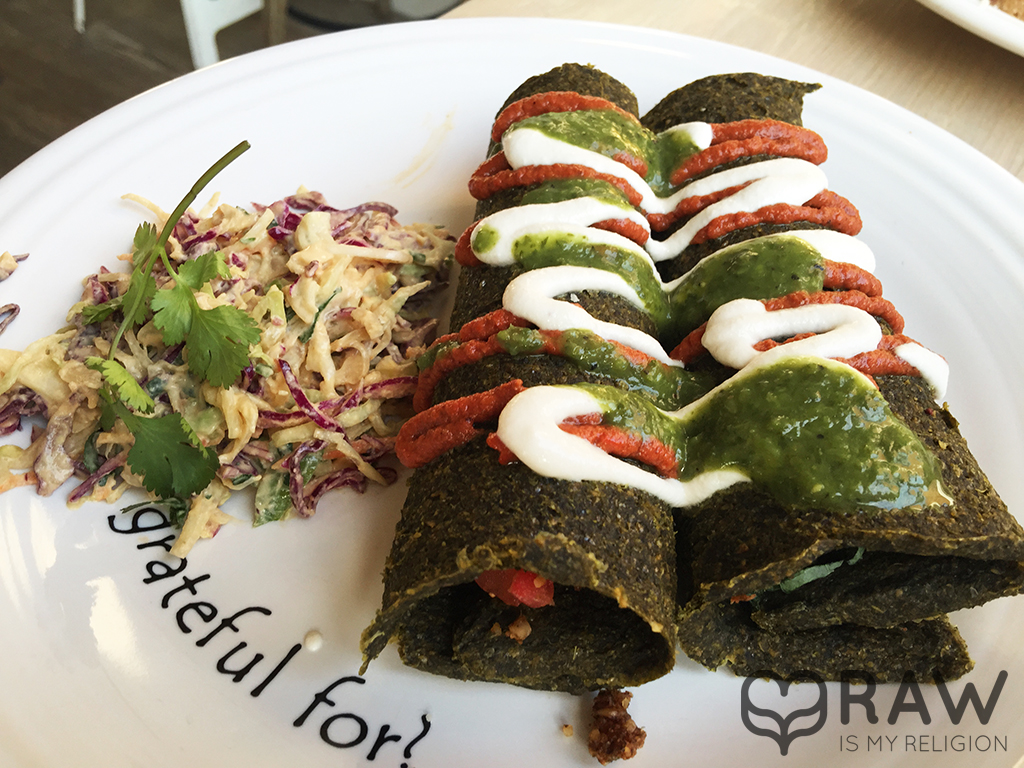 ELATED raw enchiladas
spinach tortilla, pumpkin seed and walnut chorizo, cilantro pumpkin seed pesto, shredded kale, avocado, tomatoes, carrots, radishes, raw cacao mole, salsa verde,
cashew queso fresco, side of mexican coleslaw.
The enchilada ($14) wrap is pretty interesting, is much thicker than the enchiladas we've had so far. It's hearty, savoury, reminds me of the dark bread that we have in Germany. The filling is simple, unimpressive, sparse. All I can taste is the bread like wrap, but it tastes good. With the second bite I realize that the 3 dressings are essential to this dish and taking the first bike without them was a huge mistake. I'm learning. My third bite is accompanied by the coleslaw. The slaw is delicious. Never had such a great coleslaw before. If I could, I would eat is as a huge salad. It is that good. Next time, I'm going to cut the enchilada in half and start eating from the middle.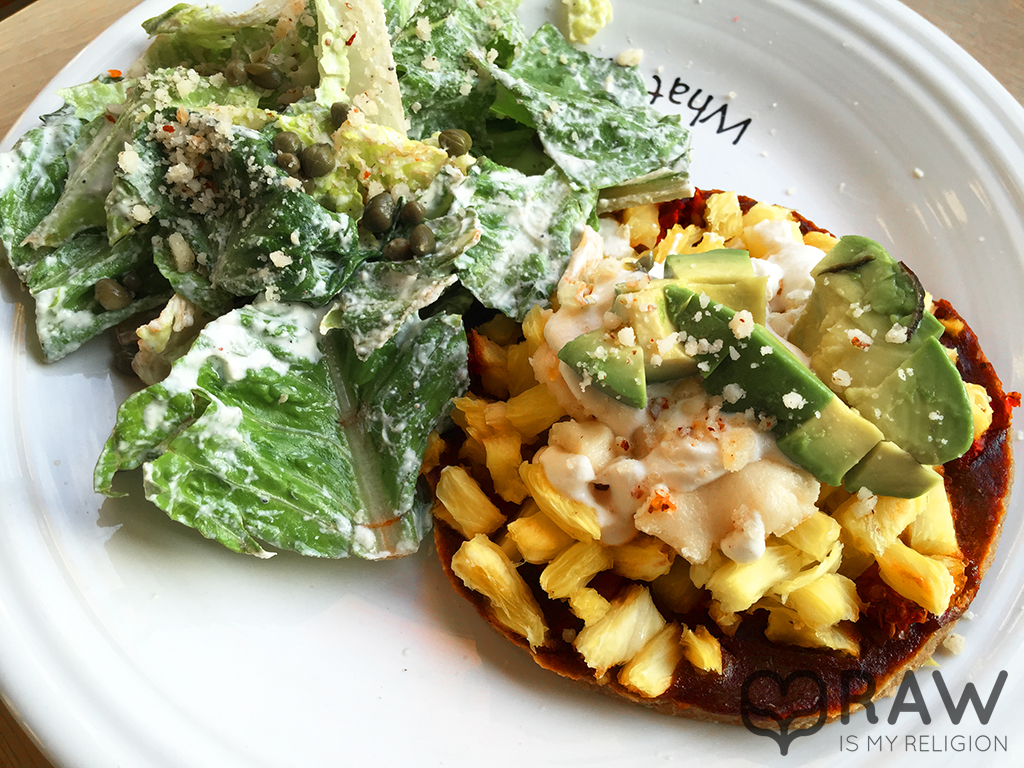 HEARTY raw hawaiian pizza
Fresh pineapple, sun-dried tomatoes, kalamata olives, avocado, cashew mozzarella, marinara, cashew ricotta, brazil nut parmesan, onion sunflower crust, side caesar salad.
The raw hawaiian pizza ($15) sounds good to us, so we ordering it. Not expecting much as raw pizzas are simply cracker with some toppings. Not this one. It's an actual pizza. The crust is so well crafted that it deserves to be called pizza crust. It's thin, soft, has body to it. The tomato sauce on top and the dehydrated pineapple are flavourful, savoury, sweet. The pizza is dehydrated in layer, everyone with a dehydrator at home knows what it takes to make something like that. The side salad is very good. But the pizza outstands the salad and the enchilada today. The parmesan was awesome, the olives were substituted by capers, which I hate and don't think they are technically raw.
But: I'm taking home a great recipe idea for when I'm in Berlin, missing L.A.'s sunny beaches. I'm getting the idea of eating this pizza by the beach the next time to burn this image of the sun kissed pineapple pizza melting in my mouth forever.
The Cafe Gratitude experience
It's a beautiful, busy place. Perfect for a quick snack or lunch. Perfect place to bring non raw friends and family. I love the people who bring out the food at cafe gratitude. They don't talk unnecessarily.


Tips
Take your time to study the menu. Ask about the things that are important to you. Me for example, I decided not to eat the tiramisu anymore as it contains soy lecithin.

This is how I'm going to make a raw pizza at home